Home


Nellie Jones
Nellie (Brown) Jones was born near Cardington, Morrow County, OH on Dec. 6, 1867, the daughter of James R. and Lydia (Miner) Brown. As a girl, she and her parents were pioneers of the west, and her writings later in life provide a window into the early settlement of Oklahoma.
At about age one, Nellie moved with her family to DeSoto, Dallas County, IA, where they stayed for nine years. In 1877, they moved again, to Montezuma, Poweshiek County, IA, remaining two years. They then moved to Medicine Lodge, Barber County, KS in 1879.
While in Kansas, in 1885, the family dwelling was hit by a flash flood in the middle of the night, sparing the Browns' lives but claiming 40 head of cattle. To see Nellie's vivid memoir, click here.
In 1889, the family settled near Kingfisher (Crescent), OK. To claim land for their very own, Nellie and her sister, brother and father took part in the "Great Oklahoma Land Rush of 1889." To read her account of the adventure, as told to a daughter, click here.
Nellie married Martin "Luther" Jones (1864-1930) in Kingfisher on Jan. 26, 1892. He was age 25 at the time of marriage, and he was 28. Despite her early years in Oklahoma, Nellie and Luther made their home in eastern Kansas, in the counties of Anderson and Linn.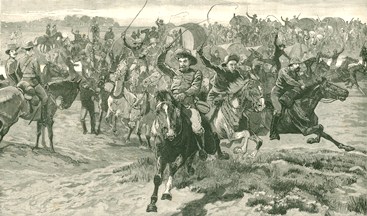 Sketch of the Oklahoma Land Rush, from in The Graphic, May 11, 1889, a scene Nellie wrote about in her memoir.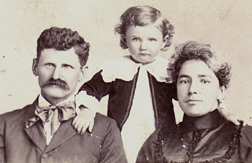 Luther and Nellie with one of their children
The couple and an unidentified child are seen here in an image taken at a photography studio in Lyndon, KS.
Luther also was an Ohio native, the son of John and Mary E. Jones. He was born on Feb. 1, 1863 at Zanesville, Muskingum County, OH, and came with his mother and sister to Kansas in February 1883, settling in the town of Waverly. He lived in Waverly for 28 years and resided at one time in Mineral Point, KS, a town which later changed its name to "Amiot."
The Joneses had five children -- Myrtle Inez Jones, Clyde J. Jones, Ella "Hazel" Bearly, Luther Roy Jones and Alta "Gladys" Van Wie Rhodes.

Myrtle (left) and Luther
Tragically, only three of their children lived to adulthood. The family suffered the deaths of daughter Myrtle at age three in 1896 (seen at far left) and son Luther (age unknown) in 1916.
When the federal census enumerations was taken in 1900 and 1910, the Joneses made their home in or near Harris, Reeder Township, Anderson County, KS. Luther made a living as a sharecropper and farm laborer.
They later migrated 12 miles to the southeast to Mont Ida, Anderson County and eventually moved again 31 miles east across the county line to Parker, Linn County. They were members of the Presbyterian Church in Amiot, and later at the Methodist Church in Goodrich, KS.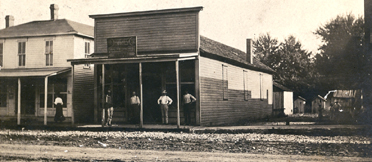 Early hardware and apothecary store in Parker, KS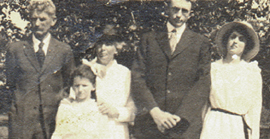 Luther and Nellie (left) with their children
In the photo seen here, Luther and Nellie stand at left in the back row, apparently with their adult children and a grandchild, at a date unknown.
When the federal census was taken in 1930, the Joneses were enumerated in Westphalia Township, Anderson County. Luther, age 66, continued his work as a general farmer. Unmarried daughters Hazel and Gladys both lived under their roof and both were teachers in the local public school.
Luther died at home near Mount Ida on Dec. 1, 1930, at the age of 66.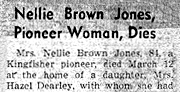 Kingfisher newspaper
Nellie survived him by 22 years and passed away on March 13, 1952, at the home of her married daughter Hazel.
She was buried at Baird Cemetery, west of Harris, near Amiot. At her funeral, the music included "Will There Be Any Stars in My Crown?" and "No Night There."
In 1971, nearly two decades after Nellie's death, she and Luther and their adult children were remembered in the book Ancestral and Chronological History and Lineage of the Family of Luther White and Mahala (Minor) White, Their Forbears and Descendants, 1665-1971. The volume, published in Kansas City, was co-authored by J. Blanche (Clark) Tarter, Edith M. (Peterie) Hoyt and Verda (White) Richey.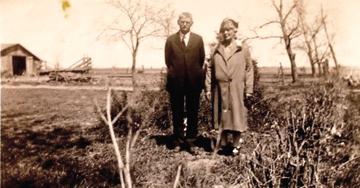 Nellie and Martin Luther Jones
Copyright © 2000-2002, 2008, 2010, 2015 Mark A. Miner