Ella "Hazel" (Jones) Bearly
(1901-1981)
Ella "Hazel" ( Jones) Bearly was born on June 3, 1901 in or near Harris, Reeder Township, Anderson County, KS, the daughter of Martin Luther and Nellie (Brown) Jones.
Hazel taught school for 35 years, following the same profession as her sister Alta "Gladys" Van Wie Rhodes and sister in law Nellie Myra (Hawley) Jones.
Hazel obtained her education at the teachers college in Pittsburg, KS.
In 1931, Hazel transcribed her mother's oral history of her family's pioneering adventures in "The Great Land Rush of Oklahoma" and "The Big Flood of April 22, 1885."
On Feb. 15, 1941, at the age of 40, Hazel married Robert Orval Bearly ( ? -1969). Robert brought three sons to the marriage.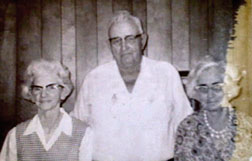 The Bearlys made their home 15 miles to the east of Garnett, Anderson County, KS, but later moved to Wellsville, Franklin County, KS, circa 1960.
In what appears to be a Polaroid photograph, of the late 1960s or early '70s (seen here), Hazel stands at right with her brother Clyde J. Jones and sister Alta "Gladys" Van Wie Rhodes.
Robert passed away on March 31, 1969.
In her widowed years, Hazel assisted in the 1970s with family history research that has contributed to our understanding of the Jones/Brown branch of our clan. In about 1972, she received a letter from her first cousin Alba (McGirk) Peck of Lakewood, California, inquiring about their roots. Hazel responded, and a correspondence began. In one of her letters, she advised Alba that "After Grandma Brown died Grandpa Brown stayed at our house in the early 1920's. Grandpa Brown die not died at our home. I am sure he died at Aunt Bertha's (that would be Bertha Keck)."
Hazel outlived her husband by a dozen years. She died in Garnett at the age of 80 in June 1981.
Copyright © 2000-2002, 2008, 2010 Mark A. Miner