Emma (Brown) McGirk
(1879-1918)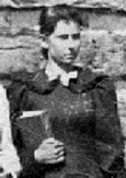 Emma McGirk
Emma Linda (Brown) McGirk was born on March 14, 1879 in Medicine Lodge, Barber County, KS, the daughter of James R. and Lydia (Miner) Brown. She was the first of the couple's children to be born in Kansas after the family had migrated from Cardington, Morrow County, OH, with a stopover in Iowa.
In 1889, Emma and her parents migrated to Kingfisher (Crescent), OK, taking part in the great Oklahoma Land Rush.
Emma and her sister Bertha attended the one-room Excelsior Schoolhouse during the winter of 1894-1895. The school was taught by their future sister in law, Nannie (Snyder) Brown. (Click to seen an enlarged version of this image, our "Photo of the Month" in September 2002.)
As a young woman, Emma and her sister Bertha moved with their parents to San Diego, California. She is enumerated with them there in the 1900 federal census, with her occupation listed as "sales woman - grocery."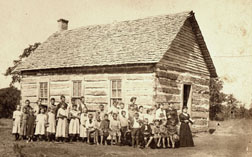 Excelsior one-room schoolhouse
On May 9, 1901, at the age of 22, she married 25-year-old Leonidas Soland ("Leon" or "Lon") McGirk Sr. (1876-1955) in San Diego. The ceremony was performed in the Central Christian Church.
Lon was born on Sept. 19, 1876 at McGirk, TX, the son of John A. and Ellen (Shobe) McGirk. He came to California with his parents in 1885 and settled in El Monte, Los Angeles County.
Emma and Lon had three children -- Alba Laura Kristensen Peck, Naomi Linda Walker Herrington and Leonidas Soland "Lon" McGirk Jr.
Lon made his living primarily as an ore miner and entrepreneur over the years. He labored in a variety of exotic places -- among them Death Valley, CA; Bisbee, AZ, Hermosillo, Mexico; Sonora and Baja, CA, said to be "the Mother Lode country of California;" and in Alaska and Northern Siberia.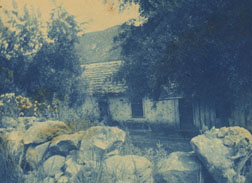 McGirk dwelling, tinted blue image
When the federal census was taken in 1910, the family made its home in Bisbee, Cochise County, AZ. That year, Lon's occupation was marked as "commercial teacher - correspondent school."
One of the McGirks' dwellings is seen here. This bluish image is from a postcard sent to Emma's nephew in Oklahoma, with handwriting on the back: "To George Barnum from his Aunt Emma with a Merry Christmas and Happy New Year." The date is not known, but is thought to be from the turn of the 20th century.
The McGirks' time together lasted just 17 years. On Aug. 30, 1918, Emma passed away in Santa Cruz, CA, where she is buried in the Odd Fellows Cemetery. The cause of death is not known, but she was just 39 years of age.
~ Fortune Hunting and The Casco ~
In 1918, after Emma's death, the three motherless children were sent to live with their paternal grandparents, John and Ellen McGirk, on their farm in El Monte. Lon recruited 30 speculators who invested $1,000 each to underwrite an expedition to Northern Siberia, seeking to cash in on a horde of gold dust along the Kolyma River. Lon obtained the services of a retrofitted schooner -- the Casco -- and assembled a crew of 28 men for the expedition, which left San Francisco on June 8, 1919. This voyage is described in Lowell D. Holmes' 2001 book, Treasured Islands: Cruising the South Seas with Robert Louis Stevenson (Sheridan House).
According to a manuscript by his daughter Alba, Lon traveled to Siberia "on a boat that had originally belonged to Robert Louis Stevenson -- 'The Casco.' The [ship] is mentioned in the book Treasure Island by Robert Louis Stevenson."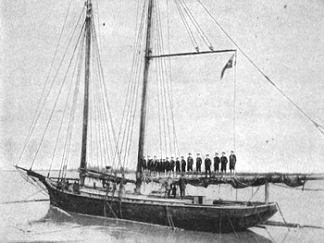 The Casco, with Sea Scouts, long after use by Robert Louis Stevenson. As published in St. Nicholas, Sept. 1918, nine months before Lon McGirk took it on its final voyage.
Popular Mechanics' issue of November 1917 reports that the Casco "was originally built for racing in California waters [and] has had an eventful career. It is a topsail schooner, 95 ft. long and of 70 tons' burden. It has graceful lines, behaves well under sail, and still has life, although time and hard usage have made it a very different boat from what it was when Stevenson chartered it for his voyage to Samoa." After Stevenson, the craft was used for hunting seals, running opium, hauling junk and training young sea scouts.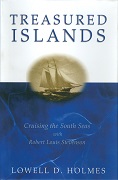 Book describing the
Siberian fiasco
Unfortunately, Lon's voyage across the Bering Strait was faced with ice, heavy seas and strong winds. Having already traveled for 60 miles over the span of 42 days, and with quite a distance to go before arriving in Siberia, the crew decided to abort the mission and return to San Francisco. They ran aground eight times, and the Casco lodged on shore for the final time on King Island, eventually to be "pounded to pieces on the rocks," said Holmes. The crew eventually was rescued by a revenue cutter which brought them to the nearest port.
Daughter Alba wrote her own version of events as she would have heard them from her father: " 'The Casco' was shipwrecked off the coast of Siberia and Lon McGirk and some of his party lived with the Eskimos for two weeks before they were rescued by the U.S. Revenue Cutter Bear."
In reality, the crew arrived -- without Lon -- in Nome, Alaska on Sept. 24, 1919. He is said to have abandoned his mates to hunt for food, and never returned. Allegations were that he had returned to the U.S. mainland "to work out another get-rich-quick scheme."
Several accounts of the Casco's demise were published over the years -- among them the eight-page The Tragic End of Stevenson's Yacht Casco: Romantic Adventures of the Trim Schooner in which the Author of "The Wrecker" Sailed the South Seas in Search of Health and Material for Fiction, by Francis Dickie (1920) -- "War Brings Stevenson's Board 'Casco' to Light" in Popular Mechanics (November 1917) -- Stevenson's Silver Ship: Biography of the "Casco" (Rather Press, 1973)
~ Another Attempt at Riches ~
In the census of 1920, Lon is shown in San Francisco, boarding in the home of Amy R. Hoffmann on Ashbury Street. His occupation was given as "mining engineer." His children appear on the census in the home of the McGirk grandparents in El Monte.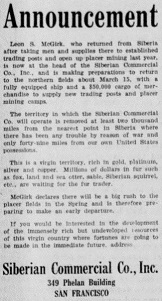 Sausalito News, Jan. 31, 1920 (courtesy California Digital Newspaper Collection)
About that time, he apparently bought an eight-year-old, 62-ton British freight vessel, Iskum, with a crew of six men, which he made part of a business he had formed, the Siberian Commercial Co., Inc. The company's home port was in Seattle but its business address was 349 Phelan Building, San Francisco. On Jan. 31, 1920, the company published an advertisement in the Sausalito (CA) News:
Leon S. McGirk, who returned from Siberia after taking men and supplies there to established trading posts and open up placer mining last year, is now at the head of the Siberian Commercial Co., Inc., and is making preparations to return to the northern fields about March 15, with a fully equipped ship and a $50,000 cargo of merchandise to supply new trading posts and placer mining camps. The territory in which the Siberian Commercial Co. will operate is removed at least two thousand miles from the nearest point in Siberia where there has been any trouble by reason of war and only forty-nine miles from our own United States possessions. This is a virgin territory, rich in gold, platinum, silver and copper. Millions of dollars in fur such as fox, land and sea otter, sable, Siberian squirrel, etc., are waiting for the fur trader. McGirk declares there will be a big rush to the placer fields in the Spring and is therefore preparing to make an early departure. If you would be interested in the development of the immensely rich but undeveloped resources of this virgin country where fortunes are going to be made in the immediate future, address Siberian Commercial Co., Inc.
At some point, Siberian Commercial Co. was sued on several counts by United Railway & Logging Supply Co. The case was widely published and eventually in about 1922 was appealed to the Supreme Court of Washington. The cases revolved around contractual issues of the date a payment should be made, when a trade acceptance attempted to fix, without completing, the statement of time of payment, meaning whether a payment could be collected on demand.
~ Lon's Final Years ~
Lon outlived Emma by 37 years. He married again during the decade of the 1920s, to Doris D. Moore (1886-1969). She was a native of New York and had been married at least once before. They resided on First Street in El Monte, and brought Lon's teenage son, Lon Jr., into their home. They all appear together in the census of 1930.
When the census again was taken in 1940, the McGirks continued to reside in El Monte, where Lon's occupation was an iron mine operator, and Doris worked as a welfare service investigator for Los Angeles County.
He died on Aug. 7, 1955, in Ventura County, CA, at the age of 79. He is buried in the Rose Hill Memorial Park in Whittier, CA.
Doris survived Lon by 14 years. She passed away in Los Angeles County no May 31, 1969.
~ Daughter Alba (McGirk) Kristensen Peck ~
Daughter Alba Laura McGirk (1904-1991) was born on July 1, 1904 in or near in Bisbee, Cochise County, AZ. She played a large role in collecting genealogical and historical information about the Brown branch of the Miner family.
She grew up in California. As a girl, she was told the story of her ancestor George Fluckey (father of Margaret Miner) who was a Hessian soldier during the American Revolution and deserted from the British Army to join the American colonists.
"My mother passed away when I was only 14 years old, and, of course, she had never told me much about her family," Alba wrote in 1973. "I knew that they lived in Oklahoma -- but as we lived in California I didn't actually know any of them."
She was married twice -- first to Harold Magnus Kristensen (1891-1963), an immigrant who taught school in Denmark before coming to America in 1918. He later taught at Atterdag College in Solvang, Santa Barbara County, CA, a Danish community.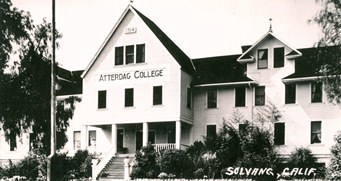 Atterdag College, Solvang, where Harold Kristensen taught
Harold passed away on Oct. 31, 1963, in Los Angeles, at the age of 71.
Alba later married Edward B. Peck (1901-1977), a native of South Carolina.
Circa 1972, Alba resided at 5943 Coldbrook in Lakewood, Los Angeles County, CA. She once wrote that "I am a true 'desert rat' so I always love to be on the desert. My sister came in from Texas this past Sat., & she will be taking her grandsons out to our shack in Death Valley. Wish I was going to be with them."
Her extensive correspondence with cousins Hazel (Jones) Bearly, Blanche (Clark) Tarter and Gladys (Barnum) Armstrong produced a number of important letters and papers preserved today in the Minerd-Minard-Miner-Minor Archives.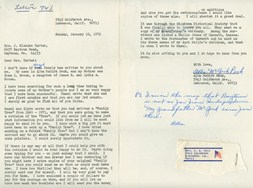 Alba's 1st letter to Blanche Tarter, Jan. 1972
Alba first wrote to Blanche in a letter dated Jan. 16, 1972, saying:
I don't know if Hazel Bearly has written to you about me... I have been searching for such a long time trying to locate some of my Mother's people and I am so very happy that I have been successful. Hazel wrote that she and I are first cousins and that you are our 3rd cousin. I surely am glad to find all of you folks. Hazel and Clyde wrote me that you had written a "Family Tree" from 1665-1971, and that you were going to make a revision of the "Tree." If you would let me know just what information you would like from me I will be most happy to send it to you... It was through the Oklahoma Historical Society that I was finally able to locate you all. They sent me a copy of my grandfather's obituary. Among the survivors was listed a Nellie Jones of Garnett, Kansas. I wrote to the Postmaster of Garnett and he sent me the three names of my Aunt Nellie's children, and that is when I wrote to Hazel.
Alba also wrote to Gladys (Barnum) Armstrong "to see if she might know of the old Family Bible." As well, she typed letters to the Somerset (PA) Historical and Genealogical Center and to the Ohio Auditor of State, seeking information about her great-grandfather Daniel Miner Sr.
In July 1972, she advised Blanche that "I had a letter from Hazel the other day. I had written and asked about other dates that were in the family Bible that she has. I thought I could find out maybe just when my mother was born. But all she sent were the dates when J.R. and Lydia (Minor) Brown died." At some point in time, circa 1977, Alba and Blanche actually met. Alba later wrote to her: "I have loved knowing you Blanche and I am so grateful that I got to meet you in person - and to know that there is a strong family resemblance."
She applied and was accepted for membership in the Daughters of the American Revolution, in recognition of George Fluckey's service. As she wrote in November 1977, "I still can't believe it that I was so lucky. I now am in correspondence with many, many Fluckey descendants -- all the way from Florida to the State of Washington. I am very proud to have been able to honor our George Fluckey through the DAR."
Continuing to be interested in her Miner roots, she typed nine pages documenting Lydia (Miner) Brown and her descendants. After Blanche Tarter died in 1978, her son Paul took up the cause and continued a correspondence with Alba. In a letter to Paul, dated Aug. 16, 1978, she wrote: "It would be wonderful if only we could learn more about our Daniel Miner -- but it seemed as if I ran into a stone wall."
Edward passed away on New Year's Eve 1977 in Los Angeles.
Alba outlived her second husband by 13 years. She died in Los Angeles on New Year's Day 1991, at the age of 86.
~ Daughter Naomi Linda (McGirk) Walker Herrington ~
Daughter Naomi Linda (or "Lee") McGirk (1911-1996) was born on Feb. 7, 1911 in or near in Bisbee, Cochise County, AZ.
At the age of 20, on Oct. 24, 1931, Naomi married 20-year-old C. Howard Walker (1911- ? ), a native of Las Animas County, Colorado. The marriage took place in El Monte, Los Angeles County.
They had one known son, Howard Allen Walker, born in 1932 in Los Angeles.
When the federal census was taken in 1940, the Walkers resided on O'Sullivan Drive in Los Angeles. There, Howard earned a living as a truck driver for a meat packing plant.
Later, on Oct. 17, 1970, when she was age 59, she wed a second time, to Ellis B. Herrington (1905- ? ). He was a native of Killeen, Bell County, TX. The marriage took place in Las Vegas.
Circa 1976, Naomi lived in Texas.
Naomi passed away on July 26, 1996 in Victorville, San Bernardino County, CA, at the age of 85.
Son Howard Allen Walker (1932- ? ) was born on Nov. 24, 1932 in Los Angeles, where he grew up. He married Betty Cole ( ? - ? ) with the ceremony taking place in Las Vegas. They lived in Victorville, CA and had four known children born between the years 1955 and 1967 -- James Walker, Dennis Michael Walker, Glenn Allan Walker and Cynthia "Cindy" Walker.
~ Son Dr. Leonidas "Lon" McGirk Jr. ~
Son Dr. Leonidas Soland "Lon" McGirk Jr. (1912-1982) was born on Oct. 19, 1912 in or near in Bisbee, Cochise County, AZ.
He married Mary Louise Blair ( ? - ? ).
A surveyor, served with the U.S. Geological Survey in 1950, mapping the Inyo Mountains east of Owens Valley, CA. He later received a doctorate in economic geology at Stanford University, taught at the Mackay School of Mines in Reno, NV, and was listed in American Men of Science and Who's Who in the West. He is believed to have been a member of the Colorado Mountain Club.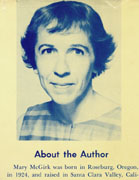 Mary Louise McGirk's 1964 book
Lon encouraged students to publish their research and is acknowledged in several related volumes. Among them is Economic Geology and the Bulletin of the Society of Economic Geologists, Vol. 57 (published 1962) and Norsk Geolgisk Tidsskrift, Vol. 42, Issue 2 (1962).
After he suffered a debilitating stroke, Mary authored a book, 'Tis the Set of the Sails (New York: Pageant Press, 1964) detailing her husband's "illness, his recovery, and the varied and unexpected problems and incidents presented to me, his wife, as a result of this episode."
He survived for several more decades, spending his final years in Reno. Lon died in April 1982 at the age of 69.
They are named in the book by Franklin Dilling Shobe, The Record of the Shobe Family in America from 1737 to 1954.
Copyright © 2000-2002, 2008, 2011, 2015 Mark A. Miner