Elisabeth Junghen
(1789-1797)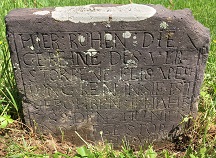 Elisabeth's grave marker in German, 1797
Elisabeth Junghen was born on June 21, 1879 in Bucks County.
Her grandmother, the widow Elizabeth Hockman, was her sponsor at the christening held at Keller's Church on Aug. 29, 1789.
She spent her early years on her parents' farm in Bedminster Township, Bucks County.
Sadly, at the age of seven years, six months and 17 days, she passed away in Bedminster Township.
Her remains were placed into repose directly beside her grandfather Johannes "Heinrich" Junghen at Keller's Church.
Her stone stands erect and legible today. It is inscribed: "Hier Ruhan Die Bebeine Des Ver Storbene Elisabeth Jungken. In Sie Ist Gebohren Im Uahr 1789 Den 21 Julius und 1 Gestoben Den 8 Jenuaruis im iahr 1797."
Copyright © 2019 Mark A. Miner
Research for this page graciously shared by the late Donna (Younkin) Logan