Alexander Kirkpatrick
(1697-1758) and
Elizabeth (?) ( ? - ? )
Alexander's ancestor, Edward the Elder, King of England.

Courtesy Wikipedia
Alexander Kirkpatrick Jr. was born in 1697 in the hamlet of Watties Neach, Dumfrieshire, Scotland.
Scholars of English royalty have identifed his father as Alexander Kirkpatrick Sr. and grandparents as George and Chole (Coward) Kirkpatrick of Knock, Kirkmichael Parish, Scotland. The now abandoned sites of Watties Neach and Knock are believed to have been only about one-third of a mile apart.
Little is known about Elizabeth( ? - ? ), his wife.
Together, they bore these five known offspring, and perhaps others – Andrew Kirkpatrick, Alexander Kirkpatrick, Jennet McEowen, Mary Bigger and David Kirkpatrick, and possibly also James Kirkpatrick.
Alexander's pedigree has been recorded as going back more than 20 generations to not one but two Kings of England -- Alfred the Great (848-899) and his son Edward the Elder (874-924). Alfred is known to have defended his nation in armed conflict against an invasion by Danish Vikings.
In turn, Alexander's great-great-great-great grandfather, William Kirkpatrick, of Kirkmichael, is said to have "obtained, in 1565, from the vicar of the parish of Garrel, the church-lands and globe of the parish, though, just previous to this, he was 'under scandal with the Reformers for allowing mass to be celebrated within his bounds.' He was summoned to Parliament in 1548…"
The Scotland into which Alexander and Elizabeth were born had been frought with several centuries of intermittent warfare and religious persecution. Although a Scotch Presbyterian, Alexander "was loyal to the House of Stuart, and participated in the rising of the Earl of Mar. Coming thus under the disfavor of the English government," said the 1912 book Genealogical and Family History of Central New York, Vol. 2, by William Richard Cutter. Thus now living in fear, during the reign King George I, the Kirkpatricks decided to move away. They migrated in 1725 across the Irish Sea from Scotland to Belfast, Ireland.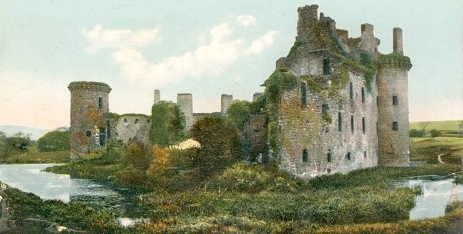 Ruins of Caerlaverock Castle near Dumfries, Scotland, a landmark sacked by invaders in about 1640, indicative of the local violence of those years.
This period of their lives is described in the article published in the October 1914 edition of the Somerset County Historical Quarterly, entitled "The Kirkpatrick Family of Somerset County," authored by Rev. Oscar M. Voorhees, DD, of New York City. The entry states that the reason for the move to Belfast was "Liberty of conscience and additional religious advantages..."
The Kirkpatricks are known to have been staunch Presbyterians. After 11 years in Belfast, Alexander, Elizabeth, with their three sons and two daughters, again pulled up stakes in the spring of 1736. They sailed for America, in company with Alexander's brother Andrew. Said Voorhees article:
The passage proved to be stormy and tedious, occupying thirteen weeks. Passengers and crew were nearly starved. The landing was finally made at New Castle, Delawarewhere they had for their first meal a supply of field corn, which seemed in their hunger the sweetest food they had ever tasted. The party crossed the Delaware at Philadelphia, and wandered up through New Jeresey until they came to Bound Brook, and thence on foot over the mountains, following the Indian trail, until they came to a spring along the stream soon thereafter called the Mine Brook. Here they built a log house and prepared to stay. The property on which the Kirkpatricks settled was in the possession of two sons of William Penn, Richard and Thomas, being part of a tract of 7,500 acres surveyed for the father...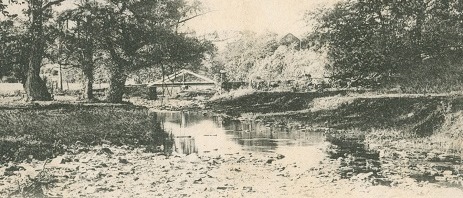 Gentle landscape of Mine Brook, NJ, where the Kirpatricks settled in 1736
The Mine Brook settlement was a mile or two west of what today is the town of Bernardsville. Eleven years after putting down roots there, on Nov. 23, 1747, Alexander signed a lease with the Penn heirs for 137 acres of land on which he had been living. In doing so, Alexander agreed to establish an orchard of at least one apple tree per every three acres for a period of three years. After that, he was to plant one apple tree for every six acres, "all regular in one orchard," and to keep the orchard protected by a good fence. It is said that a sawmill and grist mill later were built on the tract.
Four years later, on May 15, 1751, Alexander bought an additional 170 acres adjoining his land to the west, acquired from his neighbor Daniel McEowen, whose two daughters had wed two of Alexander's sons. Then in November 1752, he added more property from Jonathan Whitaker.
Sadly, the 60-year-old Alexander died on June 3, 1758, in Mine Brook, having been in America for 22 years. His remains were interred in Basking Ridge Presbyterian Church Cemetery. Two different markers were installed in the cemetery memorializing his name, with one for the family, identifying his birthplace of Watties Neach. The other stone marking the actual grave spells his last name as "Killpartrick."
Their son Andrew is said to have inherited the family homestead, but not long afterward sold it to his brother David.
Elizabeth's fate is not yet known.
Their family is summarized in the 1891 book Americans of Royal Descent, 2nd edition, authored by Charles H. Browning of the American Historical Association, and published by Porter & Coates in Philadelphia (page 496).
Alexander Jr.'s native community of Watties Neach does not exist today, but in its time was loosely translated to mean "Wallace's House Fort." A number of Kirkpatrick descendants have tried in vain to find it. One, Rev. Dr. Thomas G. Kirkpatrick, Maple Valley, WA, has done extensive research to establish the location, and authored his online paper "The Quest for Watties Neach," dated April 30, 2014.
Knock, the hamlet of Alexander's parents, was abandoned during the 18th century and does not stand today. Scottish archaeologists have found there a stepped series of foundations of seven cottages and rectangular buildings, observable as turf mounds and ridges. along a sloped grade west of the Courance reservoir.
Other books that tell the Alexander and Elizabeth Kirkpatrick story of immigration to America include Encyclopedia of Pennsylvania Biography, Vol. 1, by John W. Jordan, LLD (1914) -- Fifty Years of Historical Work in New Jersey, by William Nelson (1898) -- Collections of the New Jersey Historical Society, Vol. 8 (1900) -- Some "Colonial Dames" of Royal Descent, by Charles Henry Browning (1900) -- Encyclopedia of Genealogy and Biography of the State of Pennsylvania with a Compendium of History, Vol. 2 (1904) -- Semi-centennial Celebration of the Founding of the New Jersey Historical Society at Newark, N.J. May 16, 1895 (1897) -- Genealogical and Family History of Central New York, Vol. 2, by William Richard Cutter (1912) -- Historic Homes and Institutions and Genealogical and Personal Memoirs of the Lehigh Valley, Pennsylvania, Vol. 2, by John Woolf Jordan, Edgar Moore Green and George Taylor Ettinger (1905).
~ Son Alexander Kirkpatrick ~
Son Alexander Kirkpatrick ( ? - ? ) was born in (?).
He married Margaret Anderson ( ? - ? ), a resident of Boundbrook. Their wedding reputedly was held in New York.
They settled in Peapack, NJ. There, Alexander made a living as a surveyor and merchant, operating a store in the town.
The couple's only known daughter was Martha Stevenson.
Daughter Martha Kirkpatrick wedded John Stevenson of Morristown, NJ. They migrated to New York.
~ Daughter Jennet (Kirkpatrick) McEowen ~
Daughter Jennet Kirkpatrick ( ? - ? ) was born in (?).
She was joined in matrimony with Duncan McEowen ( ? - ? ).
The couple relocated to Maryland.
~ Daughter Mary (Kirkpatrick) Bigger ~
Daughter Mary Kirkpatrick ( ? - ? ) was born in (?).
She was united in wedlock with John Bigger ( ? - ? ).
Their six children were John Bigger, David Bigger, Elizabeth Bigger, Anne Bigger, Ruth Bigger and Mary Bigger.
At some point in time, they moved to Warwick, a town in either Orange County, NY or Cecil County, MD.
~ Reputed Son James Kirkpatrick ~
Son James Kirkpatrick (1715-1786) was born in 1715 in or near Dumfries, Scotland.
He entered into the sacrament of marriage with Mary Newton (1730-1769).
The couple is said to have borne eight children.
Circa June 1754, James reputedly received a land grant of 790 acres on the north side of the fork in Turkey Creek in Chester County, SC. The couple migrated there and appear to have remained for the balance of their lives.
Sadly, Mary passed away into eternity at age 38 or 39 on Sept. 16, 1769.
James is said to have died at age 70 or 71 on May 8, 1786. Burial was in Irish Cemetery in Chester, Chester County.
~ Son David Kirkpatrick ~
Son David Kirkpatrick (1724-1814) was born on Feb. 17, 1724 in Watties Neach, Dumfries Shire, Scotland.
On March 31, 1748, at the age of 24, he entered into marriage with 19-year-old Mary McEowen (Aug. 1, 1728-1795), daughter of neighbor Daniel McEowen and a native of Argyleshire in western Scotland. Prior to their marriage, both had sailed to America aboard the same ship.
The brood of offspring borne into this family was Elizabeth Sloan Maxwell, Alexander Kirkpatrick, Hugh Kirkpatrick, Mary Gaston, Anne Este/Esty, Jennet Miller, Judge Andrew Kirkpatrick and Capt. David Kirkpatrick.
They settled on the Kirkpatrick family farm at Mine Brook near Bernardsville, Somerset County, NJ. After the death of David's father in 1758, the farm was inherited by David's brother Andrew. But not long afterward, as Andrew and family prepared to relocate to southwestern Pennsylvania, David was able to buy it. There, the couple "lived all their days," said the article published in the October 1914 edition of the Somerset County Historical Quarterly, entitled "The Kirkpatrick Family of Somerset County," authored by Rev. Oscar M. Voorhees, DD, of New York City.
David was recalled by his grandson Dr. Jacob Kirkpatrick as "greatly esteemed and beloved. Plain and simple in his habits, of strict integrity and sterling common sense, he was a man of great energy and self-reliance."
When David was 40 years of age, he ordered the construction of a stone house, or "mansion," on the property. Its "thick walls [were] laid in mortar almost as hard now as the gray sand-stone itself, and with floors made of white oak in plan laid double," said the Kirkpatrick Memorial book. "The old stone-work and the old pointing look nearly as fresh as on the addition recently built by the present occupant. With proper care the house might be made to last five centuries more." One neighbor recalled hearing David "speak of the pains he took in putting up this dwelling-house. Indeed whatever he undertook he did thoroughly, nor was he ever content not to be usefully occupied. The lily-fingered exquisites of the present day would have met with many a stern rebuke from him in his broad Scotch brogue."
In later years the structure was owned by Elizabeth H. Packard. The house was described in the 1927 book Capt. John Kirkpatrick of New Jersey, 1739-1882, by William C. Armstrong:
The house is built of field stone and is on the state road one mile west of the town of Bernardsville, on the north side of the road, just opposite the estate of Mr. Richard Lindabury. A former owner, Mr. Charles Squibb, enlarged the house a great deal, making the entrance and chief frontage on the southwest side for better advantage of view and breezes. Over the original doorway is a stone marked D.M.K., 1765; this is on the side facing the state road. The house is easy to locate by a group of old Norwegian spruce trees between it and the road.
David dwelled in his stone home for nearly five decades. He "was a member of the New Jersey Legislature for the years 1778-1780, 1781 and 1784," said the Voorhees article. When leaving home for his legislative duties in Trenton, he was start his trip on horseback, but soon dismount and lead the horse the rest of the journey.
The couple and their children attended church at Basking Ridge, two miles from their farmhouse, and David "always preferred to walk while the rest of the family rode."
Sadly, Mary passed away at the age of 67 on Nov. 2, 1795. Inscribed on her gravemarker at Basking Ridge is the phrase "who was born in shire of Argyle, in the Kingdom of Scotland."
David died in Mine Brook on March 19, 1814, at the age of 90, in Sussex County, NJ. Burial was in Basking Ridge Presbyterian Church Cemetery.
He is profiled in the Capt. John Kirkpatrick book.
Daughter Elizabeth Kirkpatrick (1749-1829) was born on Sept. 27, 1749. She was married twice. Her first spouse was (?) Sloan ( ? - ? ). Together, they bore a son, Rev. William B. Sloan. In time, after having been rendered a widow, Elizabeth wed again to Gen. William Maxwell, said to have been a hero of the American Revolution. She passed away in 1829, at the age of about 79.
Grandson

Rev. William B. Sloan

was pastor of the Presbyterian Church of Greenwich, Warren County. He was the father of William H. Sloan of Flemington.
Son Alexander Kirkpatrick (1751-1827) was born on Sept. 3, 1751. He tied the knot with Sarah Carle ( ? -1842), daughter of Judge John Carl of Logn Hill, Morris County, NJ. The couple together produced a family of a baker's dozen children -- David Kirkpatrick, Mary Cross, John Kirkpatrick, Rev. Dr. Jacob Kirkpatrick Sr., Sarah Annin, Elizabeth Vail Gaston, Lydia Demott, Anne Stelle, Rebecca Terrill, Martha Squiers, Jane Cory, Alexander Kirkpatrick and Robert Finley Kirkpatrick. Sadness cascaded over the family when Sarah died at the age of 81 on Feb. 15, 1842.
Portraits of father and son, both named Rev. Jacob Kirkpatrick


The Kirkpatrick Memorial; or, Biographical Sketches of Father and Son
Kirkpatrick Memorial Church,
Ringoes, NJ

Rev. Dr. Jacob Kirkpatrick Sr. (1785-1866) was born on Aug. 8, 1785. In 1809, he was united in holy matrimony with Mary Howel Burrows Sutfin (1791-1874). Together, they produced a large family of children -- Anna F. Schenck, John Sutfin Kirkpatrick, David Bishop Kirkpatrick, Alexander Kirkpatrick, Henry Augustus Kirkpatrick, Newton Kirkpatrick, Sarah Bowne, Charles W Kirkpatrick, Rev. Jacob Kirkpatrick Jr., Frances J. Schenck and Elizabeth Nevius. Jacob Sr. earned his doctor of divinity degree. For 56 years, he served as pastor of the United First Church of the Amwell Valley at Ringoes, Hunterdon County, NJ.

He died at the age of 80 on May 2, 1866 and was buried in the Larison's Corner Cemetery, today known as Amwell Ridge Cemetery in Ringoes. As a remembrance, a newly formed house of worshiop was dedicated in his name -- the Kirkpatrick Memorial Presbyterian Church.
Great-granddaughter Anna F Kirkpatrick ( ? -1909) married (?) Schenk.
Great-grandson John Sutfin Kirkpatrick (1810-1816)
Great-grandson David Bishop Kirkpatrick (1811-1890)
Great-grandson Alexander Kirkpatrick (1812-1886)
Great-grandson Henry Augustus Kirkpatrick (1816-1851)
Great-grandson Newton Kirkpatrick (1820-1863)
Great-granddaughter Sarah Kirkpatrick (1823-1920) wedded (?) Bowne.
Great-grandson Charles W Kirkpatrick (1826-1912)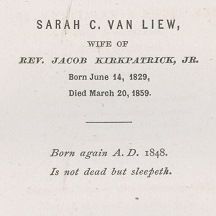 Tombstone epitaphs for Rev. Jacob and Sarah Kirkpatrick Jr.


The Kirkpatrick Memorial; or, Biographical Sketches of Father and Son
Great-grandson Rev. Jacob Kirkpatrick Jr. (1828-1859) was born on Oct. 6, 1828. He married Sarah C. Van Liew (June 14, 1829-1859). When Sarah was age 18 or 19, she was "born again" with her acceptance of Jesus Christ as her savior. For a little more than four years, from October 1853 to January 1858, Jacob served as pastor of the Third Presbyterian Church of Trenton, NJ. Sadly, she died on March 20, 1859, at the age of 29. Inscribed on her grave marker is the phrase "Is not dead but sleepeth." The grieving, widowed Jacob did not live out the year. He succumbed to death on Oct. 27, 1859. On the face of his grave marker is this epitaph: "This monument was erected as a mark of affection by those who enjoyed the benefit of his ministry in Trenton."
Great-granddaughter Frances J. Kirkpatrick (1830-1910) entered into marriage with (?) Schenck.
Great-granddaughter Elizabeth Kirkpatrick (1832-1922) married (?) Nevius.
Son Hugh Kirkpatrick (1756-1782) was born on Sept. 2, 1753. He did not marry. Grief blanketed the family when he died at the age of just 26 on Jan. 9, 1782.
Son Andrew Kirkpatrick (1756-1831) was born on Feb. 17, 1756 in Mine Brook, Somerset County. When he was 19 years of age, in 1775, he received a degree from the College of New Jersey, later known as Trenton State College. He then studied law and went into private practice in New Brunswick, NJ. He married Jane Bayard ( ? - ? ), daughter of Col. John Bayard. The children born into this family were Littleton Kirkpatrick, John Bayard Kirkpatrick, Mary Ann Howe and Jane Cogswell. He was elected in 1797 to the House Assembly of New Jersey. But the following year, at the age of 42, he was named Chief Justice of New Jersey, succeeding Justice James Hinsey. For two decades, Andrew served on the College of New Jersey's board of trustees and was an original trustee of Princeton Theological Seminary, chartered by the legislature on Nov. 15, 1882. He was elected president of the seminary's board and held the position until his death in 1831.
Son Capt. David Kirkpatrick (1758-1929) was born on Nov. 1, 1758 at Mine Brook. He wedded Mary Farrand ( ? -1805) of Troy, Morris County, NJ. They became the parents of Walter Kirkpatrick, Hugh Kirkpatrick and Elizabeth Farrand Cobb, The family lived at Mine Brook. Sadly, the spectre of death spirited Mary away at the age of only 33 on Sept. 5, 1805. The widowed David outlived his bride by 23 years. He died on Dec. 11, 1828.
Daughter Mary Kirkpatrick (1761-1842) was born on Nov. 23, 1761. She was twice-wed. Her first marriage was to Hugh Gaston ( ? - ? ), of Peapack, NJ. Together they produced a son. Sadly, Hugh died at a relatively young age. Mary then was joined in wedlock with (?) Todd ( ? - ? ). Death enveloped her on July 1, 1842.
Daughter Anne Kirkpatrick (1764- ? ) was born on March 10, 1764. She entered into marriage with Morris Esty ( ? - ? ), a resident of Morristown, NJ.
Daughter Jennet Kirkpatrick (1769- ? ) was born on July 9, 1769. She was united in the bonds of holy matrimony with Dickenson Miller ( ? - ? ). Their brood of offspring included six sons.
Copyright © 2021 Mark A. Miner
David Shaw has contributed valuable content for this biography.