Daniel Horace Knight
(1889-1946)

Daniel Horace Knight was born on Dec. 17, 1889, in Valley Township, Reno County, KS, just a few miles west of Burrton, Harvey County, KS, the son of Norman D. and Sarah (Baughman) Knight.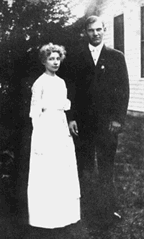 On Aug. 10, 1911, when Daniel was age 22, he married Maybelle Johnson at Burrton. He was tall, slender, and had blue eyes and light hair.
They are seen at right, in an undated photograph that may very well be their wedding portrait. Nothing more about Maybelle is known.
During World War I, he served in Company D of the 34rd Michigan Infantry. At the time he filled out a draft registration card, he stated that he worked as an express messenger for the Wells Fargo Express Company. His residence was 3012 Matthew Avenue, Kansas City. He also noted on the card that he had a "wife to support."
By 1920, the 30-year-old Daniel was married but boarding in the residence of divorcee Fannie D. Bowers' in Kansas City, Jackson County, MO. That year, he was employed as a clerk in a railroad office.
Daniel is believed to have married Fannie's daughter, also named Fannie D. Bowers (1900- ? ), during the 1920s. They relocated to Detroit, Wayne County, MI, where the 1930 census shows them living on Pringree Street. His occupation was as a clerk with a construction company. Their 20-year-old nephew, John H. White (1910- ? ) made his home under their roof that year.
Daniel died in Detroit on April 28, 1946, at the age of 57. He rests for eternity in Section R of Grand Lawn Cemetery.
Copyright © 2001, 2011 Mark A. Miner