Daniel Horace Knight
(1889-1946)

Daniel H. Knight
Daniel Horace Knight was born on Dec. 17, 1889, in Valley Township, Reno County, KS, just a few miles west of Burrton, Harvey County, KS, the son of Norman D. and Sarah (Baughman) Knight.
In young manhood, Daniel was tall and slender, and had blue eyes and light hair.
On Aug. 10, 1911, when Daniel was age 22, he was joined in the bonds of wedlock with Maybelle Johnson ( ? - ? ). Their marriage ceremony was held at Burrton.
During World War I, Daniel filled out a draft registration card, he stated that he worked as an express messenger for the Wells Fargo Express Company. His residence was 3012 Matthew Avenue, Kansas City. He also noted on the card that he had a "wife to support."
He joined the 34rd Michigan Infantry on May 12, 1918 and was assigned to Company D. He attained the rank of corporal. After the war's end, he received his discharge on June 28, 1919.
Within two months of Harry's departure from the Army, Maybell sued for divorce in the District Court of Butler County, KS. News of the legal action was published in the El Dorado (KS) Republican.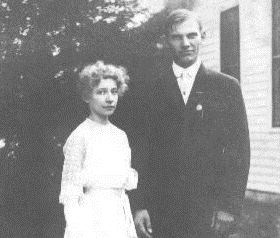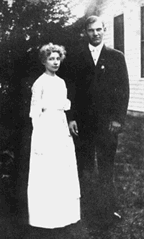 Daniel and Maybelle Knight, possibly a wedding photograph
By 1920, the 30-year-old Daniel was listed as married but boarding in the residence of divorcee Fannie D. Bowers in Kansas City, Jackson County, MO. That year, he was employed as a clerk in a railroad office.
Daniel then married Fannie's daughter, also named Fannie D. Bowers (1900- ? ). The couple's nuptials were held on March 2, 1920 in Missouri.
The pair relocated to Detroit, Wayne County, MI, where the 1930 census shows them living on Pringree Street. His occupation was as a clerk with a construction company. Their 20-year-old nephew, John H. White (1910- ? ) made his home under their roof that year. Daniel remained in Detroit as of 1935.
Daniel and Fannie divorced in Wayne County on Feb. 8, 1939, with her having claimed that he had failed to support her. No alimony was awarded.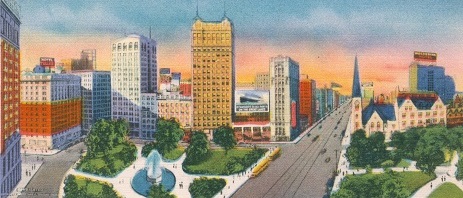 Panorama of Detroit's skyline and Woodward Avenue
Evidence suggests that Daniel may have been awarded a military pension to benefit children he and Fannie had borne together (XC 1957 109). But if they reproduced, the identity of the offspring has not yet been established.
Fannie married again to (?) Seery and in 1955 dwelled on East Jefferson Street in Detroit.
When the federal census enumeration was made in 1940, Daniel was residing in a Veterans Administration hospital near Dayton, OH. He eventually left the VA facility and returned to Detroit, making a home in 1942 at 2532 Ferry Park. There, he was employed by the City of Detroit.
When required to register again for the military draft during World War II, he disclosed that he suffered from a broken left collarbone.
Daniel's final years were spent in Allen Park near Detroit. He passed away on April 28, 1946, at the age of 57. He rests for eternity in Section R of Grand Lawn Cemetery.
Copyright © 2001, 2011, 2021, 2023 Mark A. Miner