John Willis Krick
(1866-1932)
John Willis Krick was born on or about Sept. 5, 1866 on the family farm near Monroeville, Allen County, IN, the son of Emanuel and Sarah Elizabeth "Betsy" (Minerd) Krick.
John married Maggie Viola Sherwood (1870-1921), the daughter of James and Margaret (Weinbauer?) Sherwood of Albion, IN. The wedding took place in on Oct. 30, 1887, in Allen County, when John was age 21 and Maggie 17.
He was a longtime baker, for more than three decades, and they made their residence on West Perry Street in Paulding, Paulding County, OH.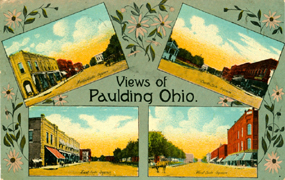 Old Paulding postcard
The Kricks had at least seven children -- Clarence A. Krick, Mabel Klingler, Bernice Poorman, Floyd Krick, Myrle Krick, Willis P. Krick and Dora Whirrett.
Maggie passed away at the age of 50 on May 24, 1921, caused by hepatitis. Burial was in Live Oak Cemetery in Paulding.
John lived as a widower for his remaining years. The 1930 census shows him residing on Perry Street in Paulding, and working in a local bakery. Also in the household was 16-year-old son Willis, and married daughter and son in law Dora and Harry Whirret and their young daughter Carol.
On Aug. 30, 1932, just six days before his 66th birthday, John was killed in an automobile accident on a public highway near Paulding when his vehicle upset and careened off the road, plunging over a 10-foot embankment into the backwaters of the Auglaize River. He and William Beck of Paulding had been en route to a fishing trip to the river. Beck was saved and pulled out of the river after being pinned under the vehicle. John was buried at Live Oak Cemetery in Paulding, with his obituary published in the Van Wert Daily Bulletin.
~ Son Clarence A. Krick ~
Son Clarence A. Krick (1888-1932) was born on July 8, 1888 in Payne, Paulding County, OH. As a young man, he was short and stout, with blue eyes, brown hair and early balding. He was considered a "man of many estimable qualities," said a newspaper.
He obtained employment as an agent with a railroad and by 1917 as yard master with the German-American Sugar Company in Paulding. The plant produced 700 to 800 tons of sugar beets each day and was operated by the Detroit-based Larrowe-Vallez Company.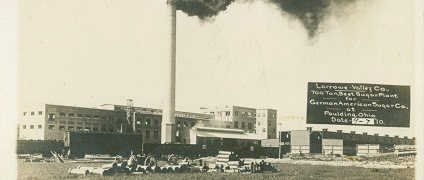 Larrowe Vallez plant of the German-American Sugar Co., Paulding, Ohio
On March 7, 1916, when he was 28 years of age, Clarence was united in wedlock with 25-year-old Marie Sylvia Didier (1891-1978), daughter of Frank X. and Jennie (Barnes) Didier of Fort Wayne. As Clarence was not Catholic, the service was held at the rectory of the Catholic church, conducted by Rev. Father J.A. McCarthy. In reporting on the nuptials, the Fort Wayne Sentinel said that it was "a very pretty wedding" which was "witnessed by immediate relatives of the two young people." Nellie Braun served as bridesmaid and Leo Didier as groomsman. Marie wore "a stylish and becoming gown of delft blue with trimmings of coral rose satin, with which she wore a becoming hat of harmonizing tones."
By the time of marriage, Mary had studied at Ursuline Collegein Pepper Pike, OH; Michigan State Normal School for teachers in Ypsilanti, MI; and the European School of Music in Fort Wayne. Reported the Sentinel, she "is a young woman of very quiet and pleasant manner, who has devoted much time to the study of music...."
They established their home in Paulding, at 508 West Perry Street. Friends from Fort Wayne would come for visits, including Adeline Keller and Nellie Braun. The Kricks did not reproduce.
In the 1930s, Clarence was field manager for the Paulding sugar beet factory, and Marie a piano teacher.
Sadly, after 13 years of marriage, Clarence contracted double pneumonia and was admitted to St. Joseph's Hospital in Fort Wayne. He was unable to rally and died at the age of 44 on Dec. 23, 1932, just two days before Christmas. His remains were placed into repose in the Catholic Cemetery in Fort Wayne. Word of his demise was sent to family in Van Wert, with an obituary printed in the Delphos Daily Herald. [Find-a-Grave]
Marie survived for another 56 years and married again to Mark Earl Waddoups (1885-1981). They made their home in Southern California in the community of Garden Grove, Orange County. Marie passed away on Aug. 25, 1978. Mark joined her in death on Jan. 11, 1981. They rest together in Bountiful Memorial Park in Davis County, Utah.
~ Daughter Mabel (Krick) Klingler ~
Daughter Mabel Krick (1894-1965) was born on Sept. 7, 1894.
She married Raymond G. "Ray" Klingler (1893-1977) of Paulding County, the son of Charles T. and Ursula J. (Shrider) Klingler. Raymond was of medium build and height, with brown eyes and black hair.
Their five known children were Carroll Woodward Klingler, Russell Willis Klingler, Rae Deane Wilhelm, Eloise Funk and Howard Klingler. Sadly, son Russell died as a baby in 1915.
Circa 1913, they lived in Toledo, but within a few years returned to Paulding. In June 1917, when registering for the military draft during World War I, Raymond disclosed that he was a foreman with Columbia Sugar Company in Paulding, and that he had served as a sergeant with the Ohio National Guard for five years.
The family were members of the First Christian Church of Paulding. Raymond served on the school board of the Paulding School and was a member of the town council and board of public affairs. He also was active with the local and state granges, an organization devoted to promoting and advocating for farmers, agriculture and rural interests.
Mabel died on Dec. 8, 1965, with burial in Live Oak Cemetery in Paulding.
Raymond survived her by a dozen years, and married again to Marie Massoney ( ? -1976). She died in 1976. He relocated to Phoenix to reside with his son. He passed in Scottsdale, AZ at the age of 84 on March 31, 1977. His remains were returned to Ohio for interment. A newspaper reported that he was survived by 13 grandchildren, 32 great-grandchildren and one great-great grandchild.
Son Carroll Woodward Klingler (1913-2002) was born on Aug. 16, in 1913 in Toledo, OH. At the age of 21, on June 29, 1935, he was united in matrimony with Nadine Dorothy Webb (1913-1977), daughter of Tony F. and Ada M. (Lamond) Webb of Mercer County, OH. They had two known children, Beverly Jean Laffin and Dennis Klingler. They resided in Coldwater, OH. Nadine succumbed on June 15, 1997 in Coldwater. Carroll spent his final time on earth in a long-term care facility in Minster, Auglaize County, OH, and died there on Jan. 25, 2002. [Find-a-Grave]
Granddaughter Beverly Jean Klingler (1938-2007) was born on Aug. 23, 1938. On June 28,1959, when she was age 20, she married William L. "Bill" Laffin ( ? - ? ). Their home was in Wapakoneta, Auglaize County, OH. The Laffins produced four children -- Billy Dean Laffin (who died in infancy in 1974), Mark Laffin, Dawn M. Moyler and Lora L. Hurt. Beverly was employed for three decades with Goodyear Tire and Rubber Company. She died at the age of 69, at home, on Sept. 27, 2007. Funeral services were officiated by Rev. Greg Roberts. She reposes in Resthaven Memorial Gardens in Saint Marys, Auglaize County.
Daughter Rae Deane Klingler (1920-2005) was born in about 1920. On Jan. 23 (or 27), 1937, when she was age 16, she married 21-year-old Louis "Lou" Wilhelm (1915-1994), son of Albert A. and Louisa (Zinser) Wilhelm of Latty, OH. The wedding ceremony was held in Paulding. They produced three children -- Gerald A. "Jerry" Wilhelm, James A. Wilhelm and Marcia Jean "Jeannie" Hayes. After spending the early years of marriage in Paulding, they relocated to Bryan, OH. In 1957, they migrated to Arizona, first living in Scottsdale and in 1969 migrating to Prescott, AZ. Louis was employed as administrator of Dickson Electronics in Scottdale, from which he retired in 1972. He was a member of Mission Santa Maria and, for 14 years, umpired baseball games in the minor leagues. On Jan. 23, 1987, they celebrated their golden wedding anniversary with an open house for family and friends. Louis passed away at age 79 at home. An obituary was printed in the Yavapai County Sunday Courier. His remains were interred in Genung Memorial Park Cemetery in Peoples Valley, AZ. Rae Deane remained in Prescott and died at the age of 86 on July 12, 2005. A rosary was held at the Chapel of the Chimes in Glendale followed by a funeral service at Our Lady of Sorrows Catholic Church. In an obituary in the Bryan (OH) Times, survivors were numbered at 14 grandchildren and 32 great-grandchildren.
Daughter Eloise J. Klingler (1921- ? ) was born in about 1921. On Oct. 13, 1939, when she was age 17 or 18, she was wedded to Carl W. Funk (1915-2003), whom she had met at a New Year's Eve party in Paulding. He was the son of William and Norma Funk and a native of Grover Hill, OH. Their two children were Channing Funk and Joanna Rounds. Carl was a newspaper publisher in New York and Ohio, and Eloise assisted in the work. They initially made their residence in Paulding, and in 1969, after three decades of marriage, relocated to warmer climes in Arizona. There, Carl was employed with a printing firm in Scottsdale. On Oct. 13, 1999, the couple celebrated their 60th wedding anniversary with a family dinner and reception at Ruth's Chris Steakhouse, as reported in the Arizona Republic. Carl passed away at the age of 88 on Dec. 5, 2003, bringing their marriage of 64 years to a close. An obituary was printed in the Republic, and funeral services were held at the family church, the Scottsdale Bible Church Chapel.
Son Howard Wayne Klingler (1926-2011) was born on Dec. 4, 1926 in Paulding. After high school graduation in 1944, he joined the U.S. Army during World War II. After the war's end, he returned home and attended classes at Ohio State University. In May 1947, at age 20, he married Mary Lou Fischbach ( ? -1998). They had four daughters -- Sally Klingler, Annette Pequignot, Sandra Cooper and Nancy Rupp. Howard got his first job with Toledo Scale and then obtained a position with Libbey-Owens-Ford in Toledo. An opportunity arose for them to move to Arizona where Howard and one or more partners founded a business, Space Craft Manufacturing. Howard operated the firm until retiring in 1984. While in Phoenix, they were longtime members of Bethany Bible Church. They also maintained a residence in West Unity, OH, where Howard served as an elder of First Presbyterian Church and a member of a building committee that expanded the church building. Said the Arizona Republic, he "enjoyed woodworking, playing card games and dominoes and was a member of the Kunkle Card Club. Howard traveled with Honor Flight, touring the Veterans memorial in Washington DC in May of 2008." Sadly, Mary Lou died in 1998. The following year, on Jan. 9, 1999, in West Unity, he married again to Mary J. (Wasnich) Eberly. She brought several adult offspring to the marriage, among them Judy Burns, Mary McCrea, Wendy Wasnich and Kenneth Wasnich. At age 84, Howard passed away on Jan. 9, 2011 at Community Hospitals and Wellness Center in Bryan, OH. Funeral services were held at First Presbyterian Church in West Unity, led by Pastor Dorothy Ritchey Moore. His remains were transported to Phoenix for burial in Phoenix Memorial Park, and an obituary was printed in the Arizona Republic.
~ Daughter Bernice V. (Krick) Poorman ~
Daughter Bernice Krick (1896- ? ) was born on May 16, 1896 in Paulding, Paulding County.
On Aug. 18, 1913, when she was 17 years old, she was married to 19-year-old Dale Lowell Poorman (1893- ? ), son of Perry and Hester (Boyer) Poorman of Scott, Van Wert County, OH. The nuptials were held in Paulding, with Rev. A.R. Custer officiating.
At the time they were married, Dale worked as a clerk in Paulding. He was short and slender, with brown eyes and black hair.
The Poormans' known offspring were Dale Lowell Poorman Jr., Jack W. Poorman, Roy D. Poorman and Dr. Robert Poorman, and perhaps others.
Dale registered in June 1917 for the military draft during World War I. At the time, the family lived at 321 West Harrison Street in Paulding. He disclosed to the registration officer that he was employed as a telegraph operator by the Cincinnati and Northern Railroad at Paulding. He also stated that he had served as a bugler for an infantry regiment for six years.
In the 1930s and '40s, the family lived on North Main Street in Germantown, Montgomery County, OH. In nearby Dayton, Dale was employed as a Works Progress Administration (SPA) supervisor at Wright Field, later renamed Wright Patterson Air Force Base.
Son Dale Lowell Poorman Jr. (1918-1986) was born on March 16, 1918 in Paulding. During World War II, he joined the U.S. Army and rose to become a sergeant. On Nov. 4, 1944, at age 26 and while on military leave, he wedded 23-year-old Martha Louise Figgins (1921-2004), daughter of Francis and Mildred (Reinwald) Figgins of Yellow Spring, OH. Rev. David Hardy Deen officiated. At the time of marriage, Martha lived in Xenia, Greene County, OH and earned a living as a clerk. Dale died on Jan. 28, 1986 at the age of 67. Burial was in Fairborn Cemetery in Fairborn, Greene County. Martha survived her husband by 18 years. She entered eternity on July 10, 2004.
Son Jack Warren Poorman (1920- ? ) was born on Oct. 19, 1920. He was married at least three times, but the identities of his first two brides are unknown. During World War II, he saw service with the U.S. Army. At the age of 30, he was employed as a patrolman in Miamisburg, OH. In about February 1951, in Montgomery County, OH, he married his third wife, 32-year-old cafeteria worker Ella M. (Bentley) Hall (1928- ? ), daughter of John and Mollie (Townsend) Bentley of Lexington, KY. His only known child was Connie Sue Holsapple. Jack was employed at Wright Patterson Air Force Base in Dayton, OH as a computer assistant. Residing in Franklin, OH, he was a member of the Disabled American Veterans (DAV) and the United Methodist Church in Germantown, OH. Toward the end of his life, Jack went to live in Cedarview Health Center in Lebanon, OH. He died there at the age of 92 on Jan. 17, 2013. His remains were lowered to rest in Woodhill Cemetery.
Son Roy D. Poorman (1923- ? ) was born in about 1923. He resided in Germantown, Montgomery County, OH in 1953 and was employed by Joe E. Frank Company. He was twice married. When he was age 30, on Feb. 15, 1953, he was was united in wedlock with his second spouse, 25-year-old office worker Ida Marie Aldridge (1928- ? ), daughter of Henderson and Florence (Kourges) Aldridge. She lived at the time in Butler County, OH.
Son Dr. Robert Poorman (1926- ? ) was born in December 1926 in Germantown, Montgomery County. He obtained his bachelor's and master's degrees at Ohio State University and in 1964 his doctorate at the University of California at Los Angeles (UCLA), where he was a Kellogg Fellow. His early career was spent teaching at the junior and senior high school levels. He later became dean of students at Bakersfield College, with his portfolio including roles as director of institutional research, associate dean of instruction, registrar and counselor. In 1976, he was recruited to become the first president of Lincoln Land Community College in Springfield, IL. Among the challenges he tackled in those early years focused on how best to serve residents of an 11-county region, later expanded to 15 counties, in the heart of a farm belt spanning 3,400 square miles. While in Springfield, he chaired the Governor's Prayer Breakfast and served on the boards of the Urban League, Springfield Symphony Orchestra and Memorial Medical Center. He also chaired the Council of Illinois Community College Presidents. He retired in 1988 and later accepted an interim presidency at Parkland, where he taught community college courses in connection with Fulbright studies. He is named in the 2014 book Shared Vision: Transformational Leadership in American Community Colleges.
~ Son Floyd Atlas Krick ~
Son Floyd Atlas Krick (1898- ? ) was born on Oct. 15, 1898 in Paulding.
He was of medium height and build, with blue eyes and brown hair. At the age of 19, he worked for himself as a taxi driver and as a merchant in Scott, Paulding County.
On Feb. 20, 1918, the 19-year-old Floyd married 18-year-old Belva Agnes Prior (1899- ? ), daughter of A.C. and Essie (Uncle) Prior of Logan, OH. Rev. C.L. Johnson officiated. At the time of marriage, she lived in Grover Hill, Paulding County. Later that year, in September 1918, he registered for the World War I military draft and declared that Belva was his next of kin.
The couple produced one known daughter, Arlene Krick.
The 1920 federal census shows the family living in Blue Creek, Paulding County, with Floyd working in a local restaurant.
By 1930, the couple had relocated into Fort Wayne, living at an address on Clinton Street. There, he earned a living as a laborer in a motor truck factory. They moved to a new address on Piqua Avenue in Fort Wayne during the 1930s, and in 1940 Floyd had become a machinist at the factory.
Floyd passed away in Fort Wayne in April 1978.
Daughter Arlene Krick (1918- ? ) was born in about 1918 and grew up in Fort Wayne.
~ Son Murl My Dearie Krick ~
Son Murl My Dearie Krick (1900- ? ) was born on May 16, 1900 in Paulding. He was of medium build and height, with brown hair and blue eyes.
As a late teenager in 1918-1920, unmarried, he lived at home and worked as a laborer ("engineer") with the Columbia Sugar Beet Company in Paulding. He registered for the military draft during World War I and stated that his father was his next closest relative. He also signed his full name on the card including his most unusual middle name.
Murl was united in marriage with Marjorie (1910- ? ). Their known offspring were Kay Ellen Krick and Murl Krick Jr.
When the federal census enumeration was made in 1940, they lived at 209 South Cherry Street in Paulding and Murl worked as a janitor in the local public school.
Evidence suggests that he died in Paulding in July 1970 at the age of 70.
Daughter Key Ellen Krick (1938- ? ) was born in about 1938 in Paulding.
Son Murl Krick Jr. (1939- ? ) was born in about 1939 in Paulding.
~ Daughter Dora (Krick) Whirrett ~
Daughter Dora Krick (1902-1984) was born on Sept. 24, 1902 in Paulding. Her name may actually have been "Aldora."
She married Harry Orlando Whirrett (1900-1950), also spelled "Wherrett," son of Henry and Susie (Point) Whirrett. They had at least two children, Carol Hope Livensparger and John D. Wherrett.
Harry worked as an automobile mechanic in Paulding circa 1930. He eventually became foreman of the body shop of McKinney Motor Sales, a Lincoln Mercury dealership in Marion, Marion County, OH. The business also was an authorized sales and service outlet for Ford and Ford Truck models. His name often appeared in advertisements in the Marion Star newspaper.
Their address was 450 Avondale Avenue in Marion, and they were believed to have been active with the Central Christian Church. Dora also was involved with the Silver Street School parent teacher association (PTA).
For years, Harry suffered from cancer of the liver and also an ulcer in his gastro-intestinal system. He underwent surgery at Marion City Hospital and died three days later at the age of 49 on Jan. 27, 1950. Son in law Karl L. Livensparger signed the Ohio death certificate. Burial was in Live Oak Cemetery in Paulding.
As a widow, Dora lived for 34 more years after her husband's passing. She moved to the state capitol of Columbus, Franklin County, OH, where her son lived, and supported herself by working as a sales lady. She passed away in Columbus in August 1984 at the age of 81.
Daughter Carol Hope Whirrett (1926-2008) was born on Aug. 2, 1926. She was wedded to Karl Lewis Livensparger (1925-2011), son of C.E. Livensparger of Marion, OH. The couple produced one daughter, Lori Kay Harrison. During the Korean War, Karl served in the U.S. Army Signal Corps and was based in March 1947 in Seoul, Korea as chief engineer with radio station WVTP. With a deep interest in "all things electrical," said the Marion Star, he was employed by Ohio Bell Telephone and became assistant vice president. After retirement, Carol and Karl relocated to Littleton, CO. Suffering from Alzheimer's disease, Carol died in Littleton at the age of 81 on June 12, 2008. Karl survived his wife by three years. He joined her in eternity on May 9, 2011. Funeral services were held in Evergreen Lutheran Church in Evergreen, CO. An obituary was published in their hometown newspaper, the Marion Star.
Son John David Whirrett (1934-2005 ) was born on Aug. 12, 1934 in Paulding. As a young man, he lived in Columbus, OH and was a tech sergeant with the U.S. Air Force, with service during the Korean and Vietnam Wars. When he was 22 years of age, he was united in wedlock with 22-year-old Julia A. (Rhodes) Forbis ( ? - ? ). The daughter of Donald and Zelma (Bair) Rhodes, of Marion, OH, she had been married and divorced previously. She worked as a secretary at the time of marriage. Rev. L. Elwood Peyton officiated at the ceremony held in Wayne County, IN. Later in life, John lived in Vienna, Trumbull County, OH. He died on June 24, 2005, and was laid to rest in the Ohio Western Reserve National Cemetery in Rittman, Medina County, OH.
~ Son John H. Krick ~
Son John H. Krick (1906- ? ) was born in about 1906.
~ Son Willis Paul Krick ~
Son Willis Paul Krick (1914-1987) was born on March 12, 1914 in Paulding, some 26 years younger than his eldest brother.
As a 16-year-old, in 1930, he dwelled at home with his widowed father in a household which included his married sister and brother in law, Dora and Harry Whirrett. He eventually worked as a laborer in Paulding.
On May 14, 1935, in Fort Wayne, the 21-year-old John entered into wedlock with 20-year-old Mildred Margie Leslie (1913- ? ), daughter of farmers John P. and Mary Ellen (Finnegan) Leslie of 436 East Creighton Street in Fort Wayne. Officiating the nuptials was Rev. Edward Burns Martin of the Methodist Episcopal Church.
They produced at least one son, Robert P. Krick.
The Kricks lived on West Perry Street in Paulding in 1940. Willis was proprietor of a retail grocery store.
Willis died in Paulding on Sept. 4, 1987, at the age of 73.
Son Robert P. Krick (1936- ? ) was born in about 1936 in Paulding.
Copyright © 2009, 2016-2017 Mark A. Miner