Annie (Leonard) Young
(1838-1907)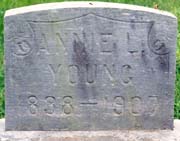 Irwin Memorial Cemetery

Anne "Annie" (Leonard) Young was born on May 30, 1838 in Fayette County, PA, the daughter of Benjamin and Sarah (Harbaugh) Leonard. She likely did not know her own birthdate.
Little is known of Annie's life.
When the federal census was taken in 1880, Annie was shown to be making her home with her cousin Allen Edward Harbaugh ("The Mountain Poet") in Stewart Township, Fayette County. She likely was staying there temporarily to provide care and assistance for Allen's wife Margaret and their young sons Chauncey (age 1) and William (3 months).
On Thanksgiving Day 1891, at the age of 53, Annie married 42-year-old Harry J. Young (1849- ? ). He was the son of Daniel and Julia Young of Chester County, PA, but a resident of Ohio Pyle at the time of marriage. It was one of two weddings performed that day by justice of the peace R.S. McCrum, and was reported in the Connellsville Courier.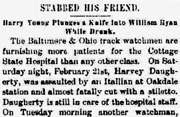 Connellsville Courier, 1891

Harry's background is little known, and only that in March 1891, he was employed as a night watchman on the Baltimore & Ohio Railroad at Ohiopyle. He was involved in an ugly knifing incident with William Ryan -- who were "best of friends," reported the Courier, until an argument at Martin Adams' boarding house. Young stabbed Young in the abdomen and breast, but Ryan recovered, and believed "the accident would not have happened had Young been sober," the Courier said. "Young has not been arrested. Ryan says that so far as he is concerned the matter will be dropped without a prosecution."

Annie apparently forgave the incident, and proceeded with wedding plans.

Annie and Harry resided in Ohiopyle, Fayette County. A rare old postcard of the world-famous Ohiopyle falls is seen here, set against the backdrop of the "Little Alps of America."

In 1900, when the census again was taken, Annie lived by herself in Ohiopyle, Fayette County. She told census-taker Cyrus Show that she had been married for eight years but had no children. Among her neighbors was her nephew Thomas Newton Leonard and his wife Mary and family.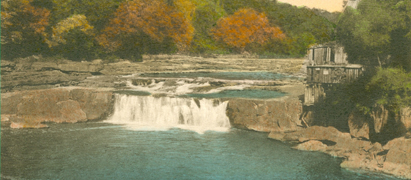 The famed falls at Ohiopyle
Harry's whereabouts in 1900 and fate after that are not known.
Connellsville's newspaper reported in November 1903 that Annie had "spent several days last week with Mr. and Mrs. Wilbur Leonard at Hopwood," Fayette County.
In 1905-1907, Annie was very ill with a case of diabetes and spent much time recuperating in her home on Sherman Avenue, as reported by the newspapers. Sadly, after several years of suffering, she passed away at age 69 on March 17, 1907. A brief obituary in the Connellsville Daily Courier said that "Funeral services were held in the M.E. Church by Rev. Charlesworth of Confluence." Her official death certificate noted that she was "widowed," with Mrs. Isabella Jackson of Ohiopyle providing the details.
Annie is buried near her parents at Irwin Memorial Cemetery (formerly Belle Grove Cemetery) south of Ohiopyle.
Annie is mentioned in the Cooperriders' 1947 book, Harbaugh History.
Copyright © 2001, 2003, 2006, 2009, 2012, 2022 Mark A. Miner