Robert Bacom Leonard
(1855-1922)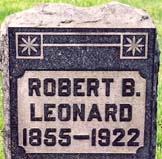 Belle Grove Cemetery

Robert Bacom Leonard was born on May 8, 1855 in Fayette County, PA, the youngest of 11 children of Benjamin and Sarah (Harbaugh) Leonard.
Robert never married, and as a bachelor lived alone on a small farm three miles from Ohiopyle along the Farmington Road.
He made a living as a trapper for many years. Circa 1882, he resided on the old farm that had been cleared decades earlier by his father.
In April 1886, Robert helped his aunt Catherine (Harbaugh) Rowan by signing his name as a witness on a government form. The purpose was for her to obtain a "Mother's Pension" due her dead son, Leonard Rowan, who had lost his life in the Civil War.
Little else is known of Robert's life, except that he died just 12 days shy of his 67th birthday on April 27, 1922. Said the Connellsville Daily Courier, "He was taken ill after eating breakfast, with acute indigestion. He managed to summon assistance of neighbors but expired soon after they arrived." An examining physician noted that death was caused by "exhaustion from prolonged vomiting due to acute indigestion," with gall stones contributing to his nausea. Niece Sarah Rush, daughter of his brother Christmas Leonard, was the informant for his Pennsylvania death certificate.
He was laid to rest at Belle Grove Cemetery near Ohiopyle after a funeral service at Meadow Run Church.
Robert is mentioned in the 1882 book, History of Fayette County, Pennsylvania, authored by Franklin B. Ellis, and in the 1947 book, Harbaugh History, written by Joseph Lewis Cooperider.
Copyright © 2001, 2006, 2008, 2011, 2014, 2022 Mark A. Miner