Louisa (May) Beltz
(1842-1876)
Louisa (May) Beltz was born on Dec. 26, 1842 in Bedford County, PA, the daughter of Leonard and Maria "Catherine" (Younkin) May.
On Dec. 12, 1859, when she was age 17 and he 23, Louisa was joined in matrimony with Samuel G. Beltz (May 10, 1836-1921), also spelled "Belts." The nuptials were held at her father's home, officiated by Peter Lehman. He was the son of Jacob and Nancy (Conrad) Beltz of Bedford County. Samuel stood 5 feet, 3½ inches tall, with sandy hair and hazel eyes.
They are believed to have produced these children -- Manda Catherine Beltz, Franklin B. Beltz, Nancy Margaret Beltz, Sarah C. Beltz, James P. Beltz and William E. Beltz.
During the midst of the Civil War, when the Union Army ranks ran low and a federal draft was instituted, Samuel was drafted on July 5, 1864. His name appeared on a list of local draftees published in the Bedford Inquirer. He was assigned to the 88th Pennsylvania Infantry, Company G. His term ended on or about March 31, 1865, and he re-enlisted when President Lincoln called all drafted men to report. He recalled that "We were laying close to Everett Pa. (formerly Bloody Run) about one week after my reporting. From there we went to Chambersburg Pa. where I was examined and from there we went to Carlisle, Pa. and from there we were transferred to Virginia."
At that time, his company was commanded by Capt. Aaron Bright Jr. While on duty at Arlington Heights, VA on May 18, 1865, a month after the war ended, he contracted fever and diarrhea. The ailments were due, he wrote, to "over fatigue in marching from Richmond Va. Was treated one week in Division Hospital and then sent to Augur U.S. Gen'l. Hospital about 1st June 65 where I remained until discharged and was not able to get home without laying over."
After the war, Samuel returned home. He and Louise moved their family on Dec. 1, 1865 to Woodstock, Champaign County, OH. They stayed there for five years, and Samuel worked as a blacksmith. His parents also relocated to Woodstock and lived next door when the 1870 federal census was taken.
They returned in December 1870 to Hyndman, Somerset County. In preparing to relocate, Samuel advertised in the Urbana (OH) Union that he was going to hold a public auctionon along the Urband and Woodstock Pike, three-and-a-half-miles from Woodstock. Among the assets to be sold were a story and a half brick house, blacksmith shop and three acres of land, including "a splendid Peach and Apple Orchard, and a never-failing well of water."
Sadly, Louisa passed away in Bard, Bedford County on May 14, 1876. Daughter Sarah was present at the time of death. Her brother Daniel H. May is known to have attended the funeral service and burial.
In 1877, he was awarded a federal government pension for his military service. [Invalid App. #243.385 - Cert. #512.875]
He married again twice. His second bride was Sarah Ann Wolford (Feb. 16, 1840-1890). A record of the union was made in the United Evangelical Church at Hyndman.
They were the parents of Anna Beltz (born Nov. 15, 1877) and Adam W. Beltz (born May 31, 1882). The second family made a home in Londonderry Township, Bedford County.
Sadly, Sarah died at Fossilville on May 9, 1896, with burial in Lybarger Cemetery in Madley, Bedford County. Friends J.W. and Mary Stouffer of Fossilville recalled that they "saw her after she died and before she was buried."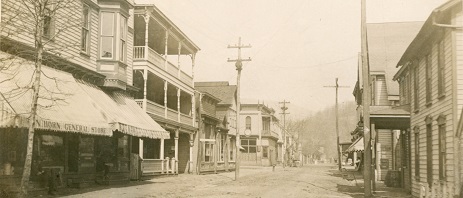 Unpaved Washington Street in Hyndman, Bedford County
Marrying a third time, on Nov. 22, 1896, Samuel was joined in matrimony with Laura "Lovena" (Dunlap) Mason (April 20, 1855-1935), daughter of John and Sarah (Tharp) Dunlap and a native of Bridgeport (Hyndman). Rev. A.C. Miller officiated.
Lovena was divorced from William E. Mason (on Oct. 14, 1896) and brought two daughters, Rachel Moreland and Georgia Gardner, to the marriage. Rachel and her husband Daniel, and Georgia Gardner, lived in Akron, OH in 1916.
The Beltzes made news in July 1902 while picking huckleberries on Will's Mountain near Hyndman. Samuel was bitton on the right hand by a copperhead snake. Reported the Bedford Gazette, "A handkerchief was drawn tightly around the wrist above the wound and the venomous reptile killed. The couple at once started to return to their home at Hyndman, but before reaching their destination Mr. Beltz's arm was swollen to an enormous size and the pain became so intense that his life was despaired of. When they arrived at home Dr. Jones was sent for and by a prompt response and skilful treatment succeeded in relieving the sufferings of the unfortunate man, who is now on the road to recovery." The story was so sensational that it was covered in the Altoona Tribune, Indiana Democrat, Fulton County News and Tyrone Daily Herald.
He retired from the blacksmith trade in about 1908 and is known to have endured back pain. Their home during that time was on Church Street in Hyndman. At Christmastime 1908, Samuel gave an endorsement for Doan's Kidney Pills which was published in the Gazette: "I suffered for some time from backache and other annoyances, arising from diseased kidneys. When I leanred of Doan's Kidney Pills I procured them and it required just one box to effect a complete cure. I am today without a sign of kidney trouble and in viewe of my experience gladly add my name to the list of endorsers..." The endorsement was reprinted at intervals during 1909-1913.
Lovena hosted a dinner at their home in May 1912 to celebrate the 82nd birthday of her mother. Among those attending were Annie Horner and Children, Mr. and Mrs. John Dunlap and Charles Dunlap, and Hannah Smith.
Suffering from insufficient flow of blood to his heart, Samuel succumbed at the age of 84 on Feb. 3, 1921. Interment was in Hyndman. [Find-a-Grave]
Lovena outlived Samuel by 14 years, remaining in Hyndman. Just 16 days after becoming a widow, she was awarded her late husband's Civil War pension and received monthly checks for the balance of her life. [Widow App. #1.170.172 - Cert. #908.738]
On Sept. 18, 1932, Lovena suffered a stroke and became paralyzed. A nurse was needed for constant care, and justice of the peace B.C. May wrote to the Bureau of Pensions in Washington, asking for $25 per month as reimbursement for nursing services. Then in October, she had a second stroke. Medications were procured from Charles R. Rhodes, a druggist and chemist in Hyndman.
She succumbed from the effects of kidney and heart valve leakage just four days after her 80th birthday on April 24, 1935. Mrs. Annie Horner of Hyndman signed the official certificate of death. Her grandson Samuel R. Moreland, living in Hyndman, wrote to the Commissioner of Pensions the day of Lovena's passig, asking for funds to cover the cost of burial.
~ Daughter Manda Catherine Beltz ~
Daughter Manda Catherine Beltz (1859- ? ) was born on May 22, 1859. She may not have survived childhood.
~ Son Franklin B. Beltz ~
Son Franklin B. Beltz (1860- ? ) was born on Aug. 14, 1860.
~ Daughter Nancy Margaret Beltz ~
Daughter Nancy Margaret Beltz (1861- ? ) was born on Oct. 30, 1861. She may not have survived childhood.
~ Daughter Sarah C. (Beltz) Robb ~
Daughter Sarah C. Beltz (1865- ? ) was born on March 12, 1865 in West End, Juniata Township, Bedford County.
She was 12 years of age when her mother died. Then when she was age 16 or 17, in 1880, the federal census of Juniata shows her living with her grandparents Leonard and Maria "Catherine" (Younkin) May.
She married Jesse Robb ( ? - ? ).
They are believed to have produced eight children -- James Robb, Mrs. Elmer Hillegas, Loretta Heffley, Mae McCarthy and Mrs. Eldon Dobbinis. One of the daughters married Ernest Smith.
She dwelled on Second Avenue in Hyndman in 1910 and made her home in the 1930s in north Meyersdale, Somerset County. She is known to have hosted a visit from her niece Mrs. Sarah Frost of Frostburg, MD in June 1911. Sarah spent the winter of 1916 with relatives in Cincinnati before returning to Hyndman in May 1916.
At the age of 72, suffering from hardening of the arteries and kidney ailments, she died of cerebral bleeding on Nov. 3, 1937 while in the home of Mr. and Mrs. Frank Heffley on North Street. Her remains were laid to rest in Union Cemetery near West End. Daughter Loretta of Meyersdale signed the official Pennsylvania certificate of death.
Daughter Loretta Robb (1883-1967) was born in 1883 in Bedford County. She was united in wedlock with Franklin Pierce "Frank" Heffley (1880-1943), son of Francis and Jane Heffley of Meyersdale. They produced five children -- Mary R. Heffley, Melda Black, Mrs. Wedo Polvinale, Frank P. Heffley and Major Donald L. Heffley. Sadly, daughter Mary died on Feb. 4, 1910 at the age of one. For many years, their home was at 411 North Street in Meyersdale. Frank worked in Meyersdale as a meat cutter. Frank was stricken with cerebral apoplexy and died on Feb. 13, 1943 at the age of 62. Loretta passed away in Meyersdale Community Hospital at the age of 84 on May 14, 1967. Burial was in Union Cemetery in Meyersdale, and Rev. Donald Hursh officiated. An obituary was published in the Meyersdale Republican. [Find-a-Grave]
Daughter Mae Robb wedded (?) McCarthy. Her home in 1916 was in Pittsburgh.
Daughter (?) Robb married Eldon Dobbinis. They lived in Oklahoma City in 1916.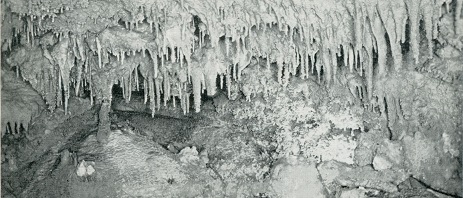 The "inverted forest" of Wonderland Caverns in Manns Choice
Son James Robb dwelled in Manns Choice, Bedford County in 1967.
Daughter (?) Robb was joined in matrimony with Elmer Hillegas ( ? - ? ). Their residence circa 1967 was in Manns Choice, Bedford County.
Daughter (?) Robb was united in wedlock with Ernest Smith ( ? - ? ). They resided in Portland, OR in 1967.
~ Son James P. Beltz ~
Son James P. Beltz (1869- ? ) was born on Jan. 18, 1869 in Champaign County, OH. He was but a boy when his mother died.
Circa 1916, James and his wife dwelled in Akron, OH.
~ Son William E. Beltz ~
Son William E. Beltz (1874- ? ) was born on Dec. 4, 1874.
Copyright © 2016-2018 Mark A. Miner
Research for this page graciously shared by MayHouse.org, the late Olive (Rowan) Duff and the late Donna (Younkin) Logan.