Mary Ann (May) Kellerman
(1828-1872)
Mary Ann (May) Kellerman was born in 1828 in or around Rocksville in Juniata Township, Bedford County, PA, the daughter of Leonard and Maria "Catherine" (Younkin) May.
Among her girlhood friends were her future husband as well as neighbor boy Henry C. Ritchey.
At the age of 26, in 1854, Mary Ann wedded James Lewis Kellerman (March 22, 1833-1905), also misspelled "Kelman," the son of Lewis O. and Catharine (Kerr) Kellerman of Londonderry Township, Bedford County, PA, and stepson of Margaret Kellerman. He was a boy of six when Margaret became his mother, and she raised him as her own.
James stood 5 feet, 7 inches tall and weighed 184 lbs.
They produced eight offspring -- Leonard L. Kellerman, Catherine Kellerman, Augusta V. Kellerman, Sarah A. McKinzie, Grant Kellerman, George W. Kellerman and Ida Kellerman. They may also have had a daughter Mary, born in 1857, but this is not yet confirmed.
In 1860, when the United States Census was taken, the family resided on a farm in West End, Juniata Township, Bedford County. Boarding in their home was James' brother, 22-year-old William Kellerman. As a young man, James was observed by his wife's brother Marcus May as "able to perform and actually did perform the hardest kind of manual labor as a farmer."
James made the decision in 1862 to enlist in the Union Army during the Civil War. He enrolled on Aug. 22, 1862 and was assigned to the 138th Pennsylvania Volunteer Infantry -- the same unit in which three of his May brothers-in-law served -- and within Company F, commanded by Capt. Lewis A. May. His sergeant, John Geller, once wrote that James "Was a good soldier and allways did his duty fully and faithfully when able."

Above: Cedar Creek battle in Virginia, where James was wounded. At this skirmish, Jubal Early's rear guard of Confederates battled the Union cavalry of Philip Sheridan.
Surgeon's sketch of James' knee and foot wounds from the battles of Monocacy Junction and Cedar Creek.
National Archives.

While on duty at Monocacy Junction, MD on July 9, 1864, he received an enemy shell wound in the left knee. He was left on the field as his regiment retreated, and was reported as killed, but eventually rejoined the regiment at Ellicott's Mills, VA. He spent a week in camp with his regiment before being sent to a field hospital at Ellicott's Mills, where he was treated by Dr. Keggy. When arriving at the field hospital, he saw his sergeant Geller, who had just had his arm amputated. Geller said to him, "What are you doing here?"
The wound kept him off duty for five months. He rejoined his regiment in the early fall of 1864.
Then, in action in Cedar Creek on Oct. 19, 1864, shrapnel from another shell hit him in the right foot. He was sent to the Mower Hospital in Philadelphia's Chestnut Hill neighborhood to recover and spent another four months convalescing.
After receiving his military discharge, James returned home two miles north of Buffalo Mills, Bedford County. Circa 1868 or 1869, Mary Ann's fatherless nephew Samuel S. Tipton came to live in their home.
The Kellermans moved their family to Maryland circa 1870, where their daughter Ida was born. Their nephew may have joined them in the move but then went back to work in Bedford County. Their home was near Greenspring, Allegany County, MD, in the vicinity of the Chesapeake and Ohio Canal channel.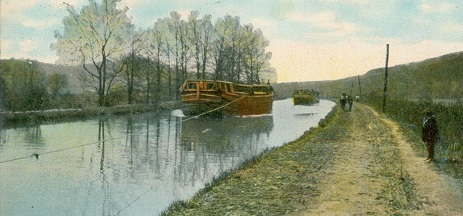 Chesapeake and Ohio Canal near the Kellerman home in Cumberland, MD
Within a year or so, they moved again into West Virginia, about 12 miles south of Cumberland. They resided on the R.G. Johnson farm two miles south and east of the Patterson Creek post office in Mineral County, WV. Tolbert H. Wagoner owned an adjacent farm, and other of their neighbors bore the names Robison, Owens and Kaylor.
Sadly, Mary Ann contracted "rose cancer" of the face. Even though she was ill, she held a birthday party for her daughter Sarah in July 1871. Heartache blanketed the family when she died on a farm in or around Alaska, Frankfort or Patterson Creek Depot on Jan. 16, 1872. A.J. Kayler and Henry Davis were present at her death. Neighbor Tolbert Wagoner helped make her coffin and placed here body therein. He also attended her funeral and burial in the Methodist Church graveyard in the town of Frankfort, later renamed Alaska and later still "Fort Ashby." John H. Davis of Siebert, MD also attended the burial ceremony, as did Mary Ann's brothers John, Marcus and Daniel.
The facts of her death were written in the family Bible, published in 1855. Word of her death also reached relatives back in Bedford County, including James' step-mother and nephew Samuel S. Tipton. The nephew traveled to Patterson Creek after the burial and rejoined the family unit, which now included his uncle's new wife.
No stone was placed at Mary Ann's grave. Many years later, her daughter Sarah McKinzie visited the cemetery, and the caretaker showed her the unmarked location.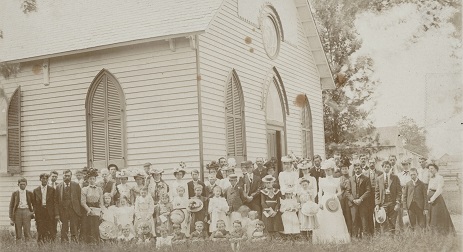 Churchyard, Alaska Methodist Episcopal Church, where Mary Ann rests for the ages
~ James' Second Marriage ~
With young children to feed, James immediately employed twice-widowed Caroline Longsdorff to work in the house. She brought a four-year-old son and three-month-old baby daughter with her.
Just six weeks after his wife's death, on March 5, 1872, at age 39, James married for a second time to his employee, Caroline "Carrie" (Riehl) Hewett Longsdorff (July 10, 1846-1912), daughter of John and Elizabeth "Lizzie" (Baltzer) Riehl, immigrants from Hesse-Darmstadt, Germany. Their nuptials took place in Cumberland, Allegany County, MD, officiated by Rev. H.C. Holloway, and with James' daughter Sarah present. At the ceremony, daughter Sarah held Carrie's infant daughter Susie.
Some snickered that the marriage had occurred so quickly.
Carrie had been married previously to two husbands, the first of whom was Charles Hewett (died of typhoid fever on Jan. 3, 1866 in Waverly, Van Buren County, MI, with burial in Glendale Cemetery). The couple had produced a son, John Eben Hewitt, who had died on New Year's Eve 1865 at age 11 months. As a young widow, Carrie returned to Berlin, Somerset County and became pregnant with Henry Longsdorff ( ? - ? ), son of hotel keeper Mike Longsdorff. Henry was arrested by Constable William A. Powell but agreed to marry Carrie as a compromise. Justice of the peace Park Philson performed the ceremony. The couple did not live together for more than a few weeks. Henry got drunk within a month of the marriage and abandoned her in about September 1869. Although a divorce was granted by the Court of Common Pleas of Somerset County on May 5, 1871, Carrie herself did not know this fact. In the community, she was widely considered a "grass widow" as someone whose husband had left long ago. Longsdorff allegedly had found a job in a distillery and was scalded in a boiler explosion.
In 1873, she then went to Patterson Creek, Mineral County, WV to keep house for two bachelor brothers, John and Henry Smith. She became pregnant to the Smith brothers' nephew Jacob "Jake" Smith and that year delivered a baby girl, Susan, who was given the name "Smith."
Our James and Carrie produced five more offspring -- Charles Edward Kellerman, James Harrison Kellerman, Jesse D. Kellerman and two others. Carrie's son William lived part of the time with the Kellermans and part of the time with his father's sister Catherine Doffat near Patterson Creek.
James applied for and was awarded a military pension as compensation for his wartime ailments. [Invalid App. #322.352 - Cert. 270.731] Testifying on his behalf were fellow soldiers and friends Fred G. Ritchey, George Geller, former brother-in-law Marcus May and step-mother Margaret Kellerman. His monthly payment in 1890 was $6.
~ Migrations to Mansfield, Ohio and Westphalia, Kansas ~
The Kellermans moved to Mansfield, Richland County, OH by 1879 and remained there for seven years, at least through February 1884, before surging ahead into Kansas.
They eventually settled in or near Westphalia, Anderson County, KS.
Among others from Bedford County who also set down roots in Westphalia were the family of Civil War veteran David Corley and his wife Carolyn Dorothy Kellerman and their eight children -- Charles B. Corley, Harry C. Corley, James E. Corley, Blair Corley, Cliff A. Corley, Walter P. Corley, Fred Corley and "Bine" Goodrick. Another was the family of James B. and Mary Ellen (Hill) Tipton.
James and Carrie made their home "in the country north of town," said a newspaper.
He suffered several injuries during farm work. In October 1896, "while driving into the barn floor," he wrote, "I was knocked down by the wagon and the tongue struck his left hand and bones were broken and dislocated. In April 1897 whie riding on horseback and carrying double trees on my shoulder I was thrown from my horse and right hand and right shoulder were injured. In Aug. 1894 while engaged in thrashing and stacking straw I was overcome by the heat and had to be helped down from the stack."
When examined by a military surgeon in about 1897, as part of the pension process, the surgeon wrote that James "has a transverse scar across the patella of the left knee, caused by a shell wond, and six scars around and below the knee caused by former abscesses. The patela was not fractured, and there is no deformity in place.... He has also a scar about one inch long on the middle of the metatarso-phalangeal articular of the right great toe. He stated, at the time of his first examination, that it troubled him considerably in cold weather but was 'not much of a disability' in warm weather."
James died in Westphalia in the wee hours of the day after Thanksgiving, on Dec. 1, 1905. Dr. Longacre attended him in the final illness, and Ed Fixmer prepared the body for interment, with local newspaper publisher A.F. Hatten helping dress the body. Burial was in Cherry Mound Cemetery in Westphalia. Rev. Poole, of the United Brethren Church, preached the funeral sermon. Agnes Churchman, whose husband had been with James at death, attended the funeral. The Westphalia Times eulogized that he "was a good citizen and neighbor, a kind, loving husband and parent, and was always held in the highest esteem." [Find-a-Grave]
A notice in the Garnett (KS) Journal reported that "George Kellerman was called here from Altoona, Thursday, on account of the death of his father, James Kellerman."
Carrie outlived her husband and began receiving his monthly pension payments. [Widow App. #841.286 - Cert. #673.150] When a government investigator interviewed her in 1908, he reported that "I found her in a state of wrath against the Pension Bureau and all connected therewith that made it difficult to take a connected statement from her on the merits of her claim. She was far from candid in her manner and had the appearance of trying to conceal something that should be disclosed. In endeavoring to discover what this something might be, it occurred to me that her son Wm. Longsdorff might be an illegitimate child as she stated that her marriage relations with Henry Longsdorff, whom she names as her second husband, continued not more than a month."
She remained in Westphalia as shown in the 1910 federal census. That year, her 47-year-old nephew Charles E. Manning and his 27-year-old wife Mary C. lived in the household.
Suffering from painful inflammatory rheumatism, Carrie died in Westphalia on Dec. 4, 1912. In an obituary, the Westphalia Times called her "Aunt Caroline" and said that she "passed peacefully away, surrounded by members of her family, who did everythign possible to give their dear mother relief and comfort.... She was the mother of a large family, all grown, and they have certainly lost a true, loyal, Christian mother. Mrs. Kellerman was one of the best of neighbors, had a good word for every one, and in time of sickness or need was always among the very first to respond." Funeral services were held in the Cherry Mound United Brethren Church, officiated by Rev. Gillette.
Circa 1870, their supposed 13-year-old daughter Mary resided with aged grandparents in Juniata Township, Bedford County.
~ Son Leonard L. Kellerman ~
Son Leonard L. Kellerman (1855- ? ) was born in about 1855 in Bedford County, PA and appears to have been named for his grandfather Leonard May. He grew up in Pennsylvania, Maryland and West Virginia before migrating with his father and step-mother to Kansas.
Leonard made his home in 1887 in Little Rock, AR.
He died at home on Aug. 1, 1887, at the age of about 29. A short notice was published in the Westphalia (KS) Times. Nothing more is known.
~ Daughter Catherine Kellerman ~
Daughter Catherine Kellerman (1857- ? ) was born in about 1857 in Bedford County, PA.
~ Daughter Augusta V. Kellerman ~
Daughter Augusta V. Kellerman (1859- ? ) was born in about 1859 in Bedford County.
~ Daughter Sarah A. (Kellerman) McKinzie ~
Daughter Sarah A. Kellerman (1863- ? ) was born in July 1863. She was a girl of 11 when her mother died.
At the age of about 15, circa 1878, Sarah was joined in holy matrimony Jeremiah J. "Jere" McKinzie (1848-1919), a Maryland native. The marriage may have been conducted in Pennsylvania, Maryland or Ohio. Their name also has been spelled "McKenzie."
They were the parents of seven children -- among them Cora Gladfelter, Ida McKinzie, Pearl Beissel, Walter McKinzie, Samuel McKinzie and Charles A. McKinzie.
Upon their marriage, the couple quickly relocated to Ohio, where they resided in Mansfield, Richland County. Sarah's father and step-mother also migrated to Mansfield around that time.
In adulthood, Sarah once visited the West Virginia cemetery where her mother was buried. The caretaker showed her the location, but there was no stone.
Despite the fact that Sarah's father and step-mother had pushed into Kansas in 1884, the McKenzies remained in Ohio at least as late as 1895, when their son Charles was born.
The McKenzies' eventually could not resist the pull from Kansas. They put down roots in Westphalia, Anderson County, KS. They moved their house to town lots in the southwest part of Westphalia in 1903 on property they had purchased from Sarah's half-brother Charles Kellerman. The next year, Jere built a two-story addition to the home. Later, they moved to a residence eight miles northeast of Westphalia.
Jerry earned a living in Westphalia as a day laborer, performing odd jobs. When Martin G. Hooten went to Oklahoma to hunt for a few weeks in October 1901, Jerry managed Hooten's dray business. He suffered a painful accident in January 1902, reported the Garnett Plaindealer, when he "fell through his stable loft, the weight of his body coming on the left forearm and breaking it."
In December 1913, Sarah and Jerry, along with Joseph Stevens, went to El Dorado, KS, where the two men labored on a bridge gang for the Missouri Pacific Lines Railroad. They all came back to Westphalia for Thanksgiving that year.
Tragedy blanketed the family in sadness in October 1915 when son Charles committed suicide while in Kiowa, KS. Jerry and their son-in-law William G. Beissel traveled to Kiowa to claim the body and escort it back to Westphalia for interment. They returned to Kiowa "to straighten up the affairs of the deceased," said the Kowa News-Review, "principally to obtain proof of his death in order to collect a policy held by Charles McKinzie in the Bankers & Farmers Insurance Company, of Wichita, Kansas, in favor of his mother. Charles had borrowed several hundred dollars on the policy, but there is sufficient left to defrey the funeral expenses and to give his mother the benefit of several hundred dollars."
On the fateful day of Feb. 4, 1919, while hauling fodder from a farm field, Jerry suffered a stroke and fell from the top of the load. He was rushed home, and family feared he had broken his neck. A physician was summoned and advised that a stroke had caused the injury, and Jerry died that evening. Interment was in Westphalia City Cemetery, with Rev. Summer preaching a short sermon. An obituary was published in the Garnett Review, reprinted in the Kincaid (KS) Dispatch. The Review eulogized that he "was a respected citizen, honest and upright."
The 1920 federal census enumeration shows Sarah, marked as widowed, living with her married son Sam and his wife Bertha in Westphalia.
By 1924, she lived in Mont Ida, Anderson County. She spent several weeks' vacation in the late spring of 1924 visiting her half-sister Susan Corley in Westphalia.
Daughter Cora McKinzie ( ? - ? ) was born in (?). In late January or early February 1901, she was united in holy wedlock with Arthur Gladfelter (1883- ? ), a native of Missouri. The nuptials were reported in the Iola Register, "which sadly changed the countenances of a number of Westphalia's dudes," said the Garnett Journal-Plaindealer. "We most heartily invoke God's blessing upon them, and may their lives be long and useful; their home a happy one, where the sunshine of God's love shall never grow dim, but grow brighter as they near their journeys end." The Glatfelters produced four children, of whom two are known -- Lenora Gladfelter and Carl Gladfelter. The couple made their home in 1904 in Iola and in 1910 in El Dorado, Butler County, KS. There, Arthur worked as a house painter and wallpaper hanger. Cora's 19-year-old brother Sam McKinzie lived in their home in 1910, also working as a house painter.
Granddaughter

Lenora Gladfelter (1903- ? ) was born in about 1903 in Kansas.
Grandson Carl Gladfelter

(1907- ? ) was born in about 1907 in Kansas.
Daughter Ida McKinzie ( ? - ? ) lived in Iola, KS in 1904. She married (?) May ( ? - ? ). Her home in 1919 was in Arkansas City.
Daughter Pearl McKinzie (1888- ? ) was born in about 1888 in Ohio and relocated to Kansas during her young years. At the age of about 15, in April 1903, she visited her aunt Susan Corley who "has been quite sick," said the Kansas Agitator. In about 1908, she wedded William G. "Will" Beissel (1864- ? ), a native of Illinois. William was nearly a quarter century older than his wife. William had been married once before and brought these children to the second union -- Keith J. Beissel and Harold Dewey Beissel. In reporting on the wedding, the Garnett Evening News said that "The many friends of Will Beissel ... will be pleased to learnof his marriage yesterday to Miss Pearl McKinzie. The wedding was a quiet affair and the ceremony was performed by Rev. Studebaker at his home in Mt. Ida. Mr. Beissel is a well known business man of Westphalia and was for several years postmaster. He is one of the stongest political leaders in the Republican party in Westphalia. He has a host of friends here in Garnett, who extend to him their heartiest congratulations and best wishes and hope that joy and happiness may always follow..." William earned a living in 1920 as a stockman. Their home in 1920 was in Westphalia, and they were next-door neighbors to Pearl's widowed mother and married brother. Circa 1930, they made a home on a farm in Welda, Anderson County, KS, and Pearl's widowed mother dwelled under their roof.
Step-grandson Keith J. Beissel (1895-1968) was born on May 29, 1895 in Kansas. He grew up performing farming chores. During World War I, he served as a corporal with Company C of the 137th Infantry. He was cut away by the Grim Reaper on June 27, 1968. Burial was in Westphalia City Cemetery.
Step-grandson Harold G. "Dewey" Beissel (1898-1982) was born on July 8, 1898 in Kansas. He served in the U.S. Army during both World War I and World War II. He is thought to have made a home in or near Erie, Neosho County, KS. He passed away in Erie on his 84th birthday on July 8, 1982. Interment was in East Hill Cemetery in Erie.
Son Walter McKinzie ( ? - ? ) lived in Kentucky in 1919 when named in his father's newspaper obituary.
Son Samuel Jerome "Sam" McKinzie (1891- ? ) was born on Feb. 23, 1891 in Ohio. At the age of 19, in 1910, he worked as a house painter and boarded in the home of his married sister Cora Gladfelter in El Dorado, Butler County, KS. He was united in wedlock with Bertha Bloom (April 17, 1898-1999), daughter of Harry and Minnie B. (Carnes) Bloom. Their one known son was Gail McKinzie. They resided on the farm of Samuel's married sister Pearl Beissel in 1918. In 1920, the McKinzies made a home in Westphalia, with Sam earning a living as a farmer and teamster. That year, Sam's married sister Pearl Beissel and family were next-door neighbors. Sadly, she outlived her son Gail and his wife. Bertha died at the age of 101 on Dec. 19, 1999. She rests with with her son in Garnett Cemetery.
Grandson Gail McKinzie (1916- ? ) was born on May 21, 1916 in Kansas, likely in Westphalia. On March 14, 1937, when he was 20 years of age, he married Ruby Jean Curtiss (March 19, 1919-1982). Gail died on Feb. 8, 1978. Gail survived him by four-and-a-half years and joined him in eternity on Nov. 4, 1982.
Son Charles A. "Charley" McKinzie (1893-1915) was born on May 15, 1893 in Ohio. When he was two years of age, he was brought by his parents to Kansas, where they put down roots in Westphalia. The Garnett Review once said that he "has practically grown up here." After graduation from public school in 1910, he stayed in Garnett. Then in 1912, he and his parents went to western Kansas, where Charley labored in railroad construction. Then on Aug. 16, 1914, at the age of 21, he was joined in marital union with widowed, 34-year-old Eva M. Bishop (1880- ? ) of Kiowa, Barber County. The probate judge of Sedgwick County performed the nuptials. In commenting on the wedding, the Garnett Review referred to Eva as a "well-to-do lady." She had been widowed from George "Edward" Bishop (1867- ? ), and brought five young children to her marriage with our Charley -- Marvin E. Bishop, Hazel V. Bishop, Verne A. Bishop, Alice L. Bishop and Alfred Bishop. The newlyweds traveled to Westphalia to spend a week with his parents and then returned to Kiowa to establish their home. In reporting on the wedding, the Kiowa News Review said that Charley "is an industrious, ambitious and respectable young man. He has many friends in this city who congratulate him on winning a most charming bride. Mrs. McKinzie lived in and about Kiowa for the last ten or more years and has many friends whom extend congratulations to her and her husband on the ocasion [sic] of their marriage." Their home was north of the Missouri Pacific Lines station in Kiowa, and Charley earned a living as a house painter on the Landis home and accepting odd jobs. But then something went terribly wrong over the span of the next 14 months. The Garnett Review said that Charley "apparently, was entering upon a stage of a commendable career, when suddenly, almost without a moment's warning, the slender thread was snapped asunder!" The couple frequently quarreled. At dinner in their home on the fateful evening of Oct. 26, 1915, they fought yet again as two of Eva's children watched. She left the kitchen and went outside, telling Charley to shut up or that she would summon the police. In response, the 22-year-old man went into the sitting room, closed the door, placed a .38 caliber pistol against his forehead and pulled the trigger. "Death was instantaneous," said the News Review. Eva ran into the house and told her young son to run to the neighbor's house for help. Neighbors came immediately, but it was too late. The coroner made an examination and pronounced the matter suicide. Charley's grieving father and brother-in-law William Beissel traveled to Kiowa to collect the remains and escort them for burial in Westphalia City Cemetery. Funeral services were conducted at the McKinzie home by Rev. Eells. In a news story, the Garnett Review said that the death had occurred "under mysterious circumstances... A large number of Charley's old friends were present to attest the respect and esteem in which they held him, who saw fit to cut short a life which gave promise of much usefulness." In June 1916, eight months later, she petitioned the Barber County court to restore her former name, "Bishop." Then on Sept. 23, 1916, she wedded a third time to Wichita police officer John J. Snider. Their nuptials were officiated by Judge Garrison in his office in Medicine Lodge. The Kiowa News-Review noted that Snider "is a fine specimen of manhood, in the prime of life, affable, accommodating and of a happy disposition never failing to make friends with everybody. He is a fixture in West-Wichita, attentive to his official duties and popular with the people. We understand Mr. Snyder [sic] owns fine property and has a splendid home prepared for his charming bride."
~ Son Grant L. Kellerman ~
Son Grant L. Kellerman (1865- ? ) was born on May 4 or 9, 1865 in Bedford County, PA. He probably was named for the famed Civil War general Ulysses S. Grant.
Because his mother and step-father relocated to Kansas with Grant was a boy, his family thought he had been born there.
In August 1887, he married Mary Crotty (May 1, 1861-1926), a native of Greenwich, Huron County, OH and the daughter of Irish immigrants Thomas and Mary (Martin) Crotty. They remained together for 39 years but did not reproduce.
Their home for decades was in Mansfield, Richland County, OH, where he earned a living as a boilermaker in the railroad industry. In June 1902, the Mansfield News-Journal reported that he had left his position with Aultman & Taylor Company, as foreman in the boiler department, and had relocated with five other boilermakers to Racine, WI, "who have secured jobs with the Case Machinery company." Mary followed him to Racine several months later.
The couple returned to Ohio within a few years, where the 1910 U.S. Census shows them living in Galion, Crawford County. At that time, he was employed as a railroad fireman, and they kept 19-year-old niece Anna P. Zeller in their home. Sadly, Mary's mother Mary Crotty-Kohla died in their Galion home in Oct. 1909. During the 1910s, they migrated back to Mansfield. The 1920 census lists his occupation as boilermaker for an electric company.
Their home in 1926 was at 120 Dawson Avenue, and they belonged to St. Peter's Catholic Church. He was a member of the Catholic Knights of Ohio.
Mary was stricken when thyroid problems and heart valve disease. Sadly, on Nov. 25, 1926, at the age of 65, Mary succumbed following surgery for a goiter in Mansfield General Hospital. Burial was in Saint Mary Cemetery in Norwalk, Huron County. The News-Journal printed an obituary.
Grant wedded a second time, at the age of 62, to 62-year-old Carrie (Bieber) Schisler (April 16, 1866-1930), daughter of John and Catherine "Kate" (Baer) Bieber of Crestline, OH. Rev. M.J. Doyle officiated at the nuptials held April 25, 1928.
Carrie moved into Grant's Dawson Avenue home in Mansfield. His final working years were spent at the Melco Station of Ohio Public Service Company.
The marriage only lasted for less than two years. Burdened with kidney and heart ailments, Carrie passed into eternity at the age of 64 on Dec. 3, 1930. Her remains were placed into repose in Mansfield Cemetery.
Grant outlived his second wife by nine years. Circa 1939, his address was 129 West Fifth Street in Mansfield.
At the age of 74, widowed, Grant lived in th ehome of James F. Scott at 129 West Fifth Street. He suffered a heart attack and died the same day, Feb. 22, 1939. Interment was in Saint Mary Cemetery in Norwalk, Huron County, OH. [Find-a-Grave] In an obituary, the News-Journal noted that he was "survived by several nieces and nephews."
~ Son George W. Kellerman ~
Son George W. Kellerman (1868- ? ) was born in about 1868.
He made his home circa 1900 in Garnett, Anderson County, KS. The Garnett Plaindealer reported in January 1900 that he had traveled to Mansfield, Ohio to visit his brother.
He is believed to have been a carpenter who built a large barn for Tommy Williams in 1901, north of Garnett.
Circa July 1904, evidence suggests that he traveled to Pawnee County, MT to work in the harvest fields with John Mustard, Jim Kellerman and Russel Hand. In August 1904, they harvested wheat in Pratt County, KS.
Circa 1905, he dwelled in Altoona, Wilson County, KS. A notice in the Garnett (KS) Journal in December of that year reported that "George Kellerman was called here from Altoona, Thursday, on account of the death of his father, James Kellerman."
His sister Sarah McKenzie noted in June 1908 that he was in Kansas City, KS.
Suffering from health problems, George went to Hot Springs, AR in 1914 hoping to find a cure. He returned to Kansas on Dec. 30, 1914, passing through Garnett in the afternoon, as reported by the Garnett Evening Review, possibly en route to Westphalia.
Nothing more about him is known.
~ Daughter Ida May Kellerman ~
Daughter Ida May Kellerman (1870-1903) was born in about 1870 in Maryland.
At the age of 10, in 1880, she lived under the roof of her married sister and brother-in-law, Sarah and Jerry McKenzie, in Mansfield, Richland County, KS.
The entire family moved to Kansas in about 1884. Ida never married.
In September 1898, her home was in Kansas City. She remained there until about 1902, when she relocated to Southern California, seeking a cure for pulmonary tuberculosis. She rented a room at 498 California Street in Los Angeles
She succumbed in Los Angeles on May 30, 1903 at the age of 33. In an obituary, headlined "Died Far From Home," the Los Angeles Times said that she was "a young widow, who came here from Kansas, unattended, some time ago for the benefit of her health, died yesterday morning ... under circumstances that necessitated an investigation by the Coroner. It was reported that the woman had been a victim of faith-cure fakers, and consequently there was no person except the Coroner authorized to sign a death certificate. The Coroner ascertained that the deceased had been under treatment by various physicians, all of whom had given up the case as hopeless. Finally, she tried the 'faith' cure and under it died."
An obituary also appeared in the Westphalia Times, noting that she "was an estimable lady and leaves many relatives and friends to mourn her death."
Burial was in Augelus Rosedale Cemetery in Los Angeles. [Find-a-Grave]
~ James' Son Charles Edward Kellerman (2nd Marriage) ~
Son Charles Edward Kellerman (1878-1944) was born on April 12, 1878 in Mansfield, Richland County, OH. As a young boy, he migrated with his parents Westphalia, Anderson County, KS.
He was a farm laborer.
Circa 1898, he was joined in matrimony with Phebe Ann Manning (Sept. 1870-1953), a native of Michigan. The newlyweds lived with Charles' parents in 1880 when the federal census was taken.
The couple produced three known children -- Grace F. Kellerman, Edward Kellerman and Gladys Kellerman.
Circa 1903, he sold town lots in Westphalia to their married sister and husband, Sarah and Jere McKinzie.
They remained in Westphalia in 1910 -- with Charles performing odd jobs to generate income -- and lived next door to Charles' widowed mother. At one point he traded town lots with his mother.
Charles passed away at the age of 66 on June 5, 1944. Burial was in Cherry Mound Cemetery in Westphalia. [Find-a-Grave]
Phebe lived for another nine years as a widow. She succumbed in 1953.
Daughter Grace F. Kellerman (1901- ? ) was born in about 1901 in Westphalia
Son Edward Kellerman (1903- ? ) was born in about 1903 in Westphalia
Daughter Gladys Kellerman (1908- ? ) was born in about 1908 in Westphalia
~ James' Son James Harrison Kellerman (2nd Marriage) ~
Son James Harrison Kellerman (1882-1968) was born on Sept. 10, 1882 in Mansfield, Richland County, OH. When he was a young boy, he and his parents and siblings migrated to Kansas, settling in Westphalia, Anderson County.
On Oct. 26, 1906, in nuptials held in Garnett, KS, the 24-year-old James married 22-year-old Byrdie Marie Kibby (March 19, 1884-1968). At the time, he was working as a carpenter in the town of Sheffield, MO. The Westphalia Times said in a related story that "They are good young people, both are industrious, and we wish them success wherever they may go."
The couple lived in Kansas City in 1908. Later, they relocated to Minnesota.
James was gathered in by the Grim Reaper on Aug. 28, 1968. Burial was in Blue Springs Cemetery in Jackson County, MN. [Find-a-Grave]
Byrdie joined him in death just a few months later on Dec. 13, 1968, at the age of 84.
~ James' Son Jesse Daniel Kellerman (2nd Marriage) ~
Son Jesse Daniel Kellerman (1889-1964) was born ion Aug. 7, 1889 (or 1888) in Kansas.
In 1910, unmarried at age 20, he lived with his widowed mother in Westphalia and earned a living providing labor for odd jobs.
After his mother's death, he moved to Kansas City.
He and Rilla Electra Bouse (Aug. 29, 1892-1949) of Cherry Mound were united in matrimony in Ottawa, KS in late April 1913. Reported the Westphalia Times, Jesse "was born and grew to manhood in this township, and is an undustrious and exemplary young man. His bride has lived here a number of years and is possessed of those good qualities that go to ake a model housewife and companion. They will ship their household goods to Kansas City where they will go to housekeeping at once."
They were the parents of Jesse Kenneth Kellerman and Lee Franklin Kellerman.
In 1941, they resided in Garnett, KS, where he was employed as deputy sheriff. Their home in 1949 was in Chanute, Neosho County, KS.
Rilla was swept away by the Grim Reaper in 1949.
Jesse passed away at the age of 76, in Chanute, on Oct. 23, 1964. Burial was in Elmwood Cemetery in Chanute.[Find-a-Grave]
Son Jesse Kenneth Kellerman (1915-1983) was born in 1915. On June 21, 1941, on the eve of World War II, he married Mary "Alberta" Heck (1921-2003). Jesse died on Jan. 24, 1983. Alberta lived for another two decades. She joined him in eternity on June 11, 2003.
Son Lee Franklin Kellerman (1924-2014) was born on Sept. 22, 1924 in Westphalia. At the age of 21, on April 29, 1946, he wedded Joy Louise Brooks (Aug. 27, 1935-1996). Sadly, Joy died at age 70 on Jan. 4, 1996. Later that year, in Sept. 1996, Lee married a second time, to Edna (Bolz) Davis. Lee died at the age of 90, in Garnett, on Oct. 29, 2014. He rests in Welda Cemetery in Anderson County.
~ James' Stepson William Henry Longsdorf (2nd Marriage) ~
Stepson William Henry Longsdorf (1870-1961) was born on May 3, 1869 in Berlin, Somerset County. After his mother married our James Kellerman, William alternately resided with his mother and at times with his father's sister Catherine Doffat in Patterson Creek, Mineral County, WV. When his mother and step-father relocated to Kansas, he went with them but eventually returned to West Virginia.
He made his home for many decades in Keyser, Mineral County, where he was a foreman with the Baltimore and Ohio Railroad.
In about 1900, William wedded Ethel May Davis (Oct. 13, 1878-1952), daughter of John C. and Elizabeth Ann Davis.
The couple bore at least two daughters, Carrie Elizabeth Harris and Pauline Baker.
In September 1905, the family traveled to Kansas to see his mother and stepfather in the town of Westphalia. News of the visit was printed in the gossip columns of the Westphalia (KS) Times, which said that he "was here nine years ago after a stay of some time, and was married five years ago. Wm. has a number of friends here, all of whom are delighted to see him and to know that he is doing well."
William returned to Westphalia for a family reunion in September 1940, a basket dinner held at the home of his half-sister Susan Corley.
His address circa 1952-1961 was 31 A Street.
Sadly, stricken with colon cancer, Ethel may died at age 74 on Nov. 15, 1952.
William survived another nine years after his wife's death. He suffered bleeding on the brain and died at the age of 91 at Potomac Valley Hospital on Nov. 14, 1961. Interment was in Queen's Point Cemetery in Keyser.
Daughter Pauline Longsdorf married (?) Baker. Her home in 1961 was in Keyser
Daughter Carrie Elizabeth Longsdorf was born in (?) in Keyser. At the age of 27, she wedded 36-year-old sheet metal worker Milburn L. Harris ( ? - ? ) in Mineral County on Nov. 4, 1928. Rev. James A. Johnson officiated. Milburn was the son of Thomas J. and Susan M. Harris and a native of Martinsburg, Berkeley County, WV but lived in Keyser at the time of marriage.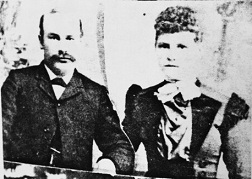 Susie and Charles Corley
Courtesy Garnett (KS) Historical Society and Mary Lou Cook
~ James' Stepdaughter Susan Elizabeth
(Smith Kellerman) Corley (2nd Marriage) ~
Stepdaughter Susan Elizabeth Smith (18713-1951) was born on Dec. 5, 1873 (or 1871) in Patterson Creek, Mineral County, WV, the illegitimate daughter of Jacob Smith and Caroline "Carrie" (Riehl) Hewett Longsdorff. She grew up alternately using her birth father's surname "Smith" and her step-father's surname, "Kellerman." She never knew her father, who is said to have fled to Colorado.
She was a newborn infant when her mother married our James Lewis Kellerman, and went to Kansas with the family as a girl.
On Dec. 10, 1889, at the age of 16, she married her step-cousin, Charles Bunton "Charlie" Corley (1863-1943), a native of Pennsylvania and the son of David and Caroline Dorothy (Kellerman) Corley. The nuptials were officiated by Rev. Howard in a ceremony at Mont Ida, KS. The Westphalia Times announced the wedding, stating "Charlie Corley and Susie Smith, (Kellerman) were quietly married Tuesday. The wedding has been long looked for, but we are now satisfied. They will commence house-keeping at once."
Grief blanketed the family in when their 10-month-old son died on Oct. 21, 1891. The Times said that "The parents have the sympathy of all." The following April 1892, their only other son was born, Clinton L. Corley.
Son Clinton suffered a freak accident in March 1904 when a knife he had been using to pare an orange was left unattended but chained to his body, he went running with other boys, and suffered a deep cut.
Their home in 1908 was northwest of Westphalia, Anderson County, KS. That year, in October, her display of baking batter won a prize at the Westphalia Woodman-Grange Fair. She was a member of the Royal Neighbors in the late 1930s and served meals after meetings.
The couple celebrated their golden wedding anniversary on Dec. 10, 1939 with an event in their home northwest of Westphalia. In a lengthy story, the Times reported that the Corleys "have been among the substantial citizens of the community and stand high in the esteem of all who know them. The day was ideal for the Golden Wedding event. Each family brought well filled baskets and there was an abundance of all kinds of food. The center table was decorated in gold with a beautiful poinsetta, which was in full blom, presented to them by their cousins, Mr. and Mrs. John Blackburn of Kansas City, Mo. Two lovely wedding cakes also adorned the table. The wedding cakes were baked by their daughter-in-law, Mrs. Clint Corley and by a niece, Mrs. Elmer Robison."
In September 1940, she and Charles hosted a family reunion in the form of a basket dinner to celebrate the visit of her oldest half-brother, William H. Longsdorf, from Keyser, WV. Among the guests, reported the Times, were Mr. and Mrs. James Kellerman and Mr. and Mrs. Harry Kellerman of Blue Springs, MO; Mr. and Mrs. August Remler and son of Kansas City; Mr. and Mrs. Clint Corley and family, Mr. and Mrs. Jesse Kellerman and family, Mr. and Mrs. James Petit and family, Mr. and Mrs. Edward Kellerman and family, Mr. and Mrs. Charles Kellerman and Mr. and Mrs. Elmer Robison.
Charles passed away on Sept. 2, 1943.
Susan followed her husband to the grave in 1951. Interment was in Cherry Mound Cemetery in Westphalia. [Find-a-Grave]
Son Clinton Leo "Clint" Corley (1892- 1964) was born in April 1892. At the age of 21, in November 1913, he enrolled in the Central Business College in Kansas City. In about 1919, when he was 27, he was united in holy matrimony with 22-year-old Bertha Emelia Nybroe (1897-1981). They were farmers and in 1920-1930 resided in Avon Township, Coffey County, KS. Their two known offspring were William E. Corley and Audrey A. Corley. Clinton died in 1964 with burial in Ouisling Cemetery in Aliceville, Coffey County. Bertha survived him by 17 years. She passed into eternity in 1981.
Granddaughter Audrey A. Corley (1923- ? ) was born in about 1923 in Avon Township, Coffey County, KS.
Copyright © 2016-2018 Mark A. Miner
Research for this page graciously shared by the late Olive (Rowan) Duff, the late Donna (Younkin) Logan and Mary Lou Cook of Find-a-Grave.