Samuel M. May
(1839-1926)
Samuel M. May
Samuel M. May was born on March 15, 1839 in Juniata Township, Bedford County, PA, the son of Leonard and Maria "Catherine" (Younkin) May. He grew up with boyhood friends who later served with him in the Union Army during the Civil War.
Samuel stood 5 feet, 7½ inches tall, with a dark complexion, dark eyes and dark hair.
On March 7, 1867, when he was 27 years of age, he married Mariah Amanda Beltz (April 1844- ? ). Justice of the peace David Miller performed the ceremony. In an interesting twist, Samuel's sister Louisa married Maria's brother Oliver Beltz.
They produced nine offspring, among them Alice Augusta Holler, Calvin Samuel May, Charles M. May, Harvey J. May, Norman L. May, James A. Garfield May and William H. May, plus several who died before 1926.
Daniel's home at the time of enlistment was Dry Ridge near Buffalo Mills, Bedford County. He and four of his brothers joined the Union Army during the war, "rallying promptly to the call for troops to preserve the Union," said the Meyersdale Republican. He enrolled for a three-year period on Aug. 22, 1861 and was assigned to the 2nd Potomac Home Brigade, Company H. But after only five months, he deserted and went back home. Back on the family farm, he and Jacob Hardman labored in the fields.
Not long afterward, he went to Harrisburg and mustered in during the month of August 1862 with the 138th Pennsylvania Volunteer Infantry, where "all my friends were in Company F," he later wrote. He is known to have bunked with William Beltz for part of the time.
At some point, his right knee was thrown out of joint when he mis-stepped near Relay House, MD, a transportation hub along the Baltimore and Ohio Railroad. There, he also contracted a case of typhoid fever.
When President Abraham Lincoln issued a proclamation pardoning deserters if they would return to their regiments, Samuel took the advice of his commanding officers Capt. John W. Fike and Major May to leave the 138th Pennsylvania and rejoin his original unit, the Potomac Home Brigade. He did so on March 31, 1863, after being stripped naked and examined head to toe by army surgeons, who pronounced him as sound in health. He told his new commanding officer that he had gone home because of illness. Shortly afterward, while stationed at Romney, WV, he contracted the measles.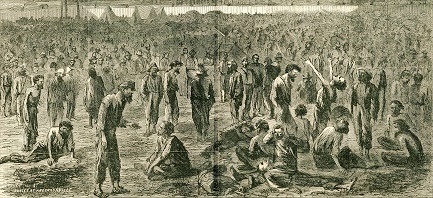 Above: emaciated Union prisoners at Andersonville. Below: the sprawling, filthy Andersonville prison. Famous Leaders and Battle Scenes of the Civil War.

Then on Jan. 3, 1864, a supply train he was guarding between Keyser and Moorefield Junction, WV, was overrun and captured. The Confederates shipped him to a series of prisons -- among them Pemberton Prison, Scott's Prison and Belle Isle in Richmond. At Belle Isle, he had no shelter protecting him from rain and snow, and he contracted rheumatism. "Often my clothing was frozen to the ground at night while I slept," he recalled.
He then went to the Confederacy's notorious prison camp at Andersonville, GA, where was stricken with diarrhea and pain in his legs. To walk, he used a stick as a type of cane. His only shelter was a hold he dug in a small bank of earth, where he slept on brush and rubbish. Friend John Holler said he "looked like a skeleton." He occasionally saw his friends Joseph M. Furstenburg and John Pelton. Sadly, his bunkmate William Beltz and friend John Merrine (spelling?) died there as prisoners. He thence was shifted to Florence, SC and after a short time was paroled -- having been held for six months -- and exchanged at Savanna, GA.
Some six-plus decades after the war's end, the Republican summarized his military career this way:
Samuel May was a good soldier, and during the years he was in the army saw much hard service... After two years of service he was taken captive, and after being confined in Belle Isle and Libby prisons for a short time, he was transferred to that hell on earth known as the Andersonville prison, where he suffered from hunger and hellish treatment for a year and three days. The happiest moment of his life, Mr. May used to say, was when the news came to him that the war was over. He was always popular among his army comrades, and also numbered many other people among his personal friends, as he was a man of genial disposition, who readily made friends wherever he went.
He received an honorable discharge in Baltimore on Feb. 27, 1865 and returned to Bedford County. En route, in the snow, he stopped at the home of his friends, the Brants, at Buffalo Mills. The Brants' son Josiah brought Samuel home "one mile and one half on my Horse," Josiah recalled. "He could not walk. He was verry poor and weak..." Josiah also noted that "he was nothing but a mere skeleton -- he was so very weak seemed to be full of pain -- said his bones all hurt him -- his eyes were sunk in his head."
Upon arriving at home, Samuel's father took him in a buggy to see their family physician, Dr. John C. Ealy, of Schellsburg, Bedford County.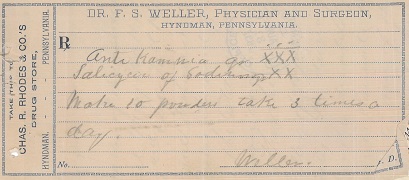 Prescription from Dr. Weller of Hyndman, filled at the Rhodes Drug Store
Circa 1868, Samuel hired local day laborer Josiah Corley to help dig a cellar for a dwelling house. Corley observed that Samuel "was not able to do much, and he then was suffering with Rheumatism, and apparently was very much cripled up on acount of Rheumatism." Corley continued to provide Samuel with labor over the next few years. Neighbor and fellow army veteran George W. Holler once wrote that the first time they met at home after the war, Samuel "was suffering with Rheumatism and nearly ever time they would meet he complained of suffering with Rheumatism and was unable to work, that [Samuel] walked with a cane and suffering with Rheumatism in his hips, limbs and at time all through him..." Jeremiah Snyder, who also worked for Samuel at times, said that he "heard him frequently complain of suffering with Rheumatism, saw him that he was scarcely able to get out of bed in the morning, and unable to perform manual labor for two and three days at a strech."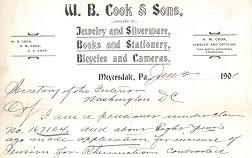 Letter Samuel sent to the Secretary of the Interior, on stationery of a local business, asking for an increase in his pension.
In 1870-1880, he and Mariah were farmers and resided next to his parents' home in Juniata Township. Later, for many years, the Mays made their home at Boynton, Somerset County. In older age, they lived in Sand Patch, Summit Township, Somerset County.
Samuel was granted a military pension as compensation for his wartime suffering. [Invalid App. #244.191 - Cert. #167.104] But when he applied for an increase in monthly pension payments, the government had questions about his desertion and his claims of rheumatism. Several investigators were dispatched to secure his testimony and that of others who were familiar with the facts. In 1899, one investigator wrote that Samuel "is very nervous, has flushed face, is evidently today in pain in his limbs, is not emaciated."
Circa 1890-1891, for about a year, he kept a boarding house at Greensburg, Westmoreland County, PA.
Census records for 1900 show them in Boynton, Elk Lick Township, Somerset County, with four sons, grandson Ross S. Darrah and boarder Albert Rob in the household.
Noted the Republican, Samuel "was a man of rugged health during most of his long life, and was a member of a family noted for longevity." But as he aged, he was burdened with heart and kidney disease.
In 1911, his post office was in Meyersdale.
Samuel died in Sand Patch at the age of 87 years, five months and 20 days on either Sept. 5, 1926. Reported the Republican, "his remains were taken to his native county and interred in Dry Ridge cemetery, near Buffalo Mills. The obsequies were conducted by Rev. H.M. Couchenour pastor of the Berlin and Salisbury M.E. congregation." He was survived by 16 grandchildren. Son Calvin signed his official Pennsylvania certificate of death.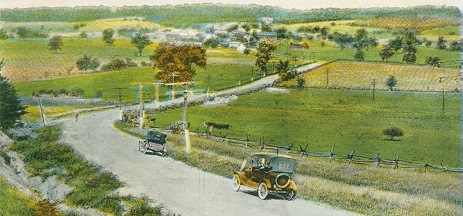 Lincoln Highway approaching Schellsburg, Bedford County
~ Daughter Alice "Augusta" (May) Holler ~
Daughter Alice "August"a May (1866-1955) was born on Dec. 9, 1866 (or 1867) in Bard, Bedford County.
She married Albert "Ross" Holler (June 19, 1861-1934), son of Washington and Louise (Metzger) Holler of Bedford County.
Their known offspring were James Holler, Leona Wolf Bolin, Alice Corley (or "Curley"), Amanda Johnston, Clara Warnick, Anna Barker, Ernest Holler and Hiram Holler.
They lived in Elk Lick Township, Somerset County in 1920 and in Boynton, Elklick Township, Somerset County in 1926. Ross was a longtime coal miner in and around Somerset County.
Sadly, stricken with gangrene of his left leg and foot, Ross died on Jan. 27, 1934 at the age of 71.
Alice outlived her husband by more than two decades. She resided in 1942-1946 in Cornville, AZ. Upon reaching the age of 80, she was profiled in the Meyersdale Republican, which said she "is in a remarkable state of preservation for one of her years, as well as being in possession of all her faculties. When at home she drives her own automobile, and has a record during the past ten years of having visited in 21 of the 48 states, besides having toured in many of the districts and cities of the Dominion of Canada. Mrs. Holler hopes yet to add considerably to the list of states visited if her health will permit."
She eventually returned to live in Boynton.
At the age of 88, widowed, she bore heart disease and died on Jan. 3, 1955. Funeral services were held in the home of her son Ernest in Boynton, officiated By Rev. Wilson E. Kelley. Her remains were lowered into eternal repose in the Salisbury IOOF Cemetery. An obituary in the Republican said she was survived by 14 grandchildren, 22 great-grandchildren and seven great-great grandchildren.
Son James A. Holler (1902- ? ) was bon in about 1902. At age 18, he lived at home and worked in local coal mines. He eventually relocated to Arizona and dwelled in the town of Saligman in 1946. By 1955, he was in Central Point, OR and by 1967 had moved again to Wedderberg, OR.
Daughter Leona Holler (1904- ? ) was born in about 1904. She was joined in marriage with (?) Wolf (circa 1934) and later with (?) Bolin ( ? - ? ). She migrated to Arizona, in the town of Cornville, and provided a home for her widowed mother in the 1940s. She later moved to the Pacific Northwest and lived in 1967 in Wedderberg, OR.
Daughter Alice Holler (1906- ? ) was born in about 1906. She wedded Guy Corley ( ? - ? ), son of William Corley of Boynton. The couple bore one son, Clyde Corley. They moved to Akron, OH, where she made family clothes, despite never having had a formal education. In 1950, she won an Akron Beacon Journal prize for sewing, based on a submission of boys' pants. The following year, she entered with a dress and coat she had created for herself, and was pictured in the newspaper. "Her two-piece dress if of gray chambray," said the Beacon Journal. "The blouse is decorated with navy blue embroidered flowers. Her short coat is of gray all-wool material." They remained in Akron for decades.
Daughter Amanda Holler (1908- ? ) was born in about 1908. She wedded (?) Johnston.
Daughter Annie Holler married (?) Barker and resided in Johnstown, Cambria County.
Daughter Clara Holler ( ? - ? ) married (?) Warnick and lived in Boswell, Somerset County in 1955.
Son Ernest C. Holler (1897-1967) was born in about 1897. He was twice married. His first wife was Elizabeth W. Diehl ( ? - ? ). His second bride was Grace (Baer) Diehl ( ? - ? ). In all, he had seven children -- William A. Holler, James Robert Holler, Jane C. Cochrane, Doris Mae Lowery, Peggy Holler, Barry Holler and Dwight Holler. They lived for years in Boynton, Somerset County. Ernest was a veteran of World War I. He was a member of the Earl H. Opel Post of the American Legion in Salisbury and belonged to the local Veterans of Foreign Wars in addition to the Minnequa Club of Shippensburg, PA. Ernest died at home at the age of 71 on Feb. 19, 1967. Rev. William A. Cassidy led the funeral service, with burial in the Salisbury Odd Fellows Cemetery, and an obituary printed in the Meyersdale Republican.
Grandson

William A. Holler

lived in Somerville, NJ.
Grandson James Robert Holler

resided in West Salisbury, Somerset County.
Granddaughter Jane C. Holler married (?) Cochrane

. Her home was in Boynton.
Granddaughter Doris Mae Holler wedded (?) Lowery

. She dwelled in Carlisle, PA.
Granddaughter Peggy Holler
Son Hiram Holler (1912- ? ) was born in about 1912. His home in 1946 was in Oregon and in 1967 in California. In 1955, when his mother died, the obituary reported that Hiram's address was unknown.
~ Daughter Ida May ~
Daughter Ida May (1868- ? ) was born in about 1868. She is believed to have died young.
~ Son Calvin Samuel May ~
Son Calvin Samuel May (1870-1958) was born on May 25, 1870 in Bard, Bedford County.
Unmarried at age 30, he lived at home in 1900 and earned a living as a coal miner.
Calvin married Helen (1879- ? ). Their only known son was Paul May.
Their home in 1920 was Casselman, Somerset County, where he worked as a coal miner.
Circa 1921, Calvin provided care for his aged father. He wrote an affidavit on the father's behalf, stating that he was "his attendant. When necessary he leads claimant to stool and helps in various ways like must be done around sickly people; that claimant suffers much from a variety of ailments, principally rheumatism, kidney trouble, chronic diarrhea and rupture; claimant has so much annoyance with frequent visitation of stool at nights; claimant hearing is much impaired and his eyesight is bad; claimant is shaky, nervous and it goes hard for him to walk without being led; claimant is generally broken down hysically and gradually on the decline -- spends nearly all of his time in the home because unable to go about much if so wished."
In the mid-1920s they lived Larimer Township, Somerset County and in 1944 in Holsopple. By 1946, his home was in Flat Rock, MI.
In 1958, he resided on Salisbury Street in Meyersdale, Somerset County.
He suffered cardiovascular problems and his late 80s fractured his right femur. He died on Aug. 14, 1958 in Meyersdale Community Hospital, at the age of 88. Interment was in Salisbury IOOF Cemetery.
Son Paul May (1908- ? ) was born in about 1908.
~ Son Charles M. May ~
Son Charles M. May (1871-1975) was born on March 1, 1872 in Bard, Bedford County.
In about 1900, when he was 29 years of age, he was united in marriage with Ora B. Hay (Dec. 8, 1873-1973), daughter of Calvin and Crucilla (Devore) Hay, and a native of Ottawa, KS.
The couple bore at least two known children -- Iola Lydick and Dixie Otto. Others who may have been children or step-children were Ruby Uncapher, Lester Shaw and Charles Shaw.
They dwelled in Jenner, Somerset County circa 1910, with Charles earning a living as a barber. Then in Casselman, Somerset County in 1920, Charles operated a coal mine. Later, they moved to Salisbury, Somerset County and were members of St. John's United Church of Christ. At one point, Charles was elected Mayor of Salisbury. He also was a president of the Salisbury Lions Club and was active in a wide variety of community volunteer groups.
The federal census of 1930 shows Charles' occupation as a house painter.
Ora died at home at the age of 99 on Aug. 14, 1973. Rev. David E. Fetter led the funeral service, with burial in Salisbury Cemetery. An obituary was printed in the Meyersdale Republican.
Charles outlived his wife by two years and reached the remarkable age of 103, "believed to be the oldest resident of Somerset County," reported the Republican. He died at home on March 25, 1975.
Daughter Iola May (1910-1998) was born on April 21, 1910 in Boynton, Somerset County. She wedded Dale W. Lydick ( ? -1988), son of Smith E. and Edith (Walker) Lydick of Plumville. They did not reproduce. Iola was a self-employed beautician. Dale earned a living as a machine operator with Helen Mining Company. He served in the U.S. Armed Forces during World War II. While in Salisbury, they were members of the St. John's United Church of Christ. They moved to Homer City, PA, where they spent many years and are known to have been living in 1973. While in Homer City, they belonged to the Veterans of Foreign Wars and the American Legion and Auxiliary. By the late 1980s, they were back in Salisbury. Both Dale and Iola died within nine months of each other, Dale on Jan. 12, 1988 in Cumberland, MD and Iola on Sept. 26, 1988 in Meyersdale. Rev. Steven Heatwole officiated at both of their funerals, with burial in Salisbury Cemetery. Obituaries for each appeared in the Somerset Daily American.
Daughter Dixie May married (?) Otto. Her home was in Springs, PA in 1973.
~ Son Harvey J. May ~
Son Harvey J. May (1873- ? ) was born on July 22, 1873.
He worked as a coal miner in and around Elk Lick, Somerset County in 1900.
~ Son Norman L. May ~
Son Norman L. May (1877-1953) was born on June 25, 1877.
When he was about 21 years of age, in about 1898, Norman was joined in marriage with 16-year-old Ellen "Ella" Mimna (1882- ? ), daughter of Edward and Mary Jane (Lenhart) Mimna of Sand Patch, Somerset County.
They were the parents of daughters Mary Augusta "Marie" Doyle, Ethel VanDivender and Norma Hoffman.
The family was devastated in 1919 when their married daughter Marie succumbed to influenza at the age of 19. Her widower, 21-year-old Raymond Doyle, continued to make a home with his in-laws for the time being.
When the federal census enumeration was made in 1910, 1920 and 1930, the Mays lived in Jerome, Conemaugh Township, Somerset County, with Norman employed as a coal miner (1910) and coal mine foreman (1920-1930). During those decades, his unmarried brother James Garfield May, a coal miner and coal mine weighman, lived under their roof.
They Mays' address in 1926 was in Davidsville, Somerset County. They were longtime members of St. David's Lutheran Church of Davidsville.
By 1944, they had relocated to Winchester, Loudoun County, VA.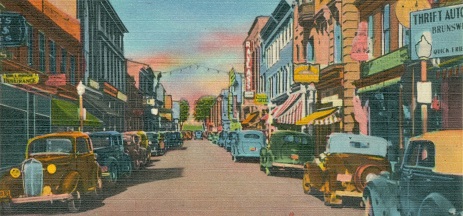 Winchester, Virginia, Norman May's home in 1944
Sadly, Norman died in 1953.
Ella survived her husband by nearly two decades. She spent her final years in the Allegheny Lutheran Home. She passed away there at the age of 91 on Dec. 5, 1972. Her remains were interred in Maple Springs Church of the Brethren Cemetery. Rev. Luther Gotwald of the family church officiated at the funeral service, and an obituary appeared in the Somerset Daily American. She was survived by five grandchildren and a dozen great-grandchildren.
Daughter Mary Augusta "Marie" May (1899-1919) was bon on Oct. 9, 1899. She was united in holy matrimony with Raymond E. Doyle ( ? - ? ). The newlyweds made their home with Marie's parents in Jerome, Somerset County. Raymond was employed as a clerk in a local coal mine. Tragically, in mid-March 1919, Marie became wracked with influenza and pneumonia. Her system was unable to recover. Four days later, the 19-year-old passed into eternity. Her remains were placed into eternal repose in Maple Springs Church of the Brethren Cemetery in Jerome. [Find-a-Grave] When the U.S. Census was taken in 1920, Raymond continued to dwell with his in-laws in Jerome.
Daughter Ethel May (1901- ? ) was born in about 1901. She wedded Robert Ivan VanDivender (June 21, 1904-1988), son of Yarnald and Mary Ann (Keil) VanDivender of Clearfield County, PA. Their union lasted for 64 years until death cleaved them apart. They were the parents of Robert VanDivender, William VanDivender and Betty Hathcock. Robert owned and operated VanDivender Garage located at the corner of Demuth Street and South Avenue in Johnstown, Cambria County. They belonged to the Mount Calvary Lutheran Church, and Robert was a member of the Connumach Lions Club in Davidsville and the Geistown Volunteer Ambulance Association. Their address in 1972 was 246 Churchill Street in Johnstown. As Robert's health failed in 1988, he was admitted to Windber Hospital. He died there on Nov. 7, 1988. Rev. Ronald B. Reed officiated the funeral service held in the family church, with burial in Forest Lawn Cemetery. An obituary was published in the Somerset Daily American. Ethel outlived her husband and in 1994 was in Geistown, PA.
Grandson

Robert VanDivender

wedded Adele Hein. They made a home in Richmond, VA in 1988.
Grandson William VanDivender

married Joyce Albert. Their residence in 1988 was in Knoxville, TN.
Granddaughter Betty VanDivender was joined in wedlock with (?) Hathcock

. She lived in Chesapeake, VA in 1988.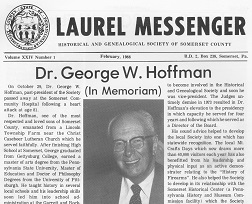 T
ribune to George in the Laurel Messenger newsletter of the Historical & Genealogical Society of Somerset County, 1988
Daughter Norma May (1913-1994) was born on Feb. 13, 1913. When she was 25 years of age, in 1938, she married 31-year-old Dr. George W. Hoffman Sr. (Sept. 29, 1906-1987), son of Alvah and Laura (Bowman) Hoffman of Lincoln Township. They produced two offspring -- Carol A. Beemiller and George W. Hoffman Jr. They were members of the Christ Casebeer Evangelical Lutheran Church, where Norma was a church organist and choir director. She also was a life member of the E.L.C.W. George received a bachelor's degree from Gettysburg College, a master of arts from Pennsylvania State University and a doctor of philosophy from the University of Pittsburgh. He began his career teaching history in local Somerset County schools. Eventually, he became an administrator in the Garrett and Rockwood schools. During World War II, he served as a captain the U.S. Army Air Force. In his postwar years, he was hired by the University of Pittsburgh where he played several roles over time -- as Assistant to the Dean of Men, Director of the Teachers Appointment Bureau, Director of the Pitt Johnstown Center, Associate Professor of Education and Dean of Pitt's Johnstown campus. For the final 14 years of his professional life, he served as Director of the Bureau of Higher Education, Deputy Superintendent of Public Instruction and Acting Superintendent of the Pennsylvania Department of Education. As well, George was active in the local community. Over the years, he served as president of the Somerset Rotary Club, president for four years of the Historical and Genealogical Society of Somerset County and on the board of directors of the Somerset-Cambria Chapter of the American Red Cross. With the H&GSSC, he helped develop its Mountain Craft Days and a strategic relationship with the Pennsylvania Historical and Museum Commission. One of his favorite hobbies was the study of old firearms, including the Pennsylvania-Kentucky rifle. Sadly, George died in Somerset Community Hospital on Oct. 29, 1987 at the age of 81. An obituary in the Somerset Daily American noted that Rev. George Walton officiated at the funeral service. In tribute, George was pictured and eulogized on the front page of the H&GSSC's Laurel Messenger newsletter in February 1988. The article announced that a tree was to be planted in his memory and the exhibit hall no. 1 of the Somerset County Historical Center dedicated in his name. Norma's later years were spent in Camp Hill, PA, near her son George. She died at home at the age of 81 on Nov. 21, 1994. Funeral services were held in the Casebeer church, and the Daily American printed an obituary.
Granddaughter

Carol Ann Hoffman married Richard M. Beemiller. They lived in Fredericksburg, VA in 1987-1994.
Grandson George W. Hoffman Jr

. resided in Mechanicsburg, PA in 1994.
~ Son James A. Garfield May ~
Son James A. Garfield May (1880- ? ) was born on Sept. 1, 1880 in or around Bard, Bedford County and was named for the presidential candidate.
He taught school in early adulthood and at the age of 19, he worked as a coal miner and lost his left arm in a hunting accident.
Circa 1910-1930, when he was in his 30s and 40s, he was single and lived with his married brother Norman and family in Jerome, Conemaugh Township, Somerset County. His occupation in 1910 and 1930 was coal miner and in 1920 coal mine weighman.
Eventually, James married Martha Shoemaker ( ? - ? ), daughter of W.A. Shoemaker of Meyersdale. The couple may not have reproduced.
They initially lived in Jerome and for 13 years in Davidsville, Somerset County, moving there in about 1931. There, he was employed as a weighmaster for Maple Ridge Coal Company. He also served as justice of the peace at Davidsville and was an active member of St. David's Evangelical Lutheran Church.
Fate intervened on the morning of Nov. 30, 1944 when he was driving to work on route 53, between Davidsville and Holsopple in Conemaugh Township. Another vehicle came too close and "he was crowded off the road," reported the Meyersdale Republican, " and that in endeavoring to get back onto the concrete road from the berm, the car skidded and turned over." James was knocked unconscious from severe concussion and was rushed to Memorial Hospital in Johnstown. He never recovered consciousness and died three evenings later on Dec. 3, 1944. Burial was in Maple Spring Church of the Brethren near Jerome, with his pastor, Rev. John Fisher, officiating.
~ Son William H. May ~
Son William H. May (1882- ? ) was born on Jan. 5, 1882.
Circa 1926, his home was in West Salisbury, Somerset County. When he was age 17, he labored in local coal mines in Elk Lick, Somerset County.
Circa 1944-1955, he dwelled in Barberton, OH.
Copyright © 2016-2018 Mark A. Miner
Research for this page graciously shared by the late Olive (Rowan) Duff and the late Donna (Younkin) Logan. May brothers image courtesy Suzanne (Smith) Chutis.