Margaret (Mills) McCluckey
(1907-1981)

Margaret McCluckey
Margaret Martha (Mills) McCluckey was born on Feb. 11, 1907 at the coal mining patch town of Helen in Menallen Township, Fayette County, PA, the daughter of Joseph Henry and Flora (Minerd) Mills Sr. She was a longtime educator in Fayette County.
In the summers of 1926 and 1927, Margaret is known to have taken classes at what is now California University of Pennsylvania. At the time, she was residing at Box 56 in the small coal mining patch town of Republic, Fayette County.
Margaret married Edward Charles McCluckey (1906-1983), the son of Jack and Lucinda Belle McCluckie. Interestingly, Edward's aunt, Mary Ann "Annie" McLuckie (variant spelling) was married to cousin George B. Miner of Youngwood, Westmoreland County, PA.
The McCluckeys did not reproduce.
Margaret was a teacher in the Redstone-Brownsville (PA) Area School District for 39 years, said the Uniontown Herald-Standard.
Edward was a veteran of World War II, and a coal miner. He was a member of the United Mine Workers of America.
At Christmas 1935, Margaret and Edward visited on Christmas Day with Lucy McBridge at her home in Grindstone, near Republic. Edward's sister and brother in law, Mr. and Mrs. Guy Beal and their family, joined the visit.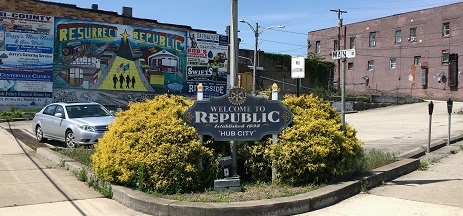 Republic, Fayette County
Margaret

In August 1939, the McCluckeys, along with Jack McCluckey and Genevieve Beal of Republic, drove to New York City to attend the World's Fair. Their weekend excursion was reported in the Uniontown Morning Herald. While teaching at Republic Elementary School, in the winter of 1955, Margaret attended a special dinner honoring a colleague who was taking a year's sabbatical. Margaret and her fellow attendees were pictured in the Morning Herald.

Margaret retired from the classroom in May 1969, after 39 years as an educator. At the time, she was a fifth grade teacher at Cardale Elementary School. She and fellow retirees Dorothy Beal and Grace Sargeant were pictured with principal Alfred Grant in the May 26, 1969 edition of the Morning Herald.

In their retired years, Margaret and Edward resided at 17 Steele Street in Republic. Edward apparently was a member of the Republic Volunteer Fire Company, and Margaret was a member of the ladies auxiliary social committee with Marie Zacovic, Betty Zacovic, Caroline Magazine, Mary Swenglish, Jennie Coletti and Jean Payez. She also served for many years as an officer with the Republic Business and Professional Women's Club and as a volunteer with the Children's Aid Society.

She passed away on July 26, 1981, and was buried at LaFayette Memorial Park near Uniontown.

Edward outlived his wife by two years, and died on Sept. 15, 1983.

Copyright © 2001-2002, 2008, 2010, 2020 Mark A. Miner