Osie (Minard) Tucker
(1867-1940)

Osie Tucker
Osie Carrie (Minard) Tucker was born on Oct. 1, 1867 in Cedar County, IA, the daughter of Nathan W. and Sarah Jane (Woodruff) Minard. She and her parents were pioneer settlers of Missouri and Kansas.
When Osie was age five, she moved with her family from Iowa to Caldwell County, MO. When she was 18, they moved again, to Kansas, settling in Richland, near Topeka, Shawnee County.
At the age of 15, and not married, Osie gave birth to a baby. The event became subject of controversy and came about as follows. When the age of 14, Osie kept company with a young man named Ohse, a relationship which continued from January or February 1882 until June of that year. The following month, July 1882, Osie then began to be courted by George W. Souders. Reported the Topeka Daily Capital:
One night in November, 1882, Souders accompanied Osie to the school house, near Richland, where she resided, to a lyceum, and took her home. The parents of the young lady had retired, it being between 9 and 10 o'clock, and the girl and her escort occupied the sitting room. Here the villain accomplished her ruin under promise of marriage, and it now appears with no other purpose than to satisfy his beastly passion. The evidence showed that she pleaded with him to fulfill his promise, which he neglected to do, and during the second week of January, 1883, she unfolded their wrong to her mother, which resulted in almost dethroning the lady's reason. On the 8th of August, a child was born to the young girl, and on August 4, 1844, nearly a year afterwards, she brought suit against Souders for bastardy, and he was arrested and released on bond of continuance of the action. When the time came for trial before Justice Hazen the defendant could not be found. Two or three days ago he returned to his home in the vicinity of Richland with his wife, whom he had married a short time before during his absence.
When in court, Osie was described by the Daily Capital as "an innocent appearing country lass ... and possessed of a good degree of intelligence. Though hers was an embarrassing position, she offered a very straightforward history of her acquaintance with Souders, and denised that Ohse was in any way connected with her disgrace." Souders was found guilty and sent to county jail.
On Oct. 19, 1885, now age 18, Osie married 27-year-old Archibald "Arch" Tucker (1858-1937), a native of Cambridge, OH. Their marriage license is on file today, on microfilm, in the probate court office of Shawnee County. Arch's first name is spelled "Archabel" on the license, while Osie's last name is spelled "Minerd."
Arch had migrated to Kansas with his parents at the age of three, "settling near Big Springs," said the Topeka Daily Capital.
The Tuckers went on to produce 10 children -- William E. Tucker, Charles A. Tucker, Earl Tucker, Lelia Mae Larsen, George E. Tucker, Ray Tucker, Reva Strong, Archibald L. Tucker Jr., Daisy Snook and Ruby Elliott.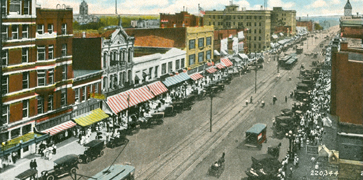 Kansas Avenue looking north from Seventh Street in Topeka, early 1900s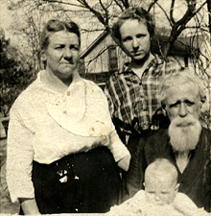 Four generations
Osie and Arch lived in Topeka, Shawnee County, at 725 Chestnut Street. He first worked for the Atchison, Topeka and Santa Fe Railroad, leaving that position in 1900. He then joined the Topeka Transfer and Storage Company, where he was employed for 34 years, retiring in 1934 as storehouse operator.
Seen here, Osie poses in a four-generation photograph with her father, daughter Lelia Larsen and granddaughter Lucille Larsen.
Arch passed away on April 14, 1937. He was age 79. In a short news obituary, the Topeka State Journal simply said that "At 2 o'clock Saturday funeral services will be held for Archibald Tucker, who died Thursday, burial in Topeka cemetery. The body is lying in state at the Wall-Diffenderfer mortuary, where the services will be held." A search of old Topeka newspapers in September 2010, at the Topeka and Shawnee County Public Library, failed to locate any further reporting.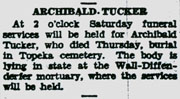 Osie outlived him by three years.
She died at home in Topeka on Aug. 8, 1940, at the age of 72. No news obituary has yet been located for her.
The Tuckers are buried in the same grave plot in the Topeka Cemetery as their son Earl and his wife Viola May. Also interred here are Viola May's parents, John and Nancy M. Byrd.
Osie died without leaving a legal will, meaning she was considered "intestate" by the probate court of Shawnee County. Son Archie brought a legal claim asking that he be appointed administrator of the estate, stating that her homestead dwelling was worth $800 and her personal property $25. Having been approved by the court in this role, he sold his mother's half interest in her family home to Clayton Oldham of Topeka, discounting the price to $375.
~ Son William E. Tucker ~
Son William E. Tucker (1887- ? ) was born in July 1886 in Topeka.
He married (?) in about 1908. Circa 1910, when the federal census was taken, he resided with his parents, at the age of 23. The identity and whereabouts of his wife is a mystery.
He apparently married again, to Ethel (?) (1890- ? ) in about 1910.
They had at least two children -- Melba Dodson and June Carver.
In 1910, William was employed as a machinist with the Harding Bicycle Company in Topeka. By 1920, they had relocated to Meriden, Jefferson County, KS, where he had found work as a mechanic in an automobile garage.
Circa 1930, he was an embalmer at a funeral home in Topeka.
William died sometime prior to 1940. His children thus became legal heirs to their grandmother's estate when she died in 1940.
Daughter Melba Tucker married (?) Dodson. Circa 1946, she lived in Cherryvale, KS, at 321 North Wilson Street.
Daughter June Tucker married (?) Carver and resided in 1946 at 3345 Bryant Street, Denver, CO.
~ Son Charles A. Tucker ~
Son Charles A. Tucker (1888- ? ) was born in March 1888 in Topeka.
He resided with his parents in 1910, in Topeka. That year, he worked as a teamster with a transfer company. Charles married Belle (?) (1889- ? ). When the federal census was taken in 1920, the couple lived in Topeka and Charles was employed as a manager of a garage. Living next door were his parents.
Nothing more about him is known.
~ Daughter Daisy (Tucker) Snook ~
Daughter Daisy Tucker (1891-1968) was born in March 1891 in Topeka.
She wed (?) Snook and made her home in Topeka, at 625½ Tyler.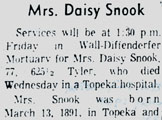 The Snooks had one son, Edward M. Snook.
Little is known of the details of their years of existence. Said the Topeka Daily Capital, Daisy "had lived here most of her life."
Daisy was afflicted with cancer and passed away at the age of 77 on March 20, 1968. Burial was in the Topeka Cemetery. At the time, she was survived by her son -- living at 1104 Polk in Topeka -- and two grandchildren.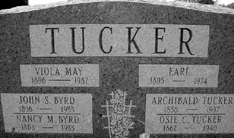 ~ Son Earl Tucker ~
Son Earl Tucker (1895-1974) was born on May 14, 1895 in Topeka. He married Viola May Byrd (1896-1987), the daughter of John Scott and Nancy May (Walters) Byrd of Bethany, MO. Their nuptials took place on Jan. 30, 1915, when he was age 20, and she 19.
They had only one son, Earl Edward Tucker. Tragically, Earl died on Feb. 8, 1919, as a boy.
Earl was employed by John Morrell and Co. of Topeka and Ottumwa, Iowa for three decades. Morrell was a well known producer of Morrell Pride Quality Meats and Red Heart Dog Food. Its plant in Ottumwa was one of three "modern" facilities the company operated, employing more than 3,000 workers engaged in slaughtering and processing several million heads of livestock annually. In addition to Topeka and Ottumwa, Morrell's third plant was at Sioux Falls, ID.
During World War II, he served in the U.S. Navy. He was a master of the Golden Rule Lodge of the Masons, and a member of the Scottish Rite Bodies in Topeka. When his uncle George Stephen Minard died in Houston, TX in 1963, Earl was named as executor of the estate. He retired in June 1960.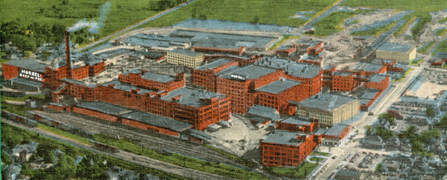 Sprawling John Morrell meat packing plant in Ottumwa, Iowa, where Earl was employed for about a decade.

The Topeka Capital-Journal noted that Viola May "moved to Topeka in 1910 and spent most of her life in Kansas except for 10 years in Ottumwa, Iowa." The time period of the Tuckers' residence in Ottumwa is not yet known.
Viola May attended Topeka public schools and the Daugherty Business College. Using her education, she was employed for 13 years at Connors Furniture Company.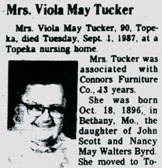 She was a member of the Highland Park United Methodist Church and served with its United Methodist Women chapter. She also was a member and worthy matron of the Helena Chapter No. 210, Order of Eastern Star.
In 1963, they lived at 1914 East 28th Street in Topeka.
Earl passed away on July 25, 1974, at the age of 79. He was laid into eternal rest in Topeka Cemetery.
Viola May joined him in death on Sept. 1, 1987, at the age of 90.
~ Daughter Lelia (Tucker) Larsen ~
Daughter Lelia Tucker (1897- ? ) was born in January 1897 in Topeka. She married Chris Larsen ( ? - ? ).
They resided for 55 years in St. Joseph, MO, near Kansas City. She was a member of Children's Memorial Lutheran Church and of the Daughters of the American Revolution, though it's not known on which patriot's line she is admitted.
She married (?) Larsen and had two children -- Earl A. Larsen of Kansas City and Lucille Patterson of St. Joseph.
Lelia died at the age of 84 and was buried in Green Lawn Cemetery.
~ Son George E. Tucker ~
Son George E. Tucker (1899- ? ) was born in December 1899 in Topeka.
He lived at 809 Poyntz Street in Manhattan, KS for many years. His fate is not yet known.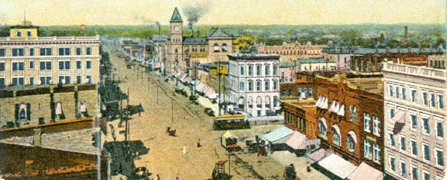 Topeka's Kansas Avenue, looking north
~ Son Ray Tucker ~
Son Ray Tucker (1901-1981) was born on Nov. 27, 1901, in Topeka. Circa 1920, at age 19, he lived at home with his parents, and worked as an apprentice in steel fixtures.
He married Margaret Josephine Clary ( ? - ? ) on March 7, 1936, in Chicago. Ray was age 34 at the time of marriage.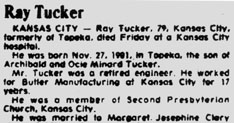 They resided in Kansas City and had three sons -- Col. Ronald Tucker, David Claude Tucker and Paul Tucker.
Ray "was a retired engineer," said the Topeka Capital Journal. "He worked for Butler Manufacturing at Kansas City for 17 years. He was a member of Second Presbyterian Church, Kansas City."
Suffering from cancer, Ray died at age 79 in a Kansas City hospital on Feb. 6, 1981. Following services at Park Lawn Funeral Home in Kansas City, he was placed at rest at the Green Lawn Cemetery in Kansas City.
~ Daughter Reva (Tucker) Strong ~
Daughter Reva Tucker (1901- ? ) apparently was a twin with her brother Ray, born Nov. 27, 1901.
She was employed in Topeka in 1920 as a telephone operator.
She married (?) Strong. Circa 1946, she lived in Chicago at 120 South La Salle Street Building, Suite 963. Later, she resided in Evanston, IL, a suburb of Chicago.
~ Son Archibald L. Tucker Jr. ~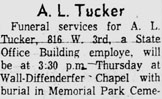 Son Archibald Tucker Jr. (1904-1963) married Beulah L. (?) ( ? - 1999) on June 18, 1938, when he was age 34. She was a native of Valley Valls, KS.
The Tuckers lived in Topeka at 816 West 3rd Street.
Their children were Martha Jane Holland and Virginia Elaine Johnson.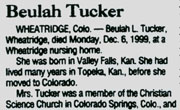 Said the Topeka Daily Capital in 1963, Archie was "employed for 10 years at the former Air Force Supply Depot and for the past two years was an electrician at the State Office Building. He attended the First Church of Christ, Scientist."
Earl died at the age of 59 on Dec. 1, 1963. The Daily Capital reported in an obituary that following a funeral at the Wall-Diffenderfer Chapel, burial took place in the Memorial Park Cemetery.
As a widow, Beulah moved to Wheatridge, CO, near her two married daughters, who resided in Colorado Springs. She died in a nursing home in Wheatridge on Dec. 6, 1999. On the day of her funeral, the Topeka Capital Journal said: "Relatives and friends request that those who knew Beulah devote 30 minutes of prayer for the yougt of the world between 1 and 5 p.m..."
~ Daughter Ruby (Tucker) Elliott ~
Daughter Ruby Tucker (1909-1990) was born on Dec. 16, 1909 in Topeka. She married James A. Elliott (1901-1966) on June 19, 1935, when she was age 26 and he was age 34.
The Elliotts lived at 633 Highland in Topeka. They had no children.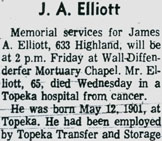 Said the Topeka Daily Capital, James was "employed by Topeka Transfer and Storage Co. as a foreman 36 years before retiring in 1963. He served in the U.S. Navy from 1920 until 1927."
Ruby was very active in the community, as a member of the Helena Chapter No. 210 of the Order of Eastern Star and as secretary of the Arena Star Club. As a life member of the East Topeka United Methodist Church, she was president of the East Topeka United Methodist Women, and was on the board of trustees of the church. Said the Capital Journal, "For many years, she was the lay delegate to the Kansas East Annual Conference."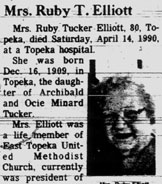 Suffering from cancer, James died at the age of 65 on June 29, 1966, in a Topeka hospital. Memorial services were held at the Wall-Diffenderfer Mortuary Chapel, followed by interment in Topeka Cemetery. In addition to Ruby, he was survived by sisters Nellie Waldron of Topeka, Nina Hedrick and Thelma DeLong of Los Angeles; and brother Marion B. Elliott of Shell Beach, CA.
Ruby outlived her husband by almost a quarter of a century. She died in a local hospital on April 14, 1990, at the age of 80. The Capital Journal reported that her survivors included 12 nieces and nephews, and 12 great-nieces and great-nephews.
For more information, please contact grandson David Claude Tucker, who has been researching his Tucker/Minard roots for many years.
Copyright © 2001-2003, 2005, 2010 Mark A. Miner