Nathan Williams Minard
(1836-1922)


Nathan and Sarah Jane
Nathan Williams Minard was born on Aug. 8 (or 24 or 31), 1836 in Harrison County, OH, the son of Solomon and Rachel (Little) Minard Sr.
He was a soldier in the Civil War, and later, he and his first wife Sarah Jane were pioneer settlers of Iowa, Missouri and Kansas. A short profile of the couple is published in a thick book about the history of Kansas.
Nathan and his parents moved to Knox County, OH, when he was a youngster. At about age 12 or 13, he injured one of his feet, which later caused him great discomfort. He also hurt a knee when he was about 19 or 20. As a young man, Nathan stood 5 feet, 8 inches tall, and weighed about 150 lbs., with grey eyes and brown hair. He learned the trade of woodworking and finishing from his father.
Book naming Nathan
On Jan. 7, 1858, when Nathan was 22 years of age, he entered into the rites of wedlock with his first bride, Sarah Jane Woodruff (1839-1892). The ceremony took place in Mt. Vernon, Knox County, by the hand of John Lamb. The marriage certificate is on file today at the Knox County Courthouse.
The Minard went on to have nine children -- Ida Bell Mae Cole, Emma Frances "Frankie" Dumars, Rosa F. Minard, Osie Carrie Tucker, Royal Dee Minard, George Stephen Minard, Andrew "Edward" Minard, Naomi "Nona" Baker and Effie Ruhama Pelsma Thomann. The fate of daughter Rosa (born 1866) is not known.
On Aug. 11, 1862, during the height and despair of the Civil War, the 26-year-old Nathan decided to leave home and enlist in the Union Army. He was assigned to serve with the 96th Ohio Infantry, Company B. While at Vicksburg, MS in the summer of 1863, he came down with malaria, which plagued him the rest of his life. He was treated for his illness in the regimental hospital.
He saw action at the battles of Chickasaw Bayou (or "Bluffs"), Vicksburg, Arkansas Post and Young's Point." Then, on Nov. 3, 1863, he was captured by the enemy at "Grand Coteau or near Opolusas West," MS. He was held as a prisoner of war until May 9, 1864, when he was released. He served with his regiment for the remainder of the war and experienced further hostilities at Fort Gaines and Fort Morgan, and on Nov. 18, 1864 was transferred to Company E of the regiment. From there he took part in battles at Spanish Fort, Fort Blakely, Mobile and Whistler.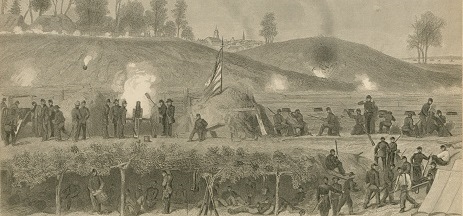 Action at Vicksburg, from a painting by Chappel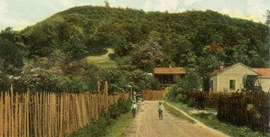 Chickasaw Bluff battlefield, years later
Seen here is a deceptively peaceful photographic postcard showing the battlefield at Chickasaw Bluff at Vicksburg, in the years after the war.
Nathan was discharged from the Army at Mobile, AL on June 1 or July 7, 1865, and returned home. Many years later, in 1895, his military service was summarized in the book Roster of the Ninety-Sixth Regiment, Ohio Volunteer Infantry, compiled by Robert F. Bartlett (Columbus, OH: Press of Hann & Adair).
A year later, Nathan and Sarah moved to near Stanwood, Cedar County, IA. At least one son (Royal, in 1871) was born in Iowa. One of their "near neighbors" was W.S. Rockwell.
Nathan was a farmer. The 1870 federal census shows the Minards residing in Stanwood, with daughters Ida, Emma and Rosa. Also living in their household was 20-year-old Pennsylvania native Susan Hoover, who had been married within the year, but whose precise relationship to the Minards is unknown.
Among their neighbors as shown in the census were Jacob and Catherine (Coleman) Harbaugh. Jacob was the son of Jacob and Anna Maria (Laucks) Harbaugh, and the grandson of Yost Harbaugh. This may be a coincidence, or possibly a clue of a connection with the Harbaugh branch of our family.

Nathan's entry in the 1895 book Roster of the Ninety-Sixth Regiment, O.V.I.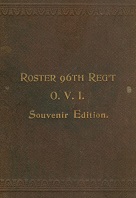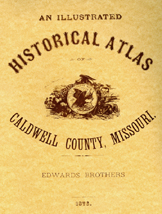 Book showing the location
of Nathan's farm
After spending five years in Iowa, the Minards and Rockwells moved to farms in Grant Township, Caldwell County, MO, in about 1871. At about the same time, Nathan's younger brother Solomon Minard Jr. and his wife Sarah also lived in the county. During the five years that Nathan's brood lived there, they left a little but not much of a paper trail. Daughter Ida Bell was married in Nathan's home in Grant Township in 1878, and the original marriage license is still on file at the Caldwell County Courthouse in Kingston.
They also resided within the county in Lincoln Township, where Nathan's 120-acre farm is identified on the 1876 Illustrated Historical Atlas of Caldwell County, Missouri, published by Edward Brothers. The Atlas names Nathan among a "partial list of patrons" who helped underwrite the publication, and it states his post office that year as Black Oak, his nativity as Harrison County, Ohio, and the year of his settlement in the county as 1871. The western border of their Lincoln Township farm was adjacent to the local schoolhouse. [Note -- a "D. Minard" residing on a 40-acre tract in Lincoln Township also is shown on the Atlas, but the connection is not yet known.] The rare publication was reprinted in 1992 by the Caldwell County Historical Society.
Among some of the well-known Americans known to have lived in Caldwell County in the 19th century were Joseph Smith and Brigham Young of the Church of Latter Day Saints (in the 1830s); department store magnate James Cash "J.C." Penney; and playwright Paul Armstrong.
In 1879, the Minards left Missouri and moved again to Richland, Monmouth Township, Shawnee County, KS, while the Rockwells remained behind.
According to family accounts, Nathan was strong-willed and exerted great influence over his adult children. He is said to have been at constant odds with an opinionated daughter in law, saying she spoiled her children by letting them eat dinner with the adults -- in Nathan's view, men should eat first, and children could have whatever was left over. He also is known to have frequently visited his son's home and strongly asked for food from the pantry when he felt that more was stored there than necessary. He also argued with the daughter in law over how to properly prepare a meal of pork rind and beans.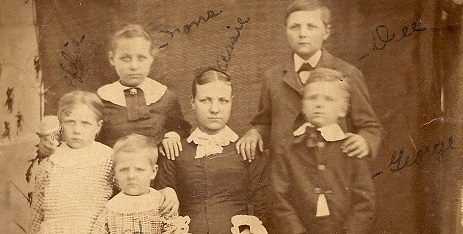 Above: the Minard children, L-R: Effie, Nona, Osie, Royal "Dee" and George; standing, front: Ed. Below: Richland's unpaved streetscape, early 1900s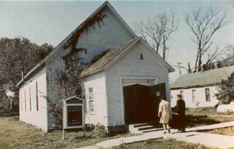 Richland E.U.B. Church
Martha Montfort's 1967 History of the Richland EUB Church states that Nathan helped build the church in 1888. He was among the first trustees of the church. (The last service held in the church was in 1967, after which time the building and the surrounding area were flooded to create Clinton Lake.)
Nathan once sold a parcel of his land to some local entrepreneurs who, according to the History of Richland, Kansas, made productive use of the property:
A creamery business was opened in Richland ... by a group of enterprising city leaders who formed a stock company, sold stock in the venture, and bought one and one-half acres near the creek from Mr. Minard. There, the creamery was built and opened for business in August of that year. The venture proved successful, supplying milk products including cheese to Topeka as well as to the surrounding community.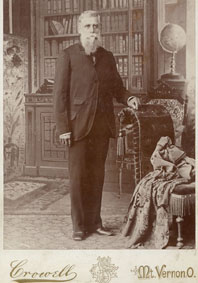 Photo taken in Mt. Vernon, OH
Like his father and brothers, Nathan was a farmer and a carpenter. He and Sarah were members of the United Brethren Church. Active in veterans' affairs, and Nathan belonged to the Lincoln Post No. 1 of the Grand Army of the Republic.
In 1880, Nathan operated a hotel in Richland. That year, he filed an affidavit in court claiming that one of his guests, Jerome R. Foster, was insane and should be institutionalized. The court agreed and paid him $5 for having provided board and care of the pauper. An 1886 article about Richland in the Topeka Daily Capital reported that Nathan as hotel proprietor was "another of the worthy and reliable men of the town.... He knows how to make you comfortable if you are hungry and tired. If you are in his vicinity try him. I have dwelt upon the personal in this letter and believe that what I have said of the citizens of Richland is due them. It is such men as these that not only make our history, but our truest and greatest prosperity."
Richland was considered in 1881, said the Daily Commonwealth, as "a little burg of eleven families situated in the Southeast corner of Shawnee county on the Carbondale Branch of the U.P. Railway. Found here a large and attentive audience assembled in the school house. Before church time, having called for entertainment at the pleasant home of Mr. N.W. Minard..."
One of their married daughters left Richland with her husband in January 1881, heading for central Nebraska, most likely Ida Bell and Henry Harrison "Clark" Cole. Said the Daily Commonwealth, they were "expecting to make the journey in ten days, but it took them thirty, floundering most of the time in the snow drifts, and at last one of the horses broke a leg."
The Topeka Daily Capital profiled the Richland community in December 1886. The article called Nathan as hotel proprietor "another of the worthy and reliable men of the town... He knows how to make you comfortable if you are hungry and tired. If you are in his vicinity try him... It is such men as these that not only make our history, but our truest and greatest prosperity."
By February 1887, the town had grown to 25 houses and 100 residents young and old. Said the Topeka Weekly Commonwealth:
It has several good stores, postoffice, mill, blacksmith shop and hotel. The religious element is represented by a substantial church building owned by the M.E. church. Richland is situated on the Lawrence and Carbondale road and very near to the Kansas, Nebraska & Dakota. The people are disgusted with the latter road for failing to provide depot and side track accommodations. The earest point between the Kansas, Nebraska & Dakota and Richland proper is nearly eighty rods... Mr. Searing, of Quenemo, is in town talking up a weekly newspaper project, which will be devoted principally to booming Richland and vicinity. The one thing most needed here is a good flouring mill.
Nathan and family returned to Ohio for a visit with family and friends in Gambier in August 1887 or 1888. Among the people they saw there was William R. Fobes, the former 1st lieutenant of Nathan's Civil War regiment. The photo seen here is of Nathan at the Crowell photo studio in Mt. Vernon, Knox County, OH, perhaps taken at that time, and from the collection of a descendant of his brother Clenon C. Minard.
Mt. Hope Cemetery, Topeka

In the postwar years, Nathan suffered from "rheumatism all over, worse in hips, knees, back & hands," according to a physician's report. Has pain and palpitation of heart and dizzy smothering attacks. Has painful digestion at times."

Sarah wrote in 1890 that Nathan's system was so "full of malarial poison" that at times he was "unable to leave his bed..." He successfully applied to the federal government to receive a pension for his wartime ills, and began receiving $8 monthly in 1890.

Sadly, Sarah Jane died of liver cancer on Nov. 16, 1892, at the age of 54. She was buried at Pleasant Hill Cemetery in Richland, Shawnee County. Later, her remains were disinterred by Nathan and moved to Mt. Hope Cemetery in Topeka, Shawnee County, KS. Her grave marker at Mt. Hope is seen here, as photographed in 2003.

~ Second Wife Phoebe (Ogan) Bainter ~

On Oct. 2, 1893, after less than a year as a widower, Nathan married his second wife, Phoebe (Ogan) Bainter (1837-1912), the daughter of Stephen and Hannah (Elliott) Ogan. She was a native of Greensfork Twp., Randolph County, IN, and the widow of Ephraim Bainter. The wedding took place in Oskaloosa, Jefferson County, KS, by the hand of C.G. Chrysler.

She brought four adult stepchildren into the second union -- George W. Bainter (living in Colorado Springs, CO), Alonzo Bainter (Klamath Falls, OR), Abraham L. Bainter (Lewis, CO) and Ella Sheard (Topeka).

The couple entered into a prenuptial contract prior to marriage. When Phoebe eventually died first, Nathan renounced his right to serve as the administrator of her estate, instead assigning that right to her four children.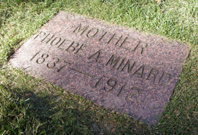 Mt. Hope Cemetery, Topeka
The marriage lasted 18 years, and the couple resided in homes at 129 22nd Street and 2101 Van Buren Street in Topeka. Prayer meetings were held in their dwelling-place circa 1908.
As Phoebe's son George made his home in Colorado, the newlywed Minards made plans to move there to join him. In March 1894, the traditional time of year for tenant farmers to move to new properties, Nathan announced that they were relocating, with Farnsworth taking his occupancy, F.V. Gibson moving to Farnsworth's, and W.R. Perry occupying Gibson's. Quipped the Richland Argosy, "Minard will remove to Colorado Springs. So Richland gains a family and looses one. There is one consolation, though, Richland's gain is a brand new couple and will be likely to last longer and grow larger than an exhausted veteran."
How long they stayed in Colorado Springs, before returning to Kansas, is not known. They are known to have lived in Monmouth Township, Shawnee County in 1900. Carpentry remained as Nathan's occupation at that time.
Despite what had been decades of separation, Nathan was reconnected with two of his brothers in the early 1900s in unusual circumstances. When his brother Andrew wrote last last will and testament in 1901, in Virginia, he made a provision for Nathan and their brother Clenon to potentially inherit a portion of the estate.
Federal census enumeration records for 1910 show Nathan and Phoebe in Topeka, with him at age 73 continuing to labor as a carpentry contractor.
Then in December 1910, Nathan was reunited with his brother Clenon and wife Amanda during the latter's visit from Ohio. They were hosted at a dinner in Topeka prepared by Nathan's daughter Emma Frances Dumars. Granddaughter Myrtle Cole also is known to have attended. Reported the Topeka Daily Capital, "Fifty years have past since the brothers ... have met."

Topeka Daily Capital
At the age of 75, Phoebe died of a cerebral hemorrhage in their home Topeka on June 15, 1912. In a short, three-sentence news obituary, the Topeka Daily Capital said that the funeral was held in the Minard residence with burial following in the Mount Auburn Cemetery (apparently an early name for the Mt. Hope Cemetery). Her flat, red granite grave marker is seen here as photographed by the founder of this website in 2010.
The year of Phoebe's passing, Nathan's name and address were published in the Topeka City Directory. The listings also show that son Royal was living just down the street, at 2108 Van Buren, and that son Edward was residing in Topeka at 396 Poplar.
A photograph portrait of Nathan and Phoebe, seen below, was taken at the George Downing Studio in Topeka. The photo was provided by a great-grandson of Phoebe's half-brother, William Emerson Cardwell Ogan. It is not known the symbolism of the hat Phoebe is wearing, other than possibly being the style of the day.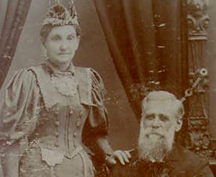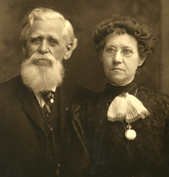 Above, Nathan with his second wife Phoebe (left) and third wife Eliza
~ Third Wife Eliza (Peterson) Thatcher Dunn ~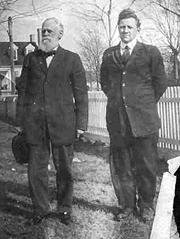 Nathan and one of his sons
Seen here is a photograph of Nathan and one of his sons, standing in a yard surrounded by a white picket fence.
On June 18, 1913, Nathan married again, to his third wife, 65-year-old Eliza (Peterson) Thatcher Dunn (1848-1932), by the hand of Rev. E.R. Baber, assisted by Rev. J.B. Dever. Eliza was a native of Custards, Crawford County, PA. Said the Topeka Daily Capital, "The bride and groom are both well known in this city, having resided here a number of years."
Eliza's former husband, James A. Dunn, had died on Jan. 15, 1906 (and was buried in the Topeka Cemetery). The Dunns' daughter, Florence May Dunn, passed away young, on March 13, 1907.
Nathan and his new bride resided in his home at 2101 Van Buren Street in Topeka. Thus Eliza moved into a household once occupied and presumably furnished by another woman.
~ Nathan's Final Years ~
While it was well known that the family's origins were German, the pronunciation of the family name underwent a change in Nathan's final years. According to a granddaughter:
Before World War I, the name was pronounced MY-nerd. It was German. When my brother, cousins and uncles returned from the war, they wanted no part of anything German. I remember my father and uncle talking about it more than once. And that was when our name was changed to the softer, French-sounding Meh-NARD.
Nathan's short entry in the History of Kansas, printed in agate type
Topeka Daily Capital
When son George and family, residing in Omaha, visited Topeka in June 1921, they received a surprise party at the home of his father and stepmother. Others in attendance included Oscar A. and Effie Thomann of Chicago; Clark and Ida Bell Cole of Richland, KS, Mr. and Mrs. Roy Nelson of Manhattan, KS; Mr. and Mrs. E.F. Hunter and daughter Jean; Andrew "Edward" and Lillian Minard of Topeka; Frances "Frankie" Dumars and daughter Mattie Gleason; and Frank Cope. A story in the Topeka Daily Capital noted that "All the relatives of the N.W. Minard family are planning for a family reunion and picnic dinner at Gage park, Sunday, June 26, at 1:30 o'clock."
Nathan died of "senility" on Aug. 23, 1922, at home at 2101 Van Buran Street. In a prominent obituary, headlined "Aged Topekan Is Dead," the Daily Capital reported that his death had occurred just eight days before his 83rd birthday and that he "was an old settler, coming to Kansas in 1879... He lived near Richland, Shawnee County, until 1898, when he moved to Topeka." In an unusual typographical error, the Daily Capital published his first name as "Nason" rather than "Nathan."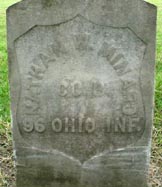 Mt. Hope Cemetery, Topeka
He was laid to rest beside his first wife at Mount Hope Cemetery in Topeka. His grave was marked with a standard military stone. Later, his adult children Emma Frances "Frankie" Dumars, Andrew " Edward" Minard and Effie Ruhama Pelsma Thomann would join him in eternal rest in the Minard family plot.
Nathan and Sarah are profiled in William G. Cutler's authoritative volume, History of the State of Kansas (Part 52, Shawnee County) and in the History of Richland, Kansas. He also is honored on the Migrations Project website, which details his pioneer movements over the years. Widow Eliza once wrote that his adult children were "scatered all over" and that she didn't know much about them. Recalls one of Nathan's great-granddaughters, every one of Nathan's children "positively hated" Eliza.
~ Eliza's Pursuit of Nathan's Military Pension ~
With Nathan gone, Eliza had no source of funds. She spent two years petitioning the government to receive her husband's pension. She prevailed, and by 1925 was receiving payments of $30 per month for her husband's war pension. She wrote that the pension funds were "all the income I have to live on." One of her letters to the government is seen here.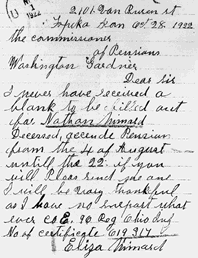 One of Eliza's pension letters
During her decade as a widow, Eliza relocated to a home of her own choosing, at 1328 Polk Street in Topeka.
Eliza passed away at the age of 85 on April 3, 1932 in her home. The Topeka Daily Capital noted that "She came to Kansas from Pennsylvania 40 years ago and for the last 35 years has made her home in Topeka. She was a member of the First Brethren church."
Following a funeral held in her church, she was interred at Topeka Cemetery. The Daily Capital, misspelling her name as "Elizabeth," also noted that she was survived by a brother, Crawford Peterson, of Andover, OH; a son, S.J. Thatcher of Kansas City, MO; and a grandson, K.T. Thatcher, of Kansas City. Perhaps tellingly, the obituary did not mention Nathan or any of Eliza's husbands.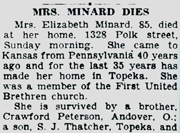 Topeka Daily Capital
Her final illness was said to have been "long and expensive."
A complete file of Nathan's Civil War pension papers is in the holdings of the National Archives in Washington, DC. Notes in the file show that in 1965, great-grandson David Cloud Tucker of Plattsburgh, NY obtained a full set of copies of the file. (David's grandmother was Osie Carrie (Minard) Tucker.)
Click here to view an additional page of photographs of Nathan and his family.
Copyright © 2001-2010, 2015, 2023 Mark A. Miner
Minerd.com extends appreciation to Jennifer Brackeen, David C. Tucker and Gene Dixon for providing content for this biography. Richland streetscape postcard courtesy of Jim Brower.
Vicksburg battle sketch painted by Alonzo Chappel, and published in 1877 as a steel engraving by Johnson & Miles, New York.