Home

Naomi "Nona" (Minard) Baker
(1872- ? )
Naomi "Nona" (Minard) Baker was born on June 26, 1872 in Caldwell County, MO, the daughter of Nathan W. and Sarah Jane (Woodruff) Minard. She and her parents were pioneer settlers of Kansas.
Nona married William C. "Will" Baker (1867- ? ), a native of Ohio, on Christmas Eve 1890. He was age 24, and she 18, at the time of marriage. A probate judge in Shawnee County officiated.
The Bakers had three children -- Grace Cox, Carlton "Carl" Baker and Edward Dee Baker.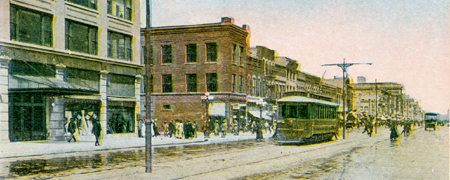 Streetcar on Topeka's Kansas Avenue, north from 9th Street, early 1
When the federal census was taken in 1900, Nona, Will and their elder two children lived on Chestnut Street in Topeka. Will 's occupation that year was as a day laborer.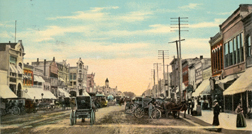 By 1910, the Bakers had relocated to Winfield, Cowley County, KS, where William was employed as a foreman in a packing house. Their home was on Fourth Street. Winfield is seen at left in an old postcard view.
Again in 1920, Nona and William are shown in the census of Winfield, on East Fourth, with William continuing his work as a packing house foreman, with son Edward Dee working there making boxes.
In 1938, when her brother Andrew "Edward" Minard died in Topeka, Nona made her home in El Dorado, Butler County, KS, and was mentioned in the Topeka Daily Capital newspaper obituary. By 1941, at the death of her eldest sister Ida Bell, Nona was residing in Casper, Natrona County, WY. In 1950, at the death of her younger sister Effie Pelsma Thomann, she was living in Wichita, Sedgwick County, KS.
~ Daughter Grace Baker ~
Daughter Grace Baker (1891- ? ) was born in September 1891.
~ Son Carlton "Carl" Baker ~
Son Carlton "Carl" Baker (1893- ? ) was born in January 1893.
~ Son Edward Dee Baker ~
Son Edward Dee Baker (1904) is lost to history.
Whatever became of Nona, Will or their children is not known.
Copyright © 2001-2003, 2009-2011 Mark A. Miner