Effie (Minard) Pelsma Rucker Thoman
(1876-1950)

Effie
Effie Ruhama (Minard) Pelsma Rucker Thoman was born on Nov. 12, 1876 in Black Oak, Caldwell County, MO, the daughter of Nathan Williams and Sarah Jane (Woodruff) Minard.
She and her parents were pioneer settlers of Kansas.
When Effie was a young girl of three, she and her parents and siblings migrated from Missouri to Kansas, settling in Richland, south of Topeka, Shawnee County, in 1879. There, she was raised to adulthood.
On New Year's Day 1893, when she was a tender 16 years of age, Effie married 25-year-old Klass W. Pelsma (1866-1939). He was a native of Warakusa, IN and was nine years older than his bride.
As her sister Frankie Minard Dumars also had been wed at age 16, one can only imagine the reaction of their strong-willed father to marriage at such a young age. Or perhaps he was a driving force behind the decision, or was the reason why they wanted out of the house.
Today, a copy of the Pelsmas' marriage license may be found on microfilm in the probate court office at the Shawnee County Courthouse.
Initially, the Pelsmas resided in Indiana, making their residence in the towns of Westville and Crocker, Porter County, where their first two children were born -- Elma Jane Hunter and Maude Frances Olsen Smith.
Effie and Klaas then moved to the windy city of Chicago, Cook County, IL, where their twins were born in 1898 -- Bernard George Pelsma and Berniece Dora Carson.
Sadly, Effie and Klass separated after the twins were born. Judge Hazen in Shawnee County District Court in Topeka granted a divorce on Oct. 2, 1901, with the news published in the Topeka Daily Herald and Topeka Daily Capital.
The children apparently were divided among the parents, with Klass taking Maude to raise, and Effie receiving custody of Elma, Bernard and Berniece. Klass is said to have died in 1939.

Above: the Pelsma's marriage license, Topeka, 1893, he age 25 and she 16. Below: twins Bernice and Bernard. Just who is whom?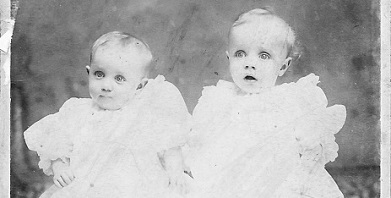 ~ Enter and Exit Carter Lee Rucker ~
At some point, relatives heard that Effie might have moved to San Francisco, CA. She was not heard from for years. Some relatives feared she had met her demise in the great San Francisco earthquake of 1906. Others heard that she was cohabitating with a man named "Rucker," either within or without the proper bonds of wedlock.
In fact in 1902, she was dwelling in Denver. On Jan. 16, 1902, at the age of 25, she wed 26-year-old Carter Lee Rucker (Oct. 29, 1875-1967), also of Arapahoe and the son of DeWilton and Alice Rucker. He had lived in Dallas in 1898, and by 1900 was a salesman in the Mile High city. Effie and Carter came back to Missouri to tie the knot in Jackson County, MO, with justice of the peace Llewellyn Janes officiating. Missouri and Kansas newspapers of the era advertise a "Carter L. Rucker" as a well-known, expert picture framer doing business in St. Louis and Topeka.
Evidence shows that Carter and perhaps both of them moved to San Francisco. In 1906, the year of the earthquake, he earned a living as a conductor, living on the west side of Telegraph, between 48th and 49th Streets. A different address for Carter is shown in similar 1906 records, listing him at 572 18th Street and working as a salesman.
Effie appears to have relocated to Nevada where, in January 1908, she sued Carter for divorce in the District Court for the First Judicial District in Esmerelda County. She claimed that he had failed "to provide the common necessities of life ... for the period of more than one year last preceding, said neglect so to provide not being the result of poverty of defendant which he could not avoid by ordinary industry...," as reported in the Goldfield News and Weekly Tribune. Later that year, back in Sedalia, MO, he was a pallbearer in the funeral of Ida Gorrell, wife of Benjamin Gorrell.
Carter married again to Louise ( ? - ? ). In Oakland, CA, in September 1916, she sued for divorce on grounds of cruelty. By 1918, when registering for the military draft in San Francisco, Carter disclosed his address as 1217 Post Street, and his employer as White House/Raphael Weill Inc., a women's fashions business. Then in 1920, when he once more entered into marriage with Leila May Cook (1887-1966). Carter and Leila ended up in Los Angeles where in 1950 he sold wholesale souvenirs. He died on July 26, 1967.
~ Oscar Thoman's Colorful and Checkered Past ~
After many years away, in about 1920, Effie unexpectedly came to the home of a niece residing in Oregon. At that time, she was married to her third husband, Illinois native Elfred "Oscar" Thoman (March 20, 1871-1945), whose parents were German and Swiss and also spelled "Thomann." Evidence suggests that she and he had been married for 15 years at that point, and thus that they had tied the knot in about 1905, when she was age 36 and he 38.
Oscar appears to have had a colorful if not checkered past. Some years before he met Effie, in October 1897, he and his brother Charles were in the news in St. Louis at the suicide of their father, by gunshot, while seated at his desk in the saloon office the three men shared at 6 South Broadway. The St. Louis Post-Dispatch called the father, Alois, "one of the most prominent Swiss in Missouri" that "financial difficulties" were at the root of his act, and that he had been dealer in wholesale and retail wine for 20 years.
About the same time as his father's death, Oscar was wooing and then wed Minnie (Beach) Holmes ( ? -1906), a flower-shop keeper in St. Louis and said to have been the daughter of Rhode Island Gov. Beach. (There was no such governor of that state by that name.) She brought two sons to the union, Charles Sidney Holmes Jr. and Thomas S. Holmes.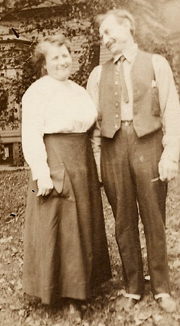 Effie and Oscar

Minnie gave birth to a baby son on or about the first of October 1899, but sadly the infant did not live long.

Then in October 1899, Oscar went missing at a time when his then-wife of two years was seriously ill, hovering between life and death, having given birth a few weeks earlier. His brother Charles was in the dark about his whereabouts. After Oscar had been gone for five weeks, Minnie petitioned the assistant prosecuring attorney to pursue an arrest warrant. The events were covered in the St. Louis newspapers of both English and German.

The problems grew worse when Minnie squabbled with her brother-in-law Charles over property and libel. Minnie ended up suing for divorce on charges of intoxication, assault and desertion in April 1904. No evidence exists that the divorce was approved.

By 1906, Oscar appears to have returned to St. Louis and earned a living as a wine merchant. About the same time, Minnie was in Denver and then in early 1906 moved to Kansas City to live with her son Charles who was working as a clerk in a pharmacy. Reported the Kansas City Star, she "had been in poor health for one and one-half years" and suffering from "rheumatism of the heart." Sadly, she died at the age of 44 on March 1, 1906. Funeral services were held in Grace Episcopal Church, officiated by Rev. Theodore B. Foster, and burial was held in Union Cemetery.

~ The Thomans' Lives Together ~

The 1930 federal census enumeration shows the couple in Fort Colllins. Oscar was a chef in a cafe in Fort Collins, Larimer County, CO. Later, Effie and Oscar are said to have owned a restaurant in California. Oscar is known to have specialized in a delicious poached salmon dish.

Clues hint that Effie and Oscar also divorced, with him relocating to Portland, OR and making a home at 6325 North Villard Avenue.

In 1941, at the death of her sister Ida Bell Cole, Effie was residing in Fort Collins, where she and Oscar helped raise two of their grandsons. In all, Effie resided in Fort Collins for a quarter-century.

Click for a memoir authored by a granddaughter which provides more detail into the mysterious years of Effie's married life.

Suffering from heart problems, Oscar died in Portland on May 15, 1941, at the age of 70. His Oregon certificate of death, signed by Mrs. T.E. Paynter of the home address, gave his occupation as painter and paper hanger, and his parents' names as Alois and Lina Thomas of Switzerland. His remains were cremated. Later his ashes were scattered in Pleasant Valley, north of Fort Collins, in a ceremony attended by the family.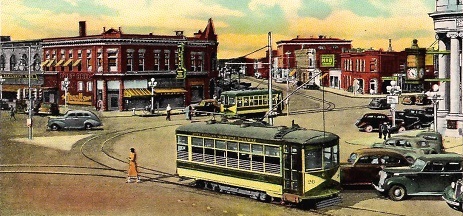 Fort Collins - at the busy Mountain and College Avenues and Linden Street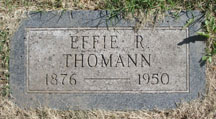 Mt. Hope Cemetery, Topeka
The widowed Effie relocated to her father's native state of Ohio. She made her home in Euclid, near Cleveland, Cuyahoga County, OH, with her married daughter and son in law, Maude and Dewey Olsen. The Olsens' address was 21641 Edgecliff in Euclid.
Effie suffered from obstruction of the bowels, caused by her intestines twisting together, and also cirrhosis of the liver.
She died in Cleveland's Doctors Hospital at the age of 73 on Aug. 9, 1950.
Her remains were returned to Topeka for burial at Mt. Hope Cemetery, to be placed into eternal rest near her father and mother and sister Emma Frances "Frankie" Dumars.
Her grave marker seen on this page was photographed in September 2010 by the founder of this website. After many years of separation from her family, she is joined together with them in a peaceful, sun-filled burial site.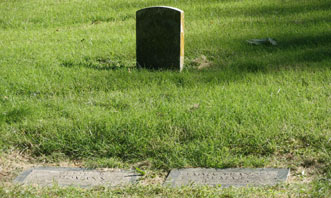 Graves of Effie (foreground, left) and sister Emma Frances Dumars (right) with their father's Civil War marker in the background, at Topeka's Mt. Hope Cemetery
~ Daughter Elma Jane (Pelsma) Hunter ~
Daughter Elma Jane Pelsma (1893?-1970) was born on Nov. 22, 1893 in Westville, LaPorte County, IN. She may have been adopted by her stepfather as she used the name "Thomann" as a maiden name. She came to Topeka in 1910, as a 17-year-old, and seems to have remained there for the balance of her years.
At the age of 19, on March 11, 1913, she married Edwin Forest Hunter (Dec. 5, 1885-1964) in a ceremony held in Topeka. He was the son of Howard H. and Mollie G. Hunter.
Edwin was of medium height and build, with brown eyes and brown hair.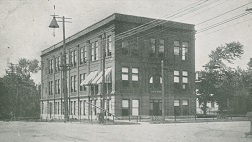 Kansas State Printing plant, Topeka
The Hunters produced two children -- Jean Louise Porter and Harold Hermis Hunter.
Edwin was employed as superintendent of the Kansas State Printing Plant's bindery department and was a member of the Bookbinder's Local Union 23. The family's address for many years was 1107 Woodward in Topeka. They belonged to the Lowman United Methodist Church.
Edwin passed away at the age of 78 on Sept. 16, 1964.
Elma survived him by six years. She was admitted to a Topeka nursing home in February 1969 and never left. She died there on Oct. 1, 1970, at the age of 77. Interment was in Mount Hope Cemetery in Topeka, with an obituary appearing in the Topeka Daily Capital.
Daughter Jean Louise Hunter (1917-2004?) was born on July 31, 1917. She married Floyd W. Porter (Nov. 17, 1916-2009). They were the parents of two sons -- Curtis H. Porter and David Porter. Circa 1964, they dwelled in Blackwell, OK and by 1970, their home was in Arlington Heights, IL. They eventually moved to Alabama to be near their son Curtis. Jean passed away on Feb. 20, 2004. Burial was in Green Hills Memorial Cemetery in Troy, Pike County, AL. Floyd was admitted to Jackson Hospital in Montgomery, AL, where he succumbed on Aug. 8, 2009 at the age of 92. Rev. David McVay officiated at the funeral service. In an obituary, the family asked that any memorial donations be made to the Troy University Baseball Foundation.
Son Harold Hermis Hunter (1923-2010) was born on Aug. 25, 1923 in Topeka. During World War II, he joined the U.S. Army and served as a staff sergeant with the Headquarters Company, 182nd Infantry, and was sent to the Pacific Theatre. After the war's end, he returned home and on Nov. 10, 1946, in a ceremony held in Osage City, KS, he wed Doris Arthur (1927-1989). Their children were Vicki Carreno and Nancy Stump. For many years, Harold was employed with his father as a book binder with the Kansas State printing plant. He took an early retirement and worked part-time as a parking attendant at Heartland Park Raceway, as a deliveryman for Junior Achievement in Topeka and Lawrence, KS, and assisted at basketball games of Washburn University. He also enjoyed attending Indy formula and NASCAR races. They were members of Crestview United Methodist Church. Harold also was active with the Siloam Lodge of the Masons, the Veterans of Foreign Wars and as a volunteer with Special Olympics. Their address in 1970 was 2123 Morningside Drive in Topeka. Heartache blanketed the family in 1989 when Doris died at the age of about 61. Harold lived for another 21 years after her death. He joined his wife in death on March 7, 2010. Funeral services were held at the family church, with burial in Mount Hope Cemetery in Topeka.
~ Daughter Maude Frances (Pelsma) Smith Olsen ~
Daughter Maude Frances Pelsma (1893?-1974) was born in about 1893 in Westville, LaPorte County, IN. She moved to the Chicago area as a child and attended Franklin Park School in the Chicago area.
Maude married Hermes (or "Hermis") Smith (1895- ? ), a native of Illinois. They resided in Chicago in 1920-1930, where she worked as a stenographer and he was employed as a manager of a stationery business. By 1935, the Smiths relocated to Euclid, Cuyahoga County, OH. There, in 1940, federal census records show Hermes working as a purchasing agent for an office machinery firm.
They had one son, Bradley Hermes Smith.
Eventually, she married again to Dewey Olsen ( ? - ? ). In the late 1940s, they made their home in Euclid at 21641 Edgecliff.
Circa 1967, Maude relocated to Lake Worth, FL and remained there for good. She took back the name "Smith."
Maude suffered from apparent heart problems and died in a Palm Beach hospital at the age of 78 on March 2, 1974. Rev. W. Thomas Parsons Jr., of Lakeside United Methodist Church, officiated at her funeral service. An obituary was published in the Palm Beach Post, with burial taking place in Palm Beach Memorial Park in Lantana.
Son Bradley Hermes Smith (1937- ? ) was born in 1937 in Euclid, Cuyahoga County. He was married and had two children. He spent his adult years in Tokyo, Japan.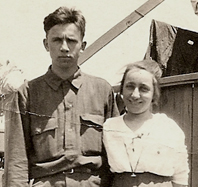 Bernice and George Carson
~ Twin Daughter Bernice Dora (Pelsma) Carson ~
Daughter Bernice Dora Pelsma (1898-1981) was born on Aug. 3, 1898 in Chicago.
She married George Wilson Carson (April 27, 1897-1985) on Jan. 19, 1918, when both she and he were 20 years of age. He was a native of Atlanta, Cowley County, KS.
Later that year, he was shipped overseas, serving in France during World War I with the U.S. Army. Upon his return, they lived in Junction City, Geary County, KS circa 1920-1921.
They had three children -- Dorothy Louise Baber, Lura Bernice McCraw Scott and Ralph Edwin Carson.
In 1925, they made their home in Topeka, and in about 1929 moved to Winfield, Cowley County, KS. The 1930 census of Winfield shows George working as a sales manager for a bakery company.
They stayed in Winfield a few years before migrating again during World War II to Washington State. In about 1944, they relocated to Lemon Grove in San Diego County, CA, where their elder daughters were already living.
Bernice passed into eternity on Sept. 21, 1981 in Lemon Grove.
George survived his wife by a few years. He succumbed in El Cajon, San Diego County on Sept. 25, 1985.
Click to read a memoir of her life, authored by her daughter Dorothy in 2009.
Daughter Dorothy Louise Carson (1920- ? ) was born on May 10, 1920 in Junction City, KS. She was joined in marriage with (?) Baber ( ? - ? ).
Daughter Lura Bernice Carson (1921-2002) was born on May 12, 1921 in Junction City, KS. She wedded (?) Scott ( ? - ? ). She passed away October 23, 2002 in La Mesa, San Diego County, CA.
Son Ralph Edwin Carson (1925- ? ) was born August 20, 1925 in Topeka, KS.

Bernard
~ Twin Son Bernard Pelsma ~
Son Bernard Pelsma (1898-1966) was born on Aug. 3, 1898 in Chicago and was a twin with his sister Bernice. The two were not raised together.
He is seen here in a portrait taken in 1917, when he was about 18 or 19 years of age. During World War I, he served as a sergeant in Company L of the 38th Infantry.
As an adult, Bernard lived in San Diego and was married to Norma Serena Andersen (Sept. 13, 1901-1994).
They had at least two sons, James Minard Pelsma and Bernard George Pelsma Jr.
Bernard and Norma divorced at some point in time.
At the age of 68, Bernard died Feb. 23, 1966 in San Diego County and is buried in Ft. Rosecrans National Cemetery.
Norma outlived her former husband by almost three decades. She spent her final years in or around Glendale, Maricipa County, AZ. She died at the age of 92 on Aug. 4, 1994, with burial in Glendale Memorial Park.
Son Bernard George Pelsma Jr. (1929-2014) was born on July 10, 1929. He attended high school in Fort Collins. Bernard married Virginia Lee (?). They had a family and resided in Idaho in the Meridian community. He died at the age of 84 on April 3, 2014, and his remains were cremated.
Son James Minard Pelsma (1936-2002) was born on April 3, 1936 in Salt Lake City. His middle name was pronounced "Meh-NARD." On Sept. 10, 1958, when he was 22 years of age, he married 18-year-old Nancy Lou Klumpp (July 29, 1940-2018), daughter of Richard L. and Betty Jean (Barnum) Klumpp of Grants Pass, Josephine County, OR. The nuptials were held in Las Vegas. They made their home in Glendale, AZ and produced four children -- Julie Karen Powell, Geoffrey James Pelsma, Janae Elaine Shoup and Jason Edward "Jay" Pelsma. The couple eventually divorced. On Sept. 10, 1988, the 52-year-old James wed a second time to Shirley L. (1941- ? ). Sadly, James passed away on Feb. 7, 2002, at the age of 65. Shirley's fate is not yet known. Nancy outlived her former husband by 16 years. She was a registered nurse and a member of the Latter Day Saints Church, where she "held numerous callings," said a family member. In September 1979, she married a second time to James Clarence "Jim" Hoefer (April 21, 1933-2018), son of Walter and Lorraine Hoefer. The second marriage brought stepchildren Eric Hoefer, Kathy Chromy and Karen Tonn. They endured the untimely death of James' son Eric in Michigan in 2011. Sadly, after a long illness, James passed away on March 23, 2018. He was laid to rest in Resthaven Park Cemetery near Glendale. Adding to the heartache, Nancy died unexpectedly just 16 days later at the age of 77 on April 8, 2018. Her remains also were placed into repose in Resthaven Park.
Granddaughter Julie Pelsma (1960-living) was born on Sept. 22, 1960 and grew up in Mesa. She studied at Central Arizona College. At one point in time she entered into marriage with Keith Knodle (Jan. 13, 1954-2022), the son of Harry and Beulah Knodle of Mayville, ND. His three children from a previous marriage were Jodi Coffman, Josiah Knodle and Jennifer Brand. Although they divorced, Julie and Keith remained close friends and talked nearly every day. She married again to (?) Powell ( ? - ? ). Their sons are Adam Powell and Brandon Powell. Julie has been employed over the years at Scottsdale Healthcare and Gwinnett Medical Center. She graciously has provided a wealth of information about the Pelsma branch of the family to the founder of this website. Sadly, former husband Keith, who spent his final years in Lawrenceville, GA, died on Jan. 19, 2022.
Jay Pelsma's grave marker

Granddaughter Janae Elaine Pelsma (1968- ? ) was born on Aug. 16, 1998. She married (?) Shoup ( ? - ? ). Sadly, Janae passed away on Sept. 15, 2022. No obituary was prepared.
Grandson Jason Edward "Jay" Pelsma (1973-1992) was born on Jan. 17, 1973 in Mesa, Maricopa County, AZ. In his late teens, he dwelled in Mesa and earned a living as a waiter. His life was cut short at the age of 19 on March 24, 1992 with death occurring in Phoenix. Funeral services were held at the Church of Jesus Christ of Latter-day Saints. He rests in Resthaven Park West Cemetery in Glendale. His photo and an obituary were published in the Arizona Republic. Inscribed on his grave marker is a photograph and the words "Beloved son, brother, grandson, uncle & friend to many. Our star for a time, God's star forever." A memorial bench was placed near the grave, inscribed "For you Mother in memory of Jason. Our children are like jewels, to be polished by us and then presented to the Lord."
Step-grandson Eric Hoefer ( ? -2011) died in Michigan after a massive heart attack on Feb. 8, 2011.
Step-granddaughter Kathy Hoefer wed Gerry Chromy.
Step-granddaughter Karen married Michael Tonn.
Copyright © 2001-2003, 2009, 2014, 2018, 2023 Mark A. Miner