George Stephen Minard
(1874-1963)

George S. Minard
George Stephen Minard was born on Nov. 5, 1874 in Caldwell County, MO, the son of Nathan W. and Sarah Jane (Woodruff) Minard.
When George was age four, he and his parents and siblings moved to Richland, south of Topeka, Shawnee County, KS.
On Dec. 4, 1898, in Shawnee County, the 24-year-old George married Mabel Yourgin (or Yeargain). They had two children -- Mildred Bott and Clarence F. Minard.
At some point prior to 1920, the Minards relocated to Omaha, Douglas County, NE. Seen here is Omaha's famed sheep pens at the Union Stock Yards, which provided a constant supply of lamb and veal to the Omaha's meat-packing industry.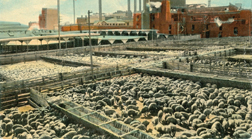 Omaha sheep pens, Union Stock Yards
The federal census of 1920 shows Clarence, Mabel and the children living in Omaha, on 21st Street. He worked that year as an inspector for the government. Interestingly, the census-taker recorded the birthplace of George's father as Ohio and the mother as Scotland.
When George visited Topeka in June 1921, they received a surprise party at the home of his father and stepmother. Others in attendance included Oscar A. and Effie Thomann of Chicago; Clark and Ida Bell Cole of Richland, KS, Mr. and Mrs. Roy Nelson of Manhattan, KS; Mr. and Mrs. E.F. Hunter and daughter Jean; Andrew "Edward" and Lillian Minard of Topeka; Frances "Frankie" Dumars and daughter Mattie Gleason; and Frank Cope. A story in the Topeka Daily Capital noted that "All the relatives of the N.W. Minard family are planning for a family reunion and picnic dinner at Gage park, Sunday, June 26, at 1:30 o'clock."
Mildred died in Omaha, sometime prior to 1930. Details are not yet determined.
When the census was enumerated in 1930, the widowed George and 29-year-old, unmarried daughter Mildred made their home there together. He was employed as a "lay inspector" for the government.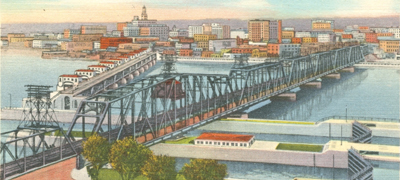 Government bridge and roller dam between Rock Island, IL and Davenport, IA
In 1938, when his brother Andrew Edward Minard died in Topeka, George was residing in Rock Island, IL, and was mentioned in the Topeka State Journal newspaper obituary. By 1941, at the death of his sister Ida Bell Cole, he was residing in Houston, TX.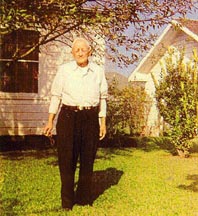 George, December 1959
George maintained his father's former residence in Topeka for many years, owning two lots on Van Buren Street, which he rented out to tenants.
The color photo of George, seen here, was taken in December 1959, possibly in California, although not proven with precision.
George died in Houston on Sept. 14, 1963, at the age of 89. Since his legal residence was still considered to be in Topeka, his estate was administered through the probate court of Shawnee County. In his will, George had prepared for this situation earlier, in 1949, and appointed his nephew Earl Tucker as executor of the estate, per the terms of his will.
George is thought to be buried in Texas, while Mabel is believed to be buried in Omaha, NE.
~ Daughter Mildred (Minard) Bott ~
Daughter Mildred Minard (1901- ? ) was born in 1901.
She married (?) Bott.
In 1963, she made her home in Houston at 4517 Kingsbury Lane.
~ Son Clarence F. Minard ~
Son Clarence F. Minard (1907- ? ) was born in 1907.
He dwelled circa 1963 at 226 First Avenue East in Milan, IL.
He was married and had two children -- Charlotte Puckett and Donna Minard.
Copyright © 2001, 2009, 2010, 2015 Mark A. Miner