Solomon Minard Jr.
(1842-1878?)
Solomon Minard Jr. was born in 1842 in Harrison County, OH, the son of Solomon and Rachel (Little) Minard Sr. He was a pioneer settler of Illinois and Missouri.
As a young man, Solomon may have moved with his parents to Knox County, OH. By age 16, a few months after his father's death, he had migrated westward to Illinois. That same year, 1858, the Probate Court of Solomon's home county, Knox County, Ohio, appointed another brother, Thomas, as his legal guardian.
The federal census of 1860 shows an Ohio-born "Solomon Miner," age 20, boarding as a farm laborer with the family of Edwin Rude in Mills Prairie, Edwards County, IL.
During the Civil War, Solomon registered for the military draft, but was never selected for duty. The draft registration entry, dated June 1863, shows that he was age 23, his occupation was "Farmer," that he was unmarried and born in Ohio, and that he resided in Munson, Henry County, IL. The handwritten entry spells his name "Minard."
On Sept. 26, 1863, in Henry County, Solomon married 16-year-old Sarah E. Bowen (1847- ? ), a Pennsylvania or Maryland native. Sarah is thought to have been the daughter of John and Ann Bowen, also spelled "Bone," the father having emigrated from Germany.
The Minards produced at least five children -- Luther Minard, Jesse Minard, Eddie May ("Etta?") Minard, Frank Minard and Asa Minard.
Solomon and Sarah were in Illinois for the birth of their eldest son Luther in 1865.
Within three years, in about 1868, Solomon and Sarah moved further west from Illinois to Missouri, planting themselves in the town of Mirabile, Caldwell County. There, their remaining four children were born. Solomon's brother Nathan W. Minard also resided in Caldwell County circa 1872, evidence that the two families may have been close and have moved in tandem. It's also known that Solomon's brother Andrew Minard was especially close with Solomon's son Asa, as detailed later in this biography.
The 1870 federal census shows Solomon, Sarah, Luther and Jesse making their home on a farm near Mirabile, in Breckenridge Township. Boarding in their home that year was 21-year-old German immigrant Ernest Severt. Living as close neighbors was the couple thought to be her parents, the Boneses.
Sadly, Solomon disappears from the paper record sometime between 1878 (when their youngest child was born) and 1880 (when Sarah appeared on the federal census as head of her household). He likely had died, but needs to be confirmed.
In the 1880 census of Breckenridge Township, Sarah was age 34 and listed as "wife" but also checked off in the box marked as "divorced/widowed." In her household were their three youngest children. Her parents and married siblings resided nearby.
Sarah wed again on March 25, 1883 to a man 15 years younger, Charles W. Brown (Aug. 1862- ? ), a native of Ohio and a carpenter. The nuptials took place in Ray County, MO, by the hand of justice of the peace John G. Lurk (spelling?). Richmond was about 30 miles south of Mirabile.
They went on to produce several more children -- among them Lulu Strohl, George Brown, Stella Brown and Leroy Brown.
Sarah and Charles alternatively lived in Missouri, Kansas and Missouri again in the 1884-1889 span of years. Heartache enveloped the family in 1889 at the death of 13-year-old son Frank and in 1899 at the death of 26-year-old son John, presumably in Richmond, Ray County, MO. By 1900, Sarah disclosed to a census-taker that she was the mother of 10 children, of whom five were still living.
They owned their farm in Richmond, Ray County, MO in 1900-1910, with Charles remaining with his occupation of house carpentry. Their home was located on Cunningham Street in 1910.
During the 1910s, the Browns struck out for a new life, moving to Omaha, Douglas County, NE. There, the federal census of 1920 shows Charles earning a living as a stock yard laborer, and nine-year-old "son" Leroy in the household. Their address was Erskine Street.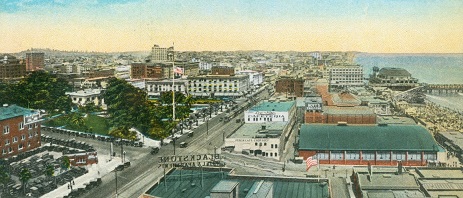 Long Beach's business section
Sadly, Charles died sometime during the decade of the 1910s. The widowed Sarah moved to Southern California, where in 1920 she dwelled in the home of her married daughter Lula Strohl in Long Beach, Los Angeles County.
Sarah is believed to have passed away in the 1920s. More research is being conducted to learn the details.
The Browns' daughter Lulu Belle Brown (1884-1956) was born in August 1884 in Missouri. She grew up in Richmond, Ray County, MO. At the age of 20, on April 5, 1905, she is believed to have been joined in marriage with 22-year-old Albert L. Strohl (1882-1962), also of Richmond and the son of Benjamin F. Strohl. Rev. C.B. Duncan officiated. They were the parents of Lawrence Strohl, Virginia Strohl, Dorris "Van" Strohl and Maxine Strohl. When the federal census enumeration was made in 1910, the couple dwelled on a farm with their two children in Crooked River, Ray County. During 1919, the couple made the decision to relocate to Southern California. The 1920 - 1930 - 1940 federal censuses show the Strohls living at 1321 East Tenth Street in Long Beach, Los Angeles County, with Albert having no occupation. In 1920, Lulu's widowed mother and Albert's widowed father resided in the household. At the couple's golden wedding anniversary in 1955, their children held a dinner party in their honor, with a related story appearing in the Los Angeles Times and Long Beach Independent Press-Telegram. At the time, they had six grandchildren and one great-grandchild (Mary Elizabeth Sylvester). Lulu passed away at the age of 71 on June 27, 1956. Albert lived for another six years. He joined Lulu in death at the age of 80 on Nov. 16, 1962. A death notice was printed in the Independent.
Grandson Lawrence Strohl (1907- ? ) was born in about 1907 in Ray County, MO. He is believed to have married Gloria (?). The couple divorced in about June 1944, as reported in the Los Angeles Times. He was deceased by 1955.
Granddaughter Virginia Elizabeth Strohl (1910-1989) was born on Jan. 28, 1910 in Ray County, MO. She married Ned Kidd ( ? - ? ). Circa 1955, their home was in Bakersfield, CA. She passed away in Kern County on April 19, 1989.
Grandson Dorris "Van" Strohl (1918-1976) was born on May 29, 1918 in Missouri. Circa 1940, unmarried at 21, he lived at home and was employed as a filling attendant at a Long Beach gasoline station. He served in the U.S. Armed Forces during World War II. He was married and in 1954 his bride served as secretary of the local Delta Alpha Chapter of Sigma Phi Gamma International Sorority. In 1955, when he attended his parents' 50th wedding anniversary dinner, he was still in Long Beach. He died in Los Angeles County on Aug. 23, 1976.
Granddaughter Maxine Strohl (1920- ? ) was born in about 1920 in or around Long Beach, CA. She was a beautician and in 1940, at the age of 20, worked in a Long Beach-area beauty shop. She was wedded to Jack Parsons ( ? - ? ). Maxine was active with the Sigma Phi Gamma International Sorority and its local Delta Alpha Chapter and, in 1954, was elected as editor, with her photograph appearing in the Long Beach Independent. Their address in 1955 was at 4704 Falcon Avenue in Signal Hill, CA.
The Browns' son George Brown (1886- ? ) was born in June 1886 in Kansas. He grew up in Richmond, Ray County, MO. Evidence suggests that on April 18, 1909, when he would have been 22 years old, George wedded Lena Burk ( ? - ? ), also of Richmond. Rev. Marcel A. Harris led the nuptials.
The Browns' daughter Stella Brown (1889- ? ) was born in January 1889 in Missouri. She grew up in Richmond, Ray County, MO. Circa 1910, at age 22 and unmarried, she lived at home with her parents in Richmond.
The Browns' son Leroy Brown (1911- ? ) was born in about 1911 in Iowa. He grew up in Richmond, Ray County, MO.
~ Son John W. Minard ~
Son John W. Minard (1872-1899) was born in about 1872 in Missouri.
He grew up in Richmond, Ray County, MO.
Sadly, in 1899, when he was about 26 years of age, he succumbed to unknown causes.
Burial was in Richmond Cemetery in Richmond, Ray County, MO. Records of the burial show that he was "Son of S. and E. Minard." [Find-a-Grave]
~ Daughter Eddie May Minard ~
Daughter Eddie May Minard (1874- ? ) was born in 1874 in Missouri. Was her name really "Etta?"
Nothing more is known.
~ Son Frank H. Minard ~
Son Frank H. Minard (1876-1889) was born in 1876 in Missouri.
He lived in childhood in Richmond, Ray County, MO.
Sadly, at the age of 13 years, six months, he passed away on Oct. 9, 1889. The cause of his untimely passing is not known.
Frank's remains were placed into repose in Richmond Cemetery. No marker is known to stand at the grave. Records of the burial show that he was "Son of S. and E. Minard." [Find-a-Grave]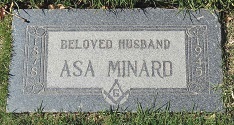 Inglewood Park Cemetery
Courtesy "Romper90069" - Find-a-Grave

~ Son Asa Minard ~

Son Asa Minard (1878-1945) was born on June 12, 1878 in Missouri.

One source erroneously gives his birthplace as Virginia, but all the rest which have been examined show it to be Missouri. His name also has been spelled as it nearly sounded, "Ace."

When he was 21 years of age, Asa had learned the skill of baking. That year, in 1900, he lived with his mother, stepfather and half-siblings in Richmond, Ray County, MO.

He eventually entered into marriage with Evah Morgan (Nov. 15, 1880-1961), daughter of William and (?) (Southard) Morgan and a native of Indiana. They did not reproduce.

The reference to Asa's birthplace as Virginia may have a connection to a beloved uncle, Andrew Minard, who had dwelled there later in life and that Asa had won a place in the man's heart. When the dying uncle wrote a will in 1901, he bequeathed all but $500 to his wife, with instructions that upon her death, Asa was to inherite everything. Even the $500 held in reserve was to be paid to Asa's cousin Jennie Johnson, but in the event that she was not living, it was to be subdivided among other family members, with one-third of the amount to be given to Asa.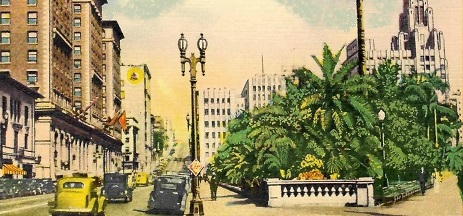 Pershing Square in bustling Los Angeles
Asa and Evah relocated to Southern California.
The federal census of 1920 shows Asa and Evah living in Los Angeles on West 23rd Street, with him employed as a baker. That year, Evah's widowed father lived under their roof.
In the 1930-1940 timeframe, when the censuses again were enumerated, the Minards continued to dwell in Los Angeles, on Buckingham Road, and Asa was still working as a baker in a bakery.
Asa passed away in Los Angeles County on Feb. 28, 1945. A notation of his final was printed in the South Gate (CA) Press. Interment was in Inglewood Park Cemetery. Inscribed above his name on the grave marker are the words "Beloved Husband." [Find-a-Grave]
Evah survived her spouse by 16 years and lived in Orange County. She was named in the April 1961 Los Angeles Mirror obituary of her brother Roy. Sadly, Evah was spirited away by death later that year on Oct. 30, 1961 and rests beside him for eternity.
~ Not to Be Confused ~
Ironically, another man named Solomon Minard (1814- ? ) lived in Illinois at the time that ours' did, making his home in Attawan, Henry County. He was born in Upper Canada, the son of George and Elizabeth Minard of Vermont. This "other" Solomon came to the United States in 1836, and helped supervise construction of the Illinois and Michigan Canal in LaSalle County. He married Mary Burrow (1822- ? ) in 1845, came to Henry County in 1850 and acquired 160 acres of land. They produced seven children, all of whom were deceased by the year 1885, when Solomon was profiled in the book, Portrait and Biographical Album of Henry County, Illinois. He is not to be confused with our Solomon.
~ More ~


In 2009, family researchers visiting Caldwell County checked the Docket of Administration Executors covering the period of 1857 to 1882, and marriage licenses from 1886 to 1932. They found no evidence at all that the Solomon Minards had resided in the county, although records of the Nathan W. Minard family were located. As the courthouse had burned in 1896, it is entirely possible that Minard-specific records were consumed in that inferno.
Copyright © 2002, 2005, 2009, 2011, 2018, 2023 Mark A. Miner