Samantha Jane 'Jennie'
(Minard) Armstrong
(1865-1899)


Jennie and Hugh Armstrong
Samantha Jane "Jennie" (Minard) Armstrong was born on Aug. 29, 1865 in Knox County, OH, the daughter of Clenon and Mary Ann (Kunkle) Minard. Her death at a young age left her husband with five young children to raise.
On Sept. 20, 1885, Jennie married Hugh Armstrong (1862-1945), the son of Peter and Mary (Lauder) Armstrong. The ceremony was performed by F.G. McCauley in Knox County.
The Minards and Armstrongs were close, and Jennie's sister Ida married Hugh's brother John. Hugh and John's father, Peter Armstrong, was a native of Cadiz, Harrison County, OH, while their mother, Mary, was an emigrant from Edinburgh, Scotland.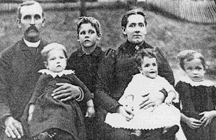 Jennie, Hugh and children, 1892
Jennie and Hugh begat six children all told -- Lee Leonard Armstrong, Corwin Clenon Armstrong, Elzie Edwin Armstrong, Minnie May Armstrong, Clytice Armstrong and Byron Stanley Armstrong.
Sadly, Clytice died at only one day of age, in 1894, and was laid to rest at the nearby Bigelow Chapel Cemetery.
The photo seen here shows the family circa 1892, with four of their six children, from left to right: Elzie, Lee, baby Minnie and Corwin. An error in the original printing of the photograph resulted in a distortion of Corwin's head and the background picket fence at far right.
The Armstrongs resided near Jelloway and Nunda, Knox County, about 15 miles northeast of the county seat of Mt. Vernon.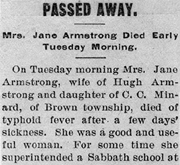 Obituary, 1899
The names and birthdates of their children were written in a family Bible published in 1881. Today, the Bible is in the hands of a direct descendant, with a copy of key pages held in the archives of the Ohio Genealogical Society.
According to a local newspaper, Jennie was "a good and useful woman. For some time she superintended a Sabbath school at Biglow chapel and was a faithful member of the Methodist Protestant Church."
Tragically, Jennie came down with typhoid fever, and passed away on the Fourth of July, 1899. She was buried beside her infant daughter Clytice at Bigelow Chapel Cemetery. She left behind her husband and five young children, who grew up never knowing much about their true mother.
The photo seen here shows Hugh and his five motherless children posed with an empty chair in front of their home circa 1901.
According to a memoir by a granddaughter:
The motherless family, at home, 1901

It was common in the 19th century to take a picture of the family after the mother or father died and show it by having an empty chair in the picture. It was done as a mark of respect for the deceased... It appears there is a crazy quilt laying over a couch or chair to the left. Jennie had made such a quilt. It is beautiful, many, many colored wool and silk patches, each connected with embroidery. We had it at home and Dad put it in the Ashland Museum, on Center Street. They hang it on the wall for special occasions.
Widowed for three years, Hugh longed for a partner who would help him share life's burdens and be a mother to his children.
After an unusual romance, he married Rebecca Camelia (or "Comella") (Ottinger) Grace (1858-1932) in the winter of 1902. He was four years younger than she. She was the daughter of Isaac and Sarah (Rader) Ottinger of Greenville, TN, had been married once before, to Alfred Grace, and had two children of her own.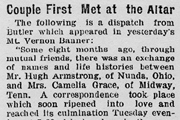 News story, 1902
Their romance was so remarkable that it generated a news story headlined "Couple First Met at the Altar."
Some eight months ago, through mutual friends, there was an exchange of life histories between Mr. Hugh Armstrong, of Nunda, Ohio, and Mrs. Camelia Grace, of Midway, Tenn. A correspondence took place which soon ripened into love and reached its culmination Tuesday evening at 7:30 o'clock, when, in the presence of a few invited guests in the M.P. parsonage at Butler, O., they took the marriage vows.
They had never met until they came together to be man and wife. Then their imaginary love proved real and fervent for their modest attentions show them to be foolishly fond of each other.
After the ceremony the groom requested a song, and as he had long been a candidate for a second term in the matrimonial office, some one suggested as appropriate that old Methodist hymn, "This is the way I long have sought and wept because I found it not." A rousing serenade is prepared for them the evening of their arrival at Nunda.
Hugh and Camelia were married for more than four decades. When the 1910 census was enumerated, they were in Wayne, Knox County, OH, with Hugh laboring as a farmer. Son Corwin, age 20, was employed as a school room teacher, and 19-year-old son Elzie as a farm laborer.
The Armstrongs later relocated and made their home in Perry Township, Morrow County, OH.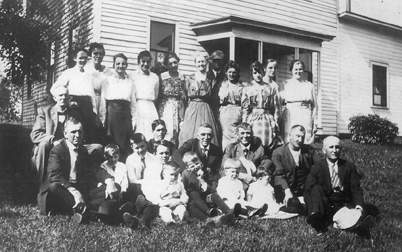 Minard reunion -- Hugh seated at far right, with his brother John squatting at far left.
Throughout his lifetime, Hugh remained close with his former Minard in-laws. He once hosted a family reunion at his home.
Camelia died at the age of 73 on Jan. 4, 1932, of influenza. She was laid to rest in the Shauck Cemetery.
Hugh outlived his second wife by 13 years. He spent his final time living on State Street in Frazeysburg, Muskingum County, OH. At the age of 83, he passed away of uremia on May 23, 1945 at Mt. Carmel Hospital in Columbus, Franklin County, OH. He is buried with his second wife, and several children, in the Shauck Cemetery in Morrow County.

Graves of Jennie and Clytice at Bigelow Chapel Cemetery
~ Son Lee Leonard Armstrong ~
Son Lee Leonard Armstrong (1887-1977) was born on New Year's Day 1887.
He married Effie May Grace (1879-1953), a native of Tennessee who was eight years Lee's senior. They were wed on July 14, 1906, when Lee was age 19, and Effie 27. Effie was the daughter of Lee's step-mother, Rebecca Camelia, and the two would have known each other well before marriage.
They went on to have three sons -- Raymond C. Armstrong, Ralph C. Armstrong and Richard Kenneth Armstrong.
When the federal census of 1930 was taken, the Armstrongs lived in Troy, Richland County, OH, where Lee worked as a "tire man" for a rubber company. In his younger years, he was a tenant farmer. He also was a skilled woodworker and a handyman. Their residence for many years was on Mill Street in Lexington.
Effie passed away quietly on Mother's Day, May 9, 1953 while getting ready for church.
Lee outlived his wife by 24 years, almost a quarter of a century. He died of an aneurysm at age 91, in 1977. At his death, he was survived by his three sons, 11 grandchildren and numerous great-grandchildren.

Obituary, 1990
Son Raymond C. Armstrong (1907-1990) was born in 1907. He resided in the Mansfield area all of his life. Said a newspaper, he "was employed as a press operator with Tappan Stove Co. for 34 years, retiring 21 years ago [in 1969]. He was a member of the Loyal Order of Moose and the Tappan Quarter Century Club." He was married to Irene Mamber and Helen Gutchall, and in all had four children -- Margaret Steward, Donald E. Armstrong, Walter L. Armstrong and Bruce Armstrong. Raymond died at the age of 83 on April 3, 1990, 1990. At the time, he was survived by 24 grandchildren and several great-grandchildren. Burial was in Mansfield Memorial Park.
Son Richard Kenneth Armstrong (1916-2009) was born on June 4, 1916. He lived in Lexington, Richland County, OH most of his life. On June 20, 1937, he married Isabel Janet Prosser (1916-1976). They had three children -- Ronald Vincent Armstrong, Janet Elaine Ogilvie and Joyce Ann Arnold. For 31 years, Richard owned and operated Armstrong's Market, a local grocery store. The family attended the Lexington Presbyterian Church for many years, where Richard was an elder and "where their entire family accepted Christ as their Savior," said one of their daughters. Sadly, Isabel died on July 20, 1976 at the age of 59. Richard outlived his wife by many years. At the age of 93, he fell and broke a hip, and subsequently suffered a fatal heart attack, passing away on Sept. 19, 2009. They are buried together in Lexington Cemetery.
~ Son Corwin Clenon Armstrong ~
Son Corwin Clenon Armstrong (1890-1977) was born on May 27, 1889.
He married (?). They had two children -- Mary J. Armstrong and Franklin W. Armstrong.
The 1930 census shows the family making its residence on Aldrich Avenue South in Minneapolis, Hennepin County, MN. That year, Corwin, widowed, was an advertising manager with a newspaper. Corwin's unmarried sister Minnie lived with them in 1930, likely caring for the motherless children.
Corwin died on July 16, 1977, at the age of 87.
~ Son Elzie Edward Armstrong ~
Son Elzie Edwin Armstrong (1890-1970) was born on Dec. 9, 1890.
He married Blanche Pifer (1893- ? ), the daughter of Lora Pifer, in about 1913, when he was 22 years of age, and she was 20. They had three children -- Helen Oyster, Mary Jane Henney and Carl Armstrong.
They lived on East Eight Street in Ashland, Ashland County, OH. The 1930 census shows the family together in Ashland, with Elzie employed as a shipping foreman in a rubber company.
Elzie died at the age of 79 on Feb. 22, 1970.
Daughter Helen Armstrong married Dr. Harold E. Oyster (1923-1988), a prominent optometrist from Marietta, Washington County, OH. Harold was a graduate of Northern Illinois College and at one time served as president of the Ohio Optometric Association. Later, he entered the Ohio Legislature, serving as chairman of the House Finance Subcommittee on Higher Education. He also chaired the Ohio Board of Regents and was deeply involved in developing strategic plans for establishment of community colleges. Harold died at the age of 63 on April 6, 1988, in Ashland.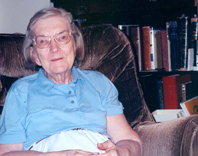 Mary Jane Henney
Daughter Mary Jane (Armstrong) Henney (1916-2008) -- seen here, with her books -- carried on her Aunt Minnie Armstrong's genealogical work, and in her lifetime conducted a tremendous amount of research on this line of our clan. She was a graduate of Ashland College, and received additional education at The College of Wooster and Case Western Reserve University.
Mary Jane herself was a pioneer in Ohio genealogy. For many years, as a key leader and Fellow of the Ohio Genealogical Society, she spearheaded the effort to identify and locate each cemetery in Ohio, large and small. This voluminous data eventually was published in the landmark book, Ohio Cemeteries. In the preface of the book, Mary Jane was thanked for having "worked tirelessly toward this book until ill health force[d] her to resign." The book today is considered a standard reference, not only for genealogists, but for monument companies needing to deliver grave markers, and in the resolution of cemetery lot disputes. In an addendum published in 1990, the preface said: "Special acknowledgement should go to Mary Jane Henney for her dedication in proofing each edit of this addendum."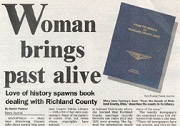 Mansfield News Journal, 1997
During the time that Mary Jane served on the board of the OGS, it planted chapters in each of Ohio's counties. The founder of this website has seen her signature on framed charter documents in libraries throughout the state where OGS chapters meet. In fact, the founder of this website has seen her signature on several OGS charter documents in libraries throughout Ohio, including one in the Brumback Library in Van Wert.
When she published a compilation in 1997 entitled From the Annals of Richland County, Ohio, in conjunction with the Richland County Genealogical Society, the Mansfield News Journal printed a major feature article, "Woman Brings Past Alive." The article is seen here.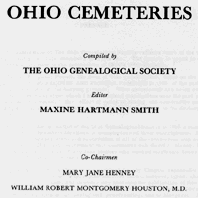 Book which Mary Jane helped compile
In addition, Mary Jane published other books. For nearly two and a half years, from 1985 to 1987, she wrote a weekly column, "Once Upon Another Time," in the Mansfield News Journal. In August 2002, she met with Minerd.com's founder and shared her wealth of genealogical data and photographs, which have been used to create these pages on our website.
Mary Jane was married to Frank "Fritz" Henney on July 8, 1939. They were members of First Presbyterian Church in Mansfield. She taught elementary school in Ashland city Schools and Madison Local School District. She also enjoyed playing viola with the Ashland Symphony. Fritz passed away on July 7, 2006.
Mary Jane died at the age of 92, in Mansfield, on Oct. 10, 2008. She was survived by her sons John Henney and Joseph Henney and 17 grandchildren and great-grandchildren. She was laid to rest at Oak Grove Memorial Park, with her obituary published in the Columbus Dispatch.
~ Daughter Minnie May Armstrong ~
Daughter Minnie May Armstrong (1892-1976) was born on March 25, 1892. She never married.
She made her home in Minneapolis, Hennepin County, MN in 1930 and in Bellville, OH in 1932.
Throughout her lifetime, she placed great value on family connections and heritage, and preserved many old photographs, papers and newspaper clippings. She often took her nephews and nieces for picnics in old cemeteries, and would tell them about the relatives buried there. In fact, she was the informant on her step-mother's official Ohio death certificate in 1932.
Minnie passed away on May 8, 1976, at the age of 84.
After her death, her work and legacy were carried on by her loving niece, Mary Jane (Armstrong) Henney, who in turn generously shared it with the founder of this website.
~ Son Byron Stanley Armstrong ~
Son Byron Stanley Armstrong (1896-1978) was born on Jan. 27, 1897. He was named in part for his uncle, Samuel "Byron" Minard.
He married school teacher Goldie Morgan (1899-1925), the daughter of John and Nellie G. (Rauck) Morgan.
In 1920, at the time the census was taken, they made their home in Ashland, Ashland County, OH, where Byron was a shipping clerk for a pump factory. They relocated in the early 1920s to Columbus, the county seat of Franklin County, OH.
Tragically, Goldie came down with an appendix infection, and when it became gangrenous, added to peritonitis, she passed away on Sept. 24, 1925, at the age of 26. She was laid to rest in the Armstrong family's traditional burying ground of Shauck Cemetery.
By 1930, Byron had remarried, to Ada E. Mallon (1896-1947), the daughter of George and Hattie (Cupp) Mallon of Fairfield County, OH. They made their home in Columbus. In 1930, Byron's employment was as a truck driver for a provision packing company.
Ada suffered from cancer of the uterus and bowels, and died of their effects at the age of 50 on Feb. 15, 1947. She was buried in the Amanda Township Cemetery in Fairfield County.
Byron died on March 19, 1978, age 81.
Copyright © 2002-2003, 2005, 2008, 2009, 2013, 2017 Mark A. Miner