Stephen Minard
(1895-1967)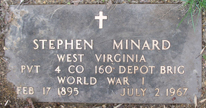 Stephen Minard was born on Feb. 17, 1895 at Hiram near Philippi, Barbour County, WV, the son of John and Martha (Male) Minerd.
He was tall and slender, with dark brown hair and brown eyes. When he registered for the military draft in 1918, he was working as a coal miner for Lee J. Sandridge in Meriden near Philippi. On his registration card, he marked himself as "colored." He went on to serve in the U.S. Army during World War I, as a private in the West Virginia 4th Company, 160th Depot Brigade.
After the war ended, he returned home. At the age of 25, on Nov. 26, 1919, he married 20-year-old Carrie Kennedy (1899- ? ), on Nov. 11, 1919. She is thought to have been the daughter of John H. and Emma (Mayle) Kennedy, and was married once before. Rev. T.H. Smith, minister of the African Methodist Episcopal Church, performed the nuptials at Meriden, near Philippi.
The Minards resided at Sandy Creek near Philippi. They apparently divorced quickly, as Stephen married or began to live with "Crive" (?) in about 1921.
When the federal census of 1930 was enumerated, Stephen, age 36, and Crive, age 29, made their home with Stephen's unmarried older brother Peter, age 57, in the Cove District of Barbour County. The brothers both worked that year as farmers. Stephen's other occupation over the years was as a coal miner.
Crive's fate is unknown, but she apparently died before Stephen.
Stephen's ex-wife may be the same "Carrie Miner" who made news when she was jailed in 1939 at the home of Stephen's brother Jacob while frolicking in the nude. She later married Warren Tabler, and circa 1953, she made her home in Sharpsburg, Athens County, OH. This needs to be researched more deeply and confirmed.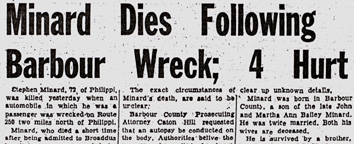 Stephen's tragic death was headlined in Philippi and Grafton newspapers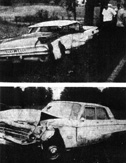 Tragically, Stephen was killed in an automobile accident on Route 119 near Philippi on July 2, 1967 after suffering a heart attack. In a front page article, the Barbour Democrat said that "According to State Police from the Philippi detachment, who investigated, wet roads were cited as a cause of the mishap, although an investigation continues." Pictures of the two vehicles involved also were printed on the front page, seen here. The Grafton Sentinel published a United Press International story naming Stephen as one of seven individuals who "lost their lives on West Virginia highways during the long [Fourth of July] holiday weekend. The deaths brought the toll for the year to 217."
Following a funeral service led by Rev. Winfield Mayle at the Wesley Methodist Church, Stephen's remains were laid to rest at the Norris Cemetery. A bronze military marker was placed on his grave in recognition of his World War I service.
Copyright © 2005-2009 Mark A. Miner