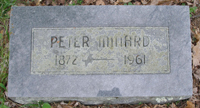 Peter Minerd was born in 1875 (or 1872) near Philippi, Barbour County, WV, the son of John and Martha (Male) Minerd.
Peter was unmarried at age 36, as listed in the 1910 federal census. He made his home with his mother, but worked away from the home.
When the 1920 census was enumerated, as a 45-year-old, he resided by himself in the Cove District of Barbour County, and was listed as a widower.
The census of 1930 shows Peter at age 57 as head of his household, in the Cove District, and working as a farmer. Living under his roof were his 36-year-old brother Steve and wife Crive.
He died of natural causes in 1961, at the age of 89, but the precise date and cause of his death are not yet known. Peter's remains were laid to rest in the Norris Cemetery north of Philippi, located not far from Alderson-Broaddus College. His moss stained grave marker, seen on this page, was photographed in May 2007, and shows a birthdate of 1872, although the 1875 date is more accurate based on original evidence written by his father.

The steep Norris Cemetery near Philippi
Also buried in the Norris Cemetery are Peter's brothers Stephen Minard and Vernie Miner, aunt Elvira (Male) Minard, cousin William McKinley Minard, and cousin Granville Miner (grandson of Sarah [Minerd] Wright).
A search of Philippi newspapers for the entire year of 1961, on microfilm at West Virginia University, failed to locate Peter's obituary.
Copyright © 2005-2008 Mark A. Miner