Sarah (Minerd) Mayle Wright
(1845?-1928)
Sarah (Minerd) Mayle Wright was born in April 1845 or 1850 in Fayette County, PA, or in Monongalia County, WV, the daughter of Jacob and Ruth (Adams) Minerd of the Fayette/Somerset County border region of southwestern Pennsylvania where our Minerds were pioneers in the 1790s.
Sarah's mother was a Native American, and Sarah and her siblings thus were considered of mixed race (or "mulatto" in the language of the mid-1800s).
Little is known of Sarah's early life. In the early 1850s, when she was a young girl, she and her parents moved from Monongalia County to Preston County, WV. By the 1860s, they had migrated again, to Philippi, Barbour County, WV, where they and eventually many generations of descendants found a safe haven from the never-ending burdens of racial discrimination.
In 1861 or 1863, when she was barely of age to do so, Sarah gave birth to a son, Charles William Minerd Sr. The identity of the boy's father is unknown. It's believed that Charles was raised by uncles and aunts and moved with them to Ohio when he was a boy. He later returned to Philippi.
Then, in about 1868, Sarah had another son, whom she named George Riley Minard. The boy's father was Tom (or "Tony") Mayle, a native of Barbour County. While Tom's precise identity is not yet proven, a 19-year-old "Thomas Male," son of George and Emily Male Sr., is shown in the 1870 federal census of Barbour County, living just three dwellings away from Sarah's brother William.
Both of Sarah's sons were raised under her maiden name, spelled "Minard," and used for their entire lives.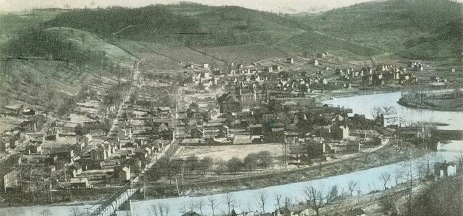 Bird's-eye view of the mountains ringing Philippi
On Sept. 14, 1871, at the age of 25, Sarah married 23-year-old Alpheus Male (1848- ? ). Their marriage license is still on file today at the Barbour County Courthouse in Philippi.
Little is known about Alpheus, or why the marriage ended within a few years. Apparently they did not reproduce.
It is possible, though not proven, that she married Benjamin Newman on Dec. 13, 1874 in Taylor County.
By 1880, the 30-year-old Sarah was unmarried and working as a housekeeper in the Philippi area of Barbour County, WV. Her employer was 68-year-old farmer Nelson Newman. That year, her 12-year-old son George resided with her in the Newman home.
In about 1889, at age 44, Sarah married Charles A. Wright (1871- ? ), a native of Ohio. His name also has been given as "William." He was 10 to 15 years younger than Sarah. It was her second marriage, and his first. They did not reproduce either but remained together the rest of their lives.
Circa March 1907, Sarah was living in Philippi, and was a housekeeper. That year, she provided testimony to a federal government investigator in support of her widowed sister in law's efforts to obtain a Civil War pension. In the deposition, she revealed fascinating information about her life and heritage:
I do not know my age exactly. I was about 18 when the war broke out... I am colored. That is what we always went by. My father was a white man, -- a Dutchman. My mother was called colored. She was part Indian. Her father was an Indian. Everybody regards me as colored. I do not know that there is any African blood in me. My father and mother were both born and raised in Pennsylvania. I do not know where the colored, or indian, blood in me comes from.
The federal census of 1910 shows Sarah and Charles living together in Philippi. He was working as a miner in a local coal mine. They also were farmers part of the time.
Charles died sometime between 1910 and 1920. The federal census of 1920 shows Sarah as a widow, residing in the north Philippi homeplace of her married granddaughter, Ruth and Michael Theodous (sometimes spelled "Fedoranis").
At the age of 83, Sarah passed away in Philippi on Aug. 22, 1928. The cause of death was "acute nephritis" -- kidney disease. She was laid to rest in the Chestnut Ridge Cemetery near Philippi, where her brother Henry and sister Margaret also are buried. No obituary was published by the local newspaper in Philippi, and no grave stone marks her final resting place. On her death certificate, with information provided by son George, her father was listed as "Jacob Miner" and her mother as "Ruth Adams." (Click here to see her death certificate, courtesy of the West Virginia Division of Culture and History.)
The legacy she left behind is enormous, as evidenced by the long list that follows of her grandchildren and great-grandchildren. When a granddaughter died in childbirth in 1928, the Grafton (WV) Sentinel reported that the deceased was "a native of Barbour county, and a member of the Minard family, well known in the neighboring section..."
Click to see the hundreds of known marriages between the Minerd-Minard-Miner and Mayle-Male families.
Be sure to visit the TribalPages.com website compiled by Barb Nelson with significant excerpts from our research and website.
Copyright © 2004-2008, 2014, 2021 Mark A. Miner