Henry C. Minerd
(1838-1921)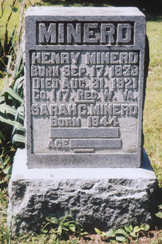 Chestnut Ridge Cemetery
Henry C. Minerd was born on Sept. 17, 1838 in Fayette County, PA, the son of Jacob and Ruth (Adams) Minerd of the Fayette/Somerset County border region of southwestern Pennsylvania where our Minerds were pioneers in the 1790s.
Henry's mother was a Native American, and Henry and his siblings thus were considered of mixed race (or "mulatto" in the language of the mid-1800s).
As a boy, Henry moved with his parents to West Virginia, settling in the 1850s in Evansville, Preston County. They may also have resided in Ohio in the late 1850s as recalled by family friend William Norris.
Henry as a young man worked as a farmer. He stood 5 feet 7 inches tall, with grey eyes, dark hair and a dark complexion. Henry was considered "sound and able bodied" before the Civil War. He and Aaron Male worked together "in the harvest field cutting grass and other employment and ... he did as much work as any other able bodied man."
On Dec. 3, 1864, 23-year-old Henry married his first wife, 15-year-old Mariah Pritchard (1849-1873). The ceremony was held at G.A. Compton's residence. Mariah was born in Taylor County, and resided in Barbour County, WV, the daughter of Warner and Ruth (Dalton) Pritchard. According to research published by Bernard V. Mayhle of Spokane, WA, Mariah's father had died before she was born, "when his horse and wagon ran away and was wrecked while returning from Maryland."
Henry and Mariah bore two children – Ruth Ann Mayle and Elwood Minerd (born 1871). They also raised a nephew, Charles W. Minerd (born 1862), the son of Henry's sister Sarah.
During the waning months of the Civil War, on Feb. 14, 1865, Henry went to Grafton, Taylor County, WV, to enlist in the 17th West Virginia Infantry. His brothers John and William also served with the same regiment, commanded by Capt. Samuel Holt. Henry was in Company E.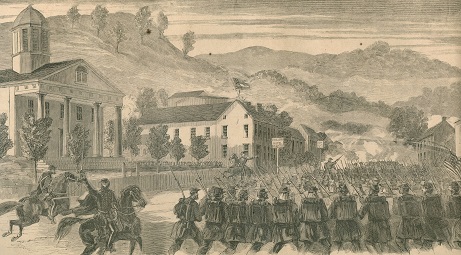 Union troops in Philippi during the Civil War
- Harper's Weekly, 1861
According to Samuel T. Wiley's 1883 book, History of Monongalia County, West Virginia, Company E of the 17th WV spent most of its time at Bulltown, Braxton County, WV, "where its members engaged in scouting and skirmishing until April 1865, when they were ordered to Clarksburg, and later to Wheeling...."
While on duty in Wheeling Island, Henry came down with a case of the mumps, caused by "exposure" to bad weather. "While drilling at Wheeling ... and in the line of duty he became overheated," a friend later wrote. "The result was he contracted the mumps, kidney disease and general disability, that he lay in camp sick with the ... diseases for six weeks and he would not consent to be removed to the hospital. He was treated in camp for said diseases."
Henry's brother John "lent him my blanket to sleep upon the night he was overheated drilling. The blanket the next morning which he slept upon during the night was frozen to the ground."
After his discharge from the Army, on June 14, 1865, Henry returned home to Preston County. That year, he and Mariah migrated into Ohio, settling in Washington County. They remained until 1867, when they returned to Taylor County, WV.

Cutler, Ohio, where Henry's first wife died. Below: Cutler circa 2016.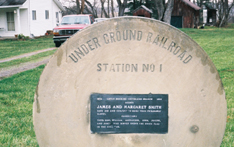 Marker in Cutler commemorating the
Little Hocking Southland Branch
of the Underground Railroad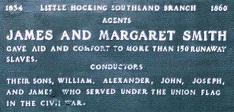 Sometime in the late 1860s, the family moved back to Ohio, to the village of Cutler, Washington County. The Smith farm south of Cutler was known as a stop on the Underground Railroad and would have been a safe haven in general for families of color. It's said that fugitive slaves hid in caves on the back part of the Smith farm but that in cold weather, they were concealed beside the chimney in the house's attic.
Cutler today is one of 400 known Underground Railroad sites in Ohio and is commemorated with a round historical marker (seen here in 2005). One rumor in the family is that Henry assisted with the runaway slave railroad but more likely he may have found work as a laborer on the Marietta and Cincinnati Railroad which had a line through Cutler which had opened circa 1857.
The Minerds must have shuttled back and forth to Philippi, because daughter Ruth Ann was born in Philippi in May 1869. As well, the 1870 census shows the Minerds residing in Philippi. That year, 60-year-old farmer, Maryland native Nelson Newman, lived under their roof. His connection is unknown.
Sadly, on June 29, 1870 (or 1873), Mariah died in Cutler. She was only age 24. Their nephew Charles W. Minerd was present in their home when Mariah died. The cause of death is unknown. A search of Washington County death records in 2005 failed to locate an official record of her passing. Mariah's grave site is lost to history.
Henry apparently returned to West Virginia as a widower. On June 13, 1874, Henry married his second wife, Sarah "Catherine" Croston (1849-1926). He was age 34 at the time, and she was 25. The ceremony was held at Philippi, Barbour County, WV, and performed by Joshua S. Croder. Catherine was the daughter of Travis and Mary "Polly" (Turner or Isner) Croston.
Henry and Catherine had five children born between 1873 and 1885 – Ida B. Minerd, Delbert B. Minerd, Icephine "Icie" Kennedy, Osa Bell "Ocy" Kennedy and Mary Virginia "Jennie" Collins Hill Mathews.
When the federal census of 1880 was taken, Henry and Catherine were residing in Taylor County, where he worked as a farmer. His children from both marriages were residing in the household that year.
The Minerds resided over the years at Evansville, Preston County, and at Simpson, Taylor County (circa 1880-1889). Henry worked as a laborer. He and his brother John also chopped timber together. Among John's employers were John Wyckoff and James B. Fleming. In 1903, they relocated to Meriden, a coal mining community near Philippi, Barbour County.

Maryland Coal Co.'s Wendel mine (left) and town (right) near Simpson, WV
Henry suffered from his wartime disabilities for the rest of his life. He was treated by family doctors for extreme pain in his back and testicles. Wrote Dr. J.A. Findlay, "At times he is not able to stand erect. Cannot walk, but is confined to his bed for days at a time. His trouble has grown worse from year to year."
In the 1880s, Henry filed to receive a pension from the federal government as compensation for his wartime illnesses. Some of his affidavits and other paperwork were witnessed by W.T. Croston, E.E. Adams and Reason Norris.
Bird's eye view of Philippi, WV
Seen here is a rare old photographic postcard showing a birdseye view of Philippi. Click here to see an enlarged view, which was our "Photo of the Month" in March 2005.
When the federal government undertook a special census in 1890 of Civil War veterans and their widows, Henry was listed as living in "Simpsons, West Virginia" with no further comment about any wartime-caused disabilities.
Catherine in 1894 purchased a 19-acre tract of land in Knottsville, Taylor County, from Nancy E. Williams. They later sold this acreage to Maggie Adams in 1901.
The federal census of 1900 shows the family in Knottsville. That year, their 22-year-old son Delbert resided in their home and worked as a farm laborer, and daughters Icy, Oca and Jennie also were at home.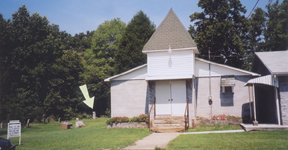 Arrow points to Henry's grave, Chestnut Ridge
When the federal census was taken in 1910, Henry and Catherine lived in the Philippi District with son Delbert, who worked as a general farm laborer. Ten years later, when the 1920 census was enumerated, the three still lived together in the north district of Philippi. Delbert was listed as age 47 and unmarried.
Henry died on Sept. 1, 1921 at Meridan. He was buried at Chestnut Ridge. His grave marker stands today (seen here, marked by arrow), between the Chestnut Ridge Peoples Chapel (on the left, out of view) and the St. Peter's A.M.E. Church (fully in view at right), later pastored by a grandson and a great grandson. Henry's daughter Ruth Ann Mayle and her husband and several of her sons also are interred at the cemetery.
After Henry's death, Catherine filed an application to receive her husband's Civil War pension. Her papers were witnessed by Alston Mayle and James N. Norris. Others who came forward in support of Catherine's petition were Rezin Norris of Moatsville, WV; her nephew Charles Minerd of Philippi; and Aaron Male of Meriden.
Sadly, Catherine passed away at age 81 on April 10, 1926, after suffering a stroke, with pneumonia as a contributing cause. She was buried beside her husband in the Chestnut Ridge Cemetery, though the gravestone never was modified to reflect her date of death.
~ Son Elwood Minerd ~
Son Elwood Minerd (1871- ? ) was born in 1871.
He is shown as a nine-year-old boy in the 1880 census, living with his father and step mother in Taylor County. After that, his story fades from view.
He could -- but may not -- be the same "Elwood Miner," born in August 1870, who served in the U.S. Army during the Spanish American War/Philippine Insurrection, and was listed on the 1900 census while still on duty in the Philippines. The military Elwood listed his place of residence at the time as Richmond, VA. This still needs to be researched more deeply and confirmed. Despite a diligent search of Spanish American War records and the 1910 census on Ancestry.com, nothing further on him has been found.
~ Daughter Ida B. Minerd ~
Daughter Ida B. Minerd (1875- ? ) was born in 1875. She is shown as a five-year-old girl on the 1880 census. Her fate after that is unknown.
~ More ~
We are grateful to Bernard V. Mayhle of Spokane, WA, who has published his research of the Male-Mayle-Mayhle family and also has personally shared his information for our archives, as a foundation for the extensive research effort that has followed.
Click here to view a chart listing the several score of known marriages between the Minerd-Minard-Miner and Mayle-Male families before World War II.
Be sure to visit Henry's page on the TribalPages.com website compiled by Barb Nelson with significant excerpts from our research and website.
Copyright © 2004-2009, 2016 Mark A. Miner