Home

Ruth Ann (Minerd) Mayle
(1869-1969)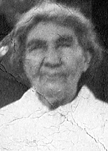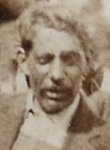 Ruth Ann and William
Ruth Ann (Minerd) Mayle was born on May 29, 1869 on the Newman farm in or near Philippi and Moatsville, Barbour County, WV, the daughter of Henry C. and Mariah (Pritchard) Minerd.
Ruth is believed to have been named for two very special women in her life -- her aunt Ruth Ann (Minerd) Kennedy and her grandmother Ruth Ann (Adams) Minerd.
She married William Stephen "W.S." Mayle (1867-1929) on June 22, 1887, at the residence of Rev. Lemuel Ryan. He was the son of John and Elizabeth (Norris) Mayle. She was age 18 at the time of marriage, and he was 20.
The Mayles had nine known children – among them John Edward Mayle, Ethel Male, Henry C. Mayle, Icie Clara Norris, Okey Mayle Sr., Emard Mayle,Andrew Mayle and Enoch Mayle.
The Barbour County Personal Property Book for 1897 shows that William was considered a "colored male." He is marked as possessing no horses, cattle or hogs.
Circa 1903 and 1929, the Mayles dwelled near Philippi, residents of "the so-called Bloody Creek section of Chestnut Ridge," said the Philippi Republican newspaper.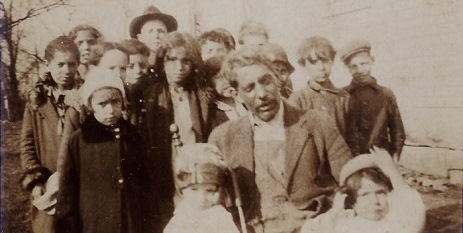 William Stephen Mayle with a group of unidentified children, date unknown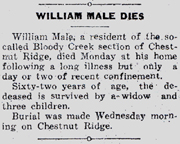 Barbour Republican, 1929
The census of 1920 shows the Mayles making their home in the Philippi district of Barbour County, where William and son Henry were coal miners. That year, among their neighbors was Ruth Ann's cousin Harrison Kennedy and his wife Elsina.
Tragically, two of the Mayles' sons died of tuberculosis or related meningitis within eight months of each other in the early 1920s -- 14-year-old Andrew on May 21, 1922, and 30-year-old Emard in 1923.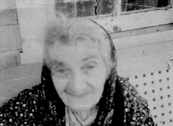 Ruth Ann in later years
Heartache struck the family again and again over a six-year span from the late 1920s to the mid-1930s. On Feb. 3, 1929, after suffering from pulmonary tuberculosis, their 28-year-old son Enoch died of tuberculosis.
Then, a little more than two months later, her husband William succumbed at home of heart disease at the age of 61 on May 6, 1929. William's obituary in the Republican noted that his demise was "following a long illness but only a day or two of recent confinement" and that he was survived by Ruth Ann and three children, which may not be accurate. "Burial was made Wednesday morning on Chestnut Ridge."
Ruth Ann lost her 10-year-old granddaughter Magdalene Mayle in August 1935 as a result of pneumonia and appendicitis which became gangrene and peritonitis. A physician was summoned to the Mayles' mountain home, and he performed an incision to drain the infected area. Magdalene's life hung in the balance for four excrutiating days. Nothing further could be done.
She is seen here in a snapshot, in her older years, wearing a headscarf and a patterned shawl wrap.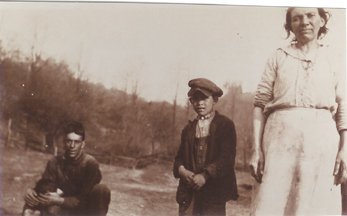 Ruth Ann with son Enoch (left, holding a dog) and an unknown boy, probably son Andrew, 1920s.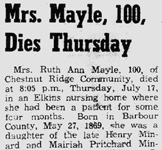 Barbour Republican, 1929
Ruth Ann survived her husband by a remarkable 40 years, and outlived nine of her children, remaining in the Philippi area. In May 1969, she celebrated her 100th birthday.
On July 17, 1969, at age 100, just two months after her milestone birthday, Ruth Ann passed away "in an Elkins nursing home where she had been a patient for some four months," said the Barbour Democrat.
Her remains were returned to Philippi to be placed into eternal rest beside her husband and sons Emard and Enoch at Chestnut Ridge.
Her funeral arrangements handled by the John M. Stemple Service, and the funeral service conducted by the Rev. Franklin Peoples.
A simple metal plaque marks her grave today.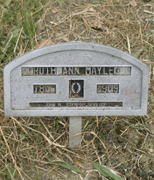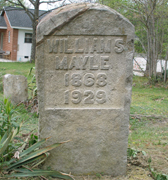 Graves of Ruth Ann (1969) and William S. Mayle (1929) at Chestnut Ridge, separated by four decades of time.
~ Daughter Ethel Mayle ~
Daughter Ethel Mayle (1894- ? ) was born in 1894 in Philippi.
At the age of six, in 1900, she lived at home with her parents and siblings. Nothing more about her is known.
~ Son Enoch Mayle ~


Enoch and Dosha
Son Enoch Mayle (1900-1929) was born in 1900.
He stood 6 feet tall and was slender, with black hair and eyes. At the age of 18, in 1918, he was employed as a coal miner for the Franklin Coal Company in Meriden. That year, he registered for the military draft during World War I. The draft board officer listed him as "Negro" and added, "Claims to be white but generally called colored."
On March 25, 1925, when he was 25 years of age, Enoch was united in holy matrimony with 16-year-old Dosha Levada Newman (March 24, 1909-1971), the daughter of Delbert and Ada (Croston) Newman.

Enoch's hand-hewn grave
The Mayles produced two known daughters -- Opal Deola Johnson and Magdalene Mayle -- and resided in Philippi.
Heartache struck the young family when Enoch died just a few weeks shy of his 29th birthday, on Feb. 3, 1929, after suffering from pulmonary tuberculosis. His burial site was initially said to be in Belington, Barbour County, but in fact he rests for eternity at Chestnut Ridge, with his grave marked by an upright, hand-carved marker (seen here) still barely legible when photographed in May 2007.
The young, 21-year-old widowed Dosha and her fatherless children moved into the home of her parents in Philippi. The federal census of 1930 records them there, living with her father and mother and siblings Neshion Newman, Brady Newman, Winford Newman and Junior Newman. (Dosha's brother Neshion Newman later married Enoch's cousin, Sygurnie Croston, daughter of Laura "Fez" (Mayle) Croston and granddaughter of Frank Mayle.)
On June 21, 1931, the 22-year-old Dosha married her second spouse, 47-year-old widower and farm laborer Arlie Kennedy (1884- ? ), son of Emma Kennedy of Philippi. Rev. M.C. Harris officiated at the ceremony held in Meriden. Having previously been married to Rovilla Mayle and Emma (?), Arlie brought five children to the marriage -- Bessie Kennedy (age 20), Claudia Kennedy (18), Carson Kennedy (17), Robert Kennedy (13) and Dorothy (Kennedy) Croston (12).
The Kennedys did not have children of their own. The marriage did not last, and Dosha and Arlie eventually separated. The 1940 federal census shows Arlie living alone at age 57 in Knottsville, Taylor County.
Enoch Mayle (center) with unidentified relatives or friends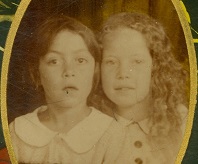 Sisters Opal (left) and Magdalene Mayle
Tragedy rocked Dosha's world repeatedly during the 1930s. At that time, her daughters Magdalene and Opal Deola Mayle were two years apart in age and about as close as sisters could be during the Great Depression years in the coal mining town of Meriden.
Magdalene, born in 1925, and Opal, in 1927, seemed destined for a long life of friendship and companionship and sharing all sorts of experiences as sisters do -- including losing their father and grandfather in the same year (1929), but also having their photograph portrait taken together (seen at left).
But cruel fate intervened. During the hot and muggy mid-August of 1935, the 10-year-old Magdalene contracted pneumonia and appendicitis which turned into acute gangrene and peritonitis. Dr. L.S. King of Philippi was summoned to the Mayles' mountain home, and he performed an incision to drain the infected area. Magdalene's life hung in the balance for four excrutiating days. Nothing further could be done.
Magdalene succumbed on Aug. 23, 1935, relieved of her agony, but leaving behind her mother and sister Opal to try to reason with what had just taken place and how they were going to go on. After an autopsy, the girl's remains were brought back home for the funeral. This snapshot captures the haunting moment of the final goodbye from one sister to another, with Magdalene's long hair decorated in ribbons, and the casket filled with fresh flowers, while Opal grasps the handle, perhaps in an attempt to hold onto her beloved sister for as long as possible. Burial was in the Chestnut Ridge Cemetery, where the child's father, grandfather William Stephen Mayle and great-grandparents Henry C. and Sarah Catherine (Croston) Minerd already were at rest.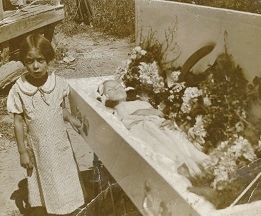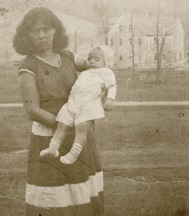 Opal Mayle with the casket of her sister Magdalene, 1935 (enlarge). Right: Dosha holding her dead son Bradford Mayle, 1938.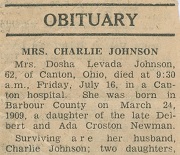 Obituary, 1971
Circa 1935-1946, Dosha was involved in a relationship with fellow Meriden resident Martin Mayle (1884-1964), son of Boss Mayle. He brought several children to the involvement, among them Dollie Davis, Helen Mayle and Ulie Mayle. Dosha and Martin went on to have these additional offspring -- Bradford Mayle (born Jan. 24, 1935), Correll Kennedy (1937), Mary Everhart Bolyard, Harold Kennedy and Ira K. Mayle (1946).
But then on Jan. 14, 1938, her son Bradford died at the age of three years, two months after suffering from pneumonia, emphysema and malnutrition. Dosha was photographed holding the body of her dead son, after which his tender remains were placed into repose in Chestnut Ridge Cemetery.
Martin died in 1964 and is buried with his son Eulah Mayle (1910-1973).
In the late 1960s, several decades after her daughter Opal had relocated there, Dosha moved to Canton, Stark County, OH, where she spent the balance of her life.
While in Canton, Dosha was wedded a third time to Charles H. "Charlie" Johnson (May 2, 1901-1981). She was a member of the Nazarene Church in Canton and resided on Henrietta Avenue Northeast.
In 1971, Dosha suffered even more loss as a mother when son Correll died at the age of 32. Further details are below.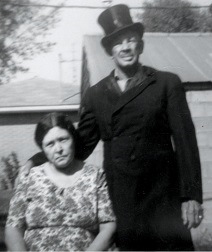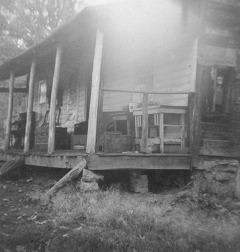 Dosha and her 3rd husband, Charlie Johnson, and their home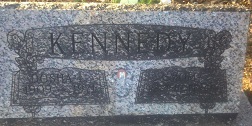 Dosha's darkened grave marker in Philippi
Less than a month after Correll's demise, Dosha was admitted to a hospital in Canton, where she passed away on July 16, 1971, at the age of 64. While her obituary was headlined "Mrs. Charlie Johnson," she is buried under the name "Dosha L. Kennedy" in the Welch Cemetery in Philippi, with the funeral conducted in the Chestnut Ridge Church by Rev. J. Franklin Peoples. On the right-half of the face of her grave marker is inscribed: "Mom. Rest in peace." A newspaper obituary noted that she was survived by 14 grandchildren and four great-grandchildren.
Now widowed, Charlie outlived Dosha by a decade. He passed into eternity on Nov. 3, 1981. Funeral services were held in Belpre, Washington County, OH, with Rev. Michael Springston preaching the funeral service, and interment in Rockland Cemetery in Belpre.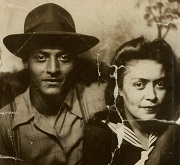 Opal and Shirley Johnson
Daughter Opal Deola Mayle (1927-1986) was born on Oct. 10, 1927 in Philippi. At the age of 17, she married 21-year-old Shirley Johnson (1923-1980), the son of Willis and Polly (Mayle) Johnson of Meriden. The nuptials were held in Meriden on May 31, 1945, by the hand of Rev. M.C. Harris, pastor of the African Methodist Episcopal (AME) Church in Philippi. Because Opal was legally underage, her mother has to sign her consent to the union. The newlyweds relocated in 1945 to East Canton, Stark County, OH, where they lived for good. They produced seven children -- Beverly Joanne Smith, Freeda Mae Palmer, Danny E. Johnson, Myron V. Johnson, Roger L. Johnson, Ronald Dean Johnson and David S. Johnson. Their addresses in East Canton were Blecker Street Northeast followed by Schwalk Avenue Northeast and later 1307 Trump Avenue Northeast. Opal was employed at Timken Mercy Medical Center for a decade, while Shirley made a lengthy career with Conrail, where he spent 36 years of work. They were members of the Valley Chapel Brethren in Christ. Opal belonged to the Allegheny Nation Indian Center in Canton and enjoyed attending Native American celebrations with her uncle Rev. Okey Mayle. Their address in Canton in the late 1970s-1980 was at 4310 14th Street Northeast. As his health gradually failed, Shirley was admitted to the Timken Mercy Medical Center, where he died on Aug. 23, 1980, at the age of 57. Rev. Paul Smucker of the family church officiated at the funeral, followed by burial in Evergreen Memorial Gardens. A newspaper obituary noted that his survivors included 11 grandchildren, sisters Bertha Newman of Philippi and Edith Hopkins of St. Clairsville, OH and brother James Johnson of Pittsburgh. Opal outlived her husband by six years and made her home at 1504 Eastview Northeast. She died in Canton at the age of 59 in 1986. Following funeral services at the Valley Chapel Brethren in Christ Church, led by Rev. Eric Stanton, her remains were laid to rest in Evergreen Memorial Gardens in Canton.
Granddaughter

Beverly Joanne Johnson ( ? -living) was born in Ohio. She wedded Roger Smith ( ? -living)

, and they reside in Canton. The Smiths have a family of grown children. Joanne spent significant amounts of time with her grand-uncle Rev. Okey Mayle, part of the time in Michigan, soaking in the family's native American culture. She and her mother visited many out-of-state native American reservations with Okey during the years to learn and conduct research. Since 1999, Joanne has helped to organize the Allegheny Lenape Indian Council of Ohio, Inc.'s annual summer gathering reunion, held in 2017 in Philippi at the Union Building. In June 2017, they hosted a visit in their home with the founder of this website. One of the Smiths' daughters, Chante, residing in Alpharetta, GA, was featured on the "House Hunters" show on HGTV, entitled "Champagne Taste on a Sparkling Wine Budget in Georgia," which aired on Sept. 14, 2015.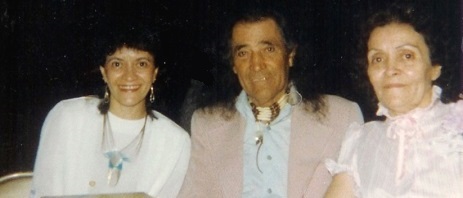 Beverly Joanne (Johnson) Smith (left) with her mother Opal and uncle Okey Mayle
Granddaughter Freeda Mae Johnson was born in Ohio. She was joined in matrimony with Edward Palmer

, of Indiana, Indiana County, PA. Circa 2020, they made a home in Canton.
Grandson Danny Eugene Johnson

(1956-2020) was born on Dec. 9, 1956 in Canton.

He married his first bride, Valerie Richards ( ? - ? ), of Canton. He was the father of Hillary Johnson and Zachary Johnson. Later, he wedded Kathy Caldwell ( ? - ? ) and dwelled in Amsterdam, OH. Interested in his native American roots, he was a member of the Allegheny Lenape Indian Council of Ohio. As a patient in Canton's Aultman Hospital, he died at the age of 63 on Jan. 6, 2020. Elder Christopher Taylor officiated at the funeral service, with interment followign in Evergreen Memorial Gardens.
Grandson

Myron V. Johnson

was born in Ohio.

He is single.
Grandson

Roger L. Johnson

was born in Ohio.

He is married to Carol Oliver from Massillon, OH. They resided in 2020 in East Canton.
Grandson

Ronald Dean Johnson

was born in Canton. He is wedded to Scarlet Croston from Philippi. At some point by 1980, he moved back to the Chestnut Ridge community in Philippi. He is pictured in the Fall 1999 edition of

Goldenseal

Magazine, in an article co-authored by his sister Beverly Joanne Smith, headlined "We the People of Chestnut Ridge." The caption reads: "Ronald Dean Johnson of Hanging Rock ... takes his native heritage seriously. Born in Ohio, he moved to the Chestnut Ridge area as an adult in order to be close to his people."
Grandson

David S. Johnson

was born in Ohio.

He was joined in wedlock with Jeannie Sells ( ? -living). They live in Canton.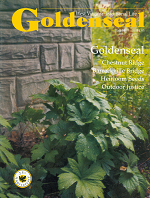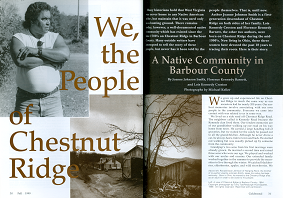 "We the People of Chestnut Ridge" article, Fall 1999 edition of Goldenseal, co-authored by Beverly Joanne (Johnson) Smith with Florence (Kennedy) Barnett and Lois (Kennedy) Croston, featuring a photo of Ronald Dean Johnson.
Dosha's stepdaughter Bessie Kennedy (1911- ? ) was born in about 1911.
Dosha's stepdaughter Claudia Kennedy (1913) was born in about 1913 in Philippi.
Dosha's stepson Carson Kennedy (1914- ? ) was born in about 1914. At the age of 17, on Feb. 28, 1931, he was wedded to 19-year-old Leona Norris (1912- ? ), daughter of William and Frances Norris. Rev. Norman P. Farrior officiated at the nuptials held in Philippi. Leona was two years older, and Carson fibbed on his marriage license, stating that he was 19 years old. The Kennedys lived in Philippi before relocating to Canton and were the parents of three daughters -- Revel Zelastine Kennedy, Lola Collins and Shelda Jane (Kennedy) Kennedy. They also lost an unnamed infant in a premature birth on July 2, 1931, with the baby's tender remains placed into repose in Chestnut Ridge Cemetery. When the federal census enumeration was made in 1940, the Kennedys dwelled in Philippi, with Carson earning a living providing labor for road work. Leona's widowed father, 56-year-old William Norris, lived under their roof and also worked doing road labor.
Step-granddaughter Shelda Jane Kennedy (1936-2018) was born on Nov. 16, 1938. She married a step-cousin, Herbert "Hoover" Kennedy (1928-1999), son of

William "Boyer" and Osa Bell (Minard) Kennedy

. See their biography for more.
Step-granddaughter Lola Kennedy (1942-2018) was born on May 16, 1942 in Philippi. At a young age, she relocated with her parents to Canton, Stark County, OH, where she spent the remainder of her long life. She wedded a step-cousin, Milford Collins (1939-2012), son of Hartford "Hart" and Thelma (Croston) Collins of the family of

George Riley Minard

. They did not reproduce. See the Minard biography for more.
Dosha's stepson Robert Kennedy (1916-1982) was born on Nov. 26, 1916. On Nov. 4, 1938, when he was 21 years of age, he was joined in wedlock with 15-year-old cousin Evelene Croston (March 17, 1922-2010), daughter of Earl and Laura "Fez" (Mayle) Croston of Philippi, of the family of Francis "Frank" Mayle. See Frank's biography for more details.
Dosha's stepdaughter Dorothy Kennedy (1919- ? ) was born in about 1919. At age 14, on Nov. 13, 1933, she married 20-year-old Luther Croston (1913- ? ), son of Albert and Inez Croston. The wedding was performed at Meriden by Rev. R.L. Parker. They resided in Canton and produced these known offspring -- Marvin Wayne Croston (1956-2015), Darlene Allender, Louise Mayle, Donna Buskirk and David Lee Croston.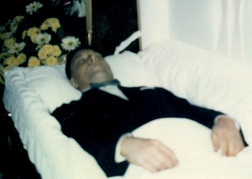 Correll Kennedy at rest, 1972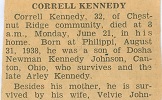 Obituary, 1971
Dosha's son Correll Kennedy (1937-1972) was born on Aug. 31, 1937 in Philippi. On April 2, 1960, when he was 22 years of age, Correll married 21-year-old Velvie Johnson (Nov. 2, 1938- ? ), daughter of Hayward and Bertie Johnson. Rev. J. Frank Peoples, of St. Peter's Methodist Church of Philippi, led the marriage ceremony. (Showing that the two families were close, Velvie's brother Shirley was wed to Correll's sister Opal.) The couple produced three children -- Correll (or "Carroll") Kennedy, Jane Kennedy and Mary Kennedy. They dwelled in Philippi, where Correll earned a living through his work for the Mineral Coal Company. Tragically, the family was cleaved apart on June 21, 1971 when Correll died at the age of 33. Rev. Peoples -- who had performed the Kennedys' marriage ceremony some 11 years earler -- conducted the funeral service in the Chestnut Ridge United Methodist Church. Correll rests for eternity in Welch Cemetery in Philippi.
Dosha's son Harold Kennedy ( ? -2003) married Diane Dalton ( ? - ? ). They dwelled in Moatsville, Barbour County in 1971. He is believed to have died in 2003.
Dosha's daughter Mary Kennedy (1944-2010) was born on Feb. 24, 1944. She was thrice married. Her first husband was Delmus Jimmy Croston (Jan. 16, 1942-2013), the son of Carol Evelyn and Ethel May Croston. They had at least two children, Kathy Jean Mayle and Jimmy "Wolfe" Croston. Delmus was employied by National Iron Metals in Canton. After Mary and Delmus divorced, she wed again. Her second spouse was Jim Everhart ( ? - ? ), and they were together circa 1971 when named in her mother's newspaper obituary. After the marriage to Jim ended, she married her third husband, W. Randall Bolyard (1954- ? ). Mary died on Feb. 2, 2010, just a few weeks before her 66th birthday. She rests for eternity in Welch Cemetery, as does her first husband, who died May 6, 2013. Mary's ex-husband wedded again on April 4, 1975 to Alta Marie McCartney, who was in Moatsville in 2020. Delmus is thought to be the father of Pam (Croston) Cunningham, Sabrina Lynn Croston, Julia Ann Croston and Desiree Dawn Croston.
Dosha's granddaughter

Kathy Jean Croston

married (?) Mayle. They lived in Philippi in 2020.
Dosha's grandson Jimmy "Wolfe" Croston

(1960-2020) was born on April 8, 1960 in Barbour County. He was the father of Kenny Dotson, Halie Norris, Linda Dotson and Zach Dotson. Wolf made his home in Belington, near Philippi. He liked to fish and hunt, ride his Harley Davidson motorcycle and enjoy his dogs. At the age of 60, on May 11, 2020, he passed away at home. His remains were cremated.
Dosha's stepdaughter Dollie Mayle wed (?) Davis and lived in 1971 in Philippi.
Dosha's stepdaughter Helen Mayle resided in 1971 in Moatsville.
Dosha's stepson Eulah "Ulie" Mayle was in Moatsville in 1971.
Dosha's son Ira K. Mayle (1946-1994) was born on June 19, 1946. Circa 1971, his home was in Moatsville, Barbour County. He lived to be the age of 48. Ira died on Sept. 24, 1994, with interment in Philippi's Welch Cemetery. Etched on his grave marker was a scene of dogs chasing a raccoon at night, along with these words: "You will be missed and loved."
~ Son John Edward Mayle ~
Son John Edward Mayle (1891-1968) was born in 1891. He was a coal miner, following a long-term area of employment in the family at large. He was married at least twice. The details of his first marriage are not known, except that he was divorced.
He wed his second wife, Flossie M. Kennedy ( 1897- ? ) on April 9, 1948. She also was divorced from a previous marriage. Rev. Warner T. Gifford of the First Baptist Church officiated.
The Mayles resided in Webster, Taylor County. They had no children.
John died at age 76 on April 6, 1968, and was laid to rest in the West Hill Cemetery. His funeral service was preached by Rev. Winfield Mayle and Rev. Murray Mayle.
Flossie's fate is unknown, but will be reported here when learned.
~ Son Henry C. Mayle ~
Son Henry C. Mayle (1897-1972) was born on June 29, 1897, and likely was named for his grandfather.
He was tall and of medium build, with brown eyes and brown hair.
He registered for the military draft during World War I, and gave his employment in 1918 as the Lee Sandridge Coal Company of Meriden. He lived with his parents, working in a local coal mine, when the 1920 census was taken.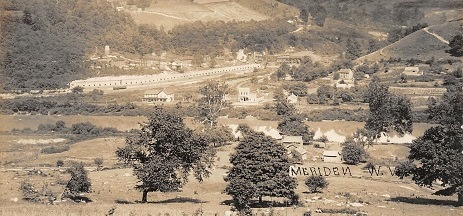 Rare bird's eye view of Meriden, near Philippi
At the age of 31, in 1928, Henry married 30-year-old Magdalene Mackey (1898- ? ). She was a native of Zanesville, Muskingum County, OH, and the daughter of Sidney and Lucy Mackey. The wedding took place in Randolph County, WV.
Magdalene was a graduate of Ohio University in Athens, quite an accomplishment at that time.

Obituary, 1972
In the 1930 census, the Mayleses are shown living next door to Henry's mother in Philippi. That year, Henry was employed as a farmer, and Magdalene's occupation was "teacher - public school."
Said the Barbour Democrat, Magdalene "was a retired Barbour County school teacher, having taught for 44 years. She was a member of the Chestnut Ridge Church, a member of the ladies' aid, and a member of the National Retired Teachers Association." They made their home in their later years in Moatsville.
Henry passed away on Jan. 10, 1972, at the age of 75. His obituary in the Barbour Democrat said Henry was "a member of the Chestnut Ridge Methodist Church, and was a retired miner and farmer."
Magdalene outlived him by only two years. Apparently while visiting one of her nephews or nieces in Columbus, OH, Magdalene fell ill and died in a local hospital. Her remains were returned to Philippi for the funeral held at the Chestnut Ridge Church, led by Rev. Frank Peoples, followed by burial in the Chestnut Ridge Cemetery.
~ Son Emard Mayle ~

Chestnut Ridge Cemetery
Son Emard Mayle (1905-1923) was born in 1905. In 1910, when shown in his family's household in that year's federal census, his name was written as "Emert."
He learned the skills of a coal miner and worked in that occupation. Sadly, he passed away of tuberculosis at the age 18 on Jan. 27, 1923. He was buried in the family row in the Chestnut Ridge Cemetery.
Emard's grave (seen here) was marked with an upright, hand-lettered stone (as photographed in 2007).
His brother Enoch, who would follow him to the grave six years later, would be buried next to him, with a similarly shaped and hand-lettered stone marking the final resting place.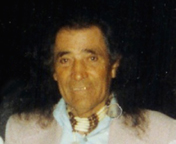 Rev. Okey Mayle Sr., age 82
~ Son Rev. Okey Mayle Sr. ~
Son Rev. Okey Mayle, Sr. (1903-1994) was born on Jan. 18, 1903.
He was a well known preacher who "was an early leader in the drive to recognize the native heritage on Chestnut Ridge," said a feature article, "We, the People of Chestnut Ridge," published in the Fall 1999 edition of Goldenseal magazine. "Okey was a wise and gentle man, and a true community leader."
On Feb. 5, 1933, Okey married Rosalee Margaret Adams (May 3, 1914-1999), the daughter of E.E. and Lora Adams. Okey was age 30, and Rosalee 18, at the time of their wedding.
They produced a family of seven children -- Okey Mayle Jr., Rev. Menelus Mayle, Elzie "Quentin" Mayle, Tressie Walton, Olivia "Libby" Spiva, Barbara Newman and Geraldine Kathleen (Mayle) Mayle.
When the federal census enumeration was made in 1940, the Mayleses made their home on Chestnut Ridge, with Okey earning a living as a road work laborer. The census taker that year marked their race as negro.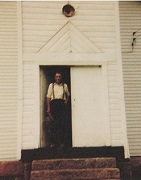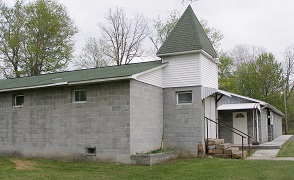 Okey Mayle in the doorway of an older church; and the new Okey's Gospel Church, also known as the St. Peter's African Methodist Episcopal Church
Circa 1959-1968, he resided in Detroit, MI, but later returned to his home region of Philippi. He obtained a ministry certificate from the Church of Gospel Ministry in Chula Vista, CA. According to a local newspaper, Okey "was, at the time of his death, minister of St. Peter's A.M.E. Church at Chestnut Ridge. He was a member of the Barbour County Senior Citizens and the Allegany Nation, Native American Association."
He is known in the summer of 1979 to have organized a large gathering of the Allegany Nation, drawing hundreds of people from all over the United States.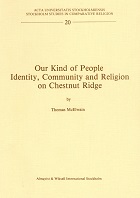 Our Kind of People
book picturing Okey
Okey Sr. appears extensively in the book, Our Kind of People: Identity, Community and Religion on Chestnut Ridge, authored by Thomas McElwain and published in 1981 in Sweden by Almqvist & Wiksell International. He wrote that wrote that the Minerd-Miner descendants he interviewed in the 1970s "claim a Pennsylvania origin and Dutch background."
As well, Okey was interviewed at length for a story published in the Pittsburgh Post-Gazette on New Year's Eve 1984. Barry Paris, the reporter who traveled to Philippi to gather his material, referred to Okey as "the most famous resident of the ridge" and noted that his mother was "a half-blooded Delaware." The article said that Okey's grandfather had told him stories about hiding runaway slaves in the years leading up to the Civil War.
The Post-Gazette article observed that "The main social feature of the Chestnut Ridge people today is their familial cohesion. All 1,500 of them bear one of less than a dozen surnames" and that a "few vestiges of the old customs survive up on the ridge." While Native American meals were "fading away," Paris wrote that corn was still a favorite for parching and ash boiling to give the corn a sweeter taste. He noted that other traditional dishes included cooked blackberry tops, plantains, poke greens and white milkweed. Locals enjoyed a hot drink brewed from dried sycamore bark and dogwood tea for indigestion.
Part of Paris' article dealt with the discrimination Okey and others had felt as mixed-race individuals. Okey was quoted saying "Most people in Philippi was always down on us. It's gettin' a little better now, but used to be, whites would talk to you as if they were doin' you a favor." The story added that many generations of the Chestnut Ridge community denied having any non-white genes in their blood until such time as their children were allowed to integrate into "white" schools. For those who moved to nearby West Hill, near Grafton, they took on more of a Native American identity, and if moving to Ohio could "pass" for white. But those who remained on Chestnut Ridge in Philippi "still inhabit a kind of racial limbo … the stigma of being nobody at all."
Okey's beloved church building on Chestnut Ridge was destroyed in the late 198s or early 1990s by fire. Although age 87 or 88 at the time, he oversaw its reconstruction in 1991, with the structure built of concrete block to prevent another conflagration.
He died at the age of 91 on April 11, 1994, and was laid to rest in the sacred soil of Chestnut Ridge Cemetery near his parents, siblings and Minerd grandparents.
Rosalee lived for five years as a widow. She was swept away by the angels on Feb. 27, 1999. Funeral services were held in her husband's church, Okey's Gospel Chapel, with their son Menelus officiating in cooperation with Rev. Rebecca Carr and Rev. Winfield Mayle. She was laid to rest in Welch Cemetery in Philippi, to be joined there in death a year later by her son Quentin.
In the Fall 1999 edition of Goldenseal Magazine, he was prominently featured in an article co-authored by his grand-niece, Beverly Joanne (Johnson) Smith.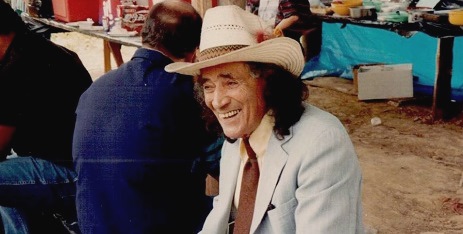 Rev. Okey Mayle
- Top view courtesy Margaret (Mayle) Dalton - bottom by Thomas McElwain, courtesy Beverly Joanne (Johnson) Smith.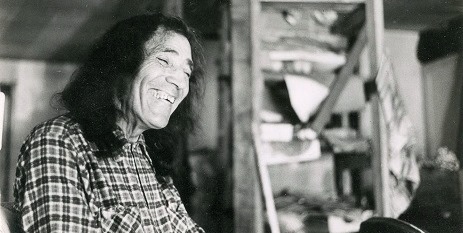 Son Okey Mayle Jr. (1933-1990) was born on March 27, 1933 in Moatsville, Barbour County. During the Korean War, he served as a private with the U.S. Army. He married Carole Lee O'Neal (March 1, 1940-2003). The couple produced four known children -- Ronald Allen Mayle, Brenda Mayle, William Mayle and David Adam Mayle. In the late 1950s, the Mayles dwelled in rural Pulaski Township near New Brighton, Beaver County, PA. Sadly, on April 12, 1959, their six-week-old son Ronald died of pneumonia in Beaver Valley General Hospital. The boy's obituary was published in the Beaver Valley Times, with burial taking place in Grandview Cemetery in Big Beaver Township. The family appears to have moved to Ohio at some point in time. Sadly, Okey died in Ohio on Nov. 6, 1990. His remains were transported to Philippi for burial in Welch Cemetery. Carole Lee outlived him by a baker's dozen years. She passed into eternity at the age of 62 on Feb. 20, 2003. She sleeps for all time in Welch Cemetery.
Granddaughter

Brenda Mayle
Grandson

David Adam Mayle
Daughter Tressie Mayle (1935- ? ) was born in about 1935 in Philippi. She entered into wedlock with (?) Walton ( ? - ? ). They were the parents of at least one daughter, Karen Thomas. Tressie resided circa 1994 in Canton, Stark County, OH.

Dr. Ulysses Spiva
Old Dominion University
Daughter Olivia "Libby" Mayle (1938-living) was born in about 1938 in Philippi. By the age of 21, she had relocated to Cleveland, OH. On Oct. 29, 1959, she was united in matrimony with Dr. Ulysses "Van" Spiva (1931-2016), a native of New Market, TN and the son of Samuel and Mary Ruth (McFarland) Spiva. Their wedding was held in Cleveland, and their marriage endured for 55 years until cleaved apart by death. The couple together produced three offspring -- Vanessa Spiva, Valerie Spiva and Bruce Spiva. Ulysses was the first of his immediate family to attend college when he enrolled at Tennessee State University and graduated in 1954, majoring in mathematics. He went on to a long career as a pioneering educator in six states -- Tennessee, Ohio, California, the District of Columbia, Florida, Ohio, Tennessee and Virginia. He was tapped as a department chair of the Cleveland (OH) Public Schools, where he also was principal of an adult school. He received his master's degree from Case-Western Reserve University in Cleveland, and went on to earn a doctorate in educational administration and political science from Stanford University. During his time at Stanford, he spent two years as assistant to the dean of the Graduate School of Education. The U.S. Office of Education in Washington, DC then engaged him as a Washington Policy Fellow where he spent a year before moving to Florida International University as executive assistant to the president and dean of the School of Education. Then from 1979 to 1984 Ulysses served as the first Black dean at Old Dominion University in Norfolk, VA, with the family making a residence in Virginia Beach. From 1984 to 1994 he remained employed by ODU as professor of education, and on behalf of Nova Southeastern University lectured throughout the United States.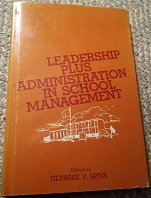 Book edited by Ulysses
Ulysses published three books, among them Leadership Plus Administration in School Management (1978) and Legal Outlook: A Message to College and University People (1981). Within the profession, he held board seats with the National School Boards Association, Council of Urban Boards of Education (president), Virginia Beach School Board, Southeastern Tidewater Opportunity Program (president) and the Hampton Roads Committee of 200+ Men. In 1994, he received ODU's Martin Luther King Jr. Award. The Spivas belonged to Bank Street Memorial Baptist Church in Norfolk, where he was involved with usher, men's fellowship, chorus and social justice ministries. Ulysses succumbed to the angel of death on March 29, 2016. He is pictured in the 2017 book Old Dominion University, co-authored by Steven Bookman and Jessica Ritchie. Today, a memorial endowed scholarship bearing his name is active at Tennessee State.
Granddaugter

Vanessa Spiva

is married to Paul Jones.
Granddaugter Dr. Valerie Spiva

wedded (?) Collins. She is believed to be the mother of Hunter Collins. Valerie received her bachelor of arts followed by her master's in health science (1984) from James Madison and then obtained her doctorate in health science in 2007 from the School of Allied Health and Nursing from Nova Southeastern University. She has spent her career of more than 35 years in serving children, youth and families afflicted with substance abuse, teen pregnancy, injuries and violence. From 2003 to 2010, she was employed by the North Carolina Division of Public Health as teen pregnancy prevention initiatives supervisor and then branch head for injury and violence prevention. In 2010, she was named director of FRIENDS National Center for Community Based Child Abuse Prevention in Durham, NC. In this role, she has supervised training and technical assistance for CBCAP state leads in development and provision of on-site and distance services.
Grandson Bruce Spiva

was joined in marriage with Anna Gelpern. The couple has two sons. Bruce holds a bachelor of arts degree from Yale University (1988) and a law degree from Harvard College (1992), where he was editor and treasurer of the prestigious

Law Review

. He first was employed as an associate with the law firm Jenner & Block and was elected partner in 2000. In 2006, he co-founded his own firm in Washington, DC and then in 2015 joined the firm Perkins Coie LLP, where today is on the firmwide executive committee and serves as managing partner of the District of Columbia office. As a litigator, Bruce has tried cases, conducted arbitrations and argued appeals in issues such as congressional redistricting, civil rights, First Amendment, antitrust and securities matters. In the specialty of political law, he has tried at least 10 redistricting and voting rights cases, and as a business litigator, he has managed a broad range of commercial litigation and arbitration matters. As a an appellate lawyer, he has authored briefs presented to the U.S. Supreme Court and argued appeals cases in the U.S. Courts of Appeals for the District of Columbia and the Fourth, Seventh, Ninth and Eleventh Circuits. Active in the profession, he has held a seat on the board of directors of the D.C. Bar Foundation to provide funding for access to justice for low income individuals. He also has held positions on the advisory boards of the Institute for Consumer Antitrust Studies and American Antitrust Institute and has chaired the board of DC Vote, a group dedicated to securing full congressional representation in Washington. In 2018-2020, he was named Super Lawyer. In 2012, he was recognized as a Champion of Democracy by D.C. Vote and was honored at a Mayflower Hotel event rubbing elbows with legends Julian Bond, Thomas Hale Boggs Jr., Cokie Roberts and District of Columbia Mayor Vincent Gray, among many others. Then in 2020, he was honored when named to the Lawyers of Color Power List.

Bruce's wife Anna Gelpern was born in Saint Petersburg, Russia and today is a United States citizen. She has her own page on

Wikipedia

and is considered a prominent legal scholar and expert on the subjects of sovereign debt and financial regulation. She holds a bachelor's degree from Princeton University, a law degree from Harvard College and a master of science from the London School of Economics and Political Science. She initially practiced law with Cleary Gottlieb in New York and London. She went on to join the American University Washington College of Law, Rutgers School of Law-Newark and Rutgers University Division of Global Affairs. From 1996 to 2002, she held positions at the U.S. Treasury Department. Today she is an Anne Fleming Research Professor at Georgetown Law and a senior fellow at the Peter G. Peterson Institute for International Economics. She co-directs the Sovereign Debt Forum, a collaboration among Georgetown Law's Institute of International Economic Law and academic institutions in the United States and Europe, dedicated to cutting edge research and capacity building in sovereign debt management. A prolific writer and publisher, she has authored her research findings on government debt, contracts, and regulation of financial institutions and markets and in 1995 co-authored a law textbook,

International Finance: Transactions, Policy, and Regulation

.
Son Rev. Menelus Mayle (1940-living) was born in 1940. He took over as pastor of his father's church, which became known as Okey's Gospel Church. He was joined in the bonds of holy wedlock with a cousin, Fronia Mayle (1945-living), daughter of Elijah "Eligh" and Beatrice (Miner) Mayle of the family of George Riley and Sarah Ann "Sally" (Croston) Minard.
Son Elzie "Quentin" Mayle (1946-2000) was born on New Year's Day 1946 in Philippi, Barbour County. He died on Sept. 4, 2000. Interment of the remains was next to his mother's in Welch Cemetery in Philippi.
Daughter Barbara Mayle ( ? - ? ) married (?) Newman ( ? - ? ). Her home in 1994 was in Philippi, Barbour County.
Daughter Geraldine Mayle (1948- ? ) was born on Nov. 26, 1948 in Barbour County. She grew to womanhood in Moatsville, Barbour County. When she was 17 years of age, on Feb. 19, 1966, she was joined in the bonds of wedlock with 19-year-old Arliss Mayle (March 16, 1946- ? ), son of Charlie and Ness (Parsons) Mayle. Rev. Hilding Lind, of the Baptist Church, officiated at their wedding. Geraldine is known to have made her home in Philippi in 1994-2011.
~ Son Andrew Mayle ~
Son Andrew Mayle (1908-1922) was born in 1908.
He died on May 21, 1922, in Barbour County, at the age of 14. The cause of his passing was listed as tubercular meningitis.
Burial was in Chestnut Ridge Cemetery in Philippi.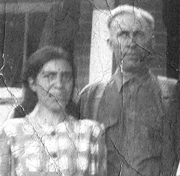 Icie and Isaac Norris
~ Daughter Icie Clara (Mayle) Norris ~
Daughter Icie Clara Mayle (1912-1955) was born in 1912.
She married Isaac Norris (1893-1974) on June 6, 1932. She was age 21 at the time, and he age 39 and had been married at least once before. Isaac was the son of Granville "Chug" and Polly Norris of Meriden.
The Norrises resided in Philippi. They apparently had no children.
Icie suffered from Hodgkins Disease, and died at the age of 43 at the Union Protestant Hospital in Clarksburg, Harrison County, on Oct. 21, 1955. Her remains were returned to Philippi for burial in the Norris Cemetery, with the funeral service conducted by Rev. M. Harris at the Chestnut Ridge Methodist Church. Icie's obituary was published in the Philippi Republican newspaper.
Isaac survived his wife by almost two decades. He joined her in eternity in November 1974.
Copyright © 2004-2010, 2013-2017, 2020-2021 Mark A. Miner
Photograph portrait of Dr. Spiva courtesy Special Collections and University Archives, Old Dominion University Perry Library.