Home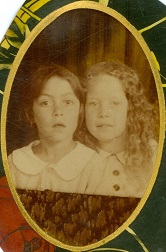 Opal (left) and Magdalene
A SISTERHOOD SWEPT AWAY BY THE GRIM REAPER -- Magdalene and Opal Deola Mayle were two years apart in age and about as close as sisters could be during the Great Depression years in the coal mining town of Meriden near Philippi, Barbour County, WV.
Magdalene, born in 1925, and Opal, in 1927, were the daughters of Enoch and Dosha L. (Newman) Mayle of the family of William Stephen and Ruth Ann (Minerd) Mayle of Philippi. The pair seemed destined for a long life of friendship and companionship and sharing all sorts of experiences as sisters do -- including losing their father and grandfather in the same year (1929), but also having their photograph portrait taken together (seen at left).
But cruel fate intervened. During the hot and muggy mid-August of 1935, the 10-year-old Magdalene contracted pneumonia and appendicitis which turned into acute gangrene and peritonitis. Dr. L.S. King of Philippi was summoned to the Mayles' mountain home, and he performed an incision to drain the infected area. Magdalene's life hung in the balance for four excruciating days. Nothing further could be done.
Magdalene succumbed on Aug. 23, 1935, relieved of her agony, but leaving behind her mother and sister Opal to try to reason with what had just taken place and how they were going to go on. After an autopsy, the girl's remains were brought back home for the funeral. This snapshot captures the haunting moment of the final goodbye from one sister to another, with Magdalene's long hair decorated in ribbons, and the casket filled with fresh flowers, while Opal grasps the handle, perhaps in an attempt to hold onto her beloved sister for as long as possible. Burial was in the Chestnut Ridge Cemetery, where their father, grandfather William Stephen Mayle and great-grandfather, Civil War veteran Henry C. Minerd, already were at rest.


VisitPITTSBURGH is the promotional sponsor of this page. Be sure to get your copy of the Greater Pittsburgh Convention & Visitors Bureau's Official Visitor's Guide, a 25-page workbook to help event organizers stay on track, no matter what type of reunion or meeting they are planning to hold. The booklet features a page of ideas by the founder of this website, headlined "Take It from a Professional."
Full text>>>
Copyright © 2017 Mark A. Miner