Ruth Ann (Minerd) Kennedy
(1852-1900)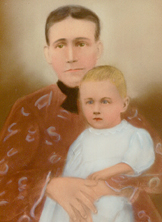 Ruth Ann and son Howard
Ruth Ann (Minerd) Kennedy was born in 1852 in Taylor County, WV, the daughter of Jacob and Ruth (Adams) Minerd Sr.
Ruth Ann's father was a "Dutchman" (Pennsylvania German), and he lived just a few miles from the farm in the Fayette/Somerset County, PA, border region where Jacob and Maria (Nein) Minerd Sr. were pioneers in the 1790s. Ruth Ann's mother was a Native American, and Ruth Ann and her siblings thus were considered of mixed race (or "mulatto" in the language of the mid-1800s).
Ruth Ann is seen here with her son Howard.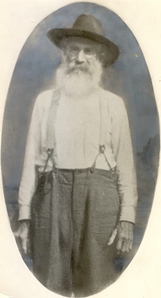 Josiah Kennedy Sr.
As an 18-year-old, in 1870, Ruth Ann gave birth to a son, whom she named Stephen T. Minerd. The boy was raised by Ruth Ann's parents. It's believed that the name of the boy's father was "Edward" (last name unknown) as this was passed down verbally in the family. Stephen's life was spent shuttling back and forth between relatives' homes in Barbour County and Athens County, OH.
Four years later, on Dec. 14, 1874, 22-year-old Ruth Ann married Josiah "Joe" Kennedy Sr. (1850-1929), the 24-year-old son of Jefferson and Lacy Ann "Lathie" (Mayle) Kennedy. The wedding took place in Josiah's native Barbour County.
Josiah was sometimes known by the first name of "Joe" or "Joseph" and the last name of "Kanada." He could not write his own name, and signed with an "X" on official documents.
Among Josiah's known brothers and sisters were Andrew Kennedy (1858-1929), Emma Newman (1865-1932), Elijah Kennedy (1868-1948) and Henry Edgar Kennedy (1871-1946).
The Kennedys had 10 children -- Josiah Kennedy Jr., John Henry Kennedy, Sarepta A. Mayle, Opha Cleophas Kennedy, Thomas "Jefferson" Kennedy, Benjamin "Harrison" Kennedy, Ressie "Ray" Kennedy Sr., Leslie Kennedy, Howard Lee Kennedy Sr. and Nancy Catherine Mayle. Josiah Sr. considered his children to be of Indian racial heritage.
The family must have moved around the area, as daughter Sarepta was born in Taylor County in 1873. It's believed that the Kennedys resided in the West Hill region south of Grafton, adjacent to and above what is now Tygart Lake.
A typed manuscript, on file today at the Philippi Public Library, states that Kennedy clans were part of a large group of mixed-race families lived in West Hill, "in a sort of separate world of their own, shunning close contact and conventionalities with whites and blacks alike." The group was said to be "enterprising farmers and trappers ... But for some reason, public sentiment against them on the part of the whites, caused them to move into West Hill section of Taylor so named because it is west of the Tygarts valley river overlooking the fertile valley lands owned before the Mayles, Crostons, Kennedys, etc., arrived."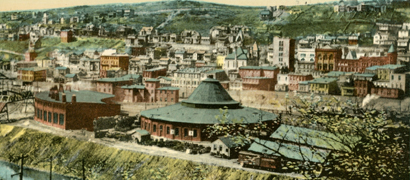 Bird's eye view of Grafton, showing the railroad roundhouse, center
The Barbour County Personal Property Book for 1897 shows that Josiah was considered a "colored male." He is marked as possessing one horse, three head of cattle and three hogs, for a total assessed value of $80.00.
Sadly, Ruth Ann died at an age far too young. She passed away on July 18, 1900, at 48 years of age, having brought 11 lives into the world. According to handwritten notes, which may have been copied from a newspaper:
The death angels summoned her to her last resting place. She leaves to mourn her loss a husband and eleven children... She lived a christian life for a number of years and just before she died called her weeping husband to her bedside and asked him to meet her in heaven. Oh how sweet to have that thought in a dying hour. She was a good mother and a faithful wife. Her devoted husband, children and relatives have the heartfelt sympathy of the entire community.
Widowed for about two-and-a-half years, Josiah Sr. married again, to 48-year-old Minerva J. Male (1855- ? ), with the wedding held on Jan. 29, 1903, performed by J.F. Chenoweth. She had been married once before, and had six children, four of whom were alive in 1910.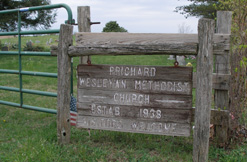 Pritchard "Prichard" Cemetery
The federal census of 1910 enumerates Josiah and Minerva living on Ford Road in the Courthouse District of Grafton. Josiah made a living that year as a "laborer - working out." Eleven-year-old Ruth Miner (1899- ? ) lived under their roof as a boarder. Living next door was Josiah's widowed nephew, and Ruth's father, Charles William Minard (spelled "Miner").
Minerva's fate is not known, but she may have died during the decade of the 1910s. In 1920, when the census again was taken, Josiah made his home with married son Josiah Jr. in the Knottsville District of Taylor County. Just a few doors away lived married daughter and son in law Nancy Catherine and Charles Elihu Mayle, and their family of children.
Later, he sold property to Josiah Jr., with the transaction completed in 1934, several years after Josiah Sr.'s death.
Josiah is believed to have passed away at the age of 78 on Jan. 16, 1929, in the Knottsville District of Grafton. In his official West Virginia death certificate, the cause of death was listed as hardening of the arteries, with "angina pectoris" (severe chest pain) as a contributing factor. He was laid to rest in the Pritchard Cemetery. His grave is not marked today, if ever it was. Son Josiah was the informant for the death certificate.
Click here to view a chart listing the scores of known marriages between the Minerd-Minard-Miner and Mayle-Male families before World War II.
Copyright © 2005-2009, 2012, 2017 Mark A. Miner