Howard Lee Kennedy Sr.
(1896-1965)


Howard and Roxie
Howard Lee Kennedy Sr. was born in 1896 in the Webster community of Taylor County, WV, the son of Josiah and Ruth Ann (Minerd) Kennedy Sr.
Howard was tall and slender, with hair and eyes of light brown. He lived in Cecil in 1917, when he registered for the military draft during World War I. On his registration card, he marked his employment as a miner at the Elk Horn Coal Company's Ocean Mines and gave his racial background as "negro."
At age 22, in about 1918, Howard married his first wife, 18-year-old Merriam Tate (1899- ? ), a native of Ohio and the daughter of James and Adelia Tate.
They together produced five children -- among them Adelia Lucille Kennedy, Cornelia Kennedy, Rowena Hunt Clark, Ellouise Stark and Elizabeth Croston.
When the federal census was taken in 1920, the Kennedys were childless and boarded in the home of Ernie and Lena Mayle on Camp Run Road in the Pleasant District of Philippi. That year, Howard earned a living as a driver in local coal mines.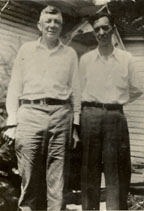 Howard and brother Jeff, left

The Kennedys relocated to Zanesville, Muskingum County, OH sometime between 1925 and 1928. The federal census of 1930 shows the family living on Kean Street in Zanesville with their four daughters ages 3 to 10 as well as 25-year-old nephew Howard C. Kennedy (son of Opha Cleophas Kennedy). The two Howards both were employed as ice pullers at the local ice plant. The census-taker marked them all as "negro."

By 1934, Howard and Merriam separated. She later wed George Burke ( ? - ? ).

Howard returned to West Virginia and married his second wife, Roxie Armenthea Mayle (1908-1945), the daughter of Deskin and Lacy Ann (Parsons) Mayle. There was a 12-year age difference between husband and wife.

They resided in Knottsville, Taylor County and Galloway, Barbour County. She did not enjoy being photographed, and the image here is the only known one.

Howard and Roxie produced a brood of six children of their own -- two sons named Howard Lee Kennedy Jr., Mary M. Mayle, Doretta Hale, twins Arlene Kennedy and Darlene Williams.

In 1940, the federal census shows Howard and Roxie making their home on Cecil Road in Knottsville, Taylor County, WV, with Howard working for the Works Progress Administration (WPA). Daughters Doretta (age five) and Mary (three) were under their roof at the time.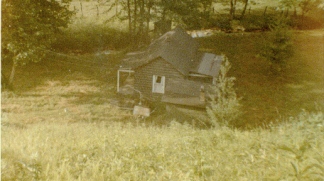 The Kennedy residence in Galloway, West Virginia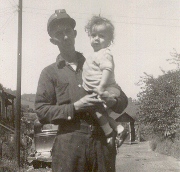 Howard and daughter Darlene

Two children passed away as infants -- twin Arlene of heart disease at age two months on Dec. 19, 1941, having been born weighing only 5 lbs.; and Howard Jr. in childbirth on April 27, 1944.

Tragedy struck the family again in December 1944, when Roxie was diagnosed with cancer of the uterus, just eight months after the birth of stillborn son Howard Jr. She declined rapidly and passed away the following month, on Jan. 31, 1945, with burial at Mt. View Cemetery in Moatsville.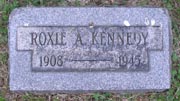 Her grave marker is seen here, as photographed in about 2007.
Her untimely death left Howard as a widower at the age of 48 with a number of young children to raise. He is seen at right, with his daughter Darlene, and wearing his coal miner's hard hat, apparently heading to or from work.
Howard married again, to his third wife, Agnes Robinson ( ? - ? ).
In 1954-1955, Howard's elderly cousin, Matilda (Minerd) Croston, daughter of William Minerd, came to make her residence in their home in the Simpson community of West Hill, on the outskirts of Grafton. She died there not long afterward, on Dec. 20, 1955.
At some point in time, Howard relocated to Eastern Ohio. Circa 1963, he made his home in Canton, Stark County, OH.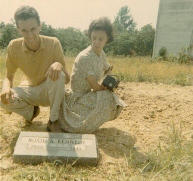 Son Howard "Sonny" and daughter Lucille at Roxie's grave, at the Mt. View Church Cemetery, 1960s. The church has since been dismantled.
Howard surrendered to the angel of death at about the age of 68 in 1965.
He and Agnes rest together in Fort Laurens Cemetery in Bolivar, Tuscarawas County, OH. Their graves are not known to be marked.
~ Daughter Elizabeth (Kennedy) Croston ~
Daughter Elizabeth C. Kennedy (1922-1991) was born in 1922. Was her first name "Cornelia?"
On July 15, 1943, when she was 21 years of age, Elizabeth married 26-year-old Gwendyl Leon Croston (1917-2005), the son of Clarence and Olga (Ramsey) Croston of Akron, Stark County, OH.
Early in the marriage, when their son was born in 1944, the pair made a home in Cleveland. In time they appear to have moved to Fruit Farm Road in Amesville, near Chesterhill, Morgan County, OH.
The two children of this couple were George Leon Croston and Phillis Harding.
Gwendyl served in the U.S. Army during World War II. He worked for many years for General Motors as a tool and die maker, and was a member of the Bethel Wesleyan Church of Bartlett, OH and of the Veterans of Foreign Wars of Belpre, OH.
Sadly, Elizabeth died in 1991 at the age of 69. She was laid to rest in Mount Hermon Cemetery.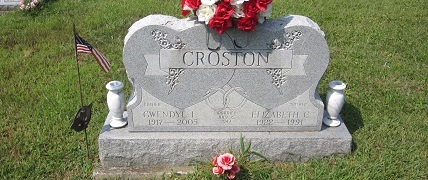 Mount Hermon Cemetery
Gwendyl outlived his bride by 14 years. He died at the age of 88 at The Arbors in Marietta on Nov. 30, 2005. Interment was in Mount Hermon Cemetery, following funeral services led by Pastor Mary Jane Newman and Rev. Eugene Ramsey, with assistance from the Morgan County Veterans Association.
Son George Leon Croston (1944-2022) was born on Aug. 16, 1944 in Cleveland. While he grew up in Cleveland, he loved to spend his summers working on his grandparents' farm in southern Ohio. Following high school graduation, during the Vietnam War, he enlisted in the U.S. Air Force. In June 1969, at age 24, he was united in matrimony with Sandra "Sandy" Mayle ( ? -living). The pair's marriage endured the ups and downs of a remarkable 52 years. They became the parents of three -- Garron Croston, Chris Croston and Beth Croston. The Crostons lived in Cleveland, where he was employed as a machine operator for many years at the Parma plant of General Motors Corporation. In his free time he liked to fish and hunt. George retired in 2001 at the age of about 57. At some point, George and Sandra purchased property in southern Ohio, dubbed the "Blue House," where they entertained family and friends. Sadly, he passed away at age 77, following two decades of retirement, on May 4, 2022.
Grandson Garron Croston ( ? - ? )
Grandson Chris Croston ( ? - ? )
Granddaughter Beth Croston ( ? - ? )
Daughter Phillis Croston married Raymond Harding and resided in Cleveland.



Lucille Kennedy

~ Daughter Adelia Lucille Kennedy ~
Daughter Lucille Kennedy ( ? - ? ) -- her first name is believed to have been "Adelia."

She lived in Cleveland, OH, in 1991.
Lucille apparently never married.
She was deceased by 2013.
~ Daughter Rowena ( Kennedy) Hunt Clark ~
Daughter Rowena Kennedy (1924-2013) was born on May 27, 1924 near Grafton, Taylor County, WV. She was married twice.
Her first husband was (?) Hunt. They had these children -- William D. Hunt, David R. Hunt and Daniel R. Hunt.
Later, she wed Robert E. Clark ( ? -2008).
For many years, Rowena lived in Powell near Columbus, Franklin County, OH. She spent more than 25 years as a registrar in the guidance department of Beachwood High School in Beachwood, Cuyahoga County, retiring in 1991. Said the Columbus Dispatch, "She was an avid fan of athletics and could be seen at all school sporting events. She loved the Ohio State Buckeyes and was a member of the Red Hat Society... [She] loved vacationing in Florida and was drawn by the Gulf of Mexico and the beauty of the sunsets."
She endured the death of her husband Robert in 2008.
In 2012, Rowena relocated to Englewood, Florida, fulfilling a longtime dream. She died in a hospice there at the age of 88 on Feb. 1, 2013. Her obituary was published in the Columbus Dispatch.
Son William D. Hunt married Melanie and lived in Ohio.
Son David R. Hunt resided in Ohio.
Son Daniel R. Hunt wed Cathy and made their home in Rotonda West, FL.
~ Daughter Ellouise (Kennedy) Stark ~
Daughter Ellouise Kennedy (1927-2005) is believed to have been born on July 22, 1927 in Zanesville, Muskingum County, OH.
She married Wilson A. Stark (1925-2010). They had one daughter, Deborah L. Stark.
They resided for many years in East Cleveland, Cuyahoga County, OH.
Ellouise died on Oct. 18, 2005, in Cleveland.
Wilson survived her by five years, and passed away on Oct. 11, 2010. Burial was in Evergreen Memorial Gardens. His obituary was printed in the Cleveland Plain Dealer.
More will be added here to confirm.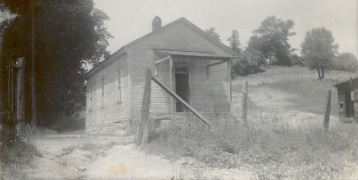 Mt. Airy school attended by the Kennedy children
~ Daughter Doretta ( Kennedy) Hale ~
Daughter Doretta Kennedy (1934- ? ) was born in about 1934 in Knottsville, Taylor County, WV.
She married Rodney Hale (1934- ? ).
They bore three children -- Mark Anthony Hale Sr., Cynthia Hairston and Karen Gilbert.
Rodney labored as a blacktop hauler. The Hales made their home for decades in a mostly black community of residents along Coal Run Road in Zanesville, Muskingum County, OH.
Their home was without running water until 2004, when the City of Zanesville and County of Muskingum finally installed water pipes. A story in the New York Times, which pictured Doretta and Rodney, noted that "As some people here put it, the water seemed to stop 'where the black folks started'." In the Times piece, Rodney recalled many instances of racial discrimination over the years, such as being restricted to balcony-only seating at movie theatres, prohibited from eating at the counter of a restaurant, and being told to get off his school bus and walk because he was black and it was school board policy. (See "For a Recently Plumbed Neighborhood, Validation in a Verdict," New York Times, Aug. 11, 2008.)
In 2008, a federal jury awarded thousands of dollars in damages to the Hales and other families in their neighborhood for violation of their civil rights.
Son Mark Anthony Hale Sr. (1957-2012) was born on Nov. 18, 1957 in Zanesville. He was married to Regina and had two children -- Mark A. Hale Jr. and Devan Hale -- and three step-children -- Terrance Cree Dalton, Leanda Tabler and Tashia Walker. Mark was a longtime truck driver and was employed at Kokosing Construction of Fredericktown, OH. He was a member of the teamster's union and enjoyed NASCAR racing. He died of cancer at the age of 54, in Zanesville, on Sept. 3, 2012. He was laid to eternal rest in Woodlawn Cemetery in Zanesville.
Daughter Cynthia Hale married Linus Hairston. She is a nurse in the Zanesville area and was quoted by name in the 2008 New York Times article.
~ Daughter Mary M. (Kennedy) Mayle ~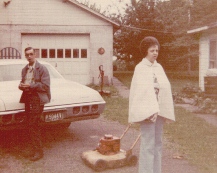 Mary and Bretsel Mayle

Daughter Mary M. Kennedy (1937-1991) was born in 1937 in Knottsville, Taylor County, WV.

On Sept. 3, 1954, at the age of 17, she wed married 24-year-old Bretsel G. Mayle (1930? -1995? ). He was the son of farmers Gillespie and Geneva Mayle of Barbour County.

They resided in Louisville near Canton, Stark County, OH and had two sons -- Gary Mayle and Michael E. Mayle.

Mary was a "nursing technician with the Timpkin Mercy Medical Center with 27 years of service," and retired in 1989, said a newspaper. "She was a member of the Crystal Park Wesleyan Church."

Sadly, son Michael died on Sept. 6, 1981, in Canton, at the age of 24.

Mary died at the age of 54 on Dec. 3, 1991. Her remains were returned to the Philippi area for burial at the Prichard Cemetery at Clemtown, Barbour County. Rev. Winfield Mayle conducted her funeral service.

Bretsel outlived his wife by nearly four years. He passed into eternity on Sept. 20, 1995.

Son Gary Mayle married Mary (?) and lived in Canton.

~ Son Howard Lee "Sonny" Kennedy Jr. ~

Son Howard Lee "Sonny" Kennedy Jr. ( ? - ? ) was born in (?).

He lived in Hartford, CT in 1991.

By 2013, he was in Riverview, FL.

~ Daughter Darlene (Kennedy) Williams ~

Daughter Darlene Kennedy ( ? - ? ) was born in (?).

She married George Williams.

They lived in Zanesville in 1991.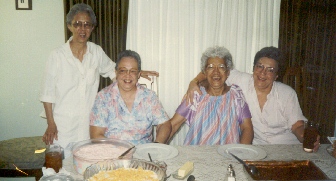 Sisters from Howard's 1st marriage. L-R: Lucille Kennedy, Ellouise Stark, Elizabeth Croston, Rowena Clark.
Copyright © 2005-2008, 2010, 2012, 2019 Mark A. Miner