William Minerd
(1843-1906)


William and 1st wife Margaret
William Minerd was born on Sept. 7, 1841 or 1843 in Fayette County, PA, the son of Jacob and Ruth (Adams) Minerd
of the Fayette/Somerset County border region of southwestern Pennsylvania where our Minerds were pioneers in the 1790s.
William's mother was a Native American, and he and his siblings thus were considered of mixed race (or "mulatto" in the language of the mid-1800s). A veteran of the Civil War, William and his first wife are seen here.
As a boy, William moved with his parents from Fayette County to West Virginia, settling in the 1850s in Evansville, Preston County. Later, he migrated southward with his parents to Philippi, Barbour County, WV.
William stood 5 feet, 7 inches tall, with a dark complexion, dark hair and hazel eyes. According to his father in law, William was considered as "a colored man. He always passed for that." William's second wife once said that he "was known as a colored man, though he was as white as most white people... When he was [away] from home he passed for a white man."
During the Civil War, on Feb. 23, 1865, William enlisted in the 17th West Virginia Infantry. His brothers Henry and John also served in the same regiment, as did his future brother in law Jonathan Male (1844-1927) and in-law George W. Male. They likely spent most of their time training and drilling at Wheeling, WV.
While on duty, near Bulltown, WV, William came down with a bad case of the measles that caused long-term problems with his eyes, heart and stomach. Bulltown had been the scene of fighting in mid-October 1863, but not involving William or his regiment. He is thought not to have seen any battle action.
Old covered bridge at Bulltown, near William's Civil War camp, where he caught the measles.
~ First Marriage, to Margaret Mayle ~
After the war, William returned home to Philippi. The following year, on Oct. 17, 1866, he married his first wife, 18-year-old Margaret Mayle (1848-? ), the daughter of Reese and Delilah (Dalton) Male.
They had at least six children - Matilda Starrett Myers Croston, Dewitt Minard, Rachel Mayle, Minerva Mayle, Cyrena Cooper and Emily Jane "Emma" Mayle.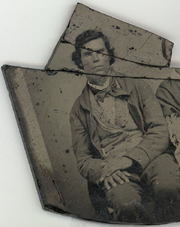 Broken glass photo of William
The Minerds resided near Margaret's parents on a farm near Cecil, Taylor County, about 10 or 15 miles from Philippi. William is seen here in a rare, broken glass photograph at right, with only part of Margaret's head and torso visible. In the image, they are said to have been posing with their baby son Dewitt circa 1869, just a few years after the end of the Civil War. The photograph was apparently broken when a descendant tried to cut out Margaret's face to use in a special locket.
The federal census of 1870 shows the Minerds and their three oldest children living at Pleasant Creek, Barbour County, where William labored as a farmer. Later that decade, he is known to have labored for George Mayle some seven or eight miles away from home, and to have remained away from home during those period of time.
After some years of marriage, the Minerds separated in 1878, with Margaret moving into the home of a purported lover, Allen Haddix. William then filed for divorce, asking that she "be required to make full and complete answer to the allegations" of fornication. A number of relatives and friends provided testimony in sworn depositions, including Noah Mayle, who had known the Minerds for "five or six years," witnessed Margaret and Haddix in flagrante dilecto, and later would marry William's sister Susanna.
Their divorce was finalized in the Barbour County Chancery Court on April 23, 1879. The children were split up and sent to live in a number of different households -- son Dewitt with his uncle and aunt, William and Susanna Mayle near Grafton; daughter Rachel with her 76-year-old cousin "Thimothy" Newman; daughter Minerva with cousin Charles and Rachel Croston; and daughter Emily with her maternal grandparents, Reese and Delilah Mayle, also near Grafton. The whereabouts of daughters Matilda and Cyrene during this time are unknown.
(Note -- Margaret married Allen Haddix ("Haddox") [1853- ? ] a year after her divorce, in 1880. They resided in Oakland, Garrett County, MD, and had at least one daughter, Lucretia "Crissia" (Haddox) Trimble (1888- ? ). Margaret apparently was five years older than her husband, but fibbed about her age in the federal census of 1900.)
William has not yet been located on the federal census of 1880.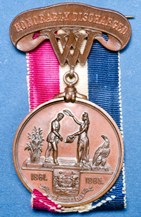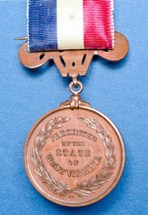 William's Civil War honorary discharge medal, "Presented by the State of West Virginia." Below, the lettered inscription along the rounded edge of the medal.
~ Second Marriage, to Elvira Mayle ~
Two days after Christmas 1885, 43-year-old William married his second wife, 16-year-old Elvira Mayle (1866-1929), who was a distant cousin of his first wife. She was the daughter of Anderson and Louisa (Male) Male, natives of Barbour County. The ceremony took place at the residence of Chester Male in Barbour County, without the presence of the bride's parents, and was performed by Rev. Lemuel Ryan of the Methodist Episcopal Church South.
Later in life, in a legal paper documenting his heritage, Elvira's father Anderson Male said:
My mother and father were both colored... Everybody knew we were colored. They call us "guineas." My grandfathers were both called "Muster" and my grand-mothers were both Irish. I think my grandfathers were free born. My father used to pay an extra dollar of tax, called the "free nigger tax."
Elvira herself gave this testimony about her lineage:
I was born two or three miles below Philippi, in this county.... I knew my grandparents on my father's side only. My father's father was John Male and he lived near Philippi. My father's mother was named Sally. These grandparents died, when I was a small girl, at places near Philippi. Both my parents are colored. My grand-father Male was called a colored man. I do not know whether my grand-mother Male was colored or not. I do not know any of my ancestors who were full-blood colored people, -- nor who were full-blood white people.

William's hands, when he was 26
Within a few days of marriage to Elvira, William "went away ... to see his mother, who was sick, and stayed about three or four months," Elvira said. She added:
The longest time he ever stayed away was about four months. He went away every two or three months and stayed for a few days, and sometimes he would stay at home a year without leaving. I thought his mind was disturbed by the breaking up of his first family and I thought he was dissatisfied with me, and I just let him go and come when he pleased. He used to go to Marietta, Ohio. His mother and father lived there and he had two sisters and a brother living out there.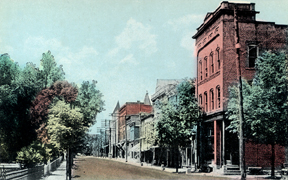 Downtown Philippi
Despite all of William's travels, he and Elvira finally settled near Philippi. Seen here is a rare old colorized postcard showing the town's Main Street.
The Minards had eight known children, all born in or near Philippi: Hulda Jane Mayle (born in 1888 at Taylor's Dream, near Philippi), Mahala Minerd (born Aug. 13 or Sept. 3, 1889, at Pleasant Creek), Lustry Minerd (born 1892), Tillison Forest Minard (born 1894 at Taylor's Dream), William McKinley Minard (born 1896 at Simpson Creek near Berryburg, Barbour County), George Dewey Minard (born 1899 near Philippi), Virginia M. "Virgie" Mayle (born 1901 near Philippi) and Mary Louisa Mayle (born 1904 near Philippi).
Sadly, daughter Mahala is believed to have died on Feb. 5, 1898, of a serious burn of two weeks' duration. Daughter Lustry also died young, sometime prior to 1907.
Dr. Monzell M. Hoff attended Elvira during all of these births, and he kept detailed records of the dates, or otherwise the information would not be known. In his own words, racial discrimination in the Barbour County Courthouse prevented the proper filing of these important dates:
I was physician for the family at the time and was employed by the father either at the time or very shortly after the birth of each and, to the best of my recollection, made the returns to the county clerk in each case. We had a county clerk who did not record these returns and several hundred of them made during that clerk's term were burned and not recorded. We have had a great deal of trouble on that account.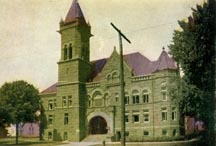 Barbour County Courthouse
Seen here, the Barbour County courthouse in Philippi where birth records of the Minerd children were willfully and systematically destroyed during the 1890s and early 1900s by the county clerk.
Elvira's distant cousin William Norris once testified that because of their skin color, the Minerd children "were generally recognized as colored people and none of the family was allowed to go to school [with white children] on that account." Norris also said he was "a very distant relative of [Elvira]. It is so far off that I do not know what the relation is." Norris added that "I am colored and my children are not allowed to go to school with white children."
William's sister Sarah (Minerd) Wright once said that "I have known Elvira Minard ever since she was a small girl. She is colored. She does not have any indian blood that I know of. Her color is from African blood. Elvira's parents are both said to be colored. They have dark skin, and, like myself, always went by the name of colored people. Everybody recognizes them as colored people."
William was a farmer and laborer, and was employed on or with the railroads. He occasionally left home and migrated into Ohio, residing in Ormiston, Barlow Twp., Washington County (1890), and the village of Utley, Athens County (1891). Ormiston does not exist today, but was a post office at the time just to the southeast of the villages of Vincent and Barlow. By 1894, he had returned to his wife and home at Cecil, near Philippi. His father in law later said, "William and Elvira always lived as man and wife. He was away about twice and stayed for quite a while, working on a railroad in Ohio."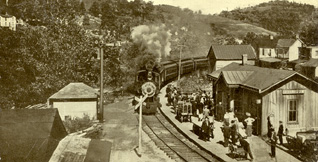 Philippi's old Baltimore & Ohio Railroad station
In about 1890, William filed to receive a pension from the federal government as compensation for his wartime illnesses. He testified "that his rheumatism has been so bad he has been unable to do any work but just choring around the house." One of his petitions was witnessed by nephew Stephen Minerd, who like William was residing in Washington County, OH at the time.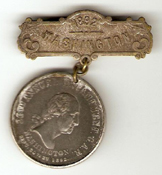 Medal, veterans encampment
William apparently enjoyed the camaraderie of his former army soldiers. In September 1892 he attended a reunion encampment of the Grand Army of the Republic in the nation's capitol. He received a small medal, featuring an engraved portrait of George Washington not unlike the one that appears today on the U.S. quarter coin. The medal -- seen here -- reads: "26th Annual Encampment G.A.R., Washington, Sept. 20 to 23, 1892." William used the opportunity at that encampment to send a letter to his son Dewitt. (Since William was not literate, it is thought that someone else typed the letter for him.)
My Dear Son:
I am in Washington and have seen all of the Grand Army Posts, and all of the proceedings that were carried on, of any importance. The fire works, which were displayed near the monument were something of which I had never seen the like. I will not be able to stop there this time but ... I will call to see you shortly.
William at some point purchased 14 acres of land in Barbour County, "on the east side of Tygarts Valley River." According to government records, there were no buildings on the property. As such, he may be the same "William Miner" described in a 1979 thesis report by Dorothy J. Cox of Marshall University, entitled A Marginal Group in West Virginia: An Historical and Cultural Study:
The children often bought land close to their parents. This pattern is illustrated by the Miner family where William the father owned a large farm at the opening of a hollow and his six sons bought the remaining land in the narrow valley to build their homes. The sons and the grandchildren worked on their grandfather's farm and he gave each son a share of the harvest. It was a common practice in Miner Hollow that there was sharing in all areas of life.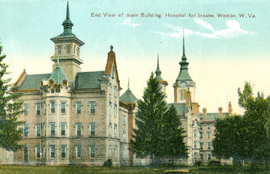 West Virginia Hospital for the Insane, Weston
As he reached age 60 and beyond, William's mind began to fail. He was admitted on Sept. 22, 1905 to the Hospital for the Insane at Weston, Lewis County, WV. He died there less than a year later, of heart disease, on March 28, 1906, at the age of 63. He was buried in an unmarked grave in the hospital cemetery. The complex of the sprawling hospital is seen here in a rare photographic postcard view of that era.
Elvira was left as a 40-year-old widow with young children to raise. A few days after William's death, she sent a letter to her stepson Dewitt Minard who was residing in Deer Park, Garrett County, MD. The letter was typed on the stationery of attorney Warren B. Kittle of Philippi, and an effort to clear up estate administration issues but also to help her solidify her own financial resources.
Because she lacked basic reading and writing skills, she depended on justice of the peace Jasper F. Chenowith Sr., for assistance. In his words, "I have been doing the writing for [her] and am not to charge her for my services and have received nothing [in return]." According to Chenowith, she had "a poor memory. She seldom makes the same statement to me twice and I regard her statement as to dates as questionable."
After William's death, Elvira filed to receive her husband's Civil War pension. Her application papers were witnessed, among others, by William Norris (born 1835) and her father Anderson Male (born 1845), both residents of Philippi, who had known William "all his life." Other witnesses Franklin Male (born 1843) and Isaiah Male (born 1862) swore that they had known Elvira "all her life" and that she was "in destitute circumstances, and that she has no personal property of any value except household goods, and that she has no income from any source, and that she and her children are supported at the expense of the County of Barbour."

Barbour Democrat, 1929
In early 1907, at the request of justice of the peace Chenowith, who sympathized with Elvira's condition, a government investigator came to Philippi to investigate her pension case. After interviewing Elvira, her father, her sister in law Sarah Minard Wright, kinsman William Norris, physician Monzell M. Hoff and Chenowith, he filed a report with the Commissioner of Pensions in Washington, DC. In his report, he recommended that the case be considered by the Board of Review, stating:
This claimant lives in a squalid little hut about two and a half miles from Philippi. She is very ignorant and has the appearance of what is called in this part of the country a "guinea." There is a large race of these people in this section and they are mostly related. Both the soldier and the claimant have many relatives among them. They are regarded here as a mixture of white, indian and negro blood, with enough white blood that they might easily pass for white people. They are accorded only the privileges of other colored people, however.
When the federal census was taken in 1910, 40-year-old Elvira was residing near Philippi with her family of children. The census taker marked all of them as "mulatto." Next door neighbors were her parents, 65-year-old Anderson Male and his wife Louise.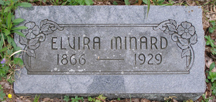 Norris Cemetery
Friends at the time were concerned about Elvira's "destitute circumstances" and that "she and her children are in need of food and clothing." The family physician, J.W. Bosworth, said she suffered "with female diseases that render, her, at intervals, helpless." Dr. C.B. Williams stated that "She is confined to her bed some of the time so that she is unable to earn a support for herself and children." She eventually received support from the County of Barbour, with her medical bills covered by county funds.
It's believed that she is the same person as "Eliza" Minard who died in December 1929 and was buried in the Norris graveyard, according to an article in the Barbour Democrat newspaper. The cause of death was pneumonia. The article noted that she was the "widow of Wm. Minard..."
Elvira's grave apparently later was marked by grandchildren, as it has a more modern appearance than 1929 vintage, and was photographed in May 2007. Her son William and his wife Mary later were buried beside her. The Norris Cemetery is located north of Philippi, a short distance from Alderson-Broaddus College, and the Minards' nephews Peter and Stephen Minard, Vernie Miner and Granville Miner also are buried there. It is not the same as another Norris graveyard which was "plowed under by the mining company and posted, a fact bitterly lamented by the Norris brothers who took me to see the place," writes Thomas McElwain in his 1981 book, Our Kind of People: Identity, Community and Religion on Chestnut Ridge.
The hospital where William died closed in the 1980s. In August 2007, the massive, empty building was sold to a contractor from nearby Morgantown, Monongalia County, WV. The sale was featured in a story by the Pittsburgh Post-Gazette.

Norris Cemetery, Philippi, with graves in the upper clearing
~ Epilogue ~
We are grateful to Bernard V. Mayhle of Spokane, WA, who has published his research of the Male-Mayle-Mayhle family and also has personally shared his information for our archives, a strong foundation upon which extensive research is being conducted.
Click here to view a chart listing the several score of known marriages between the Minerd-Minard-Miner and Mayle-Male families before World War II.
Be sure to visit William's page on the TribalPages.com website compiled by Barb Nelson with significant excerpts from our research and website.
In May 2010, a department of history honors thesis, authored by Ohio State University student Alexandra Finley, referenced Minerd.com's biography of William as a major source for her research. Entitled "Founding Chestnut Ridge: the Origins of Central West Virginia's Multiracial Community," the thesis discusses "the nature of racial ambiguity and identity construction in an early American frontier settlement." Link to the paper -- a work in progress which should not be re-distributed without permission. The author is working on her doctorate at the College of William and Mary, and may be reached at this link.
Copyright © 2004-2011, 2015, 2017, 2022 Mark A. Miner