Susanna (Minerd) Mayle Woody
(1863?-1953)

Susanna Woody
Susanna (Minerd) Woody was born in 1855 or in June 1863 in Preston County, WV, the daughter of Jacob and Ruth (Adams) Minerd. She was one of two cousins in our extended family to be married a former slave.
Susanna was born "of color." Her father was a "Dutchman" (Pennsylvania German), and he lived just a few miles from the farm in the Fayette/Somerset County, PA, border region where Jacob and Maria (Nein) Minerd Sr. were pioneers in the 1790s. Her mother was a Native American, and Susanna and her siblings thus were considered of mixed race (or "mulatto" in the language of the mid-1800s).
Little is known of Susanna's life, and we do not know why there is such a vast difference in her birth year information, other than she likely did not know herself. We believe the "1863" date is more accurate. At a young age, Susanna resided for spans of time in Evansville, Preston County; Grafton, Taylor County; and Philippi, Barbour County, all in West Virginia.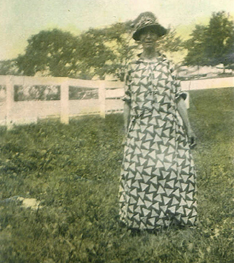 Susanna in a color-tinted portrait
In about 1881, when Susanna was age 18, her parents and younger siblings migrated to Ohio, settling in and around Athens, Athens County.
Susanna's first husband was Noah Mayle (1860-1906?). They were married in Taylor County, WV on March 18, 1883, when Susanna was age 20, and Noah was 23. William H. Murphy performed the ceremony. Since it's known that she had already moved to Ohio by that time, evidence suggests that the family was shuttling back and forth as needed.
A few years before his marriage to Susanna, Noah was involved as a witness in a lawsuit involving Susanna's family, with the paperwork still on file today in the Barbour County courthouse. In March 1879, when Noah would have been age 19, he appeared in court to testify that he had seen Susanna's sister in law, Margaret (Mayle) Minerd, involved in relations outside of her marriage to Susanna's brother William. In sworn testimony, he said he had known William and Margaret "for five or six years" and that he lived about a half mile away from them. While William was away working, Noah testified, he had seen Margaret in a compromising position with another man on several occasions. Noah signed his name on the court papers with an "X," indicating he could neither read nor write.
Susanna's marriage with Noah apparently ended after a few years, and certainly by 1889. In February 1890, she gave birth to a daughter, Inez Gertrude Hayes. Family lore states that the girl's father was local farmer Mahlon Hayes (1852-1924), who employed Susanna and her brother Jacob. At the time, Hayes -- who was white and married -- lived in Rome Township with his wife Ida M. (Crippen) Hayes and their family of children. (He had eight children in all with his lawful wife.)

The Woodys' marriage license in Athens County
Eighteen months after birthing her first child, Susanna married former slave Fleming Woody (1855-1915) on Aug. 20, 1891, in Athens County. Their official Athens County marriage license is seen here with Susanna's name handwritten as "Mifs Susannah Minor." At the time, she was age 28, and Fleming was about 36. Whether or not he had been married before is unknown.
Born in February 1855, Fleming was a native of Virginia, as were both of his parents. More of Fleming's origins are being explored, including in which county he would have lived and the identity of his owner and plantation, but the story is heavily shrouded by the veil of the past.
Born someone else's property in Virginia (possibly West Virginia), Fleming was "freed from the bonds of slavery, when about 15 years old," said the Athens (OH) Messenger. According to family legend, as a boy he witnessed the agony of his mother being sold from one owner to another.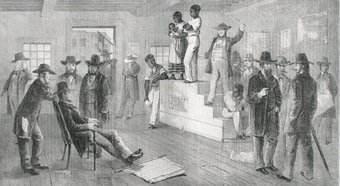 "A slave auction in Virginia" -- printed before the outbreak of Civil War, in The Illustrated London News, Feb. 16, 1861
After his emancipation, Fleming migrated to southeastern Ohio, settling near Athens, Athens County. He "spent the greater part of his life" in the vicinity of Stewart, Athens County. Fleming generally was employed as a farm laborer during his adult years.
The Woodys are believed to have had five children -- Lucy M. Kinder Moseley Dalton (1892), James Riley Woody (1895), Dow Edward Woody (born 1897) and two who have not been identified. Fleming may have adopted his wife's young daughter Inez as his own.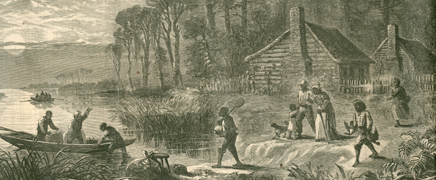 "Slaves leaving their home" -- following President Lincoln's Emancipation Proclamation -- as published in Harper's Weekly, April 9, 1864
Susan Woody
Over time, the Woodys moved within Ohio to Stewart, Athens County (1892-1895), Coolville, Rome Township, Athens County (1900), Decatur Township, Washington County (1920) and back to Coolville (1930).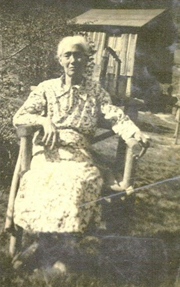 Susanna
When the census was taken in 1900, Fleming, Susanna and their four children lived together in Rome Township. The census-taker marked a "B" beside each name, symbolizing that they were "black." Fleming's birthplace was marked as Virginia."
Susanna may have received word in the spring of 1906 that her first husband, Noah Mayle, had died at the age of 49 in Flemington, Taylor County, WV. A longtime coal miner, and married at the time, Noah died of pneumonia, caused by tuberculosis. He was laid to rest in Simpson, Taylor County.
In 1909, their daughter Lucy gave birth to a baby boy who died at age one day and was never named. The infant was buried at or near the family residence in Stewart. Fleming signed his name on the official Ohio certificate of death -- "F. Woody."
In the federal census of 1910, when the Woody family was renting a home in Decatur, Fleming was marked as black while Susanna and the children were indicated as mulatto. That year, he worked as a general farmer, while she was a "wash woman" performing "odd jobs."

Athens Messenger, 1915
Fleming passed away in Athens County on March 12, 1915. In a short obituary, the Messenger called him "an aged colored man." His death certificate noted that he was "Negro."
Susanna outlived her husband by nearly four decades. Sadly, she also outlived four of her sons and daughters. Son Dow, who was mentally retarded and suffered with polio, passed away at age 25 on Jan. 13, 1923. He is buried in the Stewart Cemetery in Rome Township, Athens County, OH.
When the federal census was taken in 1930, the 69-year-old Susanna made her home with her widowed, 34-year-old farmer son James in Stewart. Both were marked as unable to read or write. Residing two doors away was her son's longtime employer, farmer William E. Coen and his daughter Mildred.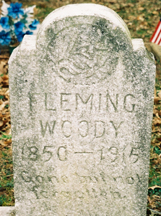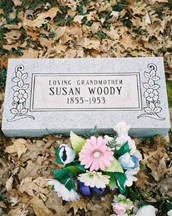 Graves of Fleming and Susanna Woody in Stewart Cemetery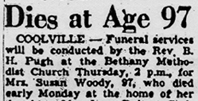 Obituary, 1953
When in her 90s, Susanna resided in the home of her daughter Lucy Dalton in Coolville and in Stewart. She died at age 97 on Feb. 8, 1953. She is said to have died "while working in the fields."
At her death, she had 16 grandchildren, 39 great grandchildren and three great-great grandchildren. Susanna is buried with her husband and sons Dalton and James in Stewart Cemetery.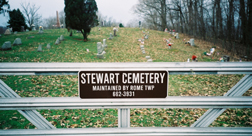 The family's final resting place.
In 1998, the Woodys' grandchildren placed a grave marker for Susanna in Stewart Cemetery. Four other individuals buried in the family plot are Melyann Woody, William Riley Kider, Thomas Edward Dalton and "Baby Dalton."
These graves also were marked in 1998 with "markers of the funeral home type," wrote Aiken & Gregg in the genealogical booklet, Rome Township Cemetery Inscriptions. No dates on these markers were given in the booklets, and did not appear on the metallic markers when photographed in April 2005.
It is being researched to determine if Fleming was related to two black families headed by a man named Fleming Woody as listed in the federal census of 1870. They include:
Fleming and Sally Woody of Hewlett, Hanover County, VA. The family's ages are as follow: Fleming (age 39); Sally (30); son John (11); daughter Ucebia (9); daughter Martha (7); and daughter Judy (5).
Pittsburgh Post-Gazette, 2006
Fleming G. and Sarah Woody of Kanawha Court House, near Charleston, Kanawha County, WV. Fleming G. was born in Virginia and was employed keeping a ferry. The family's ages are: Fleming G. (46); Sarah (41); son Andrew W. (12); daughter Sarah C. (9); daughter Roxy (4); and son John D. (1).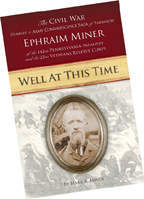 Book naming the Woodys
The facts about Fleming's life in slavery are being researched, hopefully utilizing the resources of the National Archives' African American Research which was announced in newspapers such as the Pittsburgh Post-Gazette in January 2006. More will be added to this biography when known.
Be sure to visit Susanna's page on the TribalPages.com website compiled by Barb Nelson with significant excerpts from our research and website.
Susanna and Fleming are mentioned in a lavishly illustrated, 2011 book about one of her cousins who served in the Union Army during Civil War -- entitled Well At This Time: the Civil War Diaries and Army Convalescence Saga of Farmboy Ephraim Miner. The book, authored by the founder of this website, is seen here. [More about the book]
Copyright © 2004-2006, 2009, 2011, 2017, 2022 Mark A. Miner