Home

Jacob Minerd Jr.
(1854-1907)


Jacob and Martha Minerd Jr.
Jacob Minerd Jr. was born on Sept. 12, 1854 in Evansville, Preston County, WV, the son of Jacob and Ruth (Adams) Minerd Sr. His birthdate also has been given as January 1861, but his 1854 birth officially is on record in Preston County.
Jacob's father was a "Dutchman" (Pennsylvania German), and he lived just a few miles from the farm in the Fayette/Somerset County, PA, border region where Jacob and Maria (Nein) Minerd Sr. were pioneers in the 1790s. His mother was a Native American, and Jacob and his siblings thus were considered of mixed race (or "mulatto" in the language of the mid-1800s).
As a young man, Jacob moved with his parents and siblings to South Grafton, Taylor County, WV and to Philippi, Barbour County, WV. Later, in the late 1870s or early 1880s, Jacob moved to the Athens County, OH, area.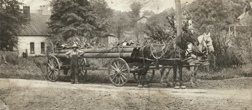 Jacob hauling logs - click to enlarge
On July 24, 1887, at the age of 33, Jacob married 16-year-old Martha A. "Bessie" Buck (1867-1934), daughter of Alonzo and Sarah (Miller) Buck. The ceremony was performed in Athens County. It's possible Jacob fibbed about his age, given the difference of 13 years between him and his bride. Bessie was a native of Ohio.
Jacob labored as a farmer and farm hand. He also is known to have driven teams of horses and wagons, hauling materials for local customers. The photograph seen here shows Jacob with a load of long pipe, taken along a road in the Guysville area of Athens County. Click to see a larger version of this image, our "Photo of the Month" for May 2007.
The Minerds produced a brood of seven children, born between 1889 and 1899 -- Eva D. Minerd, Claude "Cloddie" or "Tod" Thomas Minerd, Edna A. Kyle, Lonnie B. Minerd, John Edward Minerd, Basil A. Minerd Sr. and one of unknown identity who died prior to 1900.
Circa June 1900, when the federal census was taken, the Minerd family was renting their home, and living in Amesville, Ames Township, Athens County. In later years, the family also resided in Rome Township, Athens County.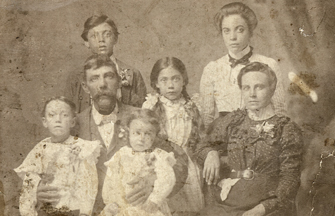 Family portrait, taken at M.M. DeWeese Studio, Stewart, Ohio: Standing, back row, left to right: Tod, Edna and Eva. Seated, front: Basil, Jacob, John and Martha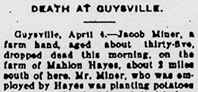 Obituary, 1907
Tragedy struck the family in the spring of 1907. On April 4, while working on the farm of Mahlon Hayes about two miles south of Guysville, Jacob "dropped dead" in a farm field, said an Athens newspaper. He "was planting potatoes when he suddenly fell and died before medical aid could be summoned. He had been in good health previously and heart failure is supposed to be the cause of death." A granddaughter recalls that he had stopped his work to rest in the shade of a tree when he was stricken.
The funeral was held two days later at the Minerd home, and Jacob's remains were laid to rest in the Bean Cemetery. Jacob's family believed him to be age 42 at death, but in reality his actual age was 53. The Bean Cemetery is seen here circa 2005.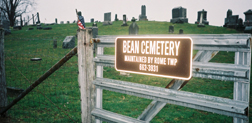 Bean Cemetery, Athens County, Ohio

A search of the cemetery, as well as an examination of burial records held at the Alden Library at Ohio University in nearby Athens, show that Jacob's grave is not marked, a fact that has been confirmed by family stories from a granddaughter.

Martha outlived her husband by 20 or more years, and she remained in the Guysville area. At the age of 46, she married again, to 47-year-old Addison Bean, the son of Edmund and Samantha (Windsor) Bean. The ceremony was held on May 24, 1915, by the hand of Guysville justice of the peace Samuel Fitch.

Over the years, she stayed in close contact with her children and growing family of grandchildren. One granddaughter remembers Martha giving her a scolding when playing on a porch.

She died on Jan. 11, 1934, at the age of 66, having suffered from heart disease. She was laid to rest beside or near her first husband. Their grave is said to be next to the fence at the top of the hill at Bean Cemetery, but is unmarked.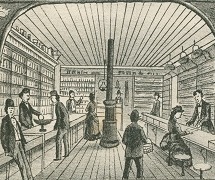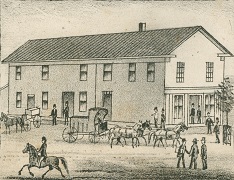 Above: the old Patterson & Curfman store in Amesville. Below: Amesville's unpaved State Street, with railway track in the foreground.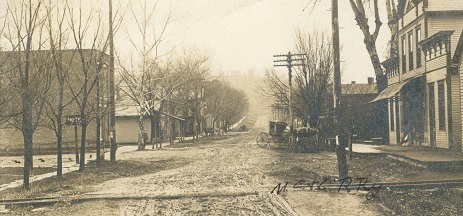 ~ More on the Athens County Minerds ~
Be sure to visit Jacob's page on the TribalPages.com website compiled by Barb Nelson with significant excerpts from our research and website.
Copyright © 2005-2011, 2017-2018 Mark A. Miner