Thomas 'Jefferson' Kennedy
(1882-1954)

Jeff Kennedy
Thomas "Jefferson" Kennedy was born in 1882 in the Webster community of Taylor County, WV, the son of Josiah and Ruth Ann (Minerd) Kennedy Sr.
He had brown hair and brown eyes, and was of medium height and slender build. At the age of 18, he lived in Grafton, Taylor County circa 1900.
Six years later, he married Edith May Parsons (1889-1950). She was the daughter of Reese and Susan (Mayle) Parsons of Barbour County, and had been born in Michigan. The wedding took place on Jan. 31, 1906, when Jefferson was age 22, and Edith 16. Performing the ceremony was S.A. Cleavenger, a minister of the Primitive Baptist Church. At the time, Jefferson was a coal miner.
The Kennedys together produced one daughter, Roberta Decost, and lived in Knottsville near Grafton, Taylor County.
When the federal census was taken in 1910, Jefferson and Edith lived in the Pleasanton District of Barbour County, where he labored as a coal miner. Boarding in their home that year were Edith's presumed brothers Clyde D. Parson and James S. Parson, both of whom also were miners.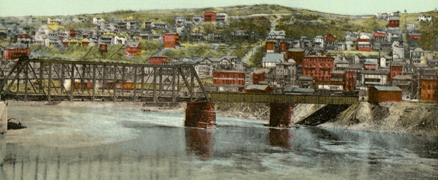 Grafton's Baltimore & Ohio Railroad bridge spanning the Tygart River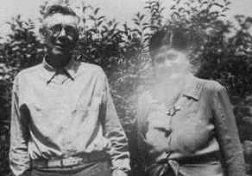 Jeff and Edith Kennedy
During World War I, in 1918, the 35-year-old Jefferson was a coal miner for the Morrall Coal Company of Philippi. That year, he registered for the military draft, and gave his racial background as "Negro."
In 1920, after 14 years of marriage, the Kennedys lived in Knottsville near Grafton, but had no children. Finally, in about 1927, Edith gave birth to a daughter, Roberta Kennedy.
The 1930 census shows the Kennedy family living in Knottsville, where Thomas was a coal miner. Later, in the 1950s, he was a laborer on the state road.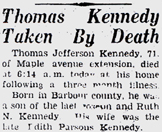 Obituary, 1950
Edith suffered from lung cancer, and died at age 60 on Aug. 10, 1950. She was interred in the Pritchard Cemetery. In her obituary, the Grafton Sentinel said that she "was a member of the Wesleyan Methodist church, Knottsville [and] had lived in this vicinity for 20 years."
Jefferson outlived her by four years, and apparently moved to Canton, Stark County, OH to live with his married daughter Roberta. At around Christmas 1953, he returned to the Grafton area, making his home on Maple Avenue Extension. He died there just three months later, at age 71 on March 25, 1954. The cause of his passing was hardening of the arteries and heart disease. He rests for eternity with his wife.
~ Daughter Roberta Louise (Kennedy) Decost ~
Daughter Roberta Kennedy (1928-2008) was born in 1928 in Taylor County.
On Aug. 18, 1947, at the age of 19, Roberta married 22-year-old Barbour County native Franklin Howard Decost (1925-1983), also spelled "De Cost." He was the son of Doddridge "Tug" and Rosa (Mayle) DeCost. The nuptials took place in Grafton, with Rev. F.J. Peoples officiating. Because she legally was underage, Roberta's parents had to provide their consent to the union.
They apparently had no children, and resided in Grafton and later Canton, Stark County.
Said the Grafton Mountain Statesman, Roberta was a "nurses aide and was a Protestant by faith."
Franklin is believed to have died at the age of 58 on July 24, 1983. A search has been made for his obituary in the Grafton Mountain Statesman newspaper microfilm collection at West Virginia University, but none was found, as obituaries were not published in the paper at that time.
Roberta survived for another quarter of a century. She passed into eternity at the age of 80, in Canton, on March 23, 2008. Her remains were returned to Grafton for burial at Knottsville Cemetery, with the Rev. Winfield Mayle officiating.
Copyright © 2005-2010, 2012, 2014, 2019 Mark A. Miner