Home

Francis 'Frank' Mayle
(1879- ? )
Francis "Frank" Mayle was born in March 1879 in Barbour County, WV, the son of Hiram "Poke" and Margaret (Minerd) Mayle. The paper trail of his life story is filled with uncertainty and confusion -- so this biography will spell out the facts as they are known.
The 1900 census shows Frank making his home with his parents in rural Philippi.
Circa 1900, when he was age 21, Frank apparently was involved a relationship with his 18-year-old next door neighbor Sarah Mayle (1882-1926), the daughter of the late Boston Mayle and widowed Susan (Baker) Mayle.
Sarah gave birth to their daughter, Laura "Fez" Mayle the following year, in April 1901.
Later in 1900, on Oct. 18, 1900, Frank married 16-year-old Huldah J. Mayle (1883-1960) in Barbour County. She was the daughter of (?) Norris and "Lady" Lacey A. (or "Susan") Male.
Frank and Hulda went on to have at least two children, Harold "Harley" Mayle (born 1902) and Chester C. Mayle (born 1905).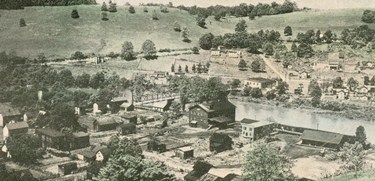 Aerial view of Philippi and the Tygart River, early 1900s
The marriage between Frank and Hulda ended sometime between 1905 and 1908.
Frank's fate after that is unknown. He has not yet been located in the federal census of 1910 and may have died sometime during that decade.
Hulda married again, at age 22, to William Andrew Collins (1877-1947), on Sept. 10, 1908. He was the son of Charley and Sally (Collins) Bishop. (William's birth year has been given also as 1872 and 1883.) Hulda and William went on to have at least one daughter, Octavus Collins (born 1910).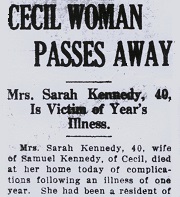 Sarah's obituary, 1926
~ Sarah (Mayle) Kennedy's Story ~
Sarah Mayle (1882-1926) -- mother of Frank's daughter Laura -- went on to wed Samuel Kennedy (1872-1954), the son of Jacob and Margaret (Mayle) Kennedy of Barbour County.
The Kennedys were farmers and lived near Grafton, Taylor County and had two children of their own -- Dorcas "Doris" (Kennedy) Thorpe Faulkner and Hayward Kennedy.
Sarah passed away on March 31, 1926, at Cecil, Taylor County. She was laid to rest in West Hill Cemetery near Grafton. Said the Grafton Sentinel, she died "of complications following an illness of one year. She had been a resident of that section for a great many years." In Sarah's newspaper obituary, her daughter Laura "Fez" Croston was not mentioned, but children Hayward and Doris were cited by name.
Samuel outlived his wife by almost three decades. He died less than a week before his 82nd birthday, on March 9, 1954, in Weston, Lewis County, WV.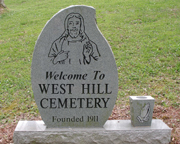 Sarah's resting place
Their daughter Dorcas Kennedy (1906-1993) was born on Jan. 13, 1906 in Moatsville, Barbour County. She married (?) Faulkner. In 1970, using the name "Thorpe," she lived in Grafton, and was mentioned in Laura Croston's obituary as a half-sister. Dorcas passed away in 1993 at the age of about 87.
Their son Hayward Kennedy (1908-1987) was born on Feb. 13, 1908 in Berryburg, Barbour County. He was joined in marriage with Myrtle (Weekley) Mayle (Nov. 23, 1903-1980), a native of Doddridge County and the daughter of Reason and Susan (Gain) Weekly. The bride was about five years older than the groom. She had been married previously in 1916 in Oakland, MD to Harley Mayle (1899-1981), and then divorced on grounds of crueley in or near Detroit, Wayne County, MI on Feb. 8, 1929. She thus brought a daughter to the marriage, Collena (Mayle) Mayle. Their known children were Emalee Kennedy, Jackie Kennedy and Dorothy Bell Kennedy. The federal census enumeration shows that circa 1935-1940 the couple dwelled in Cecil in the Court House District of Taylor County, WV, where he was employed as a coal miner. During the 1930s, in a desperate move to support his family, Hayward was involved with moonshining and transporation of rum in his Chevrolet and evaded police from time to time. He eventually was arrested and photographed in jail, having been found with 27 gallons of the hooch in four kegs and two one-gallon jugs. Grief blanketed the family in 1936 when infant daughter Dorothy contacted meningitis and died. Hayward served in the U.S. Armed Forces. In about 1950, they moved to Core, a small community in Monongalia County, WV. Then in 1970, Hayward was was named in the Barbour Democrat obituary of his half-sister, Laura (Mayle) Croston. At some point Myrtle made her home in Aurura, Portage County, OH, Sadly, Myrtle died there on Oct. 25, 1980 at the age of about 79. Hayward outlived her by seven years and passed away on May 14, 1987 at the age of 79. Burial was in Beverly Hills Memorial Park in Morgantown. [Find-a-Grave]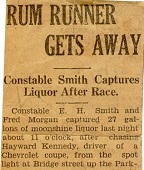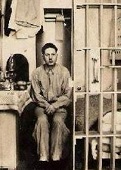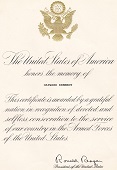 News story about "Rum Runner" Hayward Kennedy and a photo of him in jail. Right: proclamation signed by President Reagan honoring Hayward for his service to our nation in the U.S. Armed Forces.
Step-granddaughter Collena Mayle (1917-1976) was born on Sept. 27, 1917, the daughter of Harley Mayle. Colleen was age 12 when her parents divorced. She was joined in wedlock with Carel Douglas Mayle (March 8, 1912-1969), son of Lafayette and Alice Louise (Dalton) Mayle. Carel was a veteran of World War II, having served with the 97th Chemical Mortar Battalion. The couple relocated to Canton, Stark County, OH. Carel was swept away by the Grim Reaper in Canton at the age of 57 on Aug. 9, 1969. Collena survived her spouse by seven years. She passed into eternity at the age of 58 on Aug. 1, 1976. Her remains were placed into eternal rest in Pritchard Cemetery in Clemtown, Barbour County.
Granddaughter Dorothy Kennedy (-1936-) was born on April 18, 1936 in Cecil, WV. Grief blanketed the family on June 30, 1936 when Dorothy, age two months and 12 days, passed away. Her tender remains were lowered into repose in West Hill Cemetery. Of her passing, a physician wrote that the cause was meningitis and that she "may have been injured at Birth."
~ Fate of Frank's Widow, Huldah (Male) Mayle ~
When the 1910 federal census was taken, Frank's family of children was divided. Daughter Laura (age eight) resided in the home of her widowed grandmother, 60-year-old Susan Male in Philippi. Son Harold (age eight) and Chester (age five) lived with their mother Hulda and step-father William A. Collins in Philippi, as next door neighbors to Frank's parents Hiram "Poke" and Margaret (Minerd) Mayle and just a few houses away from Frank's brother Elsworth "Elzie" Mayle. In the 1910 census, Hulda's second husband William Collins was a laborer performing "odd jobs."
Sadly, son Harold Harley Mayle (1902-1914) died at the age of 12 in 1914, of causes unknown.
Hulda is not to be confused with Hulda J. Collins (1885-1914) who died in 1914 and is buried in Welch Cemetery in Phillippi. She died in the son of her home Clarence Morrison in Cleveland, OH on May 30, 1960.
William A. Collins died on Jan. 3, 1947, at the age of 70. He was buried at Welch Cemetery in Philippi.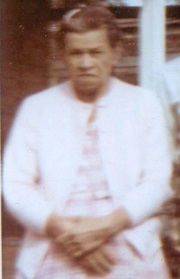 Laura "Fez" Croston
~ Daughter Laura "Fez" (Mayle) Croston ~

Obituary, 1970
Daughter Laura "Fez" Mayle (1901-1970) was born on April 3, 1901.
Laura married World War I veteran Earl "Roe" Croston (1892-1934), the son of Lewis and Darcella "Druzilla" (Newman) Croston. She was age 17, and he 23, at the time of their marriage in about 1918. With the West Virginia drawl, Earl's name sometimes was pronounced "Oral."
Laura and Earl were longtime farmers in the Philippi area, residing on Chestnut Ridge.
The Crostons had 11 known children, Nichodemus Croston, Saragourney ("Sygurnine" or "Sigerno") Newman, Isabelle Newman, Orlenis Dalton, Miranda Mayle, Edgar Croston, Jethro Croston, Amond "Amon" Croston, Evelyn "Evelene" Kennedy, Loretta "Rettie" Newman and Violene Kennedy. Eight of these children were alive as of 1934.
The federal census of 1930 shows the family making its home in the Philippi District of Barbour County, with their six eldest children living under their roof. Coming into the household within a year or two was Earl's aged mother.
During the heart of the Great Depression, in early 1934, Earl faced despair over mounting financial pressures and his ill health. Said the Philippi Republican, his "family and his neighbors said that he had been acting strangely for about three months" in the spring and early summer of that year. On the morning of July 2, 1934, he got up early and left home with his shotgun. In a front-page story, the Republican reported what happened next:

Philippi Republican, 1934
Shortly afterwards their daughter, who was near the house milking, heard a shot as did Joe Mayle, a nearby-neighbor, and different other ones heard the shot. Mayle and members of the family went in the direction of the shot and found Crosten in the woods near the path leading to a spring propped up against a tree. He had stuck the gun through the fence to hold it up against him and then had pulled the trigger with a small stick. The shot killed him instantly.
Local police were called, and the county sheriff, coroner and health physician came to the scene. No inquest was held, as the cause of death was plainly visible. After a funeral at their home on Chestnut Ridge, his remains were buried in Welch Cemetery.
Laura outlived her husband by 36 years and "was a Protestant by faith," reported the Barbour Democrat. She passed away at the age of 69, at Broaddus Hospital in Philippi, on Oct. 17, 1970. The funeral was held at Olive Hill Church, led by Rev. Winfield Mayle, followed by burial at at Welch Cemetery. At the time of Laura's death, she had produced two grandchildren and 15 great-grandchildren.

Broaddus Hospital in Philippi, where Laura "Fez" (Mayle) Croston passed away in 1970, as did many of her kin over the years.
Son Nichodemus Croston (1916-1918) was born in about 1916. He only lived to the age of 16 months, and, after contracting a deadly case of spinal meningitis, died in Barbour County on Feb. 2, 1918. Nothing more is known. His name is mentioned in the obituaries of many of his adult siblings.
Daughter Miranda "Merranda" Croston (1918-2003) was born on July 13 or 23, 1918 in Meriden, near Philippi, Barbour County. At the age of 19, she married 24-year-old Luther Mayle (1913-1944), son of John and Stella (Norris) Mayle. The marriage ceremony was held on April 29, 1937, in Philippi, led by Durward Belmont Brown. They went on to have six children -- Delbert Lee Mayle, Nellie Rosalee Kennedy, Harry Junior Mayle, Emogene Sparks, and twin daughters who died in infancy. Sadly, while swimming in the Tygart River on June 15, 1944, he accidentally drowned, at the age of 31. He was buried in the Norris Cemetery. As a young widow, Miranda made her residence in Philippi for decades, and was a homemaker. She suffered the deaths of her adult children Harry and Emogene. She died after an extended illness on Feb. 20, 2004, at the age of 85. Rev. Winfield Mayle officiated at her funeral, followed by burial in the Mayle Cemetery.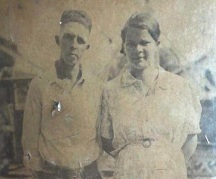 Neshion and Sygurnie (Croston) Newman
Daughter Sygurnie (or "Sygurnia" or "Saragourney") Croston (1919- ? ) was born on May 4, 1919 (or maybe 1921). She only attended school through the fourth grade. On May 20, 1937, the 21-year-old Sygurnie married 22-year-old Neshion Newman (1915- ? ), son of Delbert and Ada Newman. Rev. M.C. Harris performed the nuptials. (Neshion's sister Dosha Newman wed Enoch Mayle, son of Ruth Ann [Minerd] Mayle.) Neshion had a little more schooling than his bride, having finished seventh grade. The couple is seen here circa 1938 -- she was pregnant at the time, but lost the baby in December of that year. When the federal census was taken in 1940, they lived in Meriden near Philippi, with Neshion employed as a road laborer. Sygurnie's age in the 1940 census was given as "19." She passed away before 1970. Neshion's fate is unknown.
Daughter Evelene "Evelenie" Croston (1922-2010) was born on March 17, 1922, in Philippi. On Nov. 4, 1938, when she was 15 years of age, she was joined in wedlock with 22-year-old Robert Kennedy (1916-1982). Because Evelene was legally underage, her mother Laura provided consent to the marriage. Rev. M.C. Harris, pastor of the African Methodist Episcopal Church, officiated. The Kennedys initially made their home in Philippi. Sometime after 1939, they relocated to Canton, Stark County, OH, where they apparently spent the balance of their lives. They produced an only daughter, Josephine Newman. Robert passed away on March 15, 1982, at the age of 66, in Waynesburg, Stark County, OH. His remains were returned to his native West Virginia, with Rev. Charles Delaney leading the funeral service, followed by interment in Welch Cemetery. Evelene outlived him by more than a quarter of a century. She succumbed in Aultman Hospital in Canton on May 31, 2010, at the age of 88.
Granddaughter Josephine Croston (1939-2018) was born on June 15, 1939 in Philippi. When she was 24 years of age, on Aug. 24, 1963, she was united in holy matrimony with Robert Newman ( ? -living). They couple made their home in East Canton and produced four sons -- Danny Newman, Robert Newman, Michael Newman and Jerry Newman. Sadly, the Newmans endured the untimely deaths of sons Danny and Robert. At the age of 78, as a patient in Mercy Medical Center, Josephine died on Jan. 2, 2018. An obituary in the Canton (OH) Repository noted that funeral services were held in Philippi, with burial in Welch Cemetery, with Terry Newman officiating. Their son Michael wedded Tracy (?), and they live in East Canton.
Son Jethro Croston (1924-2006) was born on March 1, 1924, in Barbour County. At the age of 20, on May 31, 1944, he married 20-year-old Elsie Miner (1923-1992), daughter of William "Babe" and Emaline (Croston) Miner, and grandson of George Riley Minard. Rev. M.C. Harris, minister of the African Methodist Episcopal Church, officiated. The Crostons made their home on 212 Chestnut Street in Philippi, and had two children -- Marty Croston and Veldean Mayle. A World War II Army veteran, Jethro was a longtime coal miner and farmer, and enjoyed hunting and gardening. Elsie, said the Barbour Democrat, "was a member of the Church of the Lord Jesus Christ." At the age of 69, Elsie died on Aug. 26, 1992, at Grafton City Hospital, "following an extended illness," reported the Democrat. She was laid to rest in the Welch Cemetery, following a funeral led by Rev. Marvin Brown. She was survived by six grandchildren, two great-grandchildren and three step-grandchildren. Jethro survived Elsie by 14 years, and passed away in Philippi at the age of 82 on May 30, 2006.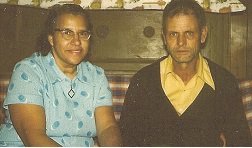 Edgar and Pauline (Hill) Croston
Son Edgar Croston (1926-2005) was born on April 8, 1926 in Philippi. He is known to have spent his adult years in Zanesville, Muskingum County, OH. Said the Zanesville Times Recorder, "He worked in construction for several companies most of his life and enjoyed fishing and hunting." On Aug. 29, 1951, when he was 25 years of age, Edgar was united in the bonds of holy matrimony with 23-year-old Pauline M. Hill (April 17, 1928- ? ), the daughter of William E. and Martha E. (Mayle) Hill. The couple went on to produce a family of four known children together -- Brenda Croston, Robert W. Croston, Laura Croston and Ella Rose Croston. Heartache rocked this family in May 1966 when Pauline's brother William Thomas Hill took his own life near Zanesville with a .12 gauge shotgun after allegedly killing his brother in law Leo Leon Lucas and Leo's girlfriend Elsie Lee Saylor. In 1976, Pauline was employed as a cafeteria worker at Roosevelt Junior High School in Zanesville. Their final address together was on Walnut Street. Sadness descended upon the family when, at the age of 79, on April 20, 2005, Edgar surrendered to the angel of death at home in Zanesville "after a long illness," said the Times Recorder. His survivors included four grandchildren and three great-grandchildren. His mortal remains were laid to eternal rest in Woodlawn Cemetery, with Rev. Terry F. Newman and Rev. Michael L. Bullock co-officiating the funeral service, held at the Wings of Hope Tabernacle Church.
Granddaughter Brenda Croston ( ? - ? )
Grandson Robert W. Croston ( ? - ? )
Granddaughter Laura Croston was married to or a companion of Edward Mayle Sr. ( ? - ? ), son of Linda Mayle They have dwelled in Canton/Zanesville and are the parents of Stephanie Sue Mayle, Angel Torres and Edward Mayle Jr.

Great-granddaughter Stephanie Sue Mayle (1980-2022) was born on Jan. 4, 1980. She bore two children, Keira Allison and Markeese Allison and made her home n Zanesville. Said an obituary, Stephanie "loved music, her favorite being 2000's R&B and Tina Turner. She enjoyed any opportunity to sing karaoke. Stephanie was a Michigan football fan and enjoyed spending her time relaxing at home. She loved to catch her TV programs, a couple of her favorites being the Jerry Springer Show and Deal or No Deal." The family was plunged into grief when Stephanie died at the age of 42 in Genesis Hospital on Oct. 15, 2022. Jim Workman led the funeral service.

Great-granddaughter Angel Mayle ( ? - ? ) wed (?) Torres.

Great-grandson Edward Mayle Jr. ( ? - ? )

Granddaughter Ella Rose Croston ( ? - ? )
Daughter Violene Croston (1928- ? ) was born on March 1, 1928 in Moatsville, Barbour County. On Nov. 8, 1948, at the age of 20, she married 23-year-old Ralph Edward Kennedy (1925- ? ), son of Boyer and Osa Bell (Minerd) Kennedy. Rev. M.C. Harris of the African Methodist Church led the ceremony. See the Kennedy bio for more.
Daughter Isabella Croston (1928?-1988) was born on May 28, 1928 (?) in Meriden, near Philippi, Barbour County. At the age of 18, on July 22, 1946, she wed 24-year-old Hubert Newman (1922-1970), the son of Marcellus and Zetta Cansoura (Kennedy) Newman. Rev. M.C. Harris, pastor of the African Methodist Episcopal Church, performed the ceremony. They are reputed to have had one child. In 1970, Isabella resided in Canton. Hubert is believed to have died in Philippi in February 1970, at the age of 48. Isabelle survived him by 18 years. She passed away in 1988.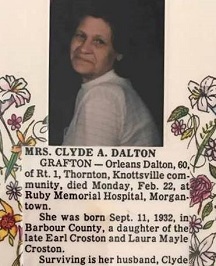 Clarksburg Exponent Telegram, 1993
Daughter Orlenis "Orleans" Croston (1932-1993) was born on Sept. 11, 1932 in Barbour County. She married World War II veteran Clyde Albert Dalton (July 19, 1926-2023), son of and one of a dozen children borne of William Riley and Elizabeth Marie (Adams) Dalton of Taylor County, WV. At the time, Orleans was but the tender age of 16, and he was 22. Their nuptials were performed on Sept. 16, 1948, in Philippi, by the hand of Rev. M.C. Harris, who also oversaw the marriages of several of Orleans' siblings. Their union endured for 48 years until cleaved apart by death. The couple produced five children -- Eva Dalton, Linda Mayle, Rita Dix, Gary Dalton and Allen Dalton. During the war, Clyde served with the U.S. Army and was deployed to the South Pacific Theatre. Upon his return home, he became employed by Consolidation Coal Company and was a coal miner for 37 years at its Osage mine. He held a membership in the United Mine Workers of America District 31. Over the years, Orleans served her family as a housewife. They attended the Methodist church and circa 1970, they made their home in the Knottsville community of Grafton. Sadness enveloped the family when Orleans died at the age of 60, on Feb. 22, 1993, in Ruby Memorial Hospital in Morgantown, Monongalia County, WV. An obituary in the Clarksburg (WV) Exponent Telegraph noted that she was survived by three brothers, four sisters and nine grandchildren. Clyde outlived his bride by three decades and moved to East Canton, OH. He liked to fish, hunt and tend his garden. At the age of 96, he died on April 15, 2023. The headcount of survivors had grown to 10 grandchildren and many great- and great-great grandchildren. Pastor Joe Palmer led the funeral service, followed by interment in Knottsville Cemetery.
Granddaughter Eva Marie Dalton resided in Philippi in 1993-2023.
Granddaughter Linda Dalton was wedded to Anthony "Tony" Mayle. Their home in 1993 was in Philippi and in 2023 in the Arden community north of Philippi.
Granddaughter Rita Dalton was united in marriage with Ralph Dix. Circa 1993-2023, they lived in Thornton, WV.
Grandson Gary C. Dalton made his home in the early 1900s-2023 in Thornton, WV. He was joined in matrimony with Delores ( ? - ? ).
Grandson Allen R. Dalton entered into wedlock with Evelyn. The couple dwelled in 1993 in Canton, OH and in 2023 in East Canton.
Daughter Loretta "Rettie" Croston (1939-2012) was born on May 11, 1939, in Moatsville, Barbour County. She was five years old when her father took his life, and she never knew his first name. (When asked for the name on her marriage license, she could not provide it.) At the age of 16, Rettie married 18-year-old Fred Newman (1937-1997), son of Alston and Alberta Newman. The wedding ceremony was held on Sept. 3, 1955, at the Taylor County residence of Rev. Fred DeCost, a minister of the Wesleyan Methodist Church. (Fred's brother Alston Junior Newman married Frances Jeannette Miner, daughter of Marion "Frank" and Lona [Croston] Miner, and granddaughter of George Riley Minard.) The couple had two daughters -- Peggy Mayle and Betty Newman. Rettie and Fred later migrated to North Canton. Fred passed away the day after Christmas 1997. Rettie survived her husband by 15 years. Following an illness of six months' duration, she died in Canton's Aultman Hospital on March 23, 2012. Her remains were returned to Philippi for burial in the Welch Cemetery.

Bird's-eye view of Canton, Ohio

Amon Croston
Son Amon Croston (1945-2017) was born on Aug. 4, 1945 in Philippi. During a military conflict in Korea in 1965-1967, he served with the U.S. Army. At the age of 20, on Dec. 22, 1965, he was joined in holy wedlock with Lois Kennedy ( ? -living), daughter of Janet Deloris (Mayle) Kennedy. They lived for many years in Canton, Stark County, OH and were the parents of Leslie Kennedy and Stephen Croston. Amon earned a living as a locomotive engineer within the plant of Republic Steel Corporation in Canton, joining the company in 1965 and working there for 37 years until retirement in 2002. Amon was a member of the Allegheny Lenape Indian Council of Canton. The founder of this website met Lois during a May 2017 visit to a mutual cousin's home in Canton. Sadly, as a patient in Mercy Medical Center in Canton, Amon passed away at the age of 72 on Nov. 13, 2017. His death ended a marriage which had spanned 51+ years. An obituary noted that he was survived by four grandchildren. Rev. Raymond Stanley preached the funeral sermon, followed by burial in Evergreen Memorial Gardens.
~ Son Chester C. Mayle ~
Son Chester C. Mayle (1906- ? ) was born in 1906.
He married Elsie Parsons (1911- ? ), the daughter of Jonah Parsons of Barbour County. Chester was 22, and Elsie 17, at the time of their wedding. They had at least two children -- John Mayle (born 1929) and May Mayle (1931-1945), born in Philippi.
When the census was enumerated in 1930, Chester, Elsie and John made their home with Elsie's widowed father, farmer Jonah Parsons. But that same year, he may have served time in the Philippi jail, as shown on another federal census record.
In 1945, they lived in a trailer camp beside Meyers Lake near Canton, Stark County, OH.
Tragically, on July 20, 1945, 14-year-old daughter May died of uremia at Canton's Mercy Hospital. Her remains were transported back to Philippi for burial.
Chester was still living in 1970, in Canton, but nothing more is known of their lives.
Copyright © 2005-2012, 2014, 2017-2019 Mark A. Miner