Margaret (Minerd) Mayle
(1843-1930)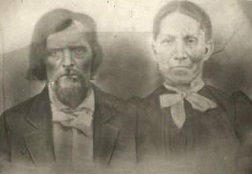 Poke and Margaret, date unknown
Margaret (Minerd) Mayle was born on Feb. 2, 1843, presumably in Fayette County, PA or in Monongalia County, WV, the daughter of Jacob and Ruth (Adams) Minerd, Sr. of the Fayette/Somerset County border region of southwestern Pennsylvania where our Minerds were pioneers in the 1790s.
Margaret's mother was a Native American, and Margaret and her siblings thus were considered of mixed race (or "mulatto" in the language of the mid-1800s).
At an early age, she moved with her parents and siblings to Philippi, Barbour County, WV, the epicenter of this family's growth and development for many years.
In 1862, when she was age 20, Margaret gave birth to a son, whom she named "William Thomas Minard." The identity of the boy's father is not known.
On Dec. 5, 1870, at the age of 28, Margaret married Hiram "Poke" Mayle (1847-1929?). He was the son of William "Bill" and Sarah "Sadie" (Norris) Male. The marriage, "the first recorded marriage with this group [of the Minard and Mayle-Male families]," is mentioned in a 1979 thesis report by Dorothy J. Cox of Marshall University, entitled A Marginal Group in West Virginia: An Historical and Cultural Study. The original marriage license is still on file today at the Barbour County Courthouse in Philippi.
The Mayles went on to produce an extraordinary 16 children, of whom only six are known -- Sarah A. Male, Lucy J. Male, Mary E. Croston Hunter, Martha Ellen (Mayle) Mayle, Elsworth "Elza" Mayle and Francis "Frank" M. Mayle. The last surviving child lived until the year 1980.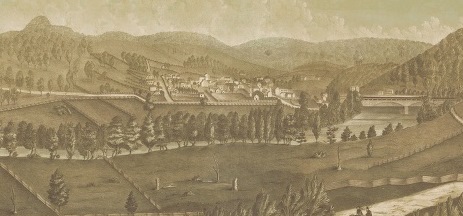 Sketch of Philippi, 1861 by Mrs. M.D. Poole. Library of Congress.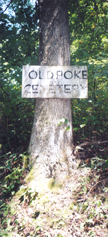 Old Poke Cemetery where the Mayles rest
The "Poke Cemetery" (also referred to as "Ole Poke") on Laurel Creek near Philippi is believed to have been named for Hiram. Many of their descendants are buried in this rural, hillside graveyard located beside a rough dirt road. The sign for this burying ground is seen here as photographed in August 2004. At times, Hiram's nickname has been spelled as "Polk."
When the federal census was taken in 1880, the Males were residing in the Philippi area, where Hiram toiled as a "farm laborer."
The Barbour County Personal Property Book for 1897 shows that Hiram was considered a "colored male." He is marked as possessing one horse, one head of cattle and two sheep for an assessed value of $35.00
The 1900 census shows the family living in rural Philippi, with Hiram's name shown as "H. Poke." They had been married for 30 years, and had 10 children, of whom eight were living. In their household that year were son Francis and grandchildren Stella Croston, Huldah Croston and Roy Croston.
The federal census of 1910 shows Hiram (named "H.P.") and Margaret residing in Philippi, having been married for 40 years. His occupation was listed as general farming. Grandson Roy Croston, age 16, lived in their home that year. The census indicated that Margaret had produced 13 children, but that only four were alive.
When the federal census was enumerated in 1920, Hiram's occupation was coal miner. His name is spelled "Harm," which may reflect how it was pronounced. That year, their seven-year-old grandson Andrew Male resided in their household. To the grandchildren, they were affectionately known by "Grandpa Poke" and "Granny Marg."
Hiram died sometime before Margaret, but the specifics are not yet known. It is possible he succumbed on April 9, 1929, at the age of 83, and was buried in the Male Cemetery. On the death certificate for this man, named "Poke Male," it shows his wife to be "Nancy," and not "Margaret. It was signed by "Elzie Male" of Philippi, believed to be their son. This needs to be investigated in more detail.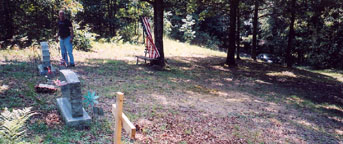 Researcher Eugene Podraza in the steep Poke Cemetery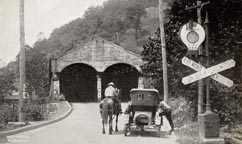 Philippi's famed covered bridge
At the age of 87, on March 19, 1930, Margaret passed away in Philippi. The cause of death was not recorded. She was laid to rest at the Chestnut Ridge Cemetery, where her brother Henry is buried. No obituary was published by the local newspaper. Her official certificate of death lists her father as "Jacob Minard" and mother as "Ruth Adams," with information provided by her son William. There is no marker indicating her burial site today.
Seen here: view of the railroad crossing at the famed covered bridge in Philippi, a scene familiar to all of the Minerd and Male families residing in the area.
~ Daughter Sarah Male ~
Daughter Sarah Male (1869- ? ) was born in 1869.
Her life needs to be researched more fully. She may well be a step-daughter, as her birth pre-dates Margaret's wedding.
~ Daughter Lucy Male ~
Daughter Lucy Male (1872- ? ) was born in 1872. She seems lost to history.
~ More ~
We are grateful to Male-Mayle-Mayhle family researcher Bernard Mayhle for generously sharing his findings based upon extensive research.
Click here to view a chart listing the hundreds of known marriages between the Minerd-Minard-Miner and Mayle-Male families before World War II.
Be sure to visit Margaret's page on the TribalPages.com website compiled by Barb Nelson with significant excerpts from our research and website.
Copyright © 2005-2011, 2013, 2015, 2020 Mark A. Miner
Sketch of "Town of Philippi, Barbour County, West Virginia, 1861," by Mrs. M.D. Pool of Virginia, Library of Congress Geography and Map Division, Call No. G3894.P47A3 1861 .P6. Image of Margaret and Hiram Mayle courtesy of Dancing Elk.