Delbert B. 'Dell' Minard
(1878-1969)

Delbert Minerd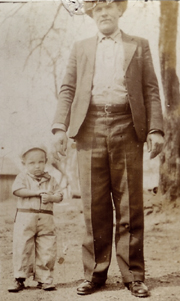 Delbert with unknown child
Delbert B. "Dell" Minard was born on March 3, 1878 in or near Philippi, Barbour County, the son of Henry C. and Sarah Catherine (Croston) Minerd.
Delbert never married.
As an adult, he stood 5 feet 7½ inches tall, and weighed 175 lbs., with black hair and blue eyes. Some considered him to be "stout."
In 1909, when he was age 31, Delbert was the informant for the marriage license issued for 79-year-old George W. Male and 75-year-old Nancy Croston. The wedding took place on Chestnut Ridge on April 12, 1909, by the hand of W.H. Sturm. Delbert's connection to the elderly newlyweds is not yet known -- could they have been uncles or aunts?
A longtime farmer in the Meriden and Chestnut Ridge section of Philippi, Delbert faced a lifetime of the hardship of prejudice due to his mixed race heritage.
Delbert once was photographed standing with a boy who has not yet been identified, with the image shown here. The suit pants feature a crisp crease and are cuffed.
When at age 40 he signed his World War I registration card, in 1918, he was marked as a "Negro" and the registration officer wrote: "Claims to be white but generally called colored."
At the time the U.S. Census was taken in 1930, Delbert lived in the Knottsville section of Barbour County, under the roof of his sister and brother-in-law, Icie and Josiah Kennedy Jr. His name was spelled "Miner" in the record.
A decade later, the federal census enumeration of 1940 shows the 60-year-old Delbert sharing a home in Knottsville with 58-year-old, widowed Icie. His occupation was marked as "farmer," and the census-taker spelled his name "Miner."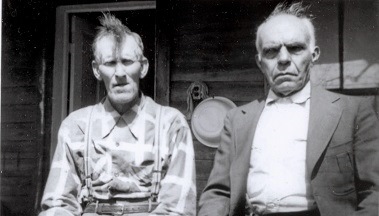 Delbert, right, with an unidentified friend.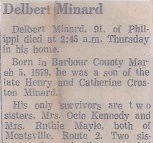 Welch Cemetery and Fairmont Times obit
When during World War II he again registered for the draft, at age 64, he resided in Knottsville, Taylor County and named his sister Icy Kennedy as his next of kin. On the draft card, his name was spelled "Minerd" and he was marked as "white."
Delbert passed away at his home on April 17, 1969, at the age of 91, and was laid to eternal rest in the Welch Cemetery near Philippi. Funeral services were led by his nephew, Rev. Isaac "Brother Ike" Kennedy, and his obituary was published in the Barbour Democrat and Fairmont Times newspapers.
Delbert's grave marker was marked with flowers when photographed by the founder of this website in the late summer of 2004.
Copyright © 2004-2008, 2010, 2018 Mark A. Miner