Carrie 'Myrtle' (Miner)
Wilkinson Wilson Marckley
(1875-1950)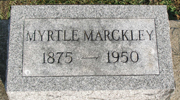 Peaceful Valley Cemetery
Carrie "Myrtle" (Miner) Wilkinson Wilson Marckley was born in 1875, in or near Omega, Marion County, IL, the daughter of Chance and Martha (Jones) Miner. She was married three times by the age of 26, and alternately went by the names "Carrie" and "Myrtle."
Myrtle's first marriage was at the tender age of 16, to 23-year-old Denver E. Wilkinson (1868-1954). He was the son of J. Edward and Temperance Abigail "Abby" (Jones) Wilkinson, of nearby Meacham Twp., Marion County. As Denver's mother was a Jones, it's possible that he and Myrtle were cousins. The wedding took place on May 6, 1891, by the hand of, and at the home of, H.A. Van Deusen, a minister of the Gospel. Myrtle's sister Dora Miner was listed as a witness.
The Wilkinsons bore one daughter, Lela (Wilkinson) Flanagan, born on May 26, 1892.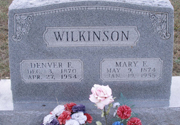 1st husband's grave, Phillips Cem
Denver was employed as a carpenter. The marriage ended within a few years, although there is no record of any divorce in Marion County. He went on to marry Mary E. Butts (1874-1955). They had six children, and they lived long lives. Denver died on April 27, 1954, and is buried in the same Phillips Cemetery as his former father in law, Chance Miner. Mary died on Jan. 19, 1955. Their grave marker is seen here.
Myrtle married again on Sept. 29, 1897, to Stephen Wilson (1868- ? ), a 29-year-old teamster residing at Kinmundy, Marion County. He was the son of W.B. and Mary (Pierson) Wilson, and had been married once before, to Anna Blackburn. The marriage ceremony took place at the home of Perry Vandevere, a minister of the Gospel, witnessed by H.B. Vandever and M.C. Fowler. Myrtle's daughter Lelah was sent to live with her grandparents, Chance and Martha Miner, as shown by the 1900 federal census.
The Wilsons' marriage ended quickly. On June 17, 1900, when she was 26, Myrtle married for a third time. Her husband was James Holten Marckley (1866-1958), a 34-year-old blacksmith from the town of Odin, Marion County. (His name also was spelled "Merckley"). Born in Iowa, the son of Thomas and Emma (Foot) Merckley, he also had been married once before. The Marckley wedding took place in Odin, by John Lockart, a minister of the Gospel, with Ben and Anna Moore as witnesses. On their marriage license, Myrtle's parents were listed as "Gancy Miner" and "Martha Jowen."
The Marckleys produced three known children -- Dora May Flanagan, James Marckley and Woodrow Marckley.
Little is known about the rest of Myrtle's life. She resided in and around the Odin/Patoka area.
In 1950, at the age of 75, Myrtle passed away. Her obituary in the Salem Republican reported that she had "spent her entire life in Marion County." She was laid to rest in the Peaceful Valley Cemetery in Odin. Today, a small stone marks her grave, and she rests beside her daughter Lelah and grandson Forrest Flanagan. Unfortunately, records of her funeral arrangements at the Wilson Funeral Home were destroyed by fire.
Peaceful Valley Cemetery, Odin, Illinois
~ Daughter Lela (Wilkinson) Flanagan ~

Obituary, 1981
Daughter Lela Wilkinson (1892-1981) was born in 1892 in Marion County, IL. Her name sometimes has been given as "Elza."
At the age of 21, on April 19, 1913, she married 24-year-old James Lafayette Flanagan (1885-1961). He was the son of Obidiah Benjamin and Melvina (Myers) Flanagan. Their wedding took place at the home of justice of the peace George West in Odin, Marion County, an event witnessed by Walter and Ora Rippey.
The Flanagans spent their married lives residing in Odin. They produced at least four children -- Forrest E. "Podge" Flanagan, Alice Tabor, Barbara Brake and James Owen Flanagan.
James was "a farmer and a retired coal miner," said the Centralia Sentinel. "He was a lifelong resident of Marion County."
When the federal census enumeration was made in 1920, the Flanagans dwelled in Odin, next door to James' parents, with James laboring in a local coal mine.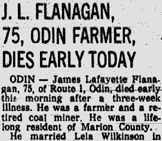 Obituary, 1961
The 1930 census of Salem Township shows James working as a machine man in the mines.
As the nation's economy collapsed during the Great Depression, Illinois coal mines may have been a casualty. James turned to farming during that time and is shown as such in the 1940 United States Census.
James died at the age of 75 on Feb. 24, 1961.
Lela survived James by more than two decades.
She passed away on Feb. 22, 1981. At the time of Lela's death, she and her husband had 14 grandchildren and 22 great-grandchildren. They are buried together, beside Lela's mother, at the Peaceful Valley Cemetery.
Son Forrest E. "Podge" Flanagan (1913-1991) was born on Sept. 13, 1913. On April 28, 1938, he married Janice "Fern" Williams (March 10, 1918-2008), a native of Odin, Marion County. Forrest was "an oil field pumper for Nick Barbre Oil Co.," said a local newspaper. "He was a lifelong Odin resident and a member of Odin First Baptist Church." The Flanagans had two daughters -- Nell Pierce and Karen Bierman. Forrest died at age 77, on Jan. 30, 1991, and was interred at Peaceful Valley Cemetery. Fern survived her husband by 17 years. She succumbed to death at the age of 90 on Oct. 4, 2008.
Granddaughter

Nell

Flanagan

married (?) Pierce.
Granddaughter Karen

Flanagan

wedded (?) Bierman
Daughter Alice Flanagan (1917-1998) was born on Oct. 29, 1917 in Odin, Marion County. She married Floyd W. Tabor (Oct. 31, 1910-1988), a native of Crider, Howell County, MO and the son of Arthur Raymond and Athra Dell (Davis) Tabor. They were the parents of four -- Dean Tabor, Richard Tabor, Linda Paddick and Mary Lou Nash. Floyd earned a living through employment with Texaco Pipeline. The Tabors resided in Sumner, IL at the address of 200 West Cedar and belonged to the Central Christian Church. Floyd was a member of the Masons lodge in Sumner. Sadly Floyd died in Richland Memorial Hospital in Olney, IL on Jan. 22, 1988. Rev. James Kerr led the funeral service, with an obituary appearing in the Sumner Press. Alice survived for another decade. As a patient in Lawrence County Memorial Hospital, she succumbed to death at the age of 80 on July 21, 1998. She rests beside Floyd in Sumner Cemetery. An obituary in the Olney (IL) Daily Mail said she was survived by nine grandchildren and 16 great-grandchildren.
Granddaughter Linda Tabor was joined in wedlock with David Paddick. They were in Fisher, IL in 1988-1998 and in London, KY in 2013.
Granddaughter Mary Lou Tabor (1939-2013) was born on Nov. 25, 1939 in Odin, Marion County, IL. She was united in matrimony with Donald L. Nash (Aug. 20, 1931-1978). The one son born to this marriage was Donald Nash. During the Korean War, Donald had served with the rank of corporal in the U.S. Army. The couple dwelled in Sumner, Lawrence County, IL, where they were members of the Central Christian Church. Said the Vincennes (IN) Sun-Commercial, Mary Lou was "a fine Christian woman who thoroughly enjoyed spending time with her family and friends playing cards, telling jokes, laughing, and having a good time. Mary Lou will be remembered for her singing, piano playing, and her famous chocolate chip cookies." Mary Lou was rendered a widow when her husband died at the age of only 46 on Jan. 11, 1978. She survived for another 35-plus years. As her health plummeted, she was admitted to Good Samaritan Hospital in Vincennes, Knox County, IN. The Grim Reaper of Death cut her away there at age 73 on July 16, 2013. Interment of the remains was in Sumner Cemetery. Their son Donald married Kim and was the father of Clinton Nash, Allison Nash and Olivia Nash.
Son James Owen Flanagan (1925-1978) was born in about 1925 in Odin, Salem Township, Marion County. During World War II, he served in the U.S. Army with the rank of private. On or about May 11, 1947, in nuptials held in Bloomington, , McLean County, IL, he was united in holy matrimony with Harriet Campbell (1928-2017). She was a native of Clinton, DeWitt County, IL and the daughter of Francis and Olive (Brown) Campbell. The offspring born to this union were Francis Flanagan, Kathy Snyder, Patti Boda and James Flanagan. The family resided in Cooksville near Bloomington in the early 1960s. They were members of the Union Church of Cooksville. James worked as a construction laborer and later as a sheriff's deputy for the County of McLean. Harriet earned income working in the cafeteria of the Octavia School District. In his spare time, he belonged to the Moose lodge in Bloomington and the American Legion post in Colfax. James died in Chicago's West Side Veterans Administration Hospital at the age of 54 on July 19, 1978. Rev. Keith Olson presided at the funeral service. James sleeps for all time in East Lawn Memorial Gardens in Bloomington. An obituary was printed in the Bloomington Pantagraph. Harriet lived as a widow for another nearly four decades. As her health declined, she was hospitalized at Heritage Health in Normal, McLean County. She was gathered away by the Angel of Death at the age of 88 on May 28, 2017.
Grandson Francis L. "Frank" Flanagan (1948-1971) was born on Feb. 25, 1948 in Bloomington, McLean County, IL. Sadly, at the age of 23, he passed away in Decatur, Macon County, IL on Oct. 7, 1971. Burial was in East Lawn Memorial Gardens in Bloomington. Inscribed on his flat bronze grave marker are the words "Beloved Husband."
Granddaughter Patricia "Patti" Flanagan (1950- ? ) was born in about 1950. She was married twice. Her first husband was (?) Handt ( ? - ? ). They dwelled in Danville. Later, she wedded Edward Boda ( ? - ? ). The couple made a residence in 2017 in Avon, IN.
Daughter Barbara Sue Flanagan (1931- ? ) was born in about 1931 in Salem Township, Marion County. She married Kenneth Brake ( ? - ? ). Circa 1978, they lived in Fisher, Champaign County, IL.
~ Daughter Dora May (Marckley) Flanagan ~
Daughter Dora May Marckley (1901-1994) was born on Nov. 27, 1901.
She married Fay Flanagan (1893-1982), the son of Benjamin and Melvina (Meyers) Flanagan. The Flanagans were members of the Baptist Church in Odin, and spent their lives in the Odin and Patoka areas.
They had three children -- Donald Fay Flanagan, Wanda Branum and Norma Jeane Brown.
Sadly, Dora endured the death of her son Donald at age 63, which occurred in 1986 at Lackland Air Force Base Hospital in Texas.
Dora outlived her husband by more than a decade. She was in Patoka, IL circa 1986 when named in the Michigan newspaper obituary of her brother James.
She passed away at the age of 92 on Jan. 12, 1994.
Son Donald Fay Flanagan (1923-1986) married Tarlie Barrett in 1943, during World War II, in Pascagoula, MS. They had one daughter, Patricia Faye Flanagan. Said a newspaper, Donald was "a member of the Church of Christ and was a veteran of the U.S. Navy, serving in World War II and in Korea. He joined the Navy on Dec. 8, 1942, and retired in June of 1962 as an E7 equipment operator chief. He also worked four years as caretaker at the Peaceful Valley Cemetery in Odin. He was born and raised in Odin and returned to Odin in 1971." After Donald's death at age 63 in Texas, as noted above, his remains were returned to Odin for burial in Peaceful Valley Cemetery.
Daughter Wanda May Flanagan ( ? - ? ) married (?) Patoka ( ? - ? ).
Daughter Norma Jean Flanagan ( ? - ? ) married John Brown ( ? - ? ).
~ Son James S. Marckley ~
Son James S. Marckley (1908-1986) was born on Jan. 17, 1908 in Odin, Marion County, IL.
At the age of 20, on Jan. 3, 1929, he was united in marriage with 18-year-old Ethel M. Branch (March 9, 1910-1999). The wedding was held in Salem, IL. She was a native of Centralia, IL and the daughter of Andrew and Bessie (Bryant) Branch.
The couple initially lived in Odin and produced a daughter, Nancy L. Wischer.
James was employed for more than four decades with Eaton Corporation, where he worked as an electrician and also as a union official with the United Auto Workers Local 220. He started his new job on May 21, 1929 with the Eaton Marshall Division of Eaton Yale and Towne, Inc. During his early years with the company, reported the Battle Creek Enquirer, "he progressed through various assignments -- lathe operator, shipping and receiving helper, grinder hand and electrician helper. For the past 18 years, he has worked as an electrician." In 1936, the family relocated to Marshall, Calhoun County, MI to be closer to his workplace.
Having demonstrated his abilities, he was elected in 1939 to the shop committee of the UAW. In 1940-1942, he served as president of Local 220. He moved into management as a foreman so was forced to resign from the union. He joined the U.S. Navy during World War II, serving from April 24, 1943 to Nov. 19, 1945, and achieving the rank of machinist mate first class. He returned home after the war and resumed employment with Eaton. He was given a position in the union bargaining unit and again was elected president, keeping the title until 1954. After a year away from union leadership, he once more was elected presidentin 1955 and held it for the next 14 years until his retirement. When he finally punched out of the job for the last time in May 1969, he was featured in a story in the Enquirer.
Ethel spent her working years with Woodlin Metal Company in Marshall. After its closure, she became a waitress at Steve's Place in Marshall and at Win Schuler's Restaurant.
The couple appears to have spent their winters in Florida and in 1981 were in Grove City, Charlotte County, FL. Their address in Marshall was 116 East Pearl Street. James belonged to the local Moose lodge.
James died in Marshall's Oaklawn Hospital on March 1, 1986, at the age of 78. An obituary appeared in the Enquirer.
As a widow, Ethel lived for another baker's dozen years, remaining in Marshall. She died at home at the age of 89 on April 14, 1999. Her obituary also was published in the Enquirer.
Daughter Nancy Marckley ( ? - ? ) wedded (?) Wischer. The couple lived in Battle Creek before establishing a residence in Oxnard, CA, where they lived in 1986. By 1999, they relocated to Scotch Valley, CA. They were the parents of five children and grandparents of 10.
~ Son Woodrow Wilson Marckley ~

Obituary, 1984
Son Woodrow Wilson Marckley (1914-1984) was born in 1914.
He married Flora Fisher (Dec. 17, 1916-2012), daughter of Asa and Minnie (Sellers) Fisher of Salem, IL. Their wedding took place on Jan. 18, 1936.
Circa 1950, they lived in Graysville, but later moved to Salem, IL.
The Marckleys bore one son, Lonnie Marckley.
Woodrow was a "sales clerk for Salem Energy Company, a member of the Grace United Methodist Church, the Salem Senior Citizens, the HADI Temple of the Grand Lodge of A.F. and A.M., and the Ancient Accepted Scottish Rite," said a local newspaper. Flora belonged to the Shelba Chapter of the Order of Eastern Star in Albion.
Woodrow died of cancer on Sept. 2, 1984, at the age of 70, and is buried at Hillcrest.
Flora outlived him by decades. She passed into eternity at the age of 95, as a resident of Centralia Manor, on March 1, 2012.
Son Lonnie Marckley (1944- ? ) was born in (?). He was twice married. His first spouse was Cleo Biagi (1947-1994), of Centralia, Marion County, IL. They bore at least one son, Scott Marckley and perhaps also Lisa Anglen, Diane Philyaw and Amy Donoho. Sadly, Cleo passed away in 1994 at the untimely age of 50. Interment was in Hillcrest Memorial Park in Centralia. Lonnie married again to Cindy ( ? - ? ). Lonnie dwelled in Central City, IL in 1984 and Centralia in 2005-2012.
Grandson Scott Marckley

married Tasha Schustek. She brought two children to the union, Tori Schustek and Nate Schustek. The couple produced a daughter of their own, Skylar Paige Marckley. Circa 2005, the Marckleys resided in Fountain Inn, SC. Grief cascaded over the family when four-month-old daughter Skylar died in Greenville Memorial Hospital on March 23, 2005. The baby's tender remains were laid into eternal sleep at Graceland East Cemetery, with Rev. Neil Cochran preaching the funeral sermon.
Granddaughter Lisa

Marckley

wed (?) Anglen

.
Granddaughter Diane

Marckley

married (?) Philyaw.
Granddaughter Amy

Marckley

was joined in wedlock with Joseph Donoho.
Copyright © 2007, 2014, 2020 Mark A. Miner
Thanks to Harold Boyles, president of the Marion County Genealogical Society, for his extensive research assistance at the Bryan-Bennett Library in Salem, IL