Charles Harrison 'Harry' Miner
(1890-1961)

Charles "Harry" and Gladys
Charles Harrison "Harry" Miner was born on April 1, 1890 near Hartsburg, Putnam County, OH, the son of Joseph and Mary Jane (Courtney) Miner.
He was only a young boy when his father died, and he lived with his widowed mother in Lafeyatte, Hardin County, near the Allen County border.
When Harrison was five and a half, in November 1895, his mother and older brothers Simon and William were arrested for the murder of a neighbor, William Rumbaugh. His mother and Simon were found guilty and sentenced to 10 years of hard labor in the Ohio state penitentiary in Columbus.
This series of events left Harrison without parental supervision. As he neared his sixth birthday, in March 1896, he and an 7-year-old girl, Dora Brice, were found at the courthouse in Lima. The Lima Times Democrat called them "two little waifs" and said they were begging for money so they could travel to an aunt's home in Dupont, Putnam County. "The little boy was probably 6 or 7 years old and was a very bright little fellow. He said his name was Harrison Miner and that his father was dead and that his mother was in the pen, but could not tell for what crime. They were in a sorrowful condition."
As an adult Harry was tall and of medium build, with blue eyes and light brown hair. He may have worked in scrap and salvage in the mid-1910s.
On June 9, 1913, at the age of 23, he married his first wife, 18-year-old Gladys Matson (1895- ? ). She was a native of Putnam County and the daughter of Austin and Inez (Hanville or Bebee) Matson of Kalamazoo. Fannie Miner and Winifred Anderson, both of Kalamazoo, witnessed the ceremony, officiated by Kalamazoo County Probate Judge, the Hon. Samuel H. VanHorn.
In 1918, Harry, Gladys and their child lived in Kalamazoo, Kalamazoo County, MI. With World War I raging in Europe, he registered for the military draft in February 1918. He disclosed to the draft officer that he had no job, to which the officer noted on the card that it was due to "willful neglect."
He eventually was drafted into the Army, and was sent overseas. He was wounded in action, but due to a mix-up in communications, the military advised his wife that he was dead. When he eventually was discharged from the Army hospital and came home, he found that she had married someone else.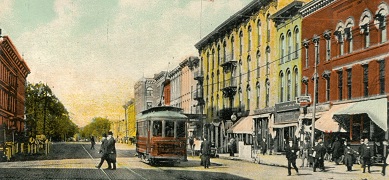 Kalamazoo's busy Main Street, early 1900s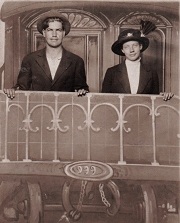 Harry and Gladys, in a postcard sent to his brother Simon
In fact, records of Allegan County in Michigan show that on Feb. 17, 1919, just three months after the war's end, Gladys resided at Greenville and married machinist John C. Southwell. She was age 24, and he 25, at the time. John was the son of Orin F. and Minerva (Stillson) Southwell, and was living in Allegan at the time.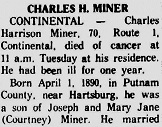 At the age of 37, he married his second wife, 21-year-old Ellen Moore (1906- ? ), daughter of William and Anna (Hudson) Moore of Hoytville, Wood County. Charles' occupation at the time was laborer. The ceremony was held on May 12, 1927, led by justice of the peace J.B. Stauffer. Husband and wife were 16 years apart in age.
He wed yet again, to Juanita Dauster ( ? - ? ).
She also had been married before and brought two daughters to the marriage, Rosella Dauster and Evelyn Holland.
Charles and Juanita resided in Ottawa, Putnam County, in the mid-1950s and by 1959 made his home in Continental, Putnam County. They were members of the Pentecostal Deliverance Mission in Continental.
Suffering from cancer, Charles endured the illness for a year before succumbing. He died at age 70 on Feb. 21, 1961. Rev. David Little officiated at his funeral, followed by burial in Kalida Cemetery. An obituary was published in the Lima News.
Copyright © 2011-2013 Mark A. Miner
Lima News obituary courtesy of Ancestry.com