Dr. Charles W. Miner
(1883-1957)


Dr. Charles W. Miner was born on Jan. 29, 1883 in Crooksville or in McLuney Station, Harrison Township, Perry County, OH, the son of Thomas M. and Maletha (Ogburn) Miner. He was an early optometrist in our family.
In about 1899, at the age of 16, Charles moved eastward with his parents to Gallitzin Township, Cambria County, PA, near where his sister Lizzie and her family were living. It is thought that Charles' brothers Will and Fred moved there about that time as well.
As a young man, Charles moved again, to New York State, and was living there in 1910. By 1918, his residence was in Little Falls, Herkimer County, NY. In 1920 he was living in nearby Herkimer Village.
Unlike his brothers Harvey and Fred, who were coal miners, Charles was a watchmaker for a jewelry store in Herkimer County.
At some point, he also became an optometrist, and for 45 years practiced in Rome, NY.
The Altoona (PA) Mirror noted that "He was of the Baptist faith."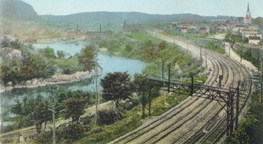 Seen at right, a picturesque view of Little Falls, along the New York Central railroad lines.
Charles married a native New Yorker named Mabel, but apparently they had no children.
In March 1945, when his brother Fred died, the Johnstown (PA) Tribune said Charles was residing in Jerome, NY.

In later years, Charles moved into the home of his married niece, Esther Erb, in Altoona, Blair County, PA.
Charles passed away in the Erb residence on Oct. 28, 1957.
The final fate of Mabel is unknown.
Copyright © 2002, 2005, 2011-2012 Mark A. Miner and Craig Adams