Frederick Miner
(1871-1945)

Fred Miner
Frederick F. Miner was born on Feb. 28 (or Feb. 15), 1871 in Sego or McCluney, Perry County, OH, the son of Thomas M. and Maletha (Ogburn) Miner. He was born the year that his grandfather, Frederick Miner Sr., passed away, and thus is thought to have been his namesake.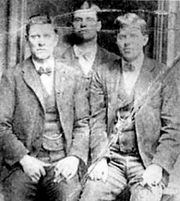 Fred with brothers Will
(left) & Charles (right)
In about 1876, Fred and his parents moved from the Sego area to nearby Bearfield Township. Then, in about 1880, his father purchased a one-half acre tract at McLuney Station in nearby Harrison Township.
Seen here, Fred poses in a photograph with with his brothers Will (left) and Charles (right).
Fred, along with his parents and brothers Will and Charles, relocated eastward in about 1899 to Cambria County, PA, where sister Lizzie Lytle and her family were already living. He settled in the town of Ashville. As in Ohio, the Cambria County region of Pennsylvania was a coal mining area, and like his brothers Harvey and Will, Fred also was a coal miner.
On Nov. 19, 1899, in Coupon, Gallitzin Township, 28-year-old Fred married Bertha Stevens (1882- ? ), the daughter of Thomas and Addie Stevens, and the ward of John Lytle. Bertha was just 17 at the time of marriage, and was 11 years younger than her husband. It is believed that they did not have any children.
In 1910, Fred resided in Cresson, and in 1918 was living in Lilly, both in Cambria County.

Cresson's skyline and nearby Pennsylvania Railroad tracks

Ten years later, in 1920, the federal census-taker listed Fred as a widower, living alone in Lilly. What happened to Bertha is not yet known.
Fred's health declined in his retirement years due to heart disease, hypertension, rheumatism and asthma. He passed away on March 23, 1945, at the age of 74, in Lilly.
The Johnstown (PA) Tribune said that he "had been ill for five years." He was laid to rest at Lillydale Cemetery, where his parents also are buried, but his grave is not marked.
Copyright © 2002-2003, 2005, 2014 Mark A. Miner and Craig Adams