Daniel L. Miner
(1863-1893)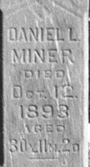 Daniel L. Miner was born in 1863 in Allen County, IN, the son of James and Martha Jane (Sheehan) Minerd. His tragic, grisly death completed fate's total annihilation of his family, including his wife and daughter, one by one, over a span of just a few short years.
Daniel grew up on the farm where his grandfather, John Minerd Jr., had settled as a pioneer in 1845, fronting on the Ohio-Indiana state line.
On Oct. 31, 1889, Daniel married Cora I. Gilbert, the daughter of Mr. and Mrs. James Gilbert. The ceremony was performed by Rev. L.H. Lindsey.
The Miners had one daughter, Hazle G. Miner.

The first of the family's three tragedies struck at Christmas 1890. Cora came down with a deadly case of typhoid fever and passed away. She was buried in the Stephenson graveyard, today known as Sugar Ridge Cemetery. A local newspaper said Cora had a "large circle of friends to mourn her untimely departure." A tall, upright marker was placed over her grave, seen at right. It states that Cora was 19 years, four months and four days of age at the time of her untimely death.

Within just a few months, on Aug. 17, 1891, the shadow of death reappeared, and snatched away the Miners' infant daughter Hazel. The cause of her death, at the tender age of just 8 or 9 months, is unknown. The infant girl was buried with her mother at Sugar Ridge, and her badly faded grave marker is seen here.
Daniel was left alone, wifeless and childless. If he had not done so before, he began to drown his sorrows by indulging his "appetite for strong drink," said the Monroeville (IN) Weekly Breeze, which "was his misfortune." The newspaper went on to say that 'Dannie,' as he was known, "had many friends and [was] a person who had but few faults and of these few, all were to injure himself and no one else. The main fault was the one that brought about his untimely end."
The specter of death made its third and final visit to the family in October 1893, when, said the Weekly Breeze, Daniel:
...left his parents home ... and went to Baldwin on some business... [While] at Baldwin he met some friends and in company with them went into the saloon at that place and as is usually the case with people who frequent such places they all indulged in a so called social drink but did not stop at one but took another and so on until they were feeling quite jolly over the effects. From Baldwin, Dannie in company with one of his friends drove to Monroeville, where they again visited the saloons and obtained several drinks.
Thoroughly drunk, Daniel and a friend named Martin staggered out of the Monroeville saloon at about 10 pm. They got into Daniel's horse-drawn cart and drove to Martin's home, where Martin got out and said goodbye, "little dreaming of the fate that a few minutes after befell his friend." Daniel then started for his own home, but apparently passed out while riding. Continuing the story in the Weekly Breeze, Daniel:
... fell from his seat in the cart and alighted with his head between the thill and the wheel, which held him there and in this condition, no doubt owing to the drunken stuper he was in was unable to stop the horse or free himself from his perilous condition, and thus remained until he reached home, a distance of about two miles.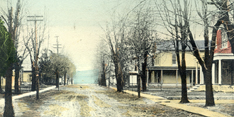 A rare old photographic postcard of Monroeville's dirt-paved Summit Street is seen here.
(Note -- the dictionary defines a 'thill' as "either of the two shafts between which a horse is hitched to a wagon.")
It was about midnight when his fate was discovered by his father, James Miner, who was awakened from his sleep by the neighing of a horse, and upon getting up, and going to the door he observed the horse Daniel had always drove, hitched to the cart standing at the barnyard gate. He went out and as he came closer to the cart, a most horrible sight met his gaze. The lifeless body of his son was lying in the cart with his head still between the thill and the wheel, with blood and brains oozing from a horrible gash in the back of his head which had been rubbed in no doubt by the turning of the wheel.
After regaining somewhat from the horrible shock that met his gaze, the father tenderly picked up the lifeless form up in his arms and carried it into the house which certainly was a trying act for him to withstand.
Daniel was buried with his wife and daughter in Sugar Creek Cemetery -- the end of that branch of our family.
Copyright © 2002, 2004, 2009 Mark A. Miner