Maggie (Miner) Dull
(1888-1953)

Maggie and Irvin Dull
As a nine-year-old girl, Maggie and her parents relocated back to Mill Run, Fayette County, PA, near where her father had been born. There, she grew into womanhood.
United States Census records for 1930 show the 42-year-old unmarried Maggie living with her parents in Mill Run. Their next door neighbor that year was her future husband.
On May 20, 1931, at the age of 43, Maggie married 50-year-old widower Irvin Romanus Dull (Feb. 22, 1881-1953), the son of John S. and June (Bailey) Dull of Mill Run.
Irvin's first wife, Amelia (Long) Dull, had passed away of tuberculosis in March 1929. He thus brought two children to his union with our Maggie -- Ruby Dull and Irvin Dull Jr.
By virtue of his first marriage, Irvin was a brother in law to Maggie's distant cousins Robert Bacom and Elizabeth (Long) Harbaugh Sr. of Maple Summit, and to John and Barbara (Long) Harbaugh of Victoria, Fayette County.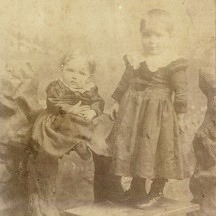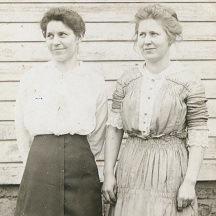 Left: Maggie (right) with sister Irene. Right: with sister Kathryn (right)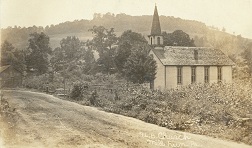 Mill Run Evangelical United Brethren Church
Irvin and Maggie did not reproduce.
The Dulls were longtime farmers and owned their own place. They belonged to the Mill Run Evangelical United Brethren Church. The congregation eventually became part of the Methodist Church.
Federal census records for 1940 show Maggie and Irvin continuing to farm as next-door-neighbors to her widowed farmer and younger brother and wife, Ralph and Mary "Leola" (Skinner) Miner.
The Shadow of Death visited this couple three times in the fateful year of 1953. On March 3 of that year, Maggie's father Henry, a longtime justice of the peace and widely respected leader in the community, died in Mill Run.
Irvin was diagnosed with cancer of his left tonsil in the spring of 1953, added to an enlarged prostate he already had contracted. Sadly, just four months later, on July 29, 1953, Irvin passed away, at the age of 68. His death occurred in Connellsville State Hospital.
In his diary, neighbor and second cousin Albert "Ward" Minerd noted that "Irwin Dull died this morning." Ward's wife Ada "went to Irwin Dull's funeral with Dessie and Orville Firestone." He was laid to rest at the Indian Creek Baptist Church Cemetery.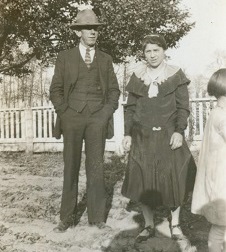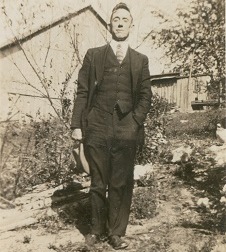 Above: Maggie and Irvin. Below: the Dulls' residence in Mill Run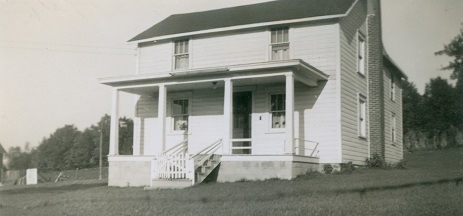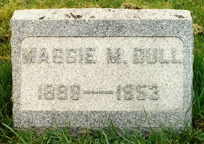 Indian Creek Baptist Cemetery
Just five months after that, on Nov. 14, 1953, having been stricken with uterine cancer, Maggie herself died at the age of 65.
Ward Minerd again acknowledged the loss in his diary, saying that "Maggie Dull died this morning." A few days later, Ward added a notation that he "went up to see Maggy Dull that is laying a corpse at the Sam Johnson house or Irwin Dull House."
The Dulls are mentioned in the 1970 book, A History of Mill Run.
~ Stepdaughter Ruby (Dull) Wyland ~
Stepdaughter Ruby Dull (1911-1945) was born on April 18, 1911 in Mill Run, Fayette County.
In 1940, when she would have been 19 years of age, Ruby was married to James Albert Wyland ( ? - ? ), a resident of Masontown, Fayette County. News of their marriage license was published in the Connellsville Daily Courier.
The couple immediately established their residence in Masontown, although Ruby maintained membership in the Indian Creek Baptist Church in Mill Run. Their address was 77 Unity Avenue.
Grief cascaded over the family when Ruby was diagnosed with tuberculosis of the bladder in the early 1940s. She suffered for between 18 and 36 months (sources differ) until the onset of uremia. Toward the end she went into her father's home for medical care. A recovery was not to be. She died at the age of 34, in Mill Run, on Dec. 1, 1945.
The body was laid out in the Dull home in Mill Run for a prayer service with additional services held at her church. Rev. M.T. Hulihan preached the funeral sermon, with burial in the Baptist cemetery. An obituary was printed in the Daily Courier.
~ Stepson Irvin Dull Jr. ~
Stepson Irvin Dull Jr. (1916-1980) was born on May 10, 1916 in Mill Run, Fayette County. He was about age 12 when his mother died and 15 when Maggie Miner became his stepmother.
He learned the carpentry trade during his early adulthood years.
Irvin is believed to have wedded Dorothy Fern Hay (1920-1987).
They were the parents of Marjorie Ann Holloway, Glenda Dull and Lawrence "Larry" Dull.
Circa 1940, when the federal census enumeration was made, the Dulls dwelled in Connellsville, with Irvin employed as a carpenter by a local building contractor. Then during World War II, Irvin served in the U.S. Navy.
Irvin returned home after the war's end. In 1950, the Dulls lived along Rockridge Road in Connellsville. Irvin raised turkeys and advertised their sale during the Thanksgiving season.
Irvin and Dorothy relocated to Apollo, Armstrong County, PA by 1962 and thence moved by 1973 to Coraopolis, Allegheny County, PA. In 1973, Dorothy attended a dinner marking her high school class's 35th anniversary. They appear to have stayed in Coraopolis for good.
Sadly, Irvin died in July 1980. His remains were placed into eternal repose in the Indian Creek Baptist Church Cemetery in Mill Run.
Dorothy Fern outlived her husband by seven years. She passed into eternity in 1987.
Daughter Marjorie Ann Dull (1938- ? ) was born in about 1938. As a young woman, she moved to Washington, DC to work for the federal government, and made a home at 4638 Livingston Road SE. On March 8, 1958, she was united in holy matrimony with Lt. Edwin T. Holloway ( ? - ? ), son of Henry G. Holloway of Monroe, LA. Their nuptials were held in the First Methodist Church of Connellsville, with Rev. H. Carl Buterbaugh presiding. A story appeared in the Connellsville Daily Courier, which observed that Marjoei "appeared in a floor-length gown of white Chantilly lace with nylon tulle. The slim-fitting lace bodice was complimented with a springkling of sequins and seed pearls below a Mandarin collar and the long, tight sleeves tapered in points over the wrists. Front and back lace panels featured the full tulle skirt as well as overall appliques of lace designs." The newlyweds established their hom in St. Petersburg, FL. They became the parents of Brenda Holloway and Cynthia Roxanne Holloway. A graduate of the U.S. Military Academy at West Point, Edwin appears to have spent his working career in the military. In 1962, the family dwelled in Arlington, VA.
Daughter Glenda Dull ( ? - ? )
Son Lawrence "Larry" Dull ( ? - ? )
Copyright © 2004, 2007, 2012, 2017, 2020 Mark A. Miner