Eva (Minerd) Hillwig
(1883-1905)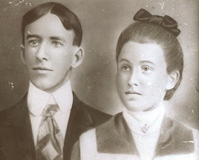 John and Eva Hillwig
Eva (Minerd) Hillwig was born in February 1883 near Mt. Pleasant, Westmoreland County, PA, the daughter of Charles Marion and Sabina (Pierce) Minerd.
Eva married John Yockey Hillwig (Sept. 19, 1882-1953), the son of William H. and Mary "Elizabeth" Hilwig, and a native of Mt. Pleasant, Westmoreland County, PA. The ceremony was held on Christmas Day 1900, when Eva was age 17, and John 18. Both sets of parents had to provide their consent since both the bride and groom were underage.
John was of medium height, with grey eyes and black hair.
They produced one son, William Charles "Willie" Hillwig, born on May 31, 1903.
Prior to marriage, John lived with his parents and was employed as a clerk in Greensburg, as shown in the 1900 federal census, when he was age 17.
Eva's grave, Greensburg
Eva and John resided in McKeesport, near Pittsburgh, Allegheny County, PA, where he apparently secured a job.
It's believed that Eva suffered from kidney disease. Sadly, she passed away at the age of 22 on July 5, 1905. She is buried at Union Cemetery in Greensburg, Westmoreland County.
As a young widower, John took his son Willie back to Greensburg to reside with John's parents. The 1910 census shows them all together under one roof, with John working that year as a "common laborer."
John married again, in about 1910 or 1911, to Laura Margaret McCune (Sept. 13, 1881-1956), daughter of John and Margaret (Lonkg) McCune of Raynes Township, Indiana County, PA. They bore at least three more sons of their own -- Leonard Hillwig, Donald Hillwig and James Hillwig.
Circa 1912, they resided in Monongahela, Washington County, PA, where their brother in law James C. Holdsworth was superintendent of the Dunkirk Mine of the Pittsburgh-Westmoreland Coal Company.
It's thought that John may have moved the family later in 1912 to Aliquippa, Beaver County, PA, about 40 miles from home.
Tragically, in the fall of that year, son Willie was stricken with an acute case of bronchial pneumonia and la grippe (influenza). He was unable to shake the sickness, and died in Aliquippa on Nov. 4, 1912, age nine years, five months and four days.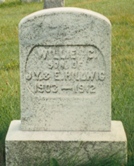 Willie's grave
The boy's remains were laid to rest near his mother in Greensburg.
John registered for the military draft during World War I, in September 1918. At the time, he and Laura made their home at 115 Chase in Monongahela, Washington County, PA, and he was a manager at a "racket store."
When the federal census was again taken in 1920, John, Laura, their three sons and Laura's widowed mother lived on Chess Street in Monongahela. That year, the census-taker recorded John's occupation continuing as a racket store manager.
John's final employment was as a security guard at a steel mill.
The couple's address in the early 1950s was 809 Jenny Lind Street in McKeesport, near Pittsburgh.
John's final years were burdened with hypertensive heart disease and congestive heart failure. On the fateful day of Dec. 20, 1953, at the age of 71, he was stricken by a heart attack and was dead within a half hour. He is buried at McKeesport and Versailles Cemetery. John L. Hillwig, of 1028 Washington Avenue in McKeesport, was the informant for the official Pennsylvania certificate of death. His remains were placed into repose in Versailles Cemetery in McKeesport.
His second wife Laura outlived him by five years, remaining in their house on Jenny Lind Street. In about January 1956, she was admitted to the Pennsylvania State Hospital in Woodville, PA, where she spent the final seven months of her life. She contracted pneumonia there and died on July 6, 1956, at the age of 75.
Copyright © 2001, 2012, 2020 Mark A. Miner