Harry Oliver Minerd Sr.
(1893-1938)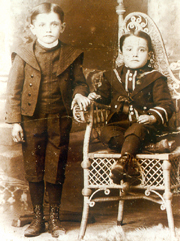 Harry Oliver Minerd Sr. was born on April 12, 1893 at Bridgeport near Mt. Pleasant, Westmoreland County, PA, the son of Charles Marion and Sabina (Pierce) Minerd.
Seen here, Harry stands with his younger brother Ralph in an early childhood portrait.

Harry and his brothers Will and Ralph were baseball players in the coal mining company leagues around Mt. Pleasant. He is known to have played for the Buckeye team in 1910. Box scores of some of his games were published in the Connellsville (PA) Daily Courier and are preserved today in the Minerd Minard Miner Minor Archives.
Harry married Mazie Rumbaugh (1893-1952), a native of Mt. Pleasant and the daughter of Frank and Mary C. (Hoke) Rumbaugh.
They had two children, Catherine Myers and Harry Oliver Minerd Jr. They also adopted two children -- Gladys Kelley and their nephew Frank Brown.
In 1916, the Minerds resided at Keister, near Uniontown, Fayette County. That year, they became aware that an infant girl, Gladys Kelley, daughter of Louis and Gladys Kelley, needed foster care. They took in the baby and then sued to adopt the baby, which was approved by the Fayette County Court of Common Pleas on Oct. 27, 1916. The fate of the little girl is unknown, though it's suspected that she died young.
Harry registered for the World War I military draft in 1918, and stated his occupation as track layer for the Lincoln Coal and Coke Company of Waltersburg, Fayette County.
When the U.S. census was enumerated in 1920, the Minerds made their home in Monongahela, Greene County, PA. They kept a number of boarders in their residence, including Mazie's sister Daisy Lowther and daughter Elinor Lowther; nephew Frank Brown; and Jake Rumberg, Homer Pangerbreg, Thomas McDonna (McDonough?) and Cris Lape. That year, Harry's employment was listed as "clerk in office - coal works" of the Pittsburgh Steel Company, while their boarders were miners, teamsters and laborers at the mine.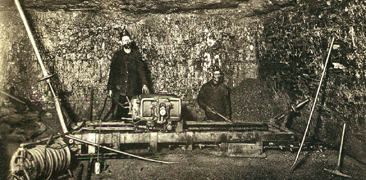 Interior of the Banning Mine, showing innovative coal cutting technology of the era, as published in a penny postcard of the time
The Minerds are known to have resided in Van Meter, Rostraver Township, Westmoreland County, circa 1927 when son Harry was born. When the federal census was taken in 1930, Harry, Mazie and their children made their home in Rostraver, with nephew Frank Brown and widowed, 58-year-old father Charles Minerd living under their roof. Both Harry and his father both are marked as working as coal mine laborers that year. Their employer was the Pittsburgh Coal Company at its Banning Mine. Later, the Minerds resided at Bridgeport, where he was employed at another local mine.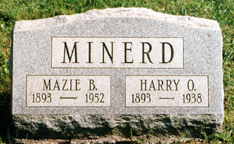 At age 45, Harry died at Connellsville State Hospital on Oct. 21, 1938. He was buried at Greenlick Cemetery. Pallbearers were George Smith, Charles Rhome, Edward Smitley, Emory Jones, Kenneth Seaman and Robert Hare.
Mazie spent 14 years as a widow, making her home at 24 Cherry Avenue in Mt. Pleasant. She suffered an accidental tall at some point, leading her health to begin to decline, and she was admitted to Baum's Rest Home in rural Unity Township. Afflicted with a bowel obstruction caused by an intestinal fistula, she passed away on Nov. 29, 1952, at the age of 59. She is buried beside her husband.
~ Son Harry Oliver Minerd Jr. ~
Son Harry Oliver Minerd Jr. (1927-1982) was a mill worker. He married at least twice, and possibly a third time. His first wife was Geraldine Hendricks. They divorced due to "indignities" in December 1958 by decree of the Fayette County Court of Common Pleas.
He married 33-year-old widow Margaret Louise (Jamieson) Drumm, the daughter of Charles McCormick and Mabel (Stillwagon) Jamieson, in 1959. She was a factory worker in Connellsville. They divorced in Sacramento, CA in June 1976.
Harry then married Hazel (Eutsey) Burkholder (1920-2002), the daughter of Reid and Anna (Shaffer) Eutsey. Hazel brought three children to the marriage -- Barry Duane Burkholder, William Wesley Burkholder and Deana Fromm.
They had one son of their own, Harry Oliver Minerd III. The family resided in California, in Elverta, Sacramento County circa 1977. They separated in 1977 and divorced in May 1981.
Harry is believed to have died in Sacramento on June 6, 1982, at the age of 55.
Hazel outlived her husband by two decades. Moving to Pahrump, Nye County, NV in about 1996, to be near her married daughter, she was active in the local senior center. She died in Pahrump on Aug. 1, 2002, at the age of 82. She was survived by 20 grandchildren, 18 great-grandchildren and three great-great grandchildren, said the Pahrump Valley Times.
Stepson Barry Burkholder, who graduated from Southmoreland High School near Greensburg, Westmoreland County, PA, was a driver for System 99 Freight Lines in Las Vegas. He married Belinda Jean Herbert of Dawson, Fayette County, in a ceremony in the Little Church of the West Chapel in Las Vegas in February 1977.
Stepson William Wesley Burkholder made his home in Pennsylvania in 2002.
Stepdaughter Deana Burkholder wed Mark Fromm and resided in Pahrump.
~ Daughter Catherine Marie (Minerd) Myers ~

Daughter Catherine Minerd (1924-2000) was born in 1924. She married Clarence J. Myers (1929-2006). They resided in Mount Pleasant, Westmoreland County, PA and later in Chambersburg, Franklin County, PA.
They had five known children -- George Myers, Barry Wayne Myers, Marjeanne Patrick, Cathy Sheely and Clarence Myers Jr.
Catherine died in 2000 at the age of 76.
Clarence outlived her by six years. He passed away on Jan. 24, 2006, at the age of 77.
Son Barry Wayne Myers Jr. (1952-1984) was born on Sept. 6, 1952 in Mount Pleasant. He married Helen Huffman and had two children -- Jessica Myers and Matthew Myers. They resided in Nemacolin, Washington County, PA, where Barry worked for LH&J Coal Company. He belonged to the United Mine Workers of America and ABATE of Pennsylvania (Alliance of Bikers Aimed Toward Education). Sadly, Barry died at the age of 31 on July 21, 1984. Funeral services were conducted at Norvelt, Westmoreland County.
Copyright © 2001, 2005, 2010 Mark A. Miner