Ralph Charles Minerd Sr.
(1894-1984)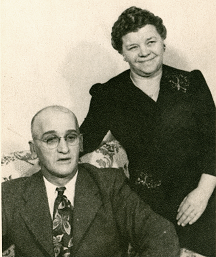 Ralph and Violet
Ralph Charles Minerd was born in 1894 in Bridgeport, near Mt. Pleasant, Westmoreland County, PA, the son of Charles Marion and Sabina (Pierce) Minerd.
His and his family's lives was greatly impacted by the struggles of making a living in the coal mining industry and also by the influence of First Lady Eleanor Roosevelt.
At the age of 12, Ralph suffered a freak injury when he "had his face badly burned while lighting a firecracker," reported the Connellsville (PA) Daily Courier on July 9, 1906. The family lived at Bridgeport at the time.
On June 27, 1913, at the age of 19, Ralph married 19-year-old Violet May Summy (1894-1973), the daughter of Ezra Summy. They eloped to Cumberland, Allegany County, MD, where the wedding ceremony was performed.
The Minerds' seven children were Alice "Marie" Plannett Price, Dorothy Mae Podraza, Pauline Minerd, Betty Irene Hutter, Charles Ralph Minerd Jr., Robert Ezra Minerd and James Allen Minerd.
Sadly, daughter Pauline died in childbirth -- stillborn due to the prolapse of the umbilical cord -- on Jan. 4, 1920. At the time, the family lived in the community of Robinson in West Wheatfield Township, Indiana County, PA. The baby's tender remains were placed into rest in the West View Cemetery in Robinson.
Ralph worked as a tipple man at coal mines at Buckeye (1914), Garfield (1919), Belltown (1927), Bolivar, Banning and Bobtown in Western Pennsylvania. They also lived at Jennerstown (1923, where he was a policeman), Jenners Cross Roads, Mt. Pleasant and Norvelt, PA.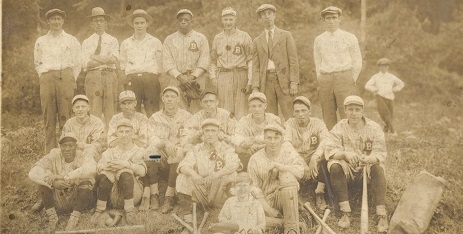 Ralph, seated center, with hands together, and fellow players on a coal mine baseball team, likely the Belltown club. Below: aerial view, Jenners, PA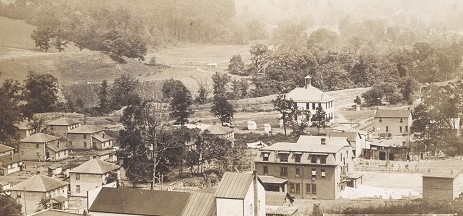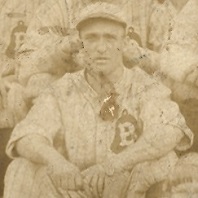 Ballplayer Ralph Minerd
At Belltown, Ralph played baseball for the company team, and was scouted by the Pittsburgh Pirates. His brothers William Mullen Minerd and Harry Oliver Minerd Sr. also were talented baseball players for local coal mine company teams.
At Mt. Pleasant, in the late 1920s, the Minerds' house was seriously damaged in a windstorm. In the 1930s, they were among the first 50 families to be accepted to live at "Westmoreland Homesteads," later named "Norvelt" in honor of the town's political sponsor, First Lady Eleanor Roosevelt.
The Minerd house is seen here, considered "Homestead Unit No. A-21." Their next door neighbors were Dewey Honse and Valentine Emerick. In this house, sons Robert and James are known to have been baptized by their uncle, Rev. William Mullen Minerd.
To see other early Norvelt photos, from the Library of Congress, click here.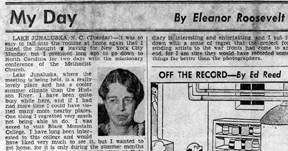 Eleanor Roosevelt's news column, "My Day"
The town was created and financed by the federal government, during the Depression, a pioneering effort to provide private home ownership for unemployed families. Violet was a member of the Norvelt Women's Club, which invited Mrs. Roosevelt to attend community fairs and building dedications.
On May 21, 1937, the First Lady indeed paid a call. She drove her own car, and later mentioned the visit in her popular coast-to-coast newspaper column, "My Day." The Connellsville Daily Courier said that "Mrs. Henry Morgenthau, wife of the Secretary of the Treasury, sat with Mrs. Roosevelt in the front seat of the sedan when the party went through..."
Documents showing Mrs. Roosevelt's personal interest in Norvelt are in the Minerd.com Archives, provided by the FDR Presidential Library in Hyde Park, NY.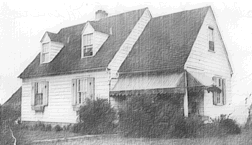 The Minerd house at Norvelt
Ralph and Violet celebrated their 25th wedding anniversary on June 27, 1938 with a supper party at their home in Westmoreland Homesteads. Said the Daily Courier: "A large cake, topped with a bride and groom, formed the centerpiece on the table and the rooms were profusely decorated in garden flowers." Attending were Mr. and Mrs. James Ray and son Gaylord of Bellaire, Ohio, Rev. and Mrs. William Minerd and Mr. and Mrs. Gearhart of Somerset; Mrs. A. Fenton and daughters Mary and Ruth of Pleasant Unity; Mrs. and Mrs. Ezra Summy, James Summy, Francis Podraza and Mr. and Mrs. Harry Foust and son, Mount Pleasant, together with the six children of the Minerds."
In 1947, they sold two acres to Paul H. Queer.
The Minerds later moved to homes on Vine Street and 711 West Park Avenue in Mt. Pleasant, where they resided during their later years.
Violet died on March 5, 1973. She was 79 years of age. She was laid to rest at the Mt. Joy Cemetery, Mount Pleasant. An obituary in the Connellsville Daily Courier reported that she was survived by 17 grandchildren and 11 great-grandchildren.

Well-tended grave at Mt. Joy Cemetery, Mount Pleasant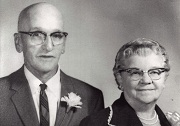 The Minerds in later years
Ralph outlived his wife by 11 years.
He relocated to be near his son Robert in Fort Lauderdale, Broward County, FL. There, he died on Dec. 31, 1984. His remains were shipped back to Pennsylvania for burial beside his wife at Mt. Joy Cemetery.
In June 1986, when Norvelt celebrated its 50th anniversary, the Minerds were remembered in a commemorative booklet, entitled A Tribute to Norvelt and Her First Lady Eleanor Roosevelt: Fifty Years of Progress. Ralph is named on a page listing all of the original owners as of December 1940, and Violet is shown in a group photograph of local women.
The couple also is named in the book Hope in Hard Times: Norvelt and the Struggle for Community During the Great Depression.
Their grandson Eugene F. Podraza has made it a practice to plant flowers at their grave every time he returns for a visit.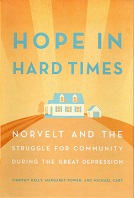 Norvelt-related books naming the Minerds
~ Daughter Alice Marie (Minerd) Plannett Price ~
Daughter Alice "Marie" Minerd (1914- ? ) was born in 1914 at Buckeye.
When she was age 19, she married James Plannett on Feb. 4, 1934, in a ceremony held at Connellsville, Fayette County, PA.
They had one daughter, Penny Planett.
Marie later married Robert Price, and resided in Cockneyville, near Baltimore, MD.
Sadly, daughter Penny passed away at a young age in 1973.
~ Daughter Dorothy (Minerd) Podraza ~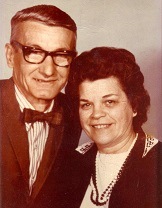 Francis & Dorothy
Daughter Dorothy Minerd (1917-2006) was born in 1917.
At the age of 20, she married 23-year-old Francis Joseph Podraza (1914-1986). Their wedding took place in Unity Township, Westmoreland County, on Oct. 16, 1937.
They first resided in Mt. Pleasant and Scottdale, Westmoreland County, where their three children were born - Eugene Francis Podraza, Rosemary Wadlinger and Arlene Stover.
Dorothy became paralyzed when the vehicle she was driving was struck by a drunk driver. Although she was wheelchair bound, she refused to give in to the pain and inconvenience.
The family moved to Levittown, Bucks County, PA, where Francis obtained employment at U.S. Steel Corporation's Fairless Works. (Dorothy's brother Jim also labored at the Fairless Works.) Upon arriving in Levittown in 1954, there were dirt roads and telephone party lines. The family attended Faith Reformed Church.
Francis was ill for many years, and passed away in 1986.
Dorothy outlived him by two decades. In 2000 and 2002, she attended the national Minerd-Miner-Minor Reunions at Kingwood, Somerset County, PA, a mile from where her great-grandfather, Eli Minerd, had been born in 1831.
Dorothy passed away at age 89 on July 3, 2006. A memorial service was held two and a half months later, on Sept. 17, 2006, at the church where she had been a longtime member.
Son Eugene F. Podraza has been researching the extended Minerd-Miner-Minor family since 1989. He primarily has been responsible for exploring our German roots and identifying the pioneers' offspring who themselves were pioneers of Ohio, West Virginia and the Midwest. Click here to see his paper, Our German Connection. Since 1990, he and Minerd.com founder Mark A. Miner have traveled together on 16 annual late August research trips to Ohio, Indiana, West Virginia, Maryland and Western Pennsylvania, exploring distant branches of the extended Minerd-Miner-Minor clan. They also have done several joint research projects in the National Archives in Washington, DC.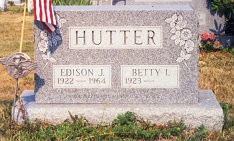 Mt. Joy Cemetery
~ Daughter Betty I. (Minerd) Hutter ~
Daughter Betty I. Minerd (1923-2009) was born in 1923.
She married Edison Joseph Hutter Sr. (Jan. 14, 1922-1964) on Aug. 2, 1941, in Winchester, Frederick County, VA, when she was age 18 and he 19. Edison was the son of Joseph James and Fairy (Bronson) Hutter of Pleasant Unity, Westmoreland County, PA and the grandson of Austrian immigrants Petter Nicholas and Mary (Zeanetr) Hutter.
The Hutters went on to bear a family of four children -- Edward Joseph "E.J." Hutter Jr., Timothy Allan Hutter, David Arthur Hutter and Deborah Sue Weimer.
Edison served in the U.S. Armed Forces during World War II.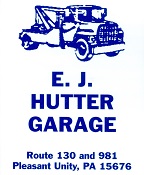 Hutter Garage promotion
Betty "worked at the Norvelt Clothing Factory," said the Connellsville Daily Courier, and "prior to retirement, she worked as a custodian for Greater Latrobe District."
Edison returned from the war and assumed the role as second-generation owner of Hutter's Garage, founded in 1930 in Pleasant Unity, Westmoreland County.
Heartache rocked the family on Sept. 2, 1964 when Edison died instantly after suffering a pulmonary embolish at the untimely age of 42.
After Edison's untimely death, their son Edward "E.J." Hutter became owner, a service that he and his wife Janet continued to the present. The Latrobe (PA) Bulletin recently featured the business in a prominent article.
In 2002, Betty attended a dedication of a new state historical marker at Norvelt, on Sept. 8, 2002.
Betty passed away at the age of 86 on June 22, 2009, at Select Specialty Hospital in Latrobe, Westmoreland County. She was laid to rest beside her husband in Mt. Joy Cemetery near Mt. Pleasant.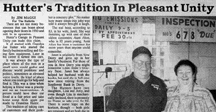 Latrobe Bulletin article
Son Edward Joseph "E.J." Hutter Jr. (1943-2016) -- nicknamed "Red Ball" and "Eddie Joe" -- was born on Feb. 15, 1943 in Greensburg, Westmoreland County. After graduating from Hurst High School, he assisted his father in the operation of the E.J. Hutter Garage in Pleasant Unity. He also held leadership positions as president, captain and trustee of the Pleasant Unity Volunteer Fire Department and was a member of the firemen's associations of Westmoreland County, Western Pennsylvania and State of Pennsylvania. In 1966, he was united in holy wedlock with Janet L. Shine ( ? -living). The couple produced two daughters -- Lisa Phillips and Amy Liberoni. Edward and Janet celebrated their golden wedding anniversary in 2016. At the age of 73, Edward passed away in Excela Health Latrobe Hospital on Dec. 14, 2016. An obituary in the Greensburg Tribune-Review noted that Rev. Nancy Mears officiated the funeral service followed by interment in the Unity Cemetery.
Granddaughter Lisa Hutter married Randy Phillips and live in Latrobe.
Granddaughter Amy Hutter wedded John Liberoni and make their residence in Norvelt.
Son Timothy Allan Hutter (1947-living) was born in 1947. On Nov. 21, 1970, he married Phyllis Orazi (1949-living). Two children born to this marriage have been Natalie Maureen Hutter and Jodi Ann Hutter. Tim and Phyllis and his mother attended our national family reunion in about 1999. The Hutters reside in Latrobe, Westmoreland County.
Granddaughter

Natalie Maureen Hutter

(1973- ? ) was born in 1973.
Granddaughter Jodi Ann Hutter

(1976- ? ) was born in 1976.
Son David Arthur Hutter (1950-living) was born in 1950. On Sept. 1, 1973, at the age of 23, he was joined in matrimony with Christine "Chris" Ralich (1952-living). They are the parents of Elizabeth Hutter. Their home in 2016 was in Salem, OH.
Daughter Deborah Sue Hutter (1953-living) was born in 1953. When she was 24 years of age, on May 7, 1977, she wedded Charles Weimer (1955- ? ). Deborah Sue has resided in Pleasant Unity, Westmoreland County.

Charles R. Minerd
~ Son Charles Ralph Minerd Jr. ~
Son Charles Ralph Minerd Jr. (1925-1982) was born on Oct. 30, 1925 in Jennerstown, Somerset County.
He married Patricia Shuey (Oct. 21, 1928-1999), the daughter of Geraldine "Gerri" (Shuey) Stinson of Greensburg.
The Minerds produced two children -- Charles E. Minerd and Joyce Sullenberger.
During World War II, he served in the U.S. Navy on the U.S.S. Mansfield, one of the first ships to arrive in Tokyo Bay.
Later, he was employed at Robertshaw Controls Company in Youngwood. He was a member of American Legion Post 446 of Mount Pleasant.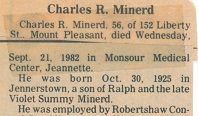 Obituary, 1982
Charles passed away at age 56, in Monsour Medical Center, Jeannette, Westmoreland County, on Sept. 21, 1982. He was buried near his parents in Mount Joy Cemetery, with Rev. Blair Ritchey preaching the funeral sermon.
Patricia survived her spouse by many years.
She is believed to have been carried away by the Angel of Death on Jan. 22, 1999.
Son Charles E. "Chuck" Minerd ( ? - ? ) has resided in Mount Pleasant, Westmoreland County. He was united in the bonds of wedlock with Barbara ( ? - ? ). The couple bore a son, Charles Michael Minerd. Nicknamed "Radar," Chuck was quoted in newspaper articles in the late 1990s when he was president of the Westmoreland County Chapter of ABATE, A Brotherhood Aimed Toward Education, a national organization of motorcycle riders protesting mandatory helmet laws.
Daughter Joyce Minerd ( ? - ? ) was joined in marriage with George Sullenberger ( ? - ? ). Circa 1982-2006, they dwelled in Mount Pleasant.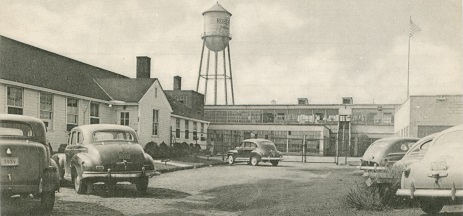 Robertshaw Controls, where Robert and Charles Minerd were employed
~ Son Robert Ezra Minerd Sr. ~

Robert E. Minerd
Son Robert Ezra Minerd Sr. (1927-1996) was born when the family resided in Somerset County, PA.
During World War II, he was a private first class in the 18th Infantry in Germany. After the war's end, he married Almerta Gradler ( ? - ? ) on May 27, 1948, in Winchester, VA.
The Minerds had four children -- Merti Jo Owens Hurley, Robert Ezra Minerd Jr., Diane Minerd and David Minerd.
Robert worked at Westinghouse Electric and at Robertshaw Controls in Youngwood, Westmoreland County, before moving to Florida, where he was employed by Eastern Airlines.
After Almerta's passing in 1987, Bob married again, to Carol Adele Hanson (a.k.a. Mundy), on Sept. 2, 1994, in Citrus County, FL. In the 1980s, Bob and Carol met and began a friendship with a second cousin, Penn and Jane (Sage) Minerd of Long Island, NY, who had a winter home in the same community in the Fort Lauderdale area.
At the age of 69, Bob died on Dec. 12, 1996, at home in Dunnellon. His obituary was published in his old hometown newspaper, the Greensburg (PA) Tribune Review.
Daughter Merti Jo Minerd married George Monroe Owens in September 1967 in Broward County, FL. On July 22, 1989, she married again, to David Bruce Hurley.
Son Robert Ezra Minerd Jr. married his first wife, Judith. They divorced in 1974. He then wed Jean Kay Foster in Broward County on Nov. 24, 1976.
~ Son James Allen Minerd ~

James A. Minerd
Son James Allen Minerd (1930-2006) was born on Oct. 28, 1930.
At the age of 20, on Aug. 11, 1950, in Cumberland, Allegany County, MD, he eloped to marry Margaret Cowan (Aug. 27, 1931-2011). She was the daughter of Walter and Esther (Henson) Cowan and a native of Scottdale, Fayette County, PA.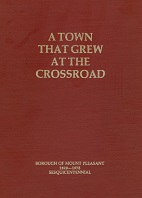 Town That Grew
at the Crossroad
The couple produced three daughters -- Janice Hegland, Cynthia Aungst and Connie Storz.
During the Korean War, James spent three years in the 28th Division of the Pennsylvania National Guard and two years in the U.S. Army, 5th Division. He is pictured with fellow members of Company E of the 110th Infantry, 28th Division in the book A Town That Grew at the Crossroad: Borough of Mount Pleasant 1828-1978 Sesquicentennial.
After the war, the Minerds resided in the Philadelphia area, where he worked at the U.S. Steel Fairless Works. Margaret was a longtime nurse who was employed by several hospitals.
James attended the 2005 National Minerd-Miner-Minor Reunion in Kingwood, PA, just a few miles from where his great-grandfather, Eli Minerd, had been born in 1831, some 164 years earlier.
James passed away in Dunnellon, FL, on Dec. 9, 2006, at the age of 76.
The widowed Margaret returned to her native Western Pennsylvania and established a home in the Bethlen Communities retirement center in Ligonier, Westmoreland County. There, she was a member of Calvary United Methodist Church and the Ligonier Senior Citizens Center. Always fond of "woodland creatures," she loved to feed and watch animals.
As her health failed, Margaret was admitted to Excela Health Latrobe Hospital. She succumbed to death there at the age of 79 on June 18, 2011. An obituary published in the Greensburg Tribune-Review said that she was survived by nine grandchildren and six great-grandchildren.
Daughter Janice Minerd ( ? - ? ) appears to have been twice married. Her first spouse was (?) Lepre. They were the parents of Philip Lepre. Later, Janice was joined in wedlock with David Hegland. Their home in 2011 was in Croydon, Bucks County, PA.
Philip Lepre, Bucks County Courier

Grandson Philip Lepre ( ? - ? ) is a U.S. Army veteran of the Gulf War. Philip was pictured and quoted in a

Bucks County Courier Times

article in 1993, when he spoke with students at Walter Miller Elementary School about his wartime experiences.
Daughter Connie Minerd ( ? - ? ) wedded Glenn Storz. They have resided in Croydon, Bucks County, PA..
Daughter Cynthia Minerd married Richard Aungst ( ? - ? ), son of Creon and Helen Aungst of New Stanton. They were the parents of Jason J.C. Aungst and Richard Aungst. Circa 1977, their son Jason was born in Philadelphia, but the family primarily lived in the New Stanton area. Circa 2011, they were in Scottdale, Westmoreland County.
Grandson Jason J.C. Aungst (1977-2017) was born on June 20, 1977 in Philadelphia. He grew up in New Stanton and was a graduate of Hempfield High School. He learned the trade of heating, ventilation and air conditioning and worked as a mechanic. He eventually joined the U.S. Marine Corps and spent 11 years in the military, including service in Iraq circa 2006. Back in civilian life, he received a degree from Embry-Riddle Aeronautical University in Daytona, FL and became employed as a supervisor by Global Aviation. Jason made his home in 2017 in Jacksonville, FL. He died unexpectedly at the age of 40 on Nov. 24, 2017. His remains were transported to southwestern Pennsylvania to rest in the National Cemetery of the Alleghenies.
Copyright © 2000-2003, 2006, 2008, 2012, 2017-2019 Mark A. Miner
Eugene F. Podraza and Mary Ellen (Casteel) Haas have contributed content for this biography.