Oliver Clyde Minerd
(1881-1971)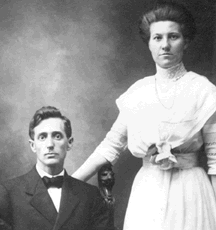 Oliver and Florence Minerd
Oliver Clyde Minerd was born in 1881 in Fayette County, PA, the son of Isaac F. and Frances Caroline (Jordan) Minerd.
His mother died when he was 10. As a motherless boy, Oliver went with his father to Virginia, which he loved. Later, when he was about 14, they went to North Dakota, which he hated. Oliver recalled that their North Dakota home featured a rope along a walkway leading to the outhouse for nighttime use, and also a cellar in case of dust storms or tornadoes.
They went on to Montreal and Elmington, VA, returning to Dunbar for good in January 1908.
Oliver worked as a cold roller at a tin plate mill in Connellsville, PA in 1900.
In about 1910, Oliver moved to Aliquippa, Beaver County, to work at the Jones & Laughlin steel mill. He was the youngest man on his crew, and was nicknamed "Babe." Sickened by contaminated drinking water, he returned to Connellsville.
Circa November 1917, he is known to have worked as a butcher in South Connellsville. But that did not last long, and he found permanent employment with the Baltimore & Ohio Railroad.
On June 19, 1912, at the age of 31, Oliver was joined in the bonds of wedlock with Ella Florence Dawson ( ? -1974), with the ceremony taking place at Cumberland, Allegheny County, MD.
The three daughters they bore together were Eleanor Brooks, Mary Durst and Virginia Hart.
Oliver stayed with the B&O for many years, working as a water station foreman, and retired in 1947. He was a member of the B&O Veterans Association.

B&O yards at Connellsville, with the city as a backdrop, and the Youghiogheny River in the foreground.
Over the Labor Day holiday in 1937, Oliver and Florence and their daughters, along with Florence's brother Irvin Beeman, traveled to Buffalo, NY to visit with Florence's brother Elmer Beeman. They also visited Niagara Falls and drove into Canada. The trip was reported in the Connellsville Daily Courier.
Oliver died in 1971.
Florence outlived him by three years. She passed away in 1974 in Economy, Beaver County, where daughter Eleanor and her husband Paul Brooks had resided for several decades previously. Oliver and Florence are buried together at Green Ridge Memorial Park in Connellsville.
~ Daughter Eleanor (Minerd) Brooks ~
Daughter Eleanor (Minerd) Brooks married Paul Brooks.
In 1942, they relocated to Economy Borough, Beaver County, PA after he obtained employment with the American Bridge Division of U.S. Steel.
The Brookses had one daughter, Deborah Widek.
~ Daughter Mary A. (Minerd) Durst ~
Daughter Mary A. (Minerd) Durst (1924-2017) was born on Sept. 18, 1924 in Connellsville.
She was joined in holy matrimony wtih James Durst ( ? - ? ). The couple dwelled in North Huntingdon Township, near Greensburg, Westmoreland County, PA and produced three children -- James C. "Jim" Durst, John R. Durst and Darlene Hagan.
Said the Greensburg Tribune-Review, Mary "was employed by the FBI, Department of the Navy in Washington, DC and was a member of Circleville United Methodist Church."
As her health waned, Mary was admitted as a patient to Walnut Ridge in Greensburg. She passed away there at the age of 92 on June 27, 2017. Burial was in Penn Lincoln Memorial Park, with an obituary published in the Tribune-Review.
Son James C. "Jim" Durst
Son John R. Durst wedded Daria.
Daughter Darlene Durst married Glenn Hagan.
~ Daughter Virginia (Minerd) Hart ~
Daughter Virginia (Minerd) Hart
Copyright © 2000, 2008 Mark A. Miner