Margaret (Pring) Cornell
(1846-1927)


Margaret and Sebatian Cornell
Margaret Elizabeth (Pring) Cornell was born on April 16, 1846 in Cedar Creek Township, Allen County, IN, the daughter of John and Caroline (Minerd) Pring. She and her husband were pioneer settlers of Missouri.
On Christmas Day 1867, in Fort Wayne, IN, Margaret married Sebastian Heck Cornell (1846-1936). He was a native of Carroll County, MD and the son of William and Mary (Heck) Cornell. At the age of four, he migrated with his parents to Butler Township, DeKalb County, IN.
Of his own childhood, Sebastian recalled that the trip was taken in a covered wagon, with the wheels removed when fording rivers. The schools he attended were very crude, with their seats more like benches with no backs. Their house was made of logs, with rain always pouring in through the cracks.
The Prings' six children were William Cornell, John W. Cornell, Mary Alice Waddill, Martha Estella Bauer Powell, Emelia Ann Waddill and Ella May Ferguson.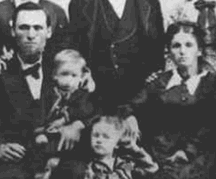 The young family circa 1874.
Eldest son William was born in Indiana, while the rest were born in Missouri. The two children are thought to be John, in his father's lap, and Mary Alice, front, holding her mother's hand.
The Cornells first resided near Margaret's parents near Cedarville, Allen County, IN. Later, they moved to a farm in Butler County, IN. Margaret was educated as a school teacher and may have taught at a school that was adjacent to the Cornell farm.
In the fall of 1867, the Cornells migrated west to Missouri, settling a dozen miles northeast of the town of Kirksville, Adair County. There, Sebastian purchased a 190-acre farm.
They are acknowledged as pioneers in the 1911 book, History of Adair County, Missouri, authored by E.M. Violette, a history professor at the State Normal School in nearby Kirksville.
According to writings done by great-granddaughter, Sandra Ammerman-Paser, Margaret:
...learned the self-sufficiency of those who came early to new settlements. She would have been given responsibilities for helping with the younger children. She learned to garden and preserve foods, sew, cook, and the many skills needed to survive without the amenities found in larger communities. She pieced and made quilts. Her granddaughter Opal Ferguson later found one of her quilts in the bottom drawer of a dresser. It was dirty and had mouse droppings on it, but was not damaged. She washed it, and used it on her bed for many years.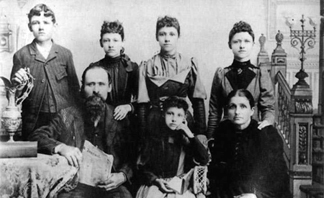 Back row, L-R, are John, Estella, Mary and Emelia. Front: Sebastian, Ella May and Margaret. Note Sebastian displaying a newspaper and Ella May holding a book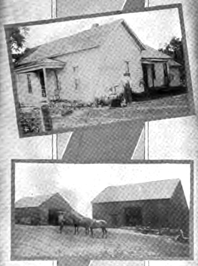 The Cornells' farm house and barn
The Cornells' farm house and barn seen here were published in the 1911 book, History of Adair County, Missouri. The photographs were taken by W.M. Denslow. Adds Sandra Paser:
Grandpa Cornell had a formal English garden, with raised beds for flowers. There was also a drainage system whereby wastes could be "percolated" through plants and cleaned before entering into the creeks. He had a fruit orchard and a large "root-cellar" attached to the house for storing fresh foods and canned goods. There were three "houses" consisting of the living quarters, the wash-house, and the smoke house.
He had wonderful barn with a "basement," that is, the sides were dug down about half the depth of a basement (kind of like the modern day "garden level"). This lower level on one side was the cow barn. On the other side was the horse barn. In the middle, where the floor was higher, he stored the hay. He could just back the hay wagon in and unload it directly onto the floor. He didn't have to haul it up a ladder or conveyor to a "hay-mow" above the ceiling, as needed in a conventional barn.
The Cornells were a founding family of the Sabbath Home Church, constructed on two acres of land deeded by a neighbor. The first sanctuary was dedicated on July 19, 1877, and the present building was erected in 1905 and is still in use. It's said that in politics, the family was socialist, and in religion they were Methodist.
Margaret and Sebastian occasionally made news in the gossip columns of the Kirksville Weekly Graphic when she or they went shopping in town. Such tidbits were printed in the editions of March 15, 1889 and Jan. 1, 1892. When she dropped off some peaches in October 1889 for the Weekly Graphic editor, the gift was acknowledged in print.
The Cornells and one of their daughters traveled to Indiana to visit with Margaret's aging parents in November 1892. Upon their getting back home, the Weekly Graphic noted with dry humor that "Mr. Cornell has returned in time to vote." Then in August 1893, after Sebastian had installed a new pair of scales for weighing produce, the newspaper said that he was "one of our most prosperous farmers and spares neither pains nor money to make his farm look well and be profitable."

Profile of Sebastian and Martha, History of Adair County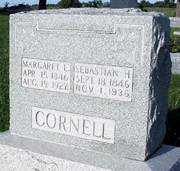 Cornell grave, Home Cemetery
After the Cornells retired from farming in the '20s, they moved into the town of Kirksville. Their home was across from where Lincoln Square Shopping Center is today.
In the winters, the Cornells traveled to California to enjoy warmer weather.
Margaret suffered later in life from congestive heart failure, and her legs would swell, turn dark and burst open. She died in Kirksville at age 81 on Aug. 19, 1927.
Sebastian outlived her by nine years, and passed away on Nov. 1, 1936, at the age of 90. The cause was bronchial pneumonia and "extreme age," wrote his physician.
Writes Sandra Paser: "They and many of their children and grandchildren are buried in the Sabbath Home Cemetery, which adjoins the church grounds."
~ Son John W. Cornell ~
Son John W. Cornell (1873- ? ) was born in 1873 "on the old home place northwest of Brashear," said the History of Adair County.
He "lived at home till grown," and in abouit 1896 married his first wife, Gertrude Cooper (1872-1919), daughter of Albert and Mary (Doss) Cooper of Hancock County, MO.
They produced one child, whose name is unknown.
After the marriage, said the History, he "began farming for himself."
The federal censuses of 1900 and 1910 show John and Girtie living beside his parents, in Adair County. In 1910, the census-taker recorded that John's nephew Ernest B. Bauer (age 9) was living under their roof. Circa 1911, John owned a "farm of forty acres near the old home place, making a specialty of handling Short-Horns, Polled-Angus and other fine cattle, and Duroc-Jersey hogs. He is a member of the Church of God."
Sadly, Gertrude died of a stroke on Jan. 8, 1919, following a stroke she had suffered 16 days before. She was just a few days shy of her 46th birthday. She was buried at the Sabbath Home Cemetery.
The census of 1920 shows John and 19-year-old nephew Ernest Bauer making their home together.
In 1922, John married his second wife, Iowa-born Iva Blanche Shupp (1886- ? ), presumably the daughter of William Shupp. They had one daughter, Marie Cornell, born in 1925. The 1930 census shows John, Iva, Marie and 83-year-old widower William Shupp in the household. Living next door was John's married nephew, Ernest Bauer, and his wife Goldie and two children.
Said the Kirksville Daily Express, Iva "was a graduate of the Kirksville Normal School and taught school in Adair County for several years."
Their fates are unknown.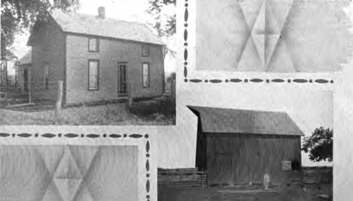 John W. Cornell's home and barn, 12 miles northeast of Kirksville, as published in the History of Adair County
~ Daughter Martha "Estella" (Cornell) Bauer Powell ~
Daughter Martha Estella Cornell (1877-1956) married (?) Bauer ( ? - ? ) when she was age 19. The marriage apparently did not last long, and ended in the 1890s, but details are lost to history for now.
Estella had one son to her first marriage, Ernest Bauer, born in 1891. The boy went to live at an early age with his uncle and aunt, John W. and Gertrude (Cooper) Cornell, near Brashear.
Estella later married Isaac T. Powell (1864- ? ). Isaac had been married once before, and brought four children to the marriage -- Earl Powell, Della Powell, Stella Powell and Ralph Powell.
The Powells went on to have two children of their own -- twins Clinton A. Powell and Cleta Powell, born in 1916. They were farmers, and are shown as a family on the 1920 and 1930 censuses of Salt River Township, Adair County.
Isaac died before Estella, but nothing more is known of his fate. Circa 1955-1956, Estella made her home in Kirksville at 1202 East Filmore.
Estella passed away of heart disease and hardening of the arteries at the age of 78 on Feb. 9, 1956. She was laid to rest at the Bethel Cemetery in Adair County.
Son Ernest Bauer (1891- ? ) married Goldie (1893- ? ) in 1921. They had two children -- Betty Bauer and Cecil Bauer. The family made their home in 1930 next to Ernest's uncle, John W. Cornell, in Kirksville, at the time the 1930 census was taken. Ernest was a laborer in a shoe factory in 1930.
Presumed son Clinton Powell resided in Kirksville circa 1956.
~ Daughter Ella Mae (Cornell) Ferguson ~
Daughter Ella Mae Cornell (1888- ? ) was born in 1888 in Missouri.
Circa 1905, when she would have been about 17 years of age, Ella Mae married her 30-year-old neighbor, Clarence "Delmar" Ferguson (1875-1950), a native Iowan who was the son of Madison L. and Mary Ann (Drake) Ferguson, and the grandson of John and Nancy (Anderson) Ferguson. The couple were a baker's dozen years apart in age.
The Fergusons became the parents of Opal Ammerman, Wayne D. Ferguson and Clarence Ferguson.
They were farmers for decades in the Hazel Green community, eight miles north of Brashear, Adair County, MO. (Click to see a memoir of the Fergusons' life.)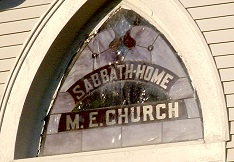 The Fergusons' church. Jacqueline Alkula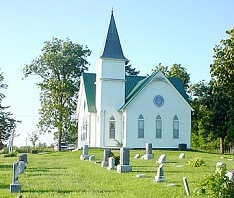 When the federal census enumeration was made in 1910, the family is shown on a farm in Clay Township, Adair County. The eldest two children were in the household that year.
Clarence is mentioned in a biographical profile of his father in E.M. Violette's 1911 book, History of Adair County.
The Fergusons remained in Clay Township during the decades of the 1910s and 1920s, as shown in the census records. Clarence continued to work over those years as a farm laborer.
Clarence suffered with heart lesions and low blood pressure for a number of years. Just a month before his 75th birthday, Clarence suffered a heart attack and died suddenly on Jan. 21, 1950. His remains were laid to rest in the Sabbath Home Church Cemetery.
Ella survived her spouse by two decades. She passed into eternity at the age of 86 on July 3, 1970. They sleep side by side for eternity in the Sabbath Home Church Cemetery.
Daughter Opal Marie Ferguson (1905-1996) was born on Aug. 22, 1905 in Missouri. On Aug. 22, 1923, she married Myrl D. Ammerman (Aug. 6, 1902-1983), a native of Wilmathsville, Adair County. They are believed to have been the parents of Sandra Ammerman-Paser. At one point they lived in Chicago, at the address of 105th and Oxford. Opal was the historian for descendants of this branch of our family. She planned and hosted reunions in Kirksville, MO in 1963, 1965 and 1966. Some of the information in this biography was drawn from her scrapbook, in which she meticulously organized her precious information. The couple in time relocated to Colorado and resided in Englewood, Arapaho County. Myrl died on Dec. 15, 1993, terminating their marriage which had lasted for 70 years. The widowed Opal made a home in Littleton, Jefferson County, CO. She passed away in Denver on Nov. 14, 1996. Interment of the remains was in Chapel Hill Gardens in Cook County, IL. They are named in Vol. 5 of the 2003 book Sayre Family: Another 100 Years.
Granddaughter Sandra Ammerman ( ? -living) was born in (?). She was united in the bonds of wedlock with Kent Milton Paser ( ? -2019), son of George F. and Melda (Milwid) Paser and a native of Oak Lawn near Chicago, IL. The couple established a home in Littleton, CO and produced three children. In the summer of 2000, shortly after this website was launched, Sandra contacted the founder and has shared a significant amount of content and images for her branch, going back to her great-great-grandfather, John Minerd Jr. A member of the U.S. Air Force Reserve, Kent spent his career in aviation, employed by Martin Marietta. An airplane he built at home is now in the Wings Over the Rockies Museum. Sadly, at the age of 83, Kent passed into eternity on Aug. 15, 2019. A memorial service was conducted at the Mountain View Christian Church in Highlands Ranch, CO. This obituary, written by his family, describes a renaissance man interested in a wide variety of life experiences.
With his passion for flight starting at a very young age, he built his first plane at the age of 5. His grandpa educated him in the ways of craftsman tools, which included carpentry, blacksmithing, and the knowledge of how things work. His mother and father kept a blossoming interest in music with a guitar, trumpet, and fiddle always left on top of the piano for eager, young fingers to play. Kent's life was filled with great ideas of flight and music. He served in the United States Air Force Reserve working on P-51 Mustangs during the Korean War. He also played the Baritone horn in the Air Force Band. While attending college for Aeronautical Engineering, Kent also conducted his church choir at Oak Lawn Community Church at the age of 19 with the wonderful gift of being able to teach every voice. Through his family's involvement in the church, he met his life time partner Sandra Ammerman who, at the age of 14, played the organ for the church. They worked together creating music and within two years Kent and Sandra were married and began walking together through this journey called life.
After attaining his degree, Kent and Sandra moved to Littleton, Colorado in 1959 where Kent began his career with Martin Marietta as an Aerospace Engineer. While sending man into space with Skylab and helping to put man on the moon through the Apollo flights, he also created significant tools for space and star charts currently used in The International Space Station. Sharing his passion for flight with astronauts and rocket scientists and the like, Kent retired after 33 years from his distinguished career and continued to fly his Mustang II airplane. It took 3 years for Kent to build his Mustang II. Its maiden flight was in the winter of 1971 with the call numbers N5672. He became a member of the Experimental Aircraft Association and a Charter Member and President of the local EAA Chapter 301. With his keen knowledge and expertise in Aviation History, Kent knew the performance and power specifications of every aircraft manufactured. He used his knowledge to convert his plane into a sleek and efficient racing machine that, to this very day, is discussed in flight circles around the world. Earning awards, such as in the Pazmany Efficiency Races, and being recognized for his excellent work in flight, Kent shared his creation and modifications in his book "Speed With Economy" published in 1994. Kent traveled around the country teaching seminars and sharing his book with hopes to help others achieve success with their flying machines. All the while enjoying and always keeping his music in the forefront of his mind. Kent loved music, especially Gospel, Bluegrass, and Symphonic Classics. While working on his plane and cars, and perfecting the art of gardening, he would clearly whistle the tune of the day. His family and friends will remember him as a loving, gentle soul, with a ready laugh. He was always primed to help and could make or repair almost anything.
Son Wayne D. Ferguson (1908-1973) was born in about 1908 in Missouri. He was united in holy matrimony with Iva Lucille Dodsworth (June 17, 1908-2001), a native of La Crew, Lee County, IA. Their two known children were Robert Cecil Ferguson and Myrl D. Ferguson. Grief blanketed the family when infant son Robert, born prematurely, died at the age of four days on Dec. 30, 1929. Wayne died in his mid-60s in 1973. Iva outlived him by 28 years. Her final years were spent in Greentop, Schuyler County, MO. There, she died at the age of 93 on July 30, 2001. The couple is in eternal repose in Sabbath Home Church Cemetery.
Grandson Myrl D. Ferguson (1931-2013) was born on March 24, 1931. When he was 21 years of age, on May 18, 1952, he was joined in wedlock with Betty Lou Alger (April 6, 1934-2003), daughter of Nile and Ellen (Stinson) Alger. Their union endured for 51 years. The couple produced two sons -- Robin Ferguson and Danny Ferguson. After graduation from high school, Myrl made a living for 25 years by farming and operating a bulldozer. Then in 1968, he swapped his farm for a salvage yard property and conducted the business with his sons. He and Robin also owned and ran Ferguson Auto Parts for two decades. Myrl served for two terms as commissioner of Adair County. Betty Lou attended Northeast Missouri State Teachers College and went on to a 37-year teaching career of 7th and 8th grade social studies and geography at Kirksville Junior High School. She retired in 2002. The couple were proprietors of a dog kennel and enjoyed buying and restoring antiques.

At some point, they began making a home in Greentop, Schuyler County, MO.

In his spare time, Myrl also liked to fish, hunt and race automobiles. He was a member of the local lodges of the Masons and Shrine, and she of the Order of Eastern Star. Sadly, Betty Lou passed away in Greentop at the age of 69 on Sept. 24, 2003. Chaplain Norm Snowbarger officiated at the funeral, with the hymns

What a Day That Will Be

and

One Day At a Time

sung by a soloist. The

Kirksville Daily Express & News

published an obituary. Myrl survived as a widower for nine-plus years. In his later years, he became a resident of the LaPlata Nursing Home in LaPlata, MO. He was gathered in by the Angel of Death at the age of 81 on Jan. 27, 2013. Funeral services were conducted by Pastor Ralph Wheeler. He rests eternally in Maple Hills Cemetery in Kirksville, Adair County.
Son Clarence Ferguson (1916- ? ) was born in about 1916 in Clay Township, Adair County.
~ Daughter Emelia (Cornell) Waddill ~
Daughter Emelia Cornell (1870-1959) was born in 1870.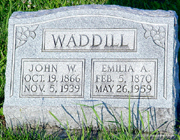 Sabbath Home Cemetery
She wedded John W. Waddill (1866-1939), the son of Robert S. and Margaret (Dunham) Waddill, on Aug. 10, 1886.
They had two children -- Glen B. Waddill and Bessie L. Waddill. Sadly, daughter Bessie died just a few weeks after her first birthday, on Sept. 2, 1888.
The Waddills resided on a 160-acre farm about five miles northwest of Brashear, MO. John is profiled in the E.M. Violette's 1911 book, History of Adair County which says that he was:
... one of the best known horsemen in North Missouri... He raises pure-bred draft horses and pure-bred coach horses, owning what is known as the Pioneer Stock Farm. His horses are registered, and he is one of the best known breeders in the state... [He] is a member of the Methodist church. He is a Republican in politics.
John also was a breeder of Jersey cattle, as referenced in the 1911 History.
He passed away of a cerebral hemorrhage on Nov. 5, 1939, at the age of 73. He was laid to rest at the Sabbath Home Cemetery. Emelia outlived him by nearly two decades. She died at the age of 89 on May 26, 1959, and rests beside her husband for eternity.

The old, quiet Sabbath Home Church and Cemetery where the Cornells worshipped and are buried, as photographed in mid-2009. Jacqueline Alkula
~ Daughter Mary Alice (Cornell) Waddill ~
Daughter Mary Alice Cornell (1874-1968) was born in July 1874.
On June 13, 1894, when she was age 19 or 20, Mary Alice was united in matrimony with Luther Mitchell Waddill (April 15, 1870-1930), the son of Jonathan Wesley and Isabel (Darrow) Waddill. Rev. W.L. Scull officiated at the nuptials, held in the Cornell home, and news of the wedding was published in the Kirksville Weekly Graphic.
The Waddills bore four known children -- Letha Waddill, Leta Waddill, Myron "Mike" Waddill and Jennie Waddill. The first child was not born until after the couple had been married for seven or eight years.
When counted in the federal census enumeration of 1900, Mary Alice and Luther lived with his father and brother in Salt River, Adair County. They remained in Salt River during the decade of the 1900s as shown on the 1910 census.
The 1911 book History of Adair County featured Luther, saying he "owns a farm of eighty acres, situated vie miles northwest of Brashear. He does general farming and stock raising. In politics he is a Republican. He has been a farmer all his life and belongs to one of the old pioneer families."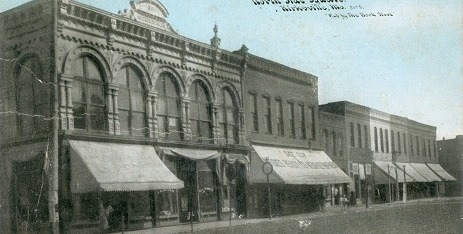 Kirksville's north side square
Luther's means of earning a living changed during the 1910s. He became a clerk in a garage in Kirksville, and worked in this role in 1920.
Tragically, Luther was killed on May 10, 1930 when, while working as a night watchman at an automatic grain elevator, accidentally was crushed to death under the heavy device. His remains were laid to rest in the Bethel Cemetery, also known as the Sabbath Home Church Cemetery.
Mary Alice lived for another nearly four decades as a widow. She was swept away by the Angel of Death on Sept. 15, 1968.
Daughter Leta Waddill (1903-1995) was born on Oct. 25, 1903 in Salt River, Adair County, MO, a twin with her sister Letha. She wedded (?) Roasa ( ? - ? ). At one time she dwelled in Memphis, MO. Leta died on April 15, 1995 in Weslaco, Hidalgo County, TX. Burial of the remains was in Granger Cemetery in Scotland County, MO.
Daughter Letha Waddill (1903- ? ) was born on Oct. 25, 1903 in Salt River, Adair County, MO, a twin with her sister Leta. When she was 22 years of age, on Aug. 22, 1925, she was united in the bonds of matrimony with Cecil B. Morehead ( ? - ? ) of Brashear, Adair County and the son of C.W. Morehead. Charles H. Brott presided at the wedding.
Son Myron "Mike" Waddill (1906- ? ) was born on Feb. 20, 1906 in Salt River, Adair County, MO.
Daughter Jennie Waddill (1918- ? ) was born in about 1918. On Sept. 21, 1935, Jennie was joined in holy marriage with Willard Leo Spurling ( ? - ? ), a resident of Kirksville. Because both were legally underage to marry, her mother and his father had to sign their consents. Rev. T.E. Spurling officiated.
Copyright © 2002-2003, 2009, 2020 Mark A. Miner
History of Adair County pages courtesy Google Books. Sabbath Home Church and Cemetery photographs courtesy Jacqueline Alkula. Betty McClanahan and Sandra Ammerman-Paser generously have contributed content for this biography. Donald L. Kear published extensive information in his book The John Cears Kear Family (1984).