Charles David Ream
(1904-1982)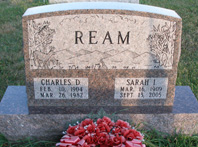 Kingwood IOOF Cemetery
Charles David Ream was born Feb. 10, 1904 in Lower Turkeyfoot Twp., Confluence, PA. He was the sixth of 16 children born to Joseph and Sarah Ellen (Harbaugh) Ream.
Charles was raised on a farm and worked in the timber with his father and brothers.
He married Sarah "Isabel" Nickelson (1909-2005), daughter of Jacob and Lucretia (Conn) Nickelson of Lower Turkeyfoot Township.
They produced two children -- Charles Carl Ream and Betty Louise McClintock.
Charles and Isabel lived between Confluence and Ursina, Somerset County. They were members of the Kingwood Church of God.
Charles worked for many years in the coal mines, and was a longtime member of the United Mine Workers. He also had a bit of a temper, and his wife believed it ran in a streak among the Reams -- "It's in 'em all," she said.
He died of a heart attack on March 26, 1982 and is buried at the Kingwood IOOF Cemetery, Kingwood, PA.

Bird's eye view of Confluence
Isabel outlived him by 23 years. She attended the Confluence United Methodist Church "as long as her health would permit," said the Somerset Daily American. In January 2000, she hosted a visit from her niece Doris (Sands) Hawker, accompanied by the founder of this website.
She passed away on Sept. 13, 2005, and was laid to rest beside her husband. Rev. James Monticue and Rev. Linda Dinger co-officiated at the funeral service.
Isabel is pictured on several pages of the book Draketown Past & Present.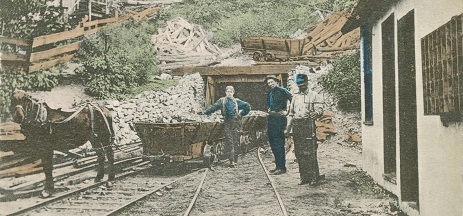 Miners in the famed "Connellsville Seam" region of Somerset/Fayette Counties
~ Son Charles "Carl" Ream ~
Son Charles "Carl" Ream (1926-1996) was born on March 14, 1926 in Lower Turkeyfoot Township.
He married Faye Blubaugh (Jan. 3, 1926-2019), daughter of John E. and Edna (Earley) Blubaugh Sr.
They lived in Ursina and produced an only son, Lawrence L. "Larry" Ream.
Charles was a U.S. Navy veteran of World War II, and a member of the International Iron Workers Local #3 of Pittsburgh. He also was a deputy game protector for a quarter-century and was a member of the Draketown Hunting Camp. They endured the death of their only son at the age of 45 in 1993.
At the age of 69, Charles passed away at home on March 30, 1996. Rev. Rick Gamble oversaw the funeral service, with burial in Somerset Memorial Park.
Faye outlived her spouse by 22-plus years and maintained a residence in Ursina. She died at the age of 93 on Jan. 15, 2019, assisted at the end by ViaQuest Hospice. An obituary was printed in the Somerset Daily American.
Son Lawrence L. "Larry" Ream (1948-1993) was born on July 19, 1948 in Somerset. After graduation from high school, he attended Durbin Secretarial School in Connellsville and a business school in Pittsburgh. From 1968 until 1991, he served in the U.S. Navy and was a life member of the Disabled American Veterans (DAV). He married Linda Darr ( ? - ? ) and had one son, Jason Ream. They moved to Deer River, MN. Lawrence died in Deer River at the age of 45 on Oct. 10, 1993. His remains were brought back to Kingwood to rest in eternal repose in the Kingwood IOOF Cemetery.
~ Daughter Betty Louise (Ream) McClintock ~
Daughter Betty Louise Ream (1928-2016) was born on Sept. 14, 1928 in Confluence.
On Feb. 22, 1948, at the age of 19, Betty Louise married 21-year-old Warren J. McClintock (Oct. 20, 1926-2017), son of Stewart and Mabel (Colflesh) McClintock of Confluence, of the family of Rev. Herman and Susanna (Faidley) Younkin. The ceremony took place in the Methodist Church at Oakland, Garrett County, MD. Betty's brother Carl Ream served as best man. At the time of marriage, Warren lived at Harnedsville, and was employed by General Refractories Clay Company of Fort Hill, Somerset County, while Betty worked at the A.G. Black and Sons store in Confluence.
The McClintocks went on to have one daughter, Linda Pyle.
Betty Louise was employed over the years by Dr. and Mrs. Edwin Price in Confluence. They attended the United Methodist Church in Confluence and also in Addison.
Warren spent many years working for Keystone Lime Company in Springs, PA and retired from this position.
At the age of 87, Betty Louise passed away at Mount Macrina Manor in Uniontown, Fayette County, PA on Aug. 9, 2016. Interment was in Addison Cemetery, with Rev. Samuel McClintock leading the funeral service.
Warren only survived his wife by six months. He joined her in eternal rest on Feb. 8, 2017, while also a patient at Mount Macrina Manor. Rev. McClintock also performed the funeral service for the family. An obituary was printed in the Somerset Daily American.
Daughter Linda McClintock married David Allen Pyle Sr. and resided in Uniontown. Their children were David Allen Pyle Jr. and Angela Slaughter.
Grandson David Allen Pyle Jr. was wedded to Lindsey. Their two children were Olivia Pyle and Owen Pyle. In 2016, they made their home in Kents Store, VA.
Granddaughter Angela Pyle married Christpoher Slaughter. They had two children -- Zachary Slaughter and Makenzie Slaughter. Their residence in 2016 was in Uniontown, PA.
Copyright © 2001, 2005, 2016-2017 Doris (Sands) Hawker and Mark A. Miner