Home

Abraham Lincoln Rhoads
(1861-1913)
Abraham "Lincoln" (or "Link") Rhoads was born on Nov. 13, 1861 in Somerset County, PA, the son of Joseph A. and Mary (Weyand) Rhoads.
He left home as a young man and circa 1880 lived in the home of Joseph and Mary S. Coleman in Somerset Township, labeled by the census-taker as a "son" of the couple. Within a year or two he "came west and settled in Kansas," said the Haddam (KS) Clipper-Leader.
On April 28, 1885, in nuptials held in Haddam, Washington County, KS, the 24-year-old Lincoln was united in matrimony with Sadie Bowman ( ? - ? ).
They produced five offspring -- Grover Rhoads and Homer Rhoads (born in Kansas) and Gretta Anita Koberg, Coila Sullivan Lynch and Vivian Genevieve Manson Dumler (born in Oklahoma).
Early in the married years, Lincoln was employed in Haddam by Yoder Bros. and was widely known as "Link." He also owned a drug store which in 1886 he sold to Al Tansel. Then in 1887, he ran the opera house billiard hall but discontinued the work on May 1, 1887. Seeking more, he traveled throughout Kansas in August 1887, and upon returning, told the Haddam New Era that "towns in Western Kansas are springing up as if by magic and that people are rolling to their borders and building magnificent blosk upon beds of permanent sand. He tells us that two towns in Logan county are each bidding to secure the county seat with a $40,000 purse."

Land run speculators in Guthrie, Oklahoma, 1889, where Abraham "Lincoln" Rhoads and friend Calvin Morrow staked claims on the first day.
Sensing opportunity in the newly opening lands of Oklahoma, he and friend Calvin Morrow took part in the famed land run of April 1889 and staked claims in what became the town of Guthrie. Said the Washington (KS) Weekly Post, "They were at Guthrie on the opening day and say it was a sight to see. At twelve o'clock, noon, the people seemed to spring up from all parts and within a very short time the town contained a population of ten thousand. Link was on the ground early and got a choice lot for which he realized $140.... They are loud in their praise of the country, and the people down there. The report coming from there of famine, disorder and carnage, is emphatically denied by those who have been in the territory." They staked a claim in Canadian County, and Lincoln "was among the first to help in the founding and upbuilding of El Reno," said the Clipper-Leader. He is known to have occasionally returned to Haddam and told friends that the Oklahoma expanses were "still on the boom." When the federal census enumeration was made in 1900, the family home was on Evans Avenue in El Reno, with Lincoln earning a living as a saloon proprietor.
Of his nature, the Clipper-Leader once said he "made many friends and to those who were his friends he was a friend indeed. He was human and had faults like every other mortal, but the man who needed assistance or help of any kind no matter what his condition never appealed to Abe in vain." Although they probably did not know of the connection, distant cousin Warren DeMoss -- of the family of Archie DeMoss -- served as postmaster of El Reno during the years the Rhoadses lived there.
Federal census enumeration records for El Reno in 1910 show Abraham (selled "Abraham" by the census-taker) working as a real estate agent and keeping three lodgers in the household.
Overnight on May 22-23, 1913, at the age of 52, Lincoln passed away in his sleep in El Reno. Said the El Reno newspaper, "The many friends of Abe Rhodes were greatly surprised this morning to learn of his death.... He was on the streets yesterday and seemed to be in perfect health, according to his family he retired early last evening and had not complained of being unwell. This morning he was found dead in bed, and it is supposed that a sudden attack of heart failure caused his death. That the end came peacefully was indicated by the appearance of the body when found by relatives this morning, the deceased apparently passed from a deep sleep into the Valley of the shadow." Burial was in El Reno Cemetery. [Find-a-Grave]
The widowed Sarah survived another 37 years as a widow. She is believed to have married again to (?) Winchell and in 1931 made her residence in Tenkawa, OK at 110 South Fourth Street.
She passed into eternity on March 5, 1950 and rests beside her husband.

El Reno, Oklahoma, where Abraham "Lincoln" Rhoads operated a saloon
~ Son Grover Rhoads ~
Son Grover Rhoads (1886-1931) was born on Feb. 20, 1886/1887 in Haddam, Washington County, KS.
As a boy, he relocated to Oklahoma with his parents when the territory was opened to peaceful settlement. He joined the U.S. Navy in young manhood and circa April 1909 was assigned to the Philippine Islands. He is known to have lived in San Francisco in 1913. He stood 5 feet, 11 inches tall, and had black hair and brown eyes.
Once his term of service ended, he returned to Oklahoma. Bur on the eve of World War I, he was required to register for the military draft. At that time he dwelled in Healdton, OK but was unemployed.
During World War I, he served as a corporal in the 357th Oklahoma Infantry, also known as the Oklahoma National Guard, and is believed to have been wounded slightly.
Eventually, Grover learned the trade of paper hanging.
His home in 1919 was in El Reno, Canadian County, OK.
When he was 32 years of age, on Oct. 23, 1919, Grover entered into marriage with 26-year-old Mary Jane Ray (1894- ? ), a Mississippian by birth but an El Reno resident. Their nuptials were held in Enid, Garfield County, OK, by the hand of County Judge E.L. Swigert.
Circa 1920, federal census enumeration records show them living on West Wade Street in El Reno. Grover had no occupation at that time.
In about 1929, Grover at age 42 wed a second time to 34-year-old Dana/Denna (1895- ? ).
United States Census data for 1930 list the pair in Crane, Crane County, TX, with Grover earning a living as an oilfield laborer.
In the late 1920s or early '30s, he also made a home in Florida and in April 1931 was in Longview, Gregg County, TX as a clerk in some sort of business connected with the oil boom.
Grover was afflicted with ulcers of the bowels and stomach. When the bowels began to hemorrhage, he went into heart failure. Sadly, at the age of 44 ,on April 4, 1931, he died in Longview at a "home in which he had been staying," said the Longview News-Journal. "He was a clerk by occupation." His remains were transported back to Canadian County to rest in El Reno Cemetery. The remains were interred in El Reno Cemetery. His mother applied for a standard issue military marker to be erected at the grave.
~ Son Homer Rhoads ~
Son Homer Rhoads (1888-1973) was born on Sept. 20, 1888 in Haddam, Washington County, KS.
As a boy of about 10 or 11, he moved with his family to El Reno, OK. Then in his teens, circa July 1905, he joined the U.S. Navy and trained initially in Norfolk, VA. However, said the El Reno Democrat, he "was compelled, on account of ill health, to leave the service."
Back in El Reno, he tried to make money in bootlegging and was convicted by a jury in March 1908, with a sentence of 30 days in jail and a $50 fine. He again was charged with selling illegal alcohol and appeared in court in October 1908, with the El Reno Daily American crowing that "County officials seem to have the bootleggers on the run..."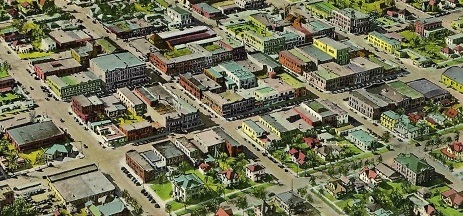 Aerial view of Homer Rhoads' base of bootlegging, El Reno, OK
Having recovered healthwise by April 1909, Homer re-enlisted in the Navy's offices in Oklahoma City for an assignment in the engineer service. He was sent to San Francisco with expectations of being posted to the Philippine Islands, where his brother Grover was serving at the time, also with the Navy.
Later that year, on July 26, 1909, the 21-year-old Homer was united in matrimony with 18-year-old Maggie Hock ( ? - ? ), also a resident of El Reno. The marriage ceremony was conducted by County Judge Cullison in Enid, OK.
Homer and his father both were charged in March 1910 with violation of liquor laws in Canadian County Court. One of his cases was dismissed in September 1911, with him placed on parole.
Perhaps facing so much controversy, he appears to have moved to Kansas and is known to have resided in 1913 in Haddam, KS. He also was sued by the City of El Reno in August 1915. He seems to have been embroiled in related bootlegging cases for years.
As with his older brother, Homer joined the U.S. Army during World War I as a member of the 357th Oklahoma Infantry, Company K.
Circa 1931, he lived at 2201 West 13th Street in Oklahoma City. By 1942, he made a home in Phoenix.
When he was 54 years of age, on Oct. 30, 1942, Homer was joined in wedlock with Opal Daniels (May 17, 1898-1978). Their wedding was held in Phoenix. A marriage announcement in the El Reno Daily Tribune said that Opal had been "employed by the Catto hospital until a short time before her marriage."
Opal was a native of Pleasant Hill, IL who had migrated to El Reno during the 1920s. She appears to have brought two stepchildren into the union, Bill Hunt and Florene Stout.
Homer passed into eternity on March 13, 1973. Burial was in El Reno Cemetery.
Opal lived for another five years. She joined him in death at the age of 80 on Nov. 18, 1978 as a patient in Park View Hospital. Her remains were lowered into eternal repose in El Reno.
~ Daughter Gretta Anita (Rhoads) Koberg ~
Daughter Greta Anita Rhoads (1894-1983) was born on Jan. 3, 1894 in Oklahoma.
At the age of 19, Gretta was united in the bonds of holy matrimony with 29-year-old John Detlef Koberg Sr. (March 27, 1884-1980), an immigrant from Germany who had come to America in 1900 when about 16 years of age.
The pair became the parents of a son and a daughter, John D. Koberg Jr. and Gretta Jo Burnett.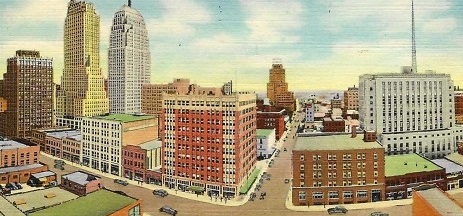 Oklahoma City skyline
The Kobergs maintained a residence in 1920-1940 in Oklahoma City. He was employed in 1920 as an automobile salesman -- in 1930 as a salesman in oil royalties -- and in 1940 as a broker of oil leases. John retired as an independent oil producer by 1950.
The family address in 1940 and 1950 was at 2201 Northwest 13th Street. Gretta was a charter member of the Early American Glass Club, and she is known to have given guest lectures on such topics as Natchez, MS and the pilgrimmage movement. They also filled their home with rare antiques. Reported the Oklahoma City Daily Oklahoman in a story on June 7, 1942:
No matter what your particular hobby in antiquing, it is likely to be found at the home of Mrs. John D. Koberg... If your interests center about musical instruments, there is a rosewood square piano beautifully carved, and also a mclodian and an upright piano. There are plates, pitchers, dishes and bowns of ironstone tea leaf copper luster ware, as well as a collection of silver napkin rings, a collection of rare glass, and a dresser set of Jenny Lind milk glass.
Gretta was among four Glass Club members pictured in an Oct. 5, 1958 Daily Oklahoman article.
The couple's final address was at 2201 Northwest 31.
Sadly, at the age of 95, John passed away on Feb. 9, 1980. Interment of the remains was in Fairlawn Cemetery.
Gretta outlived her spouse by three-plus years. She died at the age of 89 on July 30, 1983.
Son John D. "Jack" Koberg Jr. (1919-2002) was born on Jan. 12, 1919 in Oklahoma City. At the age of 21, a bachelor, he worked as an oilfield laborer in the Oklahoma City area. He went on to live "a long, productive, independent life," said the Oklahoma City Daily Oklahoman. John appears not to have married or reproduced. He was a 1937 graduate of Classen High School and then enrolled in the University of Oklahoma. During World War II, in 1942, he joined the U.S. Army's aviation cadet progream and trained as a navigatir and bombardier. He received an officer's commission in the Army Air Corps and was an instructor at air bases in Las Vegas and Childress, TX. After the war, he begsn employment with Caterpillar dealers including Hoover Equipment, Boecking-Berry Machinery and Boecking Machinery. He attained the position as executive vice president and in 1984 retired after a 35-year working career. Sadly, John died in Oklahoma City on Dec. 6, 2002. His obituary appeared in the Daily Oklahoman.
Daughter Gretta Jo "Bubbles" Koberg (1927-2020) was born in about 1927. Gretta received her nickname after her childhood love of the book Bobbie Bubbles. She was a graduate of Classen High School and attended Oklahoma City University. Gretta Jo appears to have been twice-wed. In August 1945, she married her first spouse, George R. Warner Jr. ( ? - ? ). He served as a flight officer during World War II and in December 1945 was posted to Perrin Field in Sherman, TX. Later, she was joined in wedlock with (?) Burnett ( ? - ? ). They produced a family of two -- Randy Burnett and Gretta Suzanne "Suzy" Morgan. Gretta Jo was employed in sales positions by several travel agencies as well as airlines such as Braniff, Continental and SunWorld International. Following in her mother's footsteps, Gretta Jo had a passion for antiques, art, ballet, music, opera and travel. Her love of poetry ranged from "Vagabond's House" by Don Blanding to "Daffodils" by William Wordsworth. She was a volunteer docent with the Oklahoma City Museum of Art and Cowboy Hall of Fame and belonged to the Civic Music Association, Master Gardeners, Toastmistresses and Westminster Presbyterian Church. They made a home in Oklahoma City in 2002. For the last decade of her life, Gretta Jo suffered with dementia. The angel of death swept her away on March 3, 2020. In a Daily Oklahoman obituary, the family asked that any donations be made to the Oklahoma Medical Research Foundation.
Grandson Randy Burnett married Deane Wallace. Their home in 2002 was in Dallas.
Granddaughter Gretta Suzanne "Suzy" Burnett wed Chip Morgan. They put down roots in Oklahoma City and bore two daughters, Stephanie Wangler and Michelle Reed-Erickson..
~ Daughter Coila (Rhoads) Sullivan Lynch ~
Daughter Coila Rhoads (1896-1989) was born on Nov. 12, 1896 in El Reno, Canadian County, OK.
She dwelled in 1913 in El Reno.
Coila was married twice. At the age of 17, on Aug. 8, 1914, in Oklahoma City, she wed 22-year-old Oklahoman Roland C. Sullivan (1892- ? ).
They produced a son, Dr. Edgar Lars Sullivan and a daughter Patsy Coila McKenna.
Evidence suggests that circa 1920, the Sullivans resided in Ranger Township, Eastland County, TX, with Roland employed as a teamster in the oilfields.
When the federal census enumeration was made in 1930, the Sullivans dwelled in Tonkawa, Kay County, OK.There, he earned income as manager of a cafe. Coila was active with the local Order of Eastern Star.
Coila sued Roland for divorce, on the grounds of "extreme cruelty." It was granted in Kay County (OK) Court in September 1933, with the matter reported in the Blackwell (OK) Journal-Tribune. At the time, she was making a home in Tonkawa, OK.
The pair may have remarried. Coila again petitioned for a divorce in El Reno, OK in June 1941, along with custody of their seven year-old daughter Patsy. She claimed "gross neglect," said the El Reno Daily Tribune, and again a divorce was granted.
In August 1941, using the name "Sullivan," she vacationed with her married son and daughter-in-law and her parents in Mexico City.
Coila later married Henry Owen Lynch (May 23, 1906-1964).
For many years, the Lynches resided in Hays, KS. Their address in 1953 was 3521 Lakin. Then in 1961, they dwelled in Denver, CO, with Coila become seriously ill in May 1961, and in Brighton, CO in 1964..
Sadly, Henry passed away in Brighton in May 1964. News of his passing was published in the Hays (KS) Daily News.
Coila survived as a widow for a quarter of a century. Later in 1964, she sold a town lot in Hays to her son-in-law L.J. McKenna Jr. She was a member of St. Joseph's Catholic Church of Hays and its altar society.
Coila is known to have taken a month's vacation in the autumn of 1971, seeing loved ones in Springfield, MO; Oklahoma City and Claremore and Tonkawa, OK. While in Oklahoma City, she met up with her son Edgar who had traveled from his residence in San Benito, TX.
In 1980, Coila moved to her married daughter's home in St. Louis.
She died on May 23, 1989 at the age of 90 in Evergreen Nursing Home in St. Louis. An obituary was printed in the Salina (KS) Journal which reported that her survivors numbered eight grandchildren and 17 great-grandchildren. Rev. Paulinus Karlin officiated at the funeral service, with interment in St. John's Cemetery in Russell.
Son Dr. Edgar Lars "E.L." Sullivan (1915-1980) was born on Aug. 21, 1915 in Oklahoma. He received a medical degree in dentistry. On April 12, 1941, he married Elsie "Jean" Agar (1920-1996), daughter of Ralph T. Agar. The wedding was held in the Methodist Church of San Benito, TX. They established a longtime home in San Benito. Three known children born to the pair were Michael Sullivan, Linda Sullivan and Shawn Sullivan. During World War II, E.L. served in the U.S. Navy and in 1944 was assigned to the Corpus Christi Naval Air Station. Later, he renewed operation of his private practice in San Benito. One of the ways he gave back to the community was with free dental examinations for local schoolchildren. Circa 1956, he served on the advisory board of the Cameron County (TX) Retarded Children's School. Jean was active with the Bridle Club of Harlingen, TX. After 22 years of marriage, Jean filed for divorce in 1963 in Cameron County. Edgar is known to have dwelled in 1971 in San Benito. He died at age 64, on May 16, 1980. Jean lived for another 16 years. She surrendered to the angel of death on June 20, 1996. Their remains sleep for all time in Mont Meta Memorial Park.
Grandson Michael Sullivan (1943- ? ) was born in about 1943 in Texas.
Granddaughter Linda Sullivan (1945- ? ) was born in about 1945 in Texas.
Granddaughter Shawn Sullivan (1948- ? ) was born in about 1948 in Texas.
Daughter Patsy Coila "Pat" Sullivan ( ? - ? ) was born in (?). She graduated from Fort Hays State College where she met her future husband. Circa 1953, she wed L.J. "Larry" McKenna ( ? - ? ), son of Leonard J. McKenna Sr. of Osborne, KS. Their four known offspring were Michael McKenna, Mark McKenna, Diane McKenna and Suzanne McKenna. They were in Hays, KS in the 1950s and 1960s, where Larry was employed by the Woods & Starr archiectural firm. He was elected to the board of directors of the Hays Junior Chamber of Commerce and president of the Jefferson West Parent-Teachers Association and belonged to the Toastmasters Club. In her own right, Patsy served as president of the St. Anthony Hospital Auxiliary. Their address was 500 Mission Mount. Fate intervened in January 1964 when their large fame house was destroyed in a fire, with the family of six surviving with only the clothing on their backs. The McKennas moved into a new home at 2404 Main Street a short time later. Friends rallied to their aid, giving Paty a "household shower." During that era of time, their names regularly appeared in local newspaper stories. They are known to have been in Overland Park, KS in 1970 and in June 1975 Larry was tapped to be in charge of production for his firm's Kansas City office. The family was in St. Louis in 1989.
Grandson Michael McKenna ( ? - ? )
Grandson Mark McKenna ( ? - ? )
Granddaughter Diane McKenna ( ? - ? )
Granddaughter Suzanne McKenna ( ? - ? )
~ Daughter Vivian Genevieve (Rhoads) Manson Dumler ~
Daughter Vivian Genevieve Rhoads (1904-1980) was born on Oct. 13, 1904 in El Reno, Canadian County, OK.
She grew up in El Reno.
She first was united in matrimony at the age of 19 with 32-year-old Joseph T. Manson (Nov. 20, 1891-1938), a native of Oklahoma City and the son of Josephine Leigh..
Together, the pair bore two known children -- Thomas G. Manson and Coila Jo Manson.
Thomas grew up in Perry, OK and attended St. Joseph's Academy. Said the Yukon (OK) Oklahoma Sun:
After leaving school he was employed by the American Railway company, later entering the employ of the Frisco Railroad company. After leaving the Frisco Railroad company hemoved to Texas, where he was employed and worked for several different oil companies. For the past several years he was foreman for the Danciger Oil & Refineries, having complete charge of their warehouse of oil field supplies, at Le Fors, Texas...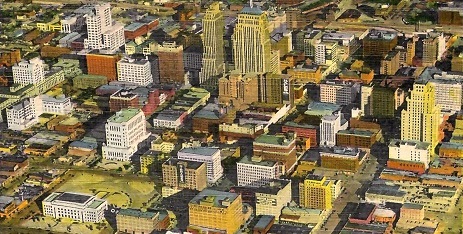 Heart of Oklahoma City
In 1930 the young family dwelled in Oklahoma City. Joseph earned a living in 1930 as a warehouse clerk for a natural gas company.
Tragedy rocked the Mansons on the fateful day of May 15, 1938 when Joseph lost his life in what theOklahoma Sun called "an auto-truck collision two miles south of his home, at LeFors, Texas...," when his car was struck by a Gibson Tool & Machine Company vehicle. The site of the accident actually was eight miles east of LeFors. Son Thomas and friend Harwell Hall were in the vehicle and were injured but survived. Leading the funeral service was Rev. F.A. Dunning of the local First Methodist Church, with burial in Yukon Cemetery.
The widowed Vivian then filed a legal complaint against Gibson Tool & Machine Company. In a jury verdict handed down in February 1939, in 31st District Court, she was awarded damages of $19,500. The Pampa (TX) Daily News reported that of the total, Vivian was to receive $7,500, son Thomas $5,000 and daughter Coila $7,000.
On March 11, 1939, Vivian was united in matrimony with Albert Sylvester Dumler (Jan. 19, 1907-1995), sometimes misspelled "Dunbar." They put down roots in Russell, Russell County, KS.
The United States Census of 1940 shows that the Dumlers owned a grocery store in Russell. Circa 1950, still in Russell, they owned a newsstand and confectionary. The family relocated to Denver for several years until about 1972 when they moved to McPherson, KS. The pair then came back to Russell in November 1984 and occupied a home at 544 East Second Street.
Vivian died in Russell's Wheatland Nursing Center at the age of 84 on Sept. 8, 1989. Rev. Robert Lundgren oversaw the funeral service. The remains were lowered under the sod of St. Johns Lutheran Cemetery in Russell.
Albert remained in Russell and outlived his wife by six years. He endured the untimely deaths of stepdaughter Coila Jo in 1970 and step-grandson Theodore Manson in 1992. Death carried him away on May 6, 1995.
Son Thomas Gordon Manson (1926- ? ) was born on March 14, 1926 in Oklahoma City, although one source places his birth in Texas. He was adopted by Vivian and Joseph. He grew up in oilfield communities of West Texas and was age 11 when he adoptive father died in an automobile accident. He then moved with his mother and sister to Russell, KS, where he was a 1943 graduate of Russell High School. With World War II aflame, he then joined the U.S. Navy. He held the rank of seaman first class in the Signal Corps, based in the Pacific Theatre, and took part in the final island-to-island campaign. He received the USS Libra commendation for "exceptional meritorious service" against enemy aircraft, shore batteries, mines and submarines. Upon his return home, financed by the G.I. Bill, he enrolled at Baker University and learned business and history. On Aug. 8, 1948, Thomas was joined in holy wedlock with fellow student Rev. Frances May Baker (Oct. 20, 1927-2011), daughter of Francis W. "Bullet" and Thelma (Shaw) Baker and a Kansas City native. Their marriage endured for an extraordinary 61 years. Thomas went on to earn his degree in 1950 from the University of Missouri at Kansas City. The pair's four offspring were Jenny Lynn Weatherford, T. Bradley Manson, Marcus Baker "Chip" Manson and Theodore Rhoads "Ted" Manson. They also became foster parents to two Baker University students from China, Chin Shao Shu and Chin Shao Wei. He once was described as "a devoted husband, father, and business and civic leader in Kansas City." Thomas devoted his working career in the field of roofing. In early manhood in the 1950s, he was employed by Earl Hankins Roofing and in 1960 acquired Western Roofing. He was known for a fair and trustworthy approach to his business and for adapting European roofing techniques. In the industry, he was elected president of the Midwest Roofing Contractors Association and the National Roofing Contractors Association and received their McCawley and Piper Awards. In the community, he was tapped to be president of the People to People chapter in Kansas City and became interested in international affairs. He also was a youth football and Boy Scouts leader, mentor to prison parolees and with his sons twice hiked the Lincoln Trail in Springfield, IL. Among his landmark projects was renovating Kansas City's Folly Theater where he also served on the board and receive a Kansas City Arts Award. He was a trustee of his alma mater, Baker University. Said the Kansas City Star:
Tom was the longest serving trustee at Saint Paul's School of Theology in Kansas City, having served from 1976 until 2005, and gave considerable time and energy to the development of that Methodist seminary. During his lifetime he was a member of Trinity United Methodist Church, Old Mission United Methodist Church, Indian Heights United Methodist Church, Stilwell United Methodist Church, Valley View United Methodist Church and, at his death, Asbury United Methodist Church. He served on the board of directors of each church when he was a member, usually of the building and development committees. He knew how to serve and give to his community, and taught his children the significance of public involvement as a critical aspect of citizenship and personal growth.
In her own right, Frances has been described as a pioneer in matters of faith, personal growth and decision-making in morals and ethics. She served during the 1960s on the Panel of American Women. Then in 1979, she received her masters of divinity degree from St. Paul's School of Theology. She went on to serve as pastor of the Indian Heights United Methodist Church and the Stilwell United Methodist Church. Said the Star, "She left a long legacy of community building in Stilwell, and has ministered to sunday school classes and congregations for two decades after her retirement in 1994... Fran was a constant and limitless supporter of public service, and gave of her time and resources essentially every day." In 1985, she received an honorary doctorate from Baker, the first woman alumnus of the university to receive this singular honor.
Grief swept over the family in 1992 at the untimely death of their son Theodore. Their final home together for years was in Leawood, KS. Sadly, at the age of 83, as a resident of Hospice House in Kansas City, Thomas died on Dec. 6, 2009. His funeral service was held in the Stilwell United Methodist Church, and a lengthy obituary appeared in the Star. Frances outlived her husband by two years and during that time lived in Overland Park. She passed away at age 83 on June 8, 2011. She was pictured in her Star obituary.
Granddaughter Jenny Lynn Manson ( ? - ? ) was a 1967 graduate of Shawnee Mission East High School. She wed (?) Weatherford. She made a home in Lawrence, KS in 1992 and in Overland Park, KS in 2005.
Grandson T. Bradley "Brad" Manson ( ? - ? ) earned a bachelor of arts degree with honors in 1975 from George Washington University. He then received his law degree in 1978 from the University of Kansas, where he was on the staff of the Law Review. His early career was spent as a law clerk to Judge James K. Logan of the United States Court of Appeals for the 10th Circuit. Bradley is known to have been a Democratic candidate for Missouri State Representative in 1980, with his brother Theodore serving as head of the campaign's issues and voter research. He is known to have lived in Prairie Village in the early 1990s. In time he formed his own law firm, Manson Karbank McClaflin. In 2013, the firm was ranked by U.S. News & World Report in the "Best Law Firms." Today he practices in a variety of business, tax and family law matters. Among his accomplishments is as a Fellow of the American Academy of Matrimonial Lawyers, Kansas Bar Foundation and Johnson County Bar Foundation. He also has been named since 1989 in the Best Lawyers in America, since 2002 in the Kansas City Business Journal's "Best of the Bar" and among Super Lawyers in Kansas and Missouri. In the community, Bradley has been a board director and president of the Kansas City Performing Arts Foundation and president of the Folly Theater, which his father helped to restore. As well, he has has co-authored the Family Law Chapter of the Kansas Bar Associationís Annual Survey of Kansas Law. He is married to or a companion of Teresa Meagher, and circa 2005, they were in Leawood, KS.
Grandson Marcus Baker "Chip" Manson ( ? - ? ) is a 1979 graduate of the University of Puget Sound. He has dwelled in Kansas City and is married to Jane Parsons ( ? - ? ). He succeeded his father as president of Western Roofing Company, logging 39 years with the business, including 25 as owner. Among other matters, he was a strong proponent of solar roofing. In 2018, after 125 years in business, Western was acquired and merged into Western Specialty Contractors, with Marcus and Jane along with 19 other office and field workers remaining with the new company. He has served as a board member of Kansas City's Gordon Parks Elementary School.
Grandson Theodore Rhoads "Ted" Manson ( ? -1992) was a 1980 graduate of Shawnee Mission South High School. He went on to earn his bachelor's degree in communications in 1984 from Syracuse University. Theodore went on to work for his father at Western Roofing Company and in his late 20s resided in midtown Kansas City. Sadness blanketed the family when, as a patient in Menorah Medical Center, he died at age 28 on Jan. 16, 1992. His obituary appeared in the Kansas City Star. A memorial service ws held at the Stilwell United Methodist Church, with the remains donated for research to the University of Kansas Medical Center.
Daughter Coila "Jo" Manson (1933-1991) was born on May 31, 1933 in Oklahoma, although one source places her birth in Texas. She grew to womanhood in Texas and Kansas. Coila Jo received her bachelor's degree at Ohio State University and served at one time in the Womens Army Corps. On her 37th birthday on May 31, 1970, in Denver, CO, she entered into marriage with Carter Dix Wegner (April 23, 1942-2018), son of Lester E. and Irene J. (Dix) Wegner of Milwaukee. The bride was nine years older than the groom. The couple put down roots in Madison, WI and together bore a daughter, Julia Wegner. Carter was an alumnus of Brookfield High School and went on to receive a degree in microbiology from the University of Wisconsin at Madison. His employers over time included Schlitz Brewing Company, A&P Company in Manitowoc and the Wisconsin Department of Agriculture. After marriage, Carter obtained a second degree from WU/Madison in civil engineering. For years, Coila was employed as a microanalyst with the Crime Laboratory Bureau of the Wisconsin Department of Justice, focusing on body fluid, hair, fingerprint, weapon and clothing evidence gathered at crime scenes. Among many other activities, she often testified in criminal trials including horrific rape and murder cases. At least one of these cases was heard by the Wisconsin Supreme Court and perhaps many more. Some of her findings are still referenced today in news articles and reports. She also helped conduct training with local law enforcement on how to manage sexual assault and other types of criminal activity. Armed with his engineering degree, Carter was employed with several engineering firms, among them Vierbicher Associates Inc., and the Wisconsin Department of Natural Resources, where he managed pollution control and water quality issues. In the community, Coila in 1980 was elected to the board of directors of the Tamarack Trails Condominium Association. They were members of St. Thomas Aquinas Catholic Church. Sadly, stricken with cancer, and after a lengthy battle, she surrendered to the spirit of death at age 57 on May 3, 1991. Her mass of Christian burial was held in the family church. An obituary was published in the Madison (WI) Capital Times. The widowed Carter married again on March 27, 1993 to Ann Rosen ( ? - ? ), daughter of Willa Rosen. They moved to Granton, WI in 2005 and were members of the Living Hope Evangelical Free Church. He also belonged to Rotary, was a Boy Scouts scoutmaster. In retirement, as an avid HAM radio operator, he was an active volunteer with the Marshfield Area Amateur Radio Society and gave more than 1,000 hours annually to Habitat for Humanity. Sadly, at the age of 75, Carter diedon April 20, 2018 in th Marshfield Medical Center. His memorial service was conducted in the family church.
Granddaughter Julia Wegner dwelled in Minneapolis in 2018.
Copyright © 2002, 2009, 2012, 2014-2015, 2017, 2019, 2022 Mark A. Miner