Home

William Michael Rhoads
(1851-1923)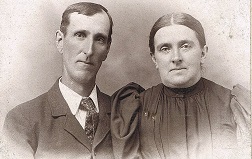 William and Susan Rhoads - courtesy David Rhoads
William Michael Rhoads was born on April 14, 1851 in Somerset Township, Somerset County, PA, the son of Joseph A. and Mary (Weyand) Rhoads.
In 1870, at the age of 19, he was united in marriage with 25-year-old Susan Gumbert (Feb. 25, 1846-1917), who was five years older than he. She was the daughter of John G. and Barbara (Penrod) Gumbert, the father an immigrant from Germany. The couple lived next to William's parents and widowed uncle Joseph Weyand in Somerset Township in 1880 and were longtime farmers.
Their five known children were Rev. Henry S. Rhoads, Cora B. Brant, Hattie G. Zearfoss, John H. Rhoads and Charles W. Rhoads.
He may be the same "Wm. M. Rhoads" who, in September 1874, received a prize for "best Early Rose potatoes" at the second annual Somerset County Agricultural Society exhibition, with the news reported in the Somerset Herald. The United States Census enumeration of 1900 shows the family in Somerset Township, living next to the families of Roseann Saylor, Nelson Berkley, Charles Frank and Joseph Zerefoss.
The Rhoadses would have felt great pride in November 1903 when their son Henry, a student at Gettysburg Theological Seminary, preached one Sunday in Somerset, first at the Lutheran Church at Friedens in the morning and then at the Wills Church in the afternoon. Then in 1910, census records show that the couple were empty nesters, with only 14-year-old servant Jennie Baker living under their roof, although married son Wilson resided next door.
Sadly, Susan was struck down by angina pectoris -- chest pain -- and died suddenly on Feb. 9, 1917, just a few weeks before her 71st birthday. Burial took place in Wills Church Cemetery.
William spent the final six years of his life as a widower. During that period of time, he moved into the household of his married son Wilson. He was stricken with cancer of the rectum, which led to acute and painful obstruction of the intestines. Unable to recover, he passed into eternity at the age of 71 on Feb. 12, 1923. [Find-a-Grave]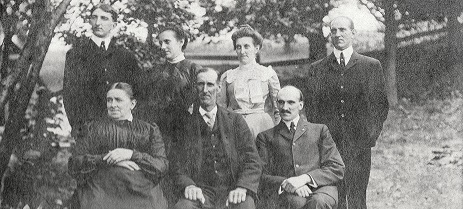 William and Susan Rhoads and family. Front, L-R: Susan, William and Henry. Back, L-R: John, Hattie, Cora and Wilson.
Courtesy David Rhoads.
~ Son Rev. Henry S. Rhoads ~
Rev. Henry Rhoads
Courtesy David Rhoads
Son Rev. Henry S. Rhoads (1871-1941) was born on April 6, 1871 in Somerset Township. He spent 37 years of his career in Lutheran ministry.
After receiving his grade school education, he became a teacher in the Somerset area and later was named assistant county superintendent of schools and served under the leadership of Elmer E. Pritts. Feeling the call to ministry, he graduated from California State Normal School in 1894 and then Gettysburg College (1901) and Gettysburg Theological Seminary (1904). He boarded in the Harrisburg home of William and Isabella Howard circa 1900 and earned income as a railroad laborer.
On Nov. 9, 1904, when he was age 33, he was united in marital union with Sudie E. Seacrest (July 24, 1874-1946), a native of Greencastle/Waynesboro, Franklin County, PA and the daughter of John C. and Charlotte (Hoeflich) Seacrest.
They were the parents of Paul Henry Rhoads.
Once Henry was ordained as a pastor, the United Lutheran Church's home mission board dispatched him to New Jersey to organize Trinity Church in Newark, where he served from 1904 to 1907. While in Newark, in 1907, their son was born. From there he was assigned to Johnstown, Cambria County. Upon leaving Newark, said the Luther League Review, "the members and friends of the congregation gave to Rev. and Mrs. Rhoads a farewell reception, when a purse of gold was presented to them."
His new position in Johnstown as as the first regular pastor of a small mission known as the Moxham Lutheran Church, and he spent nine years there, until 1916. The Lutheran, a denominational publication, noted that while he was at Moxham, "the present commodious and beautiful church was erected." Said the Somerset Daily American in 1941, "Both the Newark and Moxham churches are now large active congregations." The 1910 federal census shows the family in Johnstown.
With those successes under his belt, he was named in 1916 to pastor a Lutheran congregations in northwest Ohio in the town of Leipsic, Putnam County. During that time, wrote his son in a short memoir, "He greatly enjoyed this work among the people of Ohio."
He was transferred again in 1922 to a congregation in Lebanon, PA, where he spent seven more years. His final charges, over the decade between 1929 and 1939, were in the Springfield-Springtown-Durham Parish in eastern Pennsylvania. Again wrote his son, "The years spent in serving those three churches, and in visiting their members scattered throughout Northampton, Bucks and Lehigh Counties were among the most pleasant and enjoyable in his career."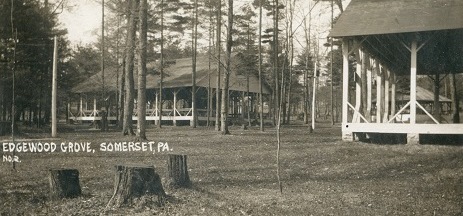 Edgewood Grove, Somerset, site of the 1933 Abraham Rhoads family reunion, where Rev. Henry Rhoads was the principal speaker.
Henry is known to have attended the 17th annual reunion of the Abraham Rhoads family in July 1933, held at Edgewood Grove in Somerset County, and to have been the principal speaker that day. Upon retirement in 1939, he maintained a residence at 206 Hamilton Street in Harrisburg.
In the fall of 1941, Henry was hospitalized in the Polyclinic Hospital in Harrisburg for chronic heart problems and rheumatic fever. He succumbed there on Oct. 8, 1941, at the age of 70. In an obituary, the Daily American said that local "church and educational leaders were shocked" to hear of his passing. Funeral services were held at the home of his son in Harrisburg, with burial following in Shoops Church Cemetery. A biographical profile was printed as an obituary in The Lutheran (Vol. XXIV, No. 9, Nov. 26, 1941).
Sudie outlived her husband by five years and moved into her son's home at the address of 101 Paxtang Avenue. She was felled by a heart attack and died on June 24, 1946. An obituary appeared in the Harrisburg Evening News and a shorter one in the Daily American. In addition to her son and grandsons, she was survived by sisters Mrs. Frank B. Wickersham of Harrisburg, Mrs. Dickson Geiser of Pittsburgh, Mrs. John Bosserman of Mercersburg, PA and Samuel C. Seacrest of Greencastle. Rev. Dr. S.W. Herman, of Zion Lutheran Church, led her funeral service.
In 2020, Henry's grandson William B. Rhoads wrote in an email to the founder of this website, saying "I think it would be safe to say that our grandfather, born in Somerset, always preferred life in rural areas and small towns."

Paul H. Rhoads
Courtesy Dauphin
County Bar Association
Son Paul Henry Rhoads (1907-1984) was born on May 15, 1907 in Newark, Essex County, NJ. He graduated from Gettysburg College in 1928 and then the University of Pennsylvania School of Law in 1931. While in law school, he served as editor of the college law review. He went on to practice for many years in Harrisburg, Dauphin County. Paul was united in holy matrimony with Mary Bertolet (1909-2002). They were the parents of three sons -- John Bertolet Rhoads, Henry W. Rhoads and William B. Rhoads. Paul is known to have attended the 17th annual reunion of the Abraham Rhoads family in Edgewood Grove in July 1933 and to have made brief remarks. In 1941-1946, the Rhoadses' address was 101 Paxtang Avenue. The early years of Paul's career were spent in the office of the Attorney General of Pennsylvania, followed by employment with the Public Service Commission (PSC), later renamed the Public Utility Commission (PUC). Then in 1935, Paul went into a partnership with John Fox Weiss, former chief council of the PSC. Their firm prospered, and in October 1946, they added a new partner Frank A. Sinon, former Pennsylvania Deputy Attorney General and son-in-law of former Pennsylvania Governor Arthur H. James. At that point the firm name changed to Weiss, Rhoads and Sinon, later shortened to Rhoads & Sinon. The law firm grew to become one of the largest in Harrisburg and built a reputation for furnishing sophisticated services for corporation, municipal and government clients in the region.
In the profession, Paul is known to have been president of the Dauphin County Bar Association in 1952 and to have chaired its special projects committee circa 1949, and in alumni affairs, buildings & grounds, and synod relations for Gettysburg College. He also was editor of the Dauphin County Reporter from 1935 to 1946. A layman preacher, he was a speaker in 1948 at Rally Day at Grace Evangelical United Brethren Church. In the early 1950s, he and other clergy helped found the Lutheran Service Society of Harrisburg and eventually established a Lutheran home for aging citizens. Other community stewardship roles Paul held were the boards of Gettysburg College, the Court of Adjudication of the Lutheran Church of America, Harrisburg Hospital, Harrisburg Public Library, Dauphin County Historical Society, Tri-County United Way and the publications board of the United Lutheran Church in America. Heartache blanketed the family in July 1959 when 24-year-old son John, a medical student at Boston University School of Medicine, died of leukemia, with burial in Harrisburg Cemetery. Sadly, Paul died in Harrisburg on April 9, 1984. The Dauphin County Bar Association issued a memorial resolution, which said that "The success of his law firm is evidence of the leadership and guidance of this unusual and exemplary legal scholar." In the decades following Paul's death, Rhoads & Sinon continued to be a pre-eminent, influential firm. In fact, Paul's son Henry, armed with a law degree from Harvard, joined the firm and became a partner. Henry served as president of the county bar association in 1988, as a trustee of Harrisburg Academy, leader with Harrisburg Area Community College Foundation and a board director of the McCormick Family Foundation. But as law firm economics changed dramatically in the early 2000s, the firm struggled financially. The partners voted to cease operations in January 2018, after eight-plus decades of business, and its lawyers joined or formed a host of other firms. Its last office was located in One South Market Square.
~ Daughter Cora Belle (Rhoads) Brant ~
Cora Brant
Courtesy David Rhoads
Daughter Cora Belle Rhoads (1873-1933) was born on July 7, 1873 in Somerset Township.
She wedded F. Oliver Brant (May 26, 1870-1958), the son of Francis and Mary (Hauger) Brant. The couple resided in Brothersvalley Township, Somerset County.
They produced two known offspring -- Maurice Brant and Alma Shober.
When Oliver was 21, he joined the Valley Grange and remained a member for the rest of his years. He is believed to have been politically active and in 1933 was a candidate for supervisor of the township on the Republican ticket. They were members of the Beachdale Church of the Brethren.
Heartache blanketed the family in January 1932 when Cora was diagnosed with cancer and sigmoid growths of her descending colon and liver. She suffered through an enduring illness and, less than 14 months later, succumbed at the age of 59 on April 1, 1933. Following funeral services conducted by Rev. B.F. Rudisill, her remains were lowered into eternal repose in the Wills Church Cemetery.
Oliver outlived his wife by 25 years and maintained close ties with his late wife's family.
At his 80th birthday, in May 1950, his daughter Alma Shober hosted a family dinner in his honor. Among those attending were Mr. and Mrs. W.C. Rhoads, Mr. and Mrs. John H. Hentz, Amy Beal, Pearl Pritz, John Rhoads, Harrison Zarefoss, Ray Zarefoss, Rev. and Mrs. A. Jay Replogle, Mr. and Mrs. Maurice Brant, Mr. and Mrs. Leo Bittner, Mr. and Mrs. Frank Phenicie, Evelyn Nave, F.O. Brant, James English, Frank Phenicie Jr. and Clifford Lee. In reporting on the event for its gossip columns, the Somerset Daily American said that Oliver remarked that he "enjoyed the occasion very much and he received many greetings and messages of good will."
In June 1956, at a meeting of the Valley Grange, Oliver received an honor as oldest father present, and his great-grandson Frank Phenicie gave a reading, "My Secret," and great-grandson Gary Phenicie pinned a flower on the lapel of Oliver's jacket.
Sadly, at the age of 87, Oliver died at home on Feb. 21, 1958. Rev. Fred Seese officiated at the funeral service, with interment beside his wife in Wills Church Cemetery. An obituary published in the Daily American called him "a well known farmer of Brothersvalley township..." It also noted that in addition to his two adult children, he was survived by four grandchildren, seven great-grandchildren and siblings Minnie Buechly of Carlisle, A.R. and Grace Hentz and Amy Beal of Berlin.
Daughter Maurice Brant lived with his parents in Brothersvalley Township in 1933 and in Berlin in 1958.
Daughter Alma Brant was joined in marriage with Galen Shober. They dwelled in 1933-1958 in Garrett, Somerset County.

Hattie Zarefoss
Courtesy David Rhoads
~ Hattie G. (Rhoads) Zarefoss ~
Daughter Hattie G. Rhoads (1876-1945) was born on Feb. 9, 1876 in Somerset Township.
When she was age 26, on April 17, 1902, she married 25-year-old neighbor Harrison "Harry" Zerfoss (June 13, 1876-1957), also spelled "Zearfoss" and "Zarefoss," the son of Charles and Mary (Stutzman) Zerfoss. In reporting on the wedding, the Meyersdale Republican said that the nuptials were led by Rev. M.L. Young and were held "at the pastor's study, Meyersdale."
The couple produced these known children, all of whom used the "Zarefoss" spelling -- Dr. Albert H. Zarefoss, Roy W. Zarefoss, Clifford H. Zarefoss, Susan Jane Will and John Zarefoss.
They also bore three others who died at or near birth. One was an unnamed daughter, only six months' gestation, on June 10, 1914, with the physician writing of the cause: "Do not know, probably a fall of mother." Another child died as an infant as did a son, Clifford H., who died of jaundice at age three days on May 21, 1915. Relatives and friends helped bury the babies in Wills St. Johns Evangelical Lutheran Church Cemetery, where small, still-legible markers stand at the gravesites today.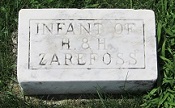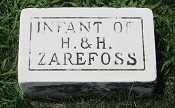 The unnamed infants' graves, at Wills St. Johns Cemetery
The Zearfosses were dairy and produce farmers over the years in rural Somerset Township. In February 1933, during the heart of the Great Depression, Harrison was among 300 farmers who attended the Somerset County Farm Institute and captured awards for yellow dent corn and buckwheat.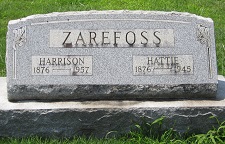 Wills St. Johns Cemetery
They belonged to the Wills St. Johns Church, with Hattie active with the congregation's Womens Missionary Society and hosting meetings at their home. Circa 1930, they lived next door to her married brother Wilson.
The Zarefosses attended the 17th annual reunion of the Abraham Rhoads family in July 1933, held in Edgewood Grove, with Harrison elected treasurer of the organization.
Stricken with cancer of the lungs and uterus, just a few weeks before her 69th birthday, Hattie passed away in Somerset on Jan. 18, 1945. Her remains were lowered into eternal rest in Wills Cemetery, with Rev. Martin Foutz officiating at the funeral. The Somerset Daily American printed an obituary.
Harrison survived his wife by more than a dozen years. He was gathered in by the Grim Reaper at the age of 80 on May 4, 1957. Rev. Robert Carl preached the funeral sermon, with an obituary appearing in the Daily American.
Son Dr. Albert H. Zarefoss (1903-1996) was born on Nov. 16, 1903. He studied at the Overbrook School for the Blind, Doughty-Marsh Chiropractic Clinic and the University of Pennsylvania Graduate School of Medicine. Upon received his medical degree, he became a licensed chiropractor and physical therapist in Somerset. On Christmas Day 1934, Albert married nurse Nettie M. Middlesworth (Aug. 31, 1912-1993). The wedding was held at Mt. Bethel Reformed Church in McClure, officiated by Rev. E.H. Dechman. News of the happy event was published in the Meyersdale Republican. They were the parents of two -- Larry K. Zarefoss and Elva L. Haigh. He was a member of the Lutheran Church and the Somerset Lions Club. In 1972, they retired to Kissimmee in Central Florida and and spent the balance of their lives there. Nettie passed into eternity in Kissimmee on Oct. 5, 1993. Albert lived for another two-and-a-half years and was gathered by the Angel of Death on May 13, 1996. His remains were cremated. Their red barre granite marker stands in Wills St. Johns Evangelical Lutheran Church Cemetery east of Somerset. An obituary was published in the Somerset Daily American which said he had seven grandchildren and 15 great-grandchildren. Daughter Elva Haigh made her home in Harper Woods, MI and son Larry in Christmas, FL.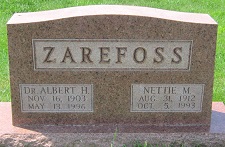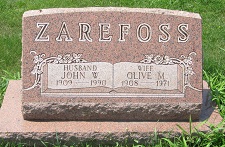 Graves of the Zarefoss brothers and wives, Wills St. Johns Cemetery
Son Roy W. Zarefoss (1905-1980) was born on July 26, 1905 in Somerset Township. In 1945, his home was with his parents. At some point he wedded Pearl Gnagey ( ? - ? ). They did not reproduce. Roy was employed by Somerset Door and Column Company. They were members of Faith Lutheran Church and made a home on East Main Street in Somerset. Roy was admitted to Somerset Community Hospital where he was swept away by the Grim Reaper at the age of 74 on March 14, 1980. Rev. Roger Forry led the funeral service, with interment in Somerset County Memorial Park.
Daughter Susan Jane Zarefoss (1907-1987) was born on Sept. 17, 1907 in Somerset Township. As a young woman, she taught school in the Somerset area. Then for four years, she was employed in the chiropractice office of her brother, Dr. Albert H. Zarefoss, in Somerset. On Aug. 8, 1934, the 26-year-old Susan wedded her cousin, Harold R. Will ( ? -1971), son of Harvey Sylvester and Nelle Jane (Rhoads) Will. Rev. Martin F. Foutz officiated at the ceremony held at Wills St. Johns Evangelical Lutheran Church. In reporting on the nuptials, the Somerset Daily American noted that "The bride wore a white crepe wedding gown, a white turban and veil, white shoes and carried deep pink roses." At the time, Harvey worked at Mussey's Bakery in Somerset. They went on to produce two sons -- Robert Dean Will and Fred W. Will. They were members of the Faith Lutheran Church and the Wills Grange, and Susan was a charter member of the Eighth Society of Farm Women. Sadly, Harold died on June 22, 1971. Susan outlived him by 16 years. Toward the end of her life, she went to live in Siemon's Lakeview Manor Estate. She succumbed there at the age of 79 on Jan. 6, 1986. The Daily American noted that funeral services were held in the family church, officiated by the Rev. Charles J. Hartbauer, followed by burial in Wills St. Johns Cemetery.
Grandson Robert Dean Will (1937-2019) was born on Dec. 4, 1937 and married Tomalee A. Stouffer ( ? -living). They did not reproduce over their 55 years of marital union. Said the Daily American, Robert, was "an active member of Faith Lutheran Church where he taught Sunday School, was a member of the choir, church council and leader of Lutheran League. Bob was a member of Wheeler & Dealers square dance club, and the Wills Grange. He was owner of Wills Acres, a dairy farm until his retirement in 2012, his love for animals and farming was evident for anyone to see when they visited the farm. In June 1992 his farm hosted Day On the Farm with an attendance of 3500 people, an accomplishment Bob was very proud of." He died on June 11, 2019, with burial at Wills St. Johns Cemetery. The following month, in a twist of circumstance, Tomalee assisted the founder of this website who was photographing family graves at Wills St. Johns.
Grandson Fred W. Will ( ? - ? )
Son John William Zarefoss (1909-1990) was born on May 12, 1909 in Somerset Township. He dwelled in Somerset for decades. John was twice wed. His first bride was Olive M. Combecker (1908-1971). They did not reproduce. Grief enveloped the family when Olive succumbed to death in 1971. His second spouse was Dorothy M. (Saylor) Knepshield ( ? - ? ). He was employed for 29 years by Agway Inc. and retired in 1971. He was a member of Faith Lutheran Church in Wills. He passed away at the age of 71 in White Star Residence in Jennerstown on June 2, 1990. Burial was in Wills St. Johns Evangelical Lutheran Cemetery with Rev. Melvin A. Kirk preaching. An obituary was printed in the Somerset Daily American.
Today's Wills St. Johns Evangelical Church, renamed Faith Lutheran Church
~ Son John Howard Rhoads ~
John H. Rhoads
Courtesy David Rhoads
Son John Howard Rhoads (1883-1971) born on July 7, 1883 in Somerset Township.
He owned a farm next to the Hillcrest Grange Hall in Berlin, Somerset County. He was known for giving honey and vegetables he raised to friends. His primary occupation however was as a clerk at the Goodtown Mine. Later, he served as a health inspector for Somerset County, investigating restaurants and issuing quarantine orders during sickness.
When his brother Henry was a church pastor in Newark, NJ, John traveled there for a visit in August 1905 and spent the time touring New York, Philadelphia, Baltimore, Atlantic City and Washington DC before returning home. His excursion made news in the gossip columns of the Somerset Daily American.
He married Daisy Werner (Aug. 17, 1888-1940), daughter of J.C. and Lydia Werner. Daisy was confirmed by Rev. W.E. Brown in girlhood and admitted into membership in the Lutheran Church at Pine Hill.
The couple went on to bear two children, Anna Catherine Rhoads and William J. Rhoads.
Daisy once was profiled by the Somerset Daily American in connection with her commitment to local education, church and civic developments.
Her interest in her church continued unabated during the years and was marked by a rare loyalty and devotion. All departments of the church won her support. She was a member of the choir, for many years a teacher in the Sunday school, and served in a varied capacity in the Missionary Society, of which she was also president. This missionary interest extended beyond the local society, and found her, when her life ended, the secretary of literature of the Somerset conference of her denomination. Nor were her interests wholly confined to her church. In her early years she taught four terms in the public schools of Brothersvalley township. And ever after continued her interest in school activities. This interested manifested itself in the work of the Parent-Teachers Association, at Pine Hill, of which she was the president for several years, and always a loyal worker. After the school system was consolidated she became a member of the board of directors of the Community Association, and also served on the membership committee. The grange, too, found a large place in her life. Possibly no other member of her grange was better versed in the duties and privileges of grange membership than she. She served in many capacities in the local grange, as the master and lecturer, and also as master of the degree team for a number of years. For a long time she held an office in the Pomona grange. She was the Pomona lecturer for six years, and at her death served as one of the graces. The community chorus, sponsored by the local grange, also was numbered among her activities.
In the late 1930s, Daisy also served on the board of directors of the Somerset County Fair.
Grief swept over the family when she died after a brief illness at the age of 51 on June 17, 1940. Funeral services were held in their home, led by Rev. Charles I. Rowe, with burial in the Berlin Odd Fellows Cemetery.
John lived on as a widower for 31 years. He was a member of Holy Trinity Lutheran Church in Berlin, and the Meyersdale lodge of the Masons, Berlin lodge of the Odd Fellows and Hillcrest Grange.
In January 1942, he and his unmarried daughter Anna Catherine hosted a turkey dinner at their residence near Berlin. Among the attendees were Mr. and Mrs. Harrison Zarefoss, Mr. and Mrs. W.C. Rhoads, Oliver Brant, Mr. and Mrs. Morris Brant, Mr. and Mrs. Galen Shober, Mr. and Mrs. John Zarefoss, Dr. and Mrs. Albert Zarefoss, Mr. and Mrs. Harold Will, Mr. and Mrs. John Suder, Roy Zarefoss, Mabel Rhoads, Edna Brant, Doris Shober, Dorothy Brant, Ray Rhoads, Bobby Will, Larry Zarefoss, Elva Zarefoss and Raymond Shaffer, with the list of names printed in the gossip columns of the Daily American.
As his health failed, he was admitted to Meyersdale Community Hospital, and died there at the age of 87 on June 3, 1971. An obituary in the Daily American reported that Rev. Robert Ardell Miller officiated at the funeral, with burial in the Berlin Odd Fellows Cemetery.
Son William J. Rhoads was educated at Bliss Electrical College in Washington, DC. He then was self-employed as a defense contractor in Maryland and, after the outbreak of World War II, joined the U.S. Army. In Dec. 1944, he was united in wedlock with Catherine Musser ( ? - ? ), a resident of Deep Spring Farm in Berlin and the daughter of D.J. Musser. The nuptials were held in her home. Catherine was a graduate of Margaret Morrison College in Pittsburgh and at the time of marriage was employed by the County of Westmoreland (PA) as a home economics extension representative. In 1971, he lived in Adelphi, MD
Daughter Anna Catharine Rhoads wedded Willard Flick. Their home in 1971 was in Irwin, Westmoreland County, PA.
~ Son Charles "Wilson" Rhoads ~
Wilson Rhoads
Courtesy David Rhoads
Son Charles "Wilson" Rhoads (1879-1970) -- also known as "W.C." -- was born in May 1879 or on July 13, 1879 in Somerset Township.
In 1900, unmarried at the age of 20, he earned a living as a mine laborer.
He married Margaret "Maggie" Baer (Aug. 19, 1882-1963), daughter of Peter D. and Harriet (Judy) Baer.
The two children born to this union were Ray W. Rhoads and Mabel Walker.
After Wilson's mother died in 1917, he and Maggie took in the widowed father.
Wilson was a life member of Wills Lutheran Church and a charter member in 1916 of the Wills Grange. For 16 years, he served on the school board in Somerset Township and for four years on the county board of education. He was considered in 1941 to be a "prominent Somerset township farmer," said the Somerset Daily American.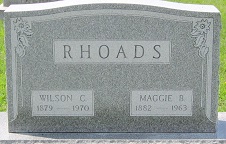 The Rhoads grave at Wills St. Johns
Wilson was elected secretary of the annual reunion of the Abraham Rhoads family and is known to have attended the clan's 17th annual gathering, held in July 1933 in Edgewood Grove.
For 55 years, he earned additional income as an insurance agent for Farmers Union Mutual Fire Insurance Company. Circa 1963, their residence was at 925 East Main Street in Somerset.
Maggie was burdened for many years with hardening of the arteries. Sadly, she was stricken with a cerebral vascular accident and passed away two days later, in Somerset Community Hospital, on April 2, 1963.
Wilson outlived his wife by seven years. His remained in their home on East Main Street in Somerset. On March 3, 1970, while a patient in Somerset Hospital, he died at the age of 90. Rev. Gary Bilbie preached the funeral sermon, with interment in Wills St. Johns Lutheran Church Cemetery.
Son Ray W. Rhoads (1913- ? ) was born in about 1913. He dwelled in Wickliffe, OH in 1970. His son Larry Rhoads and granddaughter Jacquelyn Rhoads were pictured in the Somerset Daily American on June 6, 2016 for their work preserving the history of the Wills Grange.
Daughter Mabel Rhoads (1918- ? ) was born in about 1918. She married John A. Walker. In 1970, their home was in Somerset.
Copyright © 2002, 2009, 2012, 2014-2015, 2017, 2019-2020 Mark A. Miner