He spent his entire life in Ursina, Lower Turkeyfoot Township, Somerset County, except for a two-year span as a teenager, when he and his parents and a sickly aunt relocated to Illinois, settling in the town of Ashton, Lee County. After the aunt died, the Roses returned to Somerset County and remained for good.
West never married. A newspaper once said that he was "a quiet man of a retiring disposition."
He was a skilled stone mason and brick layer, as were some of his brothers and cousins who also were raised in the area. A Somerset newspaper once reported that West and his brother Levi "had built 140 chimneys in the town of Humbert."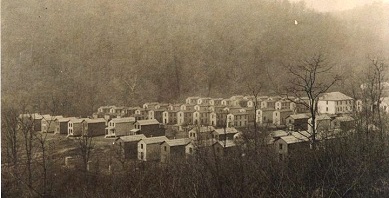 Rooftops of Humbert, featuring the Rose brothers' chimneys
The town sat over a rich seam of coal. It was constructed by Humbert Coal Company -- also known as the Connellsville Coal and Coke Company -- in about 1901 to provide housing for mining laborers. In the late summer of 1903, a correspondent from the Meyersdale Commercial wrote a piece entitled "The Hills of Somerset" which featured eyewitness observations during a tour of southern Somerset County. He made a stop in Humbert and penned the following:
... the new town of Humbert is reached by the Ursina and North Fork railroad, and here the traveler will find what modern enterprise and push will do in a very short time. When the large warehouse and near one hundred neat cottages are seen in what twelve months ago was only a farmer's field, it shows the energy and progress of the Ursina Coal and Mining company, and its energetic superintendent, Mr. I.T. Huff. Besides its mines, Humbert is also the headquarters of the Laurel Hill Lumber company, a firm that does a very extensive business here. Their narrow guage [sic] railroad extends ten miles up into the Laurel Hill mountains across the Fayette county line into those regions made famous by the actual or fabulous exploits of "Bill" Pritts, who according to some of our chroniclers has been the modern Little John or Robin Hood of romance in this section. The famous "Old Pike" and Philadelphia Rock are also in this section and are visited during the summer months by many tourists.
Humbert was active for only about three years, until the coal resources were mined out. The Huff Coal Company -- likely founded by the former superintendent of the Ursina Coal firm -- took over the property and controlled it circa 1915. As well, with the mountains rich in timber, the United Lumber Company established a manufacturing plant at Humbert in about 1910, with the Ursina and North Fork Railway Company providing a rail spur to the site. While a bustling community at one point in time, Humbert no longer exists, and all of its buildings have been removed.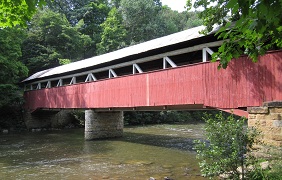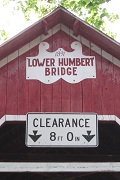 Local landmark, the Lower Humbert covered bridge, built 1891
West was listed in a 1903 directory of Ursina, which was reprinted many years later in the book, Reflections: Ursina 1787-1994.
Federal census records show that in 1910 West was single and made his home with his widowed mother in Lower Turkeyfoot Township. In early October 1915, West and his mother received word that her brother Martin Miner, of Normalville, had died suddenly after returning from a Civil War veterans' encampment in Washington, DC. He and his brother Levi traveled to Normalville to attend the funeral, as noted in the gossip columns of the Meyersdale Republican.
Heartache swept through their lives on Oct. 10, 1916, when fire consumed their old farmhouse "located about midway between Ursina and Humbert," reported the Republican:
The contents of the building was also destroyed and nothing saved. There was about $200 in gold and currency in the house that could not be saved. The gold was found after the fire, but the $148 in paper money was burned. The building was erected by the late Charles Rose, a veteran of the Civil War, in 1872, and occuped by him and his family until his death, and had long been a landmark where the road winds over the hill to Humbert. The total loss was over $1100, with $900 insurance. Mrs. Charles Rose, who is 78 years old, suffered from the sudden exposure to the cold.
West and his mother went to live in the household of his sister Susanna Durst.
Stricken with cancer of the bowels for two years, West died on July 9, 1927, just 19 days after his 77th birthday. Funeral services were held in the residence, officiated by Rev. George O. Ritter. His remains were lowered into repose in an unmarked grave at Jersey Church Cemetery near Ursina, Somerset County.
Copyright © 2000, 2010-2014, 2017 Mark A. Miner